SHARE YOUR BATTLE Weekly Challenge! DRAGONS!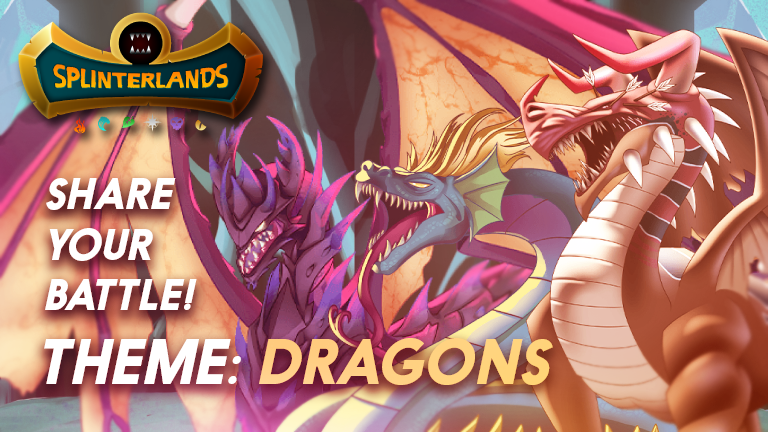 Check out the original post from @splinterlands !
This is my first Battle Challenge! Check out the battle: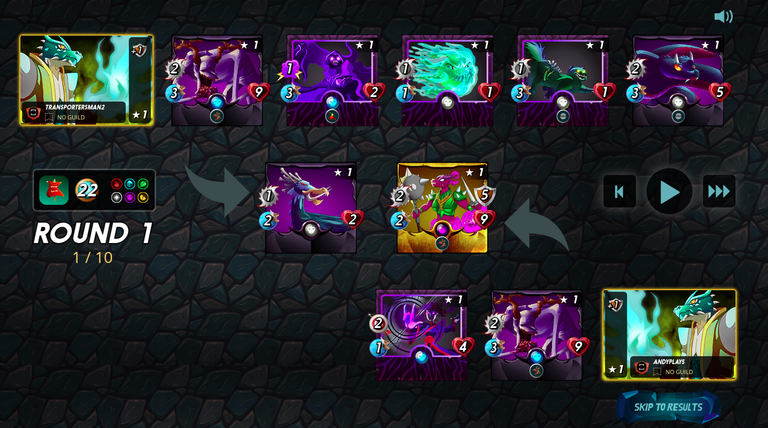 https://peakd.com/hive-13323/@splinterlands/share-your-battle-weekly-challenge-dragons-r6lqf0

Dragons
Dragons are quite a nice challenge, since it is "easier" than a specific monster. I have the Dragon Summoner in the Starter Deck and got that Djinn Chwala GF delegated from @oadissin !
So yes, I was ready for this!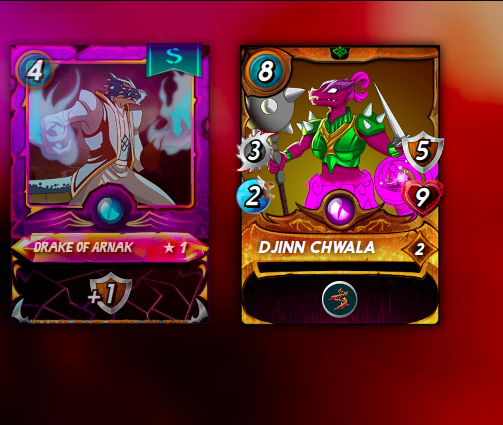 Lore
Djinn Chwala
Dawn of the Djinn 4 of 4 - Only a short time after the Djinn were released, most of them were already seeing their elemental captivity as a blessing rather than a curse. They had far greater power than before, now that they were working with the force of the Planet at their backs. Pursuit of power was at the core of Belludae beliefs, so most of them would make small sacrifices for greater power.
The Djinn have not all found one another, and it will be difficult for them to do so since many of them reside in different elements. This is why several of the Djinn have submitted themselves as cards in the Moxian games, so they can connect with their lost brethren. Gradually they will come together to Praetoria as part of the last lines of defense, channeling the power of the Planet into an impenetrable wall to hold back the Chaos Legion.
Drake of Arnak
The Drake of Arnak is a medium-sized Dragon hybrid. He is highly intelligent and extremely rich, but cannot fly nor breathe fire. All his life he has honed his skills as a summoner, hoping to win a share of the glory that should rightfully be his as a carrier of the fire blood. The Drake's trademark is that his monsters are summoned to battle with a thin force field of blue fire, fortifying their defenses. Forms have been filed by the High Council to formally request that the Drake of Arnak hand over his secrets for the good of the united Gloridax, but he will not give up his proprietary magic without a fight. The Drake of Arnak is the Gloridax rival of Daria Dragonscale; the two despise one another.


The Rule Set

Since this is a Bronze III fight it was standard rule set with all Splinters available - so not a lot to say about this.

My Team
I went for an all anti-melee strategy with two thorns users and ranged card.
Summoner: Drake of Arnak
My Summoner was the infamous Drake of Arnak - the only Dragon Summoner that is available in the Starter Deck. It is a rare Untamed Dragon Summoner. It gives +1 shield and is the only Summoner available, so there was no other choice for me.
It starts at $7.7 for a single BCX regular foil or $3.86 for a maxed out version ($444 in total). The Gold foil start at around $76-86 per BCX.
---
First Position: Djinn Chwala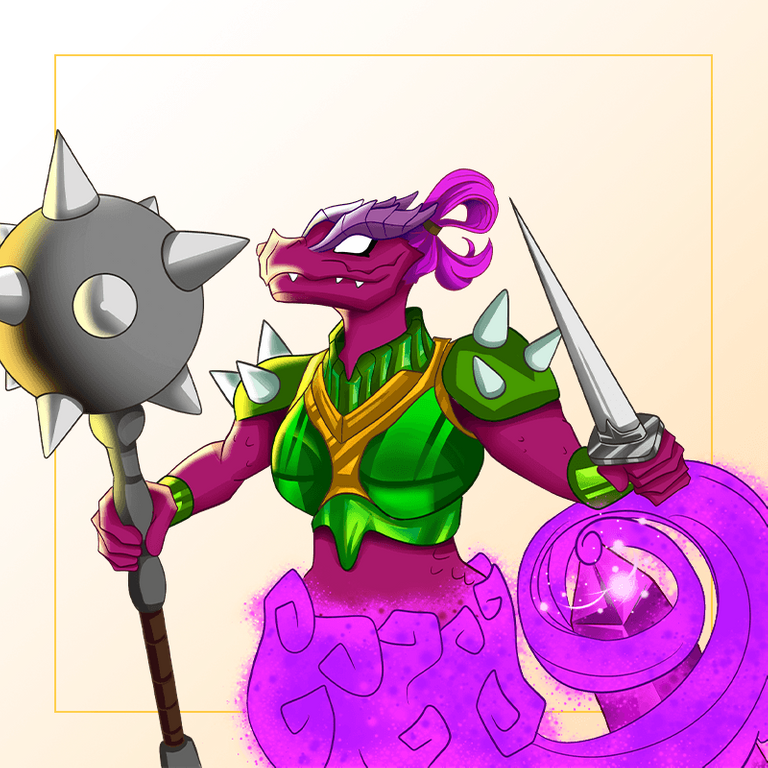 There is a lot more to say about this guy. Djinn Chwala is a epic Reward card of the Chaos Legion Rewards edition. It was called little Mylor, since it has the Thorns ability damaging ever melee attacker. For a long time it was the only one, that had this ability starting from level 1 - except for Mylor, who is giving it to all friendly cards. This changed with the arrival of Chaos Legion hurting the value of Djinn Chwala a lot.
He is quite good against Melee attackers, since he has a lot of shields, HP and Thorns. Later he gets Enrage and True Strike, which both help his attack ability. Still he has a base of 2-4 Melee Attack, 2/3 Speed, 9/10 HP and 5/6 Shields.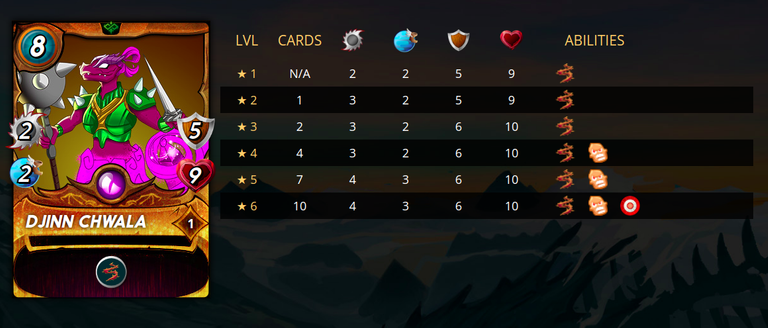 Because to be honest: Except for the thorns he isn't that good for eight mana - especially compared to the two new challengers.
Djinn Chwala is right now at $0.62 for a single BCX regular foil, and $16.5 for a gold foil single BCX copy.
---
Second Position: Cursed Windeku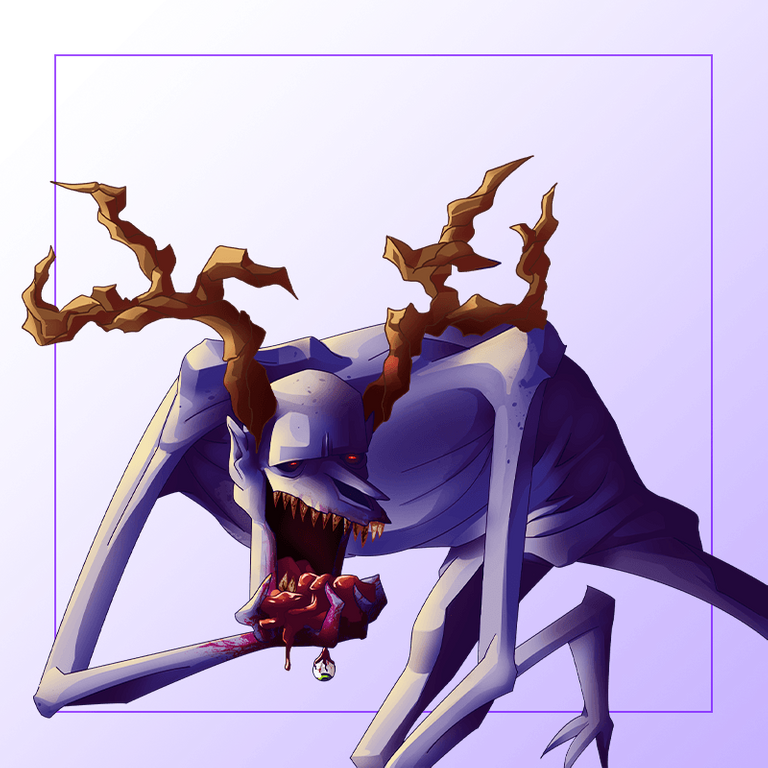 The Nightmare card 😅 It really looks frightening. This rare Chaos Legion card of the Death Splinter is the direct challenger of Djinn Chwala. And to be honest, it is a good one. Six instead of 8 Mana is definitely a benefit of the Windeku. It lacks the shields, which is probably the biggest disadvantage.
It starts with 2 Melee, 3 Speed and 9 HP - so it is faster than the Djinn. But the Windeku stays at 3 Speed. It also gets up to 4 Melee Attack, and even one more HP, than Chwala. The biggest advantage lies within its abilities: Heal starting at Level 5 and Slow at max Level. I would say, that in many cases I would choose heal over enrage. Sure, enrage boosts the stats, but a healing card can be quite substainable.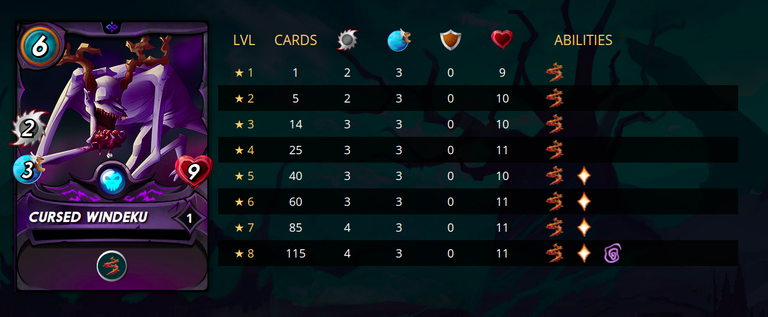 This can be seen by its price. Although it is "only" a rare card it is even more expensive than the Djinn Chwala - starting at $0.67 per single BCX regular copy and a cheaper $8.65 per GF single copy.
---
Third Position: Dark Astronomer
My only variation from the patter: A ranged attacker. This rare Untamed card is not always an easy choice. Since it has only 1 Speed at Level 1 and no abilities until Level 4, when it gets Shatter. At max Level it also gets blind. I like to play it every now and then, especially in reverse speed rule sets. But it was a nice addition, since if my opponent went into mirroring this card could help to deal some damage to him.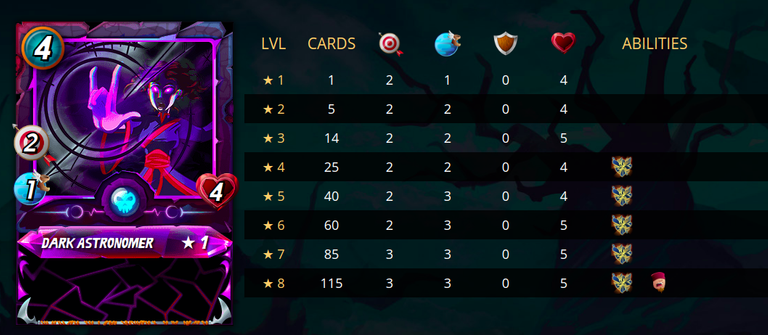 The card starts at $0.76 for a single BCX regular foil copy, while the cheapest per BCX is a level 5 (40 BCX) for $0.65 per BCX. The gold foil starts at around $36 per BCX.

Opponent Team:

My opponent did actually mirror parts of my strategy and also choose to take the Drake of Arnak. He started with a Carrion Shade, and then went with a pretty standard death team, with Cursed Windeku, Death Elemental, Cursed Slimeball, Undead Badger and Silent Shi-Va.

The Battle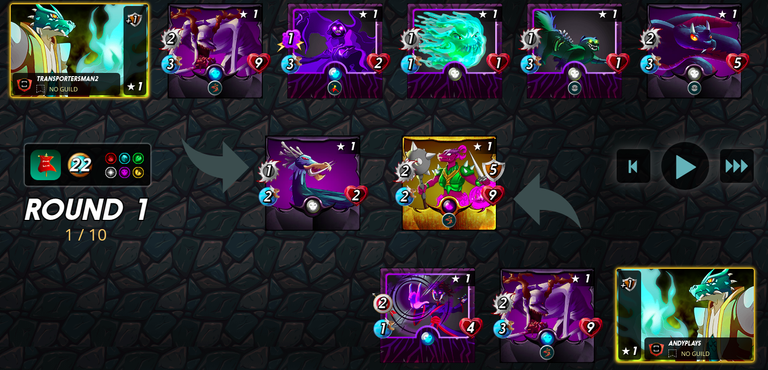 The first round was not really surprising. His Carrion Shade did get killed and it was his Windeku against my Chawla, while his Sneak cards, started to kill my Astronomer. My Windeku was waiting.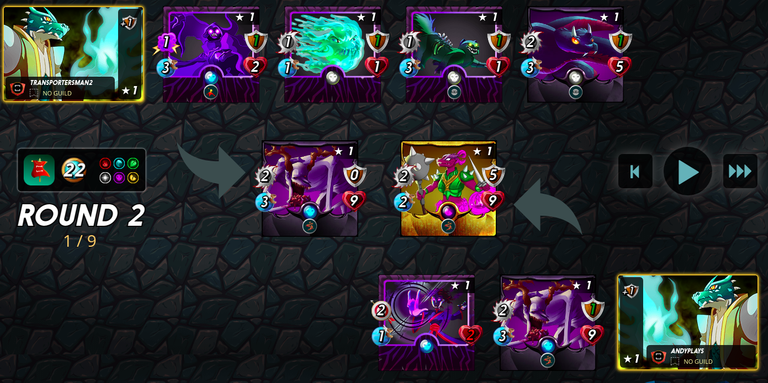 The second round ended with my Astronomer killed and his Windeku damaged. It didn't look to good for me, since he still had three backline attackers, while I was reduced to the two thorns.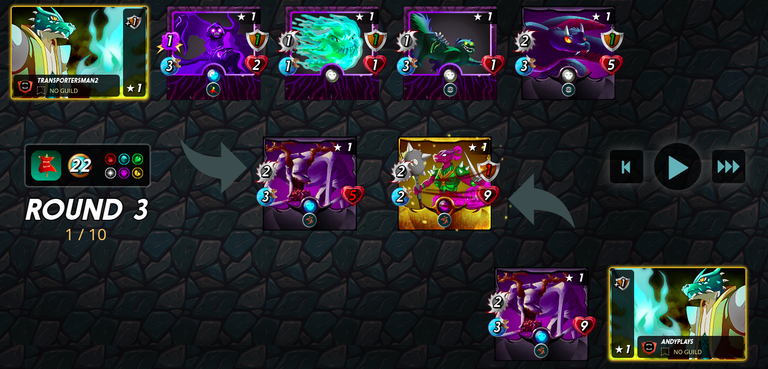 But it didn't look too bad for me the next round. Djinn Chwala was still quite vivid and his backline got damage a lot by thorns, while his Windeku was almost down. I had hope again.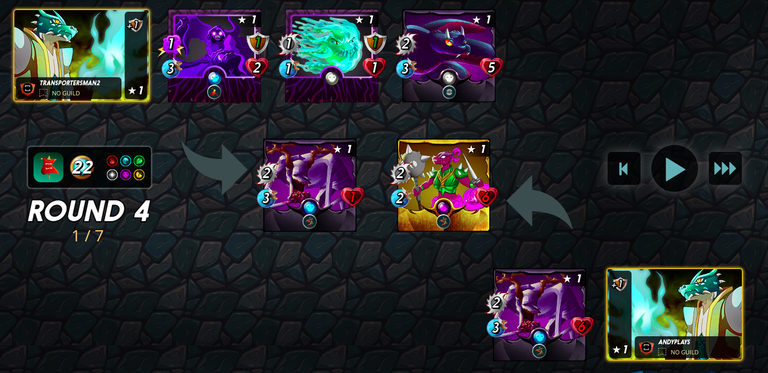 And it got better. His Windeku was gone, his Shi-Va damaeg and I still had some HP left. Not a lot, but I thought that it could lead to a tight victory.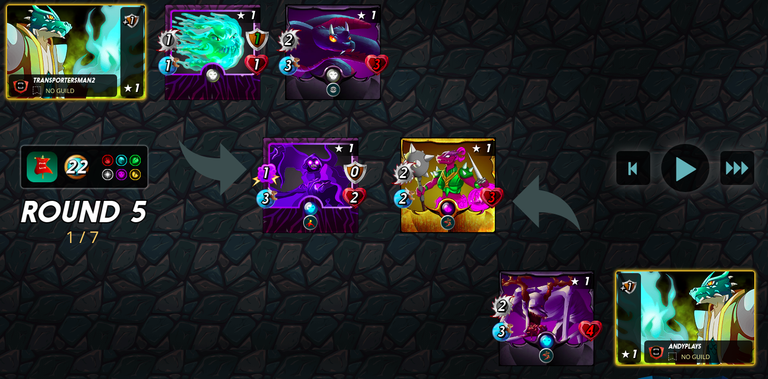 It got tight. Really tight. Only 1 HP for my Djinn and 2 for my Windeku left. And he still ha two attackers - so a draw was in reach.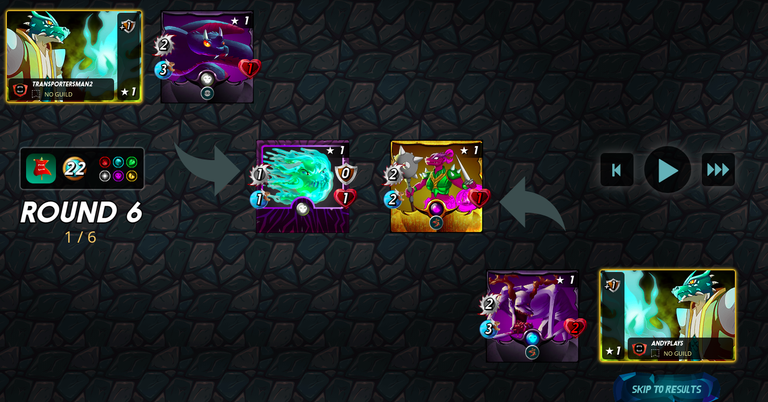 But I was faster. His Shi-Va killed my Windeku and itself, while my Djinn was faster than his Slimeball giving me the victory.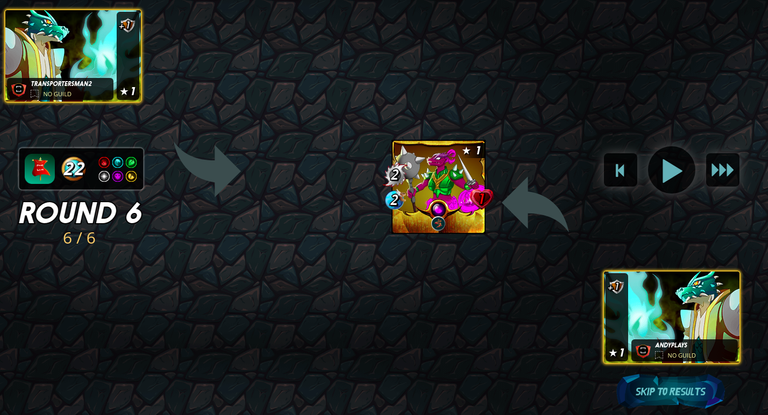 Analysis
It was a tight match but in the end my strategy worked out. It is probably not to recommend to use a high mana card that is not able to attack at all, but it was worth a try.
Dragons are amazing cards! I really like, that you can be so flexible with them. This time I used Death Splinter, the next time could be Water or Life and then Earth or Fire or just neutral. There are so many different options.
Have a great day!
@andyplays

---
---