Celebrating Team Possible Legion Guild Brawl - Saturday, July 1 - Monday, July 3, 2023
Space/Time Reality - Jamaica, Planet Earth/11:43pm, CST, Wednesday, July 5, 2023
This is a little congratulatory post that I write up after each guild brawl in our Team Possible Legion discord channel. It occurred to me recently to share it here also with the wider Splinterlands audience.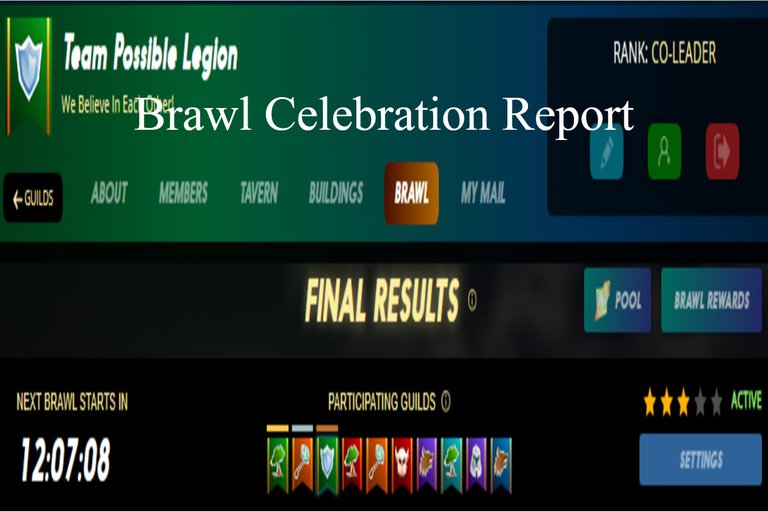 Every brawl varies. Individually and collectively. And this little write-up is a tiny way to honor the time, energy and attention that each of my guildmates invests in brawling each and every cycle...
Hey, Legionairessss, it's time to pause for just a bit to celebrate what we all accomplished together in our last brawl. 🎉 💪 🔥 ⚔️ 🥳
We ranked 7th going into the brawl. Our 54 Wins earned us 6th place, 53 Crowns, 2,356 Merits and 31.729 SPS. 💪 🔥 🎉 💰 🥳
Our Top Team Possible Legion Brawlers were:
🥇 Henzo204 7 Wins 💪 (7/1; You said you'd take 1st place this brawl and you did!!! 🎉)
🥈 JeremyCrow driving DiceWhale 5 Wins 💪 (5/3; Great to see DiceWhale on the podium!!! 🎉)
🥉 JeremyCrow 4 Wins 💪 (4/2; Excellent job scoring both 2nd and 3rd place on podium!!! 🎉)
HUGE Congratzzzz for placing on our LEGION Brawlers Podium, guys!!! 🥳 🎉 🔥 ⚔️ 🏆 ⚔️ 🔥 🎉 🥳
Six other guildmates/accounts achieved a 50% or higher Win rate. 🔥 ⚔️ 💪 🔥 Good WR Congratzzz to:
angelacs driving EternalNow 4/2 💪 🔥 🎉
dgk 4/2 💪 🔥 🎉
Arcadedanger 4/3 💪 🔥 🎉
angelacs driving ChivalrousKnight 3/1 💪 🔥 🎉
dgk driving QueenOfChaos 3/2 💪 🔥 🎉
MikeSugs 3/2 💪 🔥 🎉
Continued Deepest Thanks to Injectvenom, ROYALEAGLE, klmnpogi, Ririthecat and dgk for driving our loaned accounts and to Dave and ROYALEAGLE for loaning LEGION those accounts. Each one of you helps TP Legion and each of us earn more rewards every single brawl and every ranked focus play battle as well. You are all truly appreciated. 🌺 💪 🌠 🎉 🥳
Bless you and Thank you, Everyone!!! 🌺 🔥 🎉 Prep Stage begins in 12+ hours. Get some practice in and we'll all stand back to back pummelling our opponents in the Arena starting Thursday. 😉 😂 🔥 💪 ⚔️ 🎉 🥳

Have you found your Splinterlands forever guild home yet? If not, or just to hang/chat, come meet and learn more in our Team Possible Guild Network Discord channel.
If you have not yet found your forever Splinterlands guild home and would like to meet and learn more about the Team Possible guild network of which Team Possible Legion, the guild that I co-lead, is a part of, you can join our Team Possible Guild Network Discord to find out more.

Dividers via nane-qts
All other graphics are either created in Stencil or screenshots edited in Paint unless otherwise specified.
---
---