AIMLESS, There is Nowhere to Hide!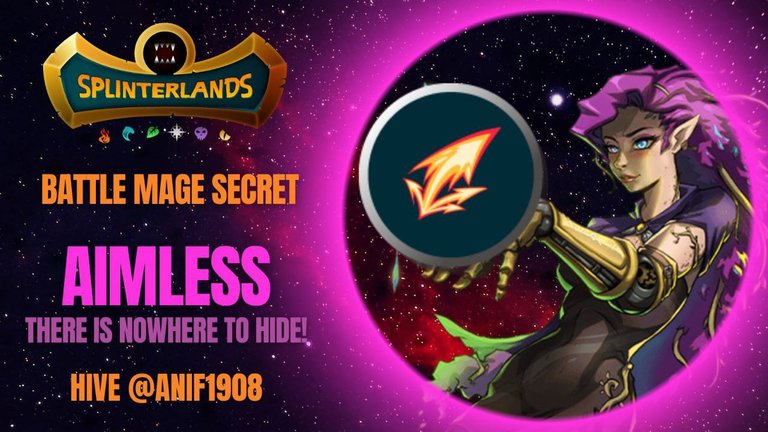 Hello Guys!
Yeeeey it's not too long since my last post, Amazing Battle, Defeat SCARRED LLAMA MAGE and I'm back again for the Splinterlands Secret Mage Weekly Challenge. This week's theme is Aimless rulesets, and I'm pretty hard pressed to find these rulesets. Several times I played at Wild battle rank and didn't find these rulesets at all. Then I moved to Modern battle rank and it turned out to be the same, it took a long time to find a battle with Aimless rulesets.
I finally found a battle with Aimless rulesets but the battle I did was too silly for me to share. And finally, after fighting more than 50x, I found a pretty interesting battle with these rulesets that I will share with you.
Well, I'm neither a proplayer nor a tournament hero. I just enjoys sharing strategy and battles that I find interesting in my own view. I played on modern battles on Gold leagues, and maybe the battle strategies I'd share weren't suitable to apply in other leagues because the differences in ability that open up are different from each league.


BATTLE PREPARATION
Challenge Rules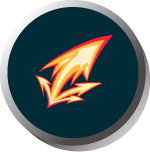 RULESET: AIMLESS
Description: All monsters have the Scattershot ability.
Note: Magic and Range monsters attack hit the random enemy monsters.

Battle Rulesets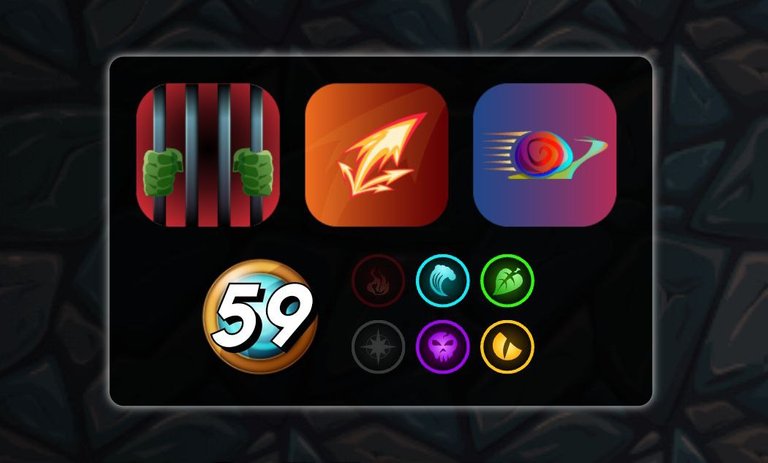 The rulesets in this battle are:
Keep Your Distance (Monsters with Melee attack may not be used in this battle)
Aimless (All Monsters have the Scattershot ability)
Reverse Speed (Monsters with lowest speed attack first and have the highest chance to evading attacks)
Mana Capacity 59
Active Element Water, Earth, Death, Dragon.

Line Up and Strategy
As we know that the Scattershot ability only works for agic and Range monsters, and coincidentally in this battle there are also Keep Your Distance rulesets which means there will only be no Melee monsters in this battle. So the Scattershot of all monsters will work to its full potential.
In general, the strategy that I will apply is to make the best use of speed, and because the rulesets in this battle are reverse speed, the best monster that can be used is the one with the smallest speed. Although Taunt monsters are useless in this battle, Taunt monsters that have an average HP will be a good choice for this battle. Well, in full the order of the monsters I choose and the strategy of each monster I will explain in the table below:
| Monster | Position | Abilities | Strategy |
| --- | --- | --- | --- |
| Obsidian | Summoner | +1 Magic | Obsidian who provides +1 magic buff is very useful to increase the attack damage of my monsters who are magic troops on average. |
| Mycelic Slipspawn | First (Tank) | Taunt, Forcefield | I chose Mycelic Slipspawn to fill the first position not because it has a large HP. Although Taunt abilities are useless in these rulesets, at least this monster will not die easily because it has large HP. |
| Runemancer Flore | Second | None | Almost the same as Mycelic Slipspawn, the reason I chose Runemancer Flore in this battle is because it has a fairly large attack and has a large HP, so it won't die easily, although there is a possibility that this monster will be the last attacker because it has a large enough speed which is actually not suitable for Reverse Speed rulesets. |
| Queen Mycelia | Third (Attacker, Support) | Protect, Amplify, Triage | Queen Mycelia has a very supportive ability to survive, with Protect that will provide +2 Armor for all friendly monsters, and also has a Triage ability that will restore the HP of monsters that are not in the first position that receives the most attacks. Of course, this is very useful considering that Aimless rulesets allow all monsters to attack random monsters and are not tied to Taunt monsters. Even though Queen Mycelia only has a relatively small HP, her speed 1 will give this monster a chance to attack at the beginning. |
| Doctor Blight | Fourth (Attacker, Support) | Affliction, Camouflage, Poison, Scavenger | Doctor Blight also has a speed of 1 which means he will be an attacker at the beginning of the round. In addition, even though his HP was originally small, Doctor Blight has a Scavenegr ability where his HP will increase when other monsters die. His Poison ability will be the key to victory if Poison is active in every attack that hits the target. |
| Goblin Psychic | Fifth (Support, Attacker) | Thank Heal, Affliction | I chose this monster in this battle formation because it has a speed of 1 and has a fairly large attack. In addition, the Thank Heal ability will restore the HP of the monster in the first position. |
| Uloth Dhampir | Last (Support, Attacker) | Stun, Triage | Uloth Dhampir is very useful in this battle because it has a relatively small speed of 2, large damage of 4 Range attacks, and has Stun and Triage abilities. Just like Queen Mycelia, Triage on Uloth Dhampir is very useful in this rulesets because it will restore the HP of monsters that are not in the first position, where all monsters have the same risk of being hit by attacks because Scattershot attacks are random in all directions and penetrate Camouflage Monsters as well. |
You can see the complete line-up of both teams in the picture below. The opponent uses the Summoner Dragon, Quix The Devious which is combined with the Water element monsters. At first glance before getting buffs and debuffs from all Summoners and Monsters, the opposing team looks stronger than my monsters.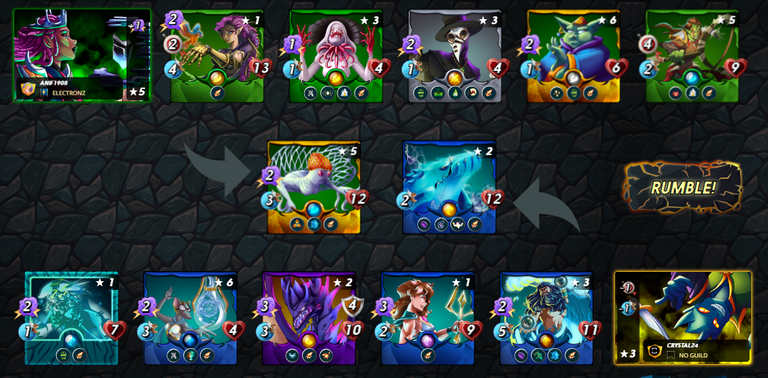 The legendary monster, Baakjira who has the ability of Void, Slow, and trengthen is in first place. Then in the second position there is Djinn Oshanus who has 2 magic damage with Vpoid, Phase and Forcefield abilities. The third position is Nerissa Tridawn who has 4 magic damage, and the fourth position is Chaos Dragon which is very strong because it has 3 magic damage with Flying and Blast abilities. The fifth position is Venari Wavesmith who has 2 magic damage with Protec and Disspell abilities, and in the last position there is Captain Gosh who has 2 magic damage. The opponent uses full magic attack troops except Baakjira in the first position.

BATTLEFIELD ARENA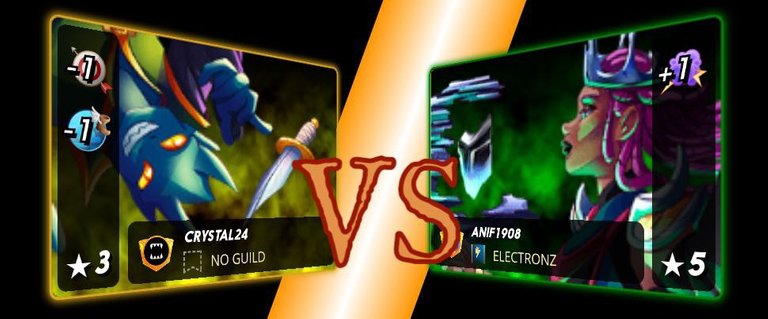 (Click the image above to direct to the battle link)
I've also included a youtube video of this battle that you can play right away.
This battle is quite interesting with unexpected results. Although in the early rounds my monsters died first, in the end I was able to win this battle in the fifth round. My decision to use monsters that have large HP looks very appropriate in this battle.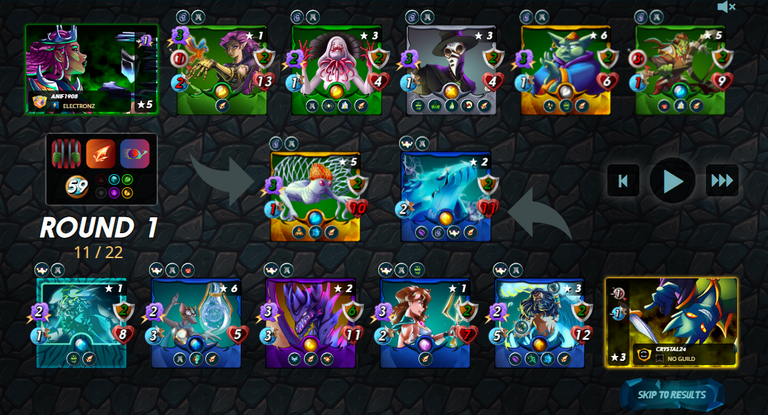 The battle begins with a party giving buffs and debuffs from all monsters and summoners. This is an advantage for me because the Opponent uses Quix The Devious which reduces 1 speed, so my monsters can have a chance to attack early on this Reverse Speed ruleset. Without realizing it, I have lost the Psychic Goblin since the first round because this monster was attacked by Nerissa Tridawn, hit by the Blast from the Chaos Dragon, and hit by an attack from Djinn Oshanus.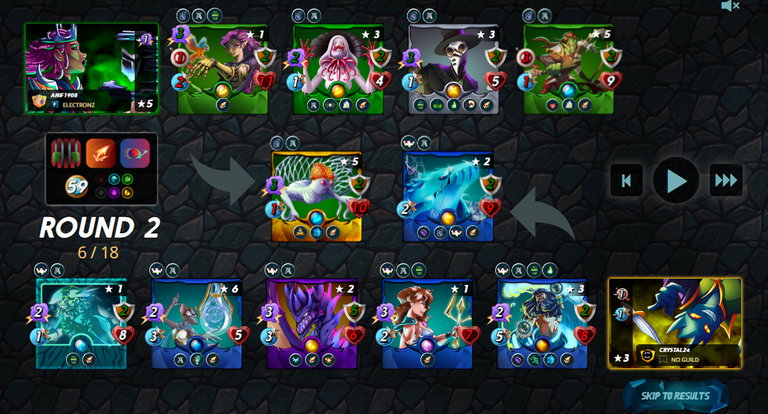 The second round begins with Djinn Oshanus being poisoned by Doctor Blight, followed by Uloth Dhampir restoring only himself and then hitting Nerissa Tridawn. In this round, Doctor Blight hits the Chaos Dragon and at the same time poison is also active. I lost 1 more monster, Queen Mycelia. Now my team only has 4 monsters left.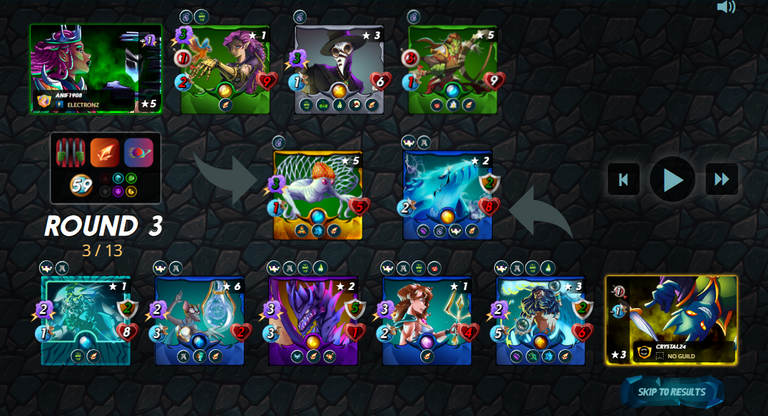 The third round begins with Djinn Oshanus and Chaos Dragon being poisoned. Chaos Dragon finally died in this round.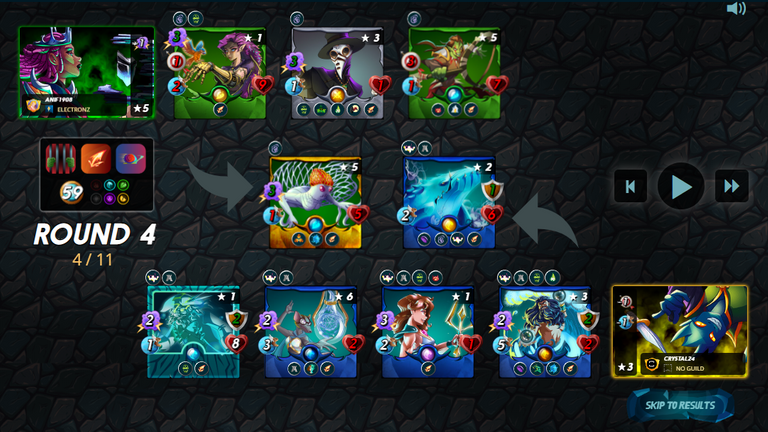 If at the beginning of the round my team looked like it was going to lose, this condition turned around in the fourth round, it was seen that the opponent's monsters only had thin HP left.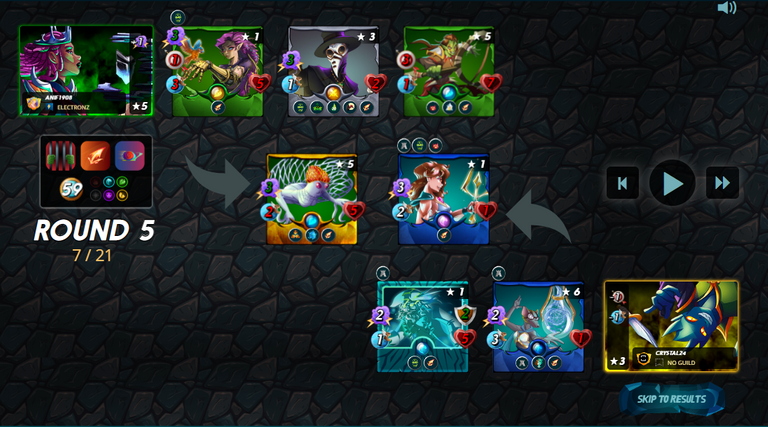 Sure enough, early in the fifth round Baakjira and Djinn Oshanus died of poison. Followed by Nerissa Tridawn who also died due to Uloth Dhampir's attack. Not long after, Venari Wavesmith also died from Doctor Blight's attack.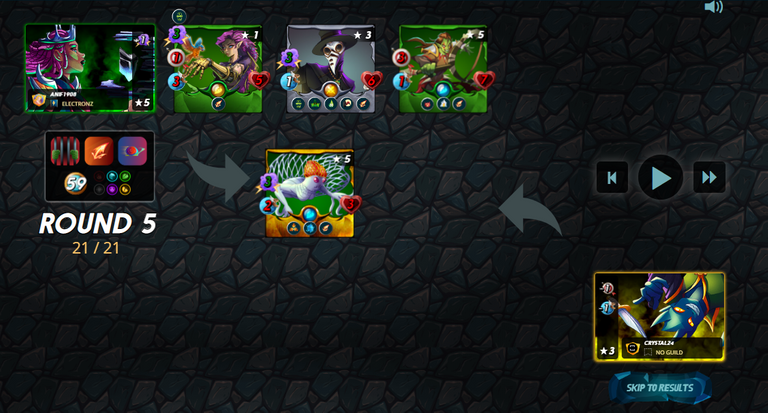 Captain Gosh, who was the last monster, also died in the fifth round. I won this match with the remaining 4 monsters namely Mycelic Slipspawn, Runemancer Flore, Doctor Blight, and Uloth Dhampir. You can see the final result of this match in the picture below.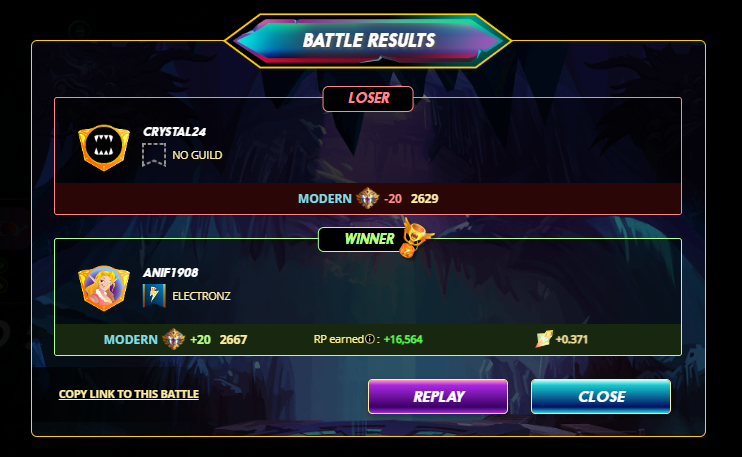 STRATEGY DISCUSSION
The strategy I applied worked effectively in this battle. Although at first it looked like I was going to lose, in the end I was able to win this battle well. I think there are several strategies that we can use when dealing with Aimless rulesets, including:
Focusing on speed, who can kill the opponent's monster first gets a higher chance of winning.
Arrange a focus with monsters that have a large enough HP, considering that attacks from Scattershot monsters are random and are not tied to Taunt or Camouflage monsters.
Don't leave any slots empty, try to use as many monsters as possible.
Using Support monsters that can increase defense, such as monsters that have the ability to Protect, Strengthen, and Triage.

Ok guys, I think my post is enough here, thank you for visiting my blog, don't forget to upvote and leave a comment. If you want to start playing Splinterlands and don't have an account yet, don't hesitate to use my referral:
https://splinterlands.com?ref=anif1908
Credits:
The wonderful divider by kyo-gaming
Thumbnail created using canva
All images taken from Splinterlands website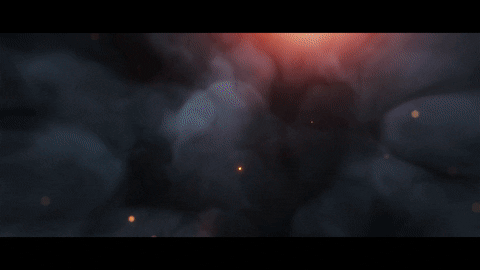 ---
---