Clerical Academy [Splinterlands Fan Art]
Hey, Hive!
Another Splinterlands fan art done for this week, because inspiration struck and I couldn't help myself. But this one is different. Instead of a monster or summoner, or really, any living thing, I decided to paint the Clerical Academy situated within Molten Mountain in Ferexia, the Burning Lands.
CLERICAL ACADEMY
---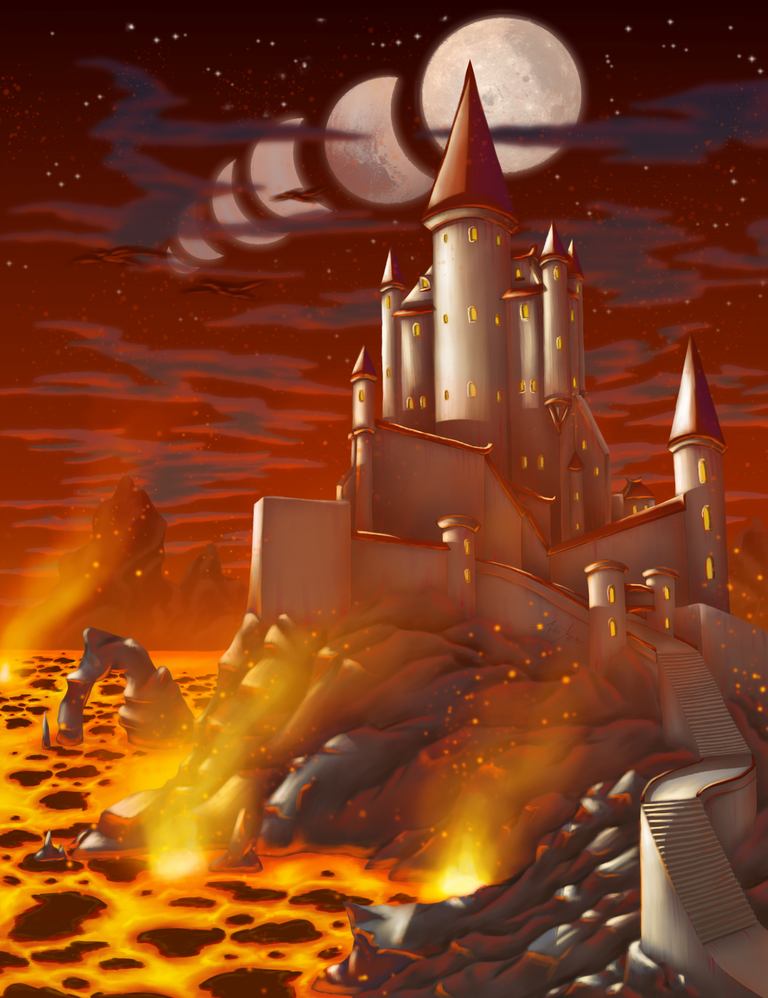 As mentioned before, fire is my Splinter. The power! But I wanted to do a scene piece because, well, there isn't much out there yet. I wanted to give a home to all those fire priests. Show off the Molten Mountain, the 7 moons, the noxious atmosphere. So I took a swing at it and gave it a go, how I think the Clerical Academy would look.
» OUTLINE
---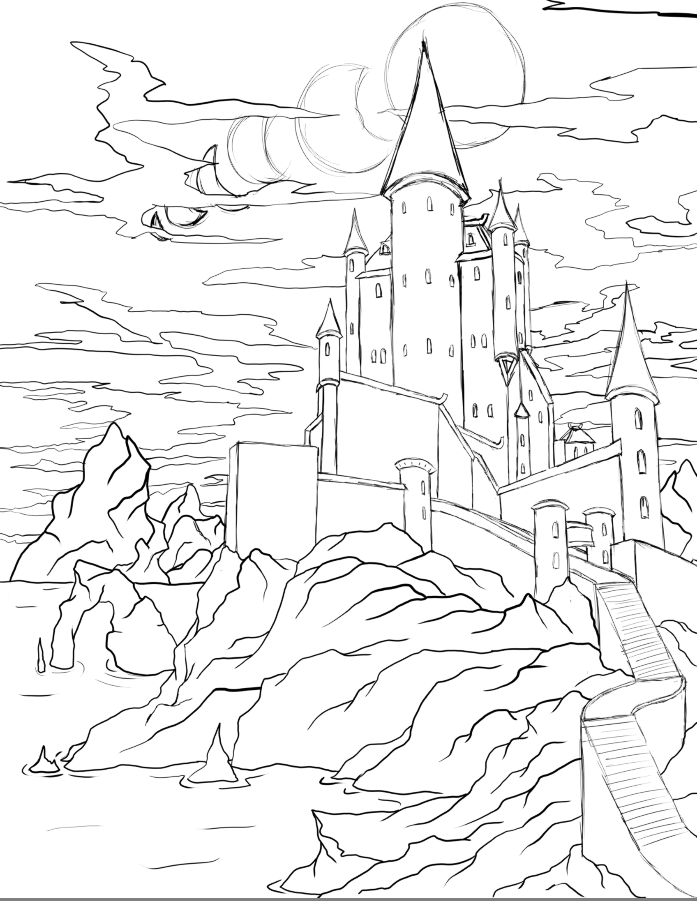 It took a few dry starts before I settled on a sketch I liked. Mainly because I wanted to show the entirety of the Burning Lands in one frame and I didn't realise that's what I was doing. So I ticked off the iconic characteristics, like the lava lake and moons, then went with a simple "castle photo" type of perspective.
» BLOCK
---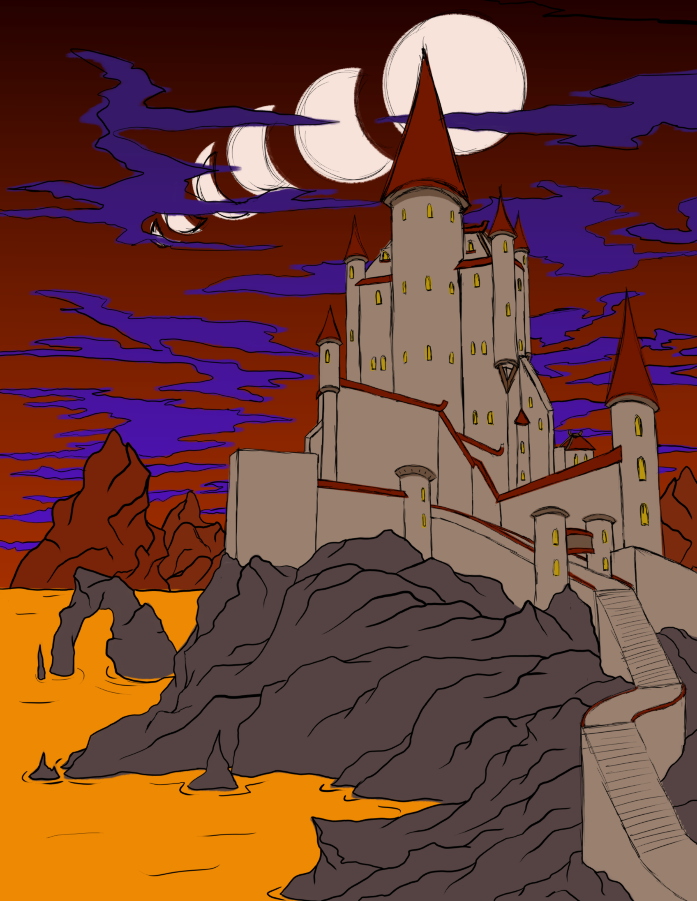 I realised when I was almost done blocking in the colours, that I have no balance whatsoever. And that's why I made the clouds blue. But it didn't fit with the lore of the Splinter. It wasn't a complete wreck, though. Even with so many warm colours (which was inevitable, because that's pretty much the whole idea and scene), I managed to squeeze in some cool colours to offset the warm and give a nice contrast.
» SHADE
---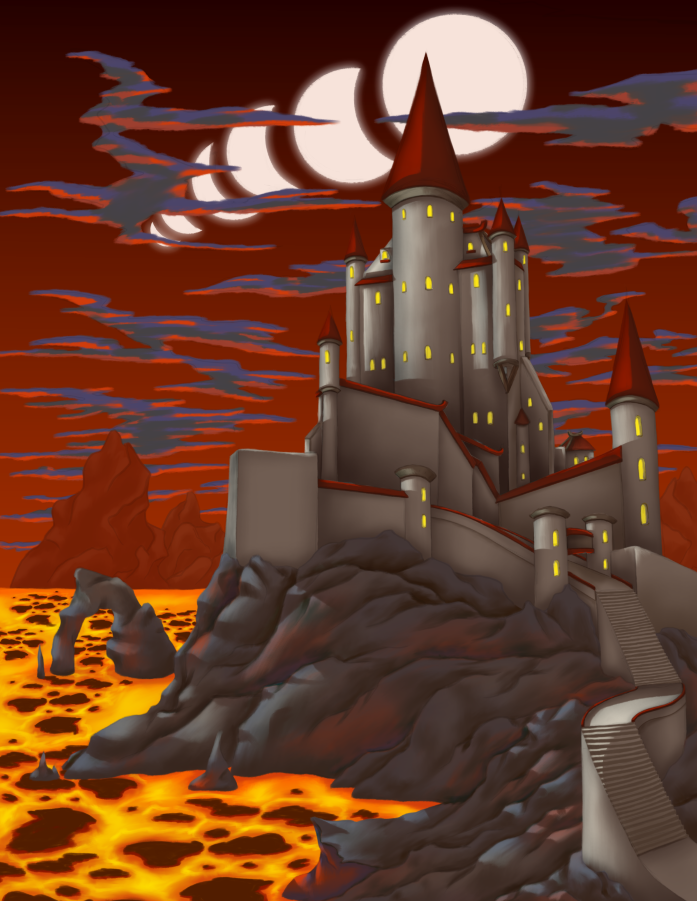 Now the problem was that the lava lake was too bright and stole the attention away from the Academy. Especially after adding the shading which dulled the building more. So I took the chance to add a neutral colour (black) into the painting for more balance and to break up the brightness, by adding cooled and semi-solid lava crusts.
It still pulled way too much attention. But wait, I still had to add lighting! Thank goodness for that. And slap on some after-effects like smoke and particles, it blended the bright lava lake right into the scene and shifted the focus more to the right. Well, it helped that the smoke wafted toward the Academy, pulling the eyes with it. A little trick of the trade that's fun to play with.
» GIFNESS
---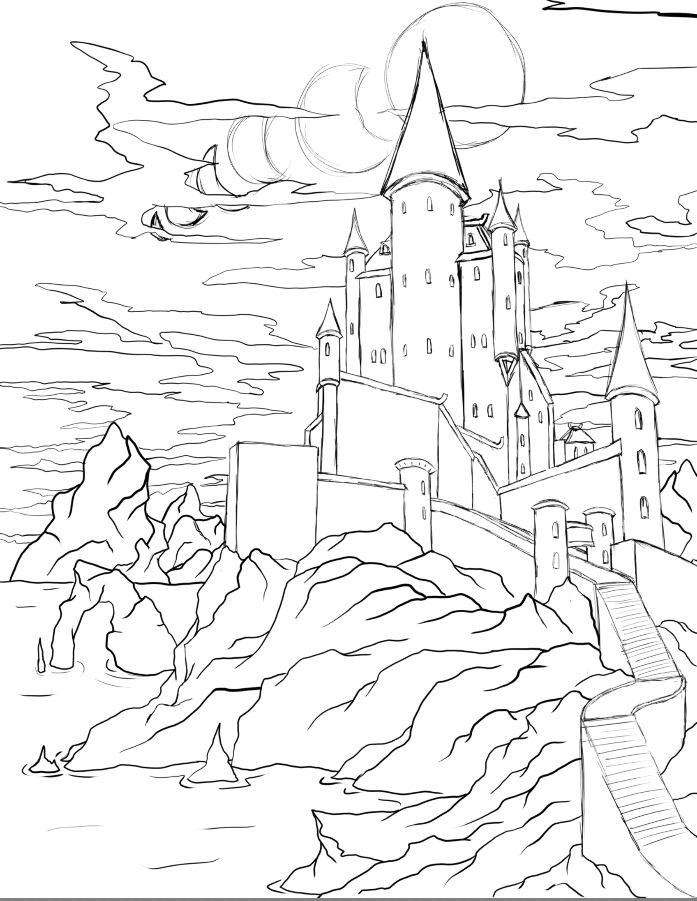 » ART INSIGHT FOR THE WEEK
---
Not much insight this week, except to say to look at something from a different perspective. If you're hitting a block and inspiration is slipping away, take a new approach to something. Instead of portraits, try painting a landscape. If most of your art has daylight, try a nighttime scene. Switch it up.
As a bonus, see if there's a gap that needs filling. Work your niche to your advantage. What do you see isn't being done in that fandom, in that genre, in that topic? Then fill the gap, claim it as yours.
---
Thanks for stopping by and reading and supporting!

• Made in Krita. Copyright © 2022 Anike Kirsten •
---
---
| Contact | Commissions Open | Prices |
---
---
---