Haunted Spider [Splinterlands Fan Art]
Finally!
I promised this painting a while back and it's finally done and ready. But first, where are my manners?!
'Ollo, Hivers!
The spider Splinterlands art I spoke of before is here at last, but why the wait? Aside from work being hectic, I took some time to do more art studies, mainly on lighting and shading. I think it paid off.
HAUNTED SPIDER
---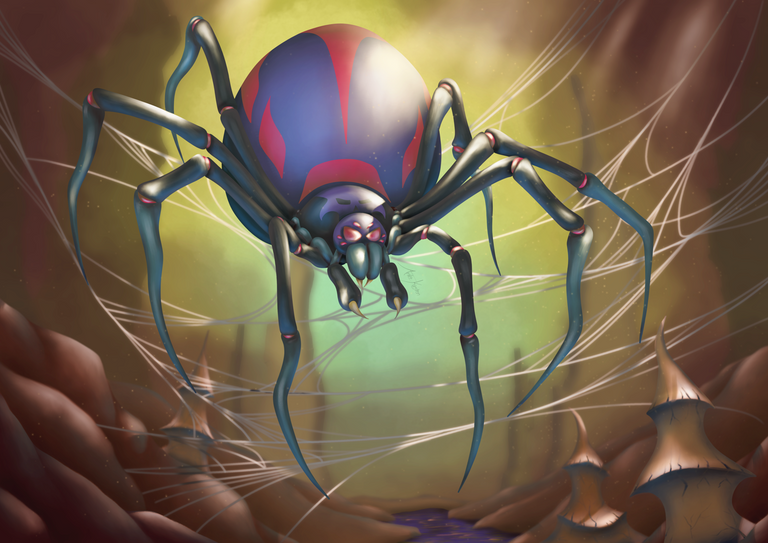 Still my style but a little more refined, I reckon. I really enjoy these new technique additions (like that blatantly hard light going on over there). Subtle improvements but they make a massive difference. Just goes to show that there's no such thing as reaching a point where you stop learning and improving. Art is a journey, not a goal.
Now what in the ever-living heck is this?! I would say it's a spider, but it's not. Not really. This is fan art based off of the Haunted Spider card art from Splinterlands. Let's get into what and how I did this.
» IDEA
---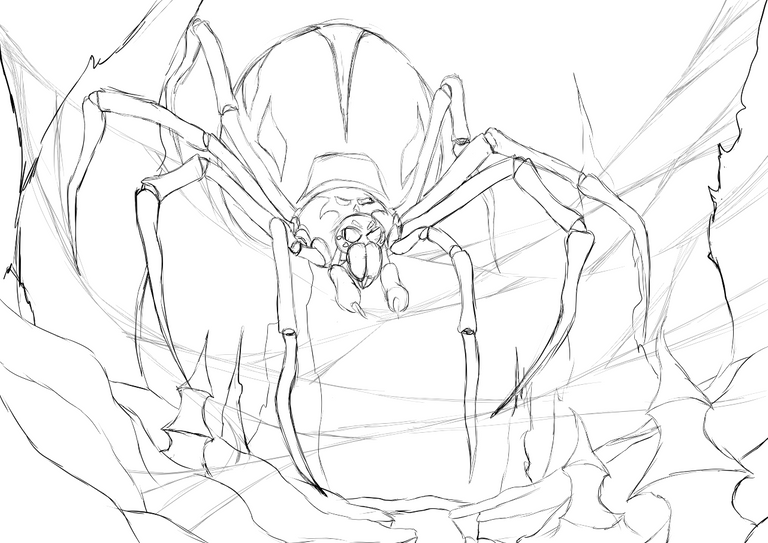 As always, I started with a sketch. A very rough one but that's alright because it's just a guide to keep things in the right direction and proportion.
I'm an amateur arachnologist so I can't help having to point out that spiders don't have heads as separate from their "torso" or thorax. There's also no evidence that the head and thorax were ever separate. That spiders have always had a fused cephalothorax.
But that just my nerdy brain glitching. My arty brain is telling it to shut up and consider artistic license. The art side won and I ended up leaving it with a separate head.
» COLOURS
---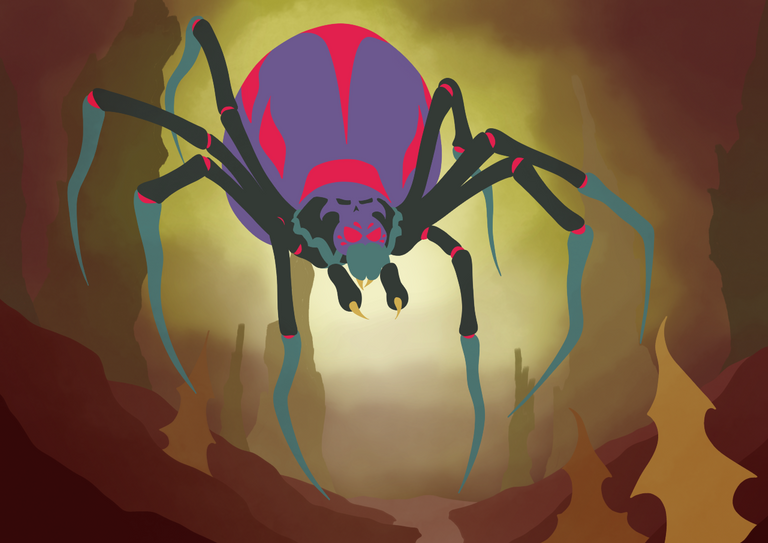 The spider, both from the card and my rendition of it, are more-or-less based on the comb-footed spiders (family Theridiidae, in which widow spiders belong), especially reminding me of the long-jawed Theridiids in the genus Enoplognatha. The colours (and eyes), however, are entirely unique to the card art but still very striking. I blocked in the exact colour values used in the card to stay true to it. Then, a contrasting palette from the overall colour of the spider itself to make the background appear... well, in the background.
» SPIDER, SPIDER
---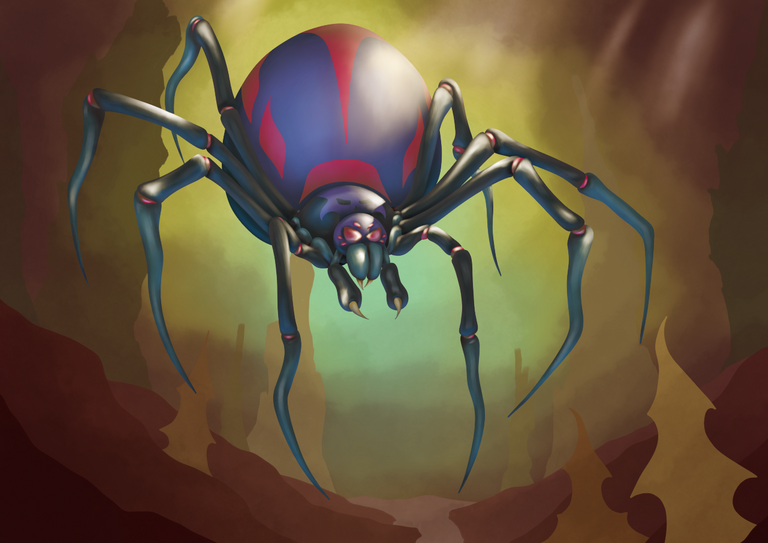 I took a whole new direction this time and, instead of doing each step in total across the entire canvas, I focused on completing the spider first. This is where I go to play with the hard light highlighting and dramatic shadows. And some nice, cool reflective lighting on the undersides.
» BACKGROUND
---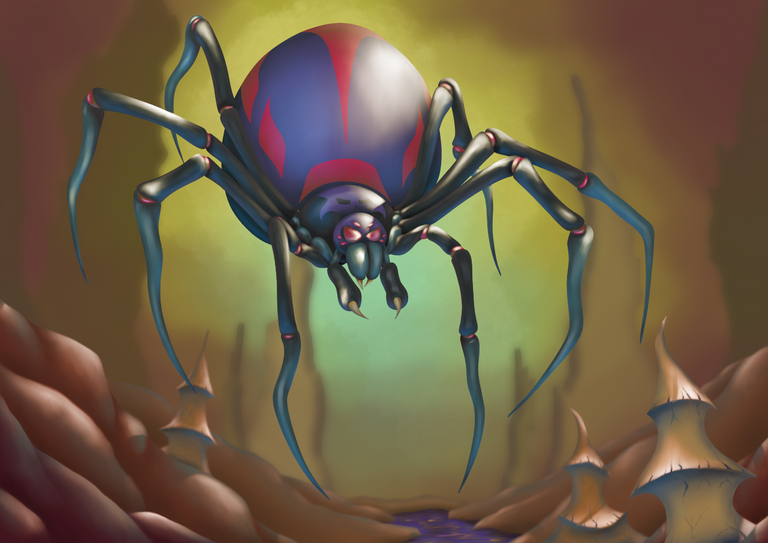 The background looks complex but it's just simple shapes. I used values and blurring to give the illusion of distance and make it appear as though this spider is in a very large tunnel cavern of sorts. And more hard light! All that was left was the web (tangle-web because that's the sort of web Theridiids make) and the final touches.
» GIFNESS
---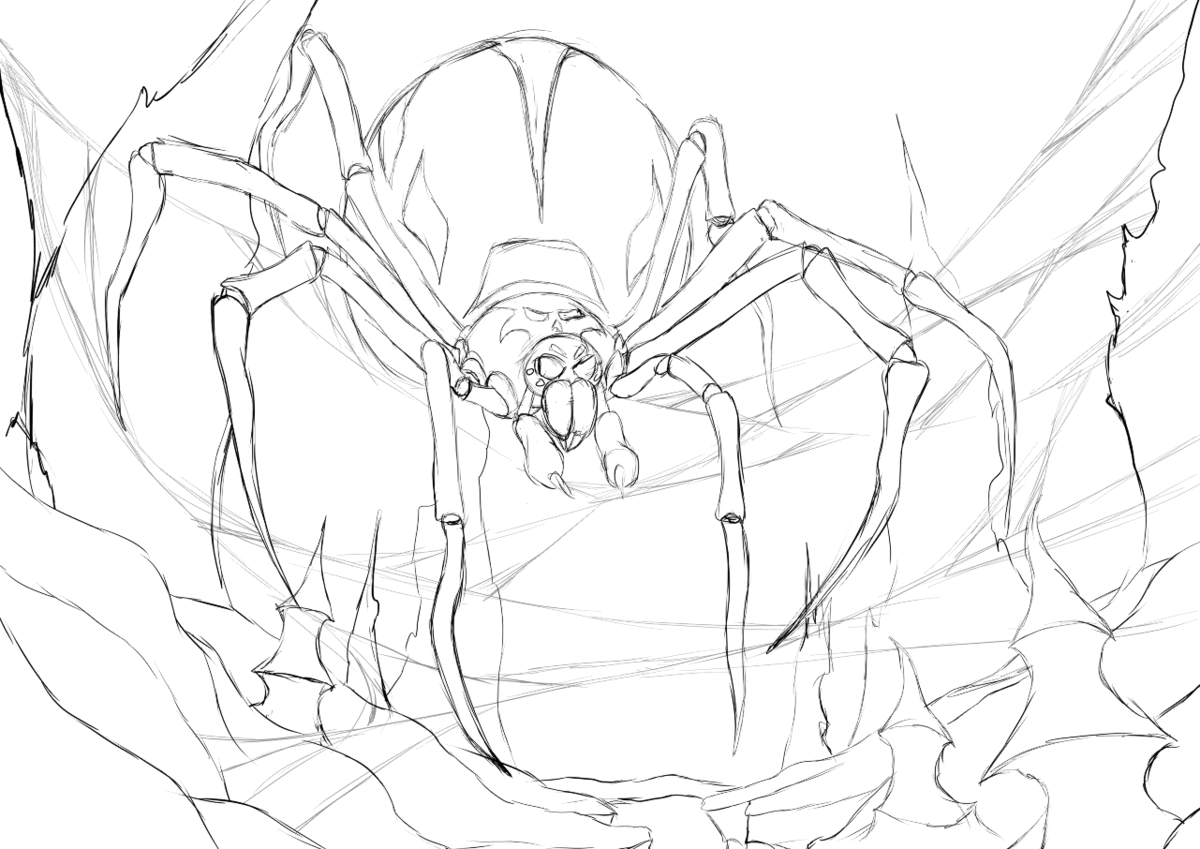 » ART INSIGHT FOR THE WEEK
---
Once or twice a year, at the least, take some time away from making art to focus on studies. Any studies relating to art are worth the time, and your skills improving will transform your paintings and drawings. There are plenty of free online courses and videos and tutorials to help upgrade your skills and understanding.
I'd recommend first studying the basics. Even if you think you know them, it's worth it to just go over it again. Anatomy is one of the most important basics to art, followed by colour theory and lighting. Those three in particular. Texturing is also an excellent skill to upgrade, but it's not easy so prepare for a challenge.
And challenge yourself.
---
Thanks for stopping by and reading and supporting!

• Made in Krita. Copyright © 2022 Anike Kirsten •
---
---
| Contact | Commissions Open | Prices |
---
---
---