I started a 3Speak Account today (@realluckybooster), and uploaded a Splinterlands drawing video
Hello Community
---
I decide to start a 3Speak account today since I have noticed that I am starting to post links to videos that I created. I started to upload more videos on youtube, however I am far away from monetization, so I decided to try 3Speak, as I wont need to have 1000 subscribers to start earning.
I decided to open the 3Speak account with an Alternative username (@realluckybooster). I use that name because I enjoy hive games and want to open great boosters. Also want to separate normal blogging with the videos.
---
3Speak Account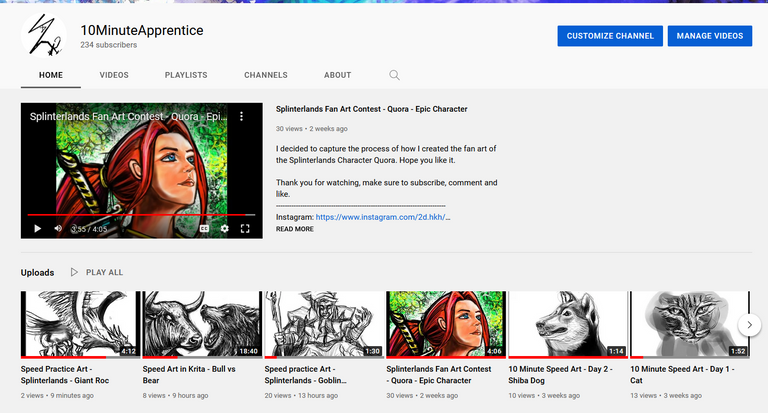 Here is the link:
https://3speak.tv/user/realluckybooster
Would really appreciate it if you give the account (@realluckybooster) a follow, a like and a comment.
---
Content
I will primarily be posting art related content. It will have similar videos to what I post on my youtube channel.
https://www.youtube.com/c/10MinuteApprentice
I have a plan to practice drawing a Splinterlands character every day, so I will be capturing that on my 3Speak account @realluckybooster .
Then, I will create a proper drawing of the Splinterlands weekly art contest.
And thats it for now...
---
REFERRAL LINK
---
If you want to give the game a try, here is my referral link.
Always do your own research before you put money into a game
https://splinterlands.com?ref=apprentice001
---
Hope that you enjoyed go through the post.
Would appreciate it if you like, comment and follow
Have an Awesome day
---
---
---