Closed Beta Launch Notes - Archmage Splinterlands Bot
The time to buy Archmage Closed Beta Passes is upon us. Archmage welcomes you to read on for how you can benefit from Splinterlands automation.

The Archmage had always been an enigma, wrapped in a mystery, shrouded in the unknown. Backed by glowing green eyes projecting dominance, the Archmage's spells were known far and wide. Rumors circulated that the second phase of the plan was underway. With the help of Archmage magic, the people would win their battles and move towards triumph in the war. No one knew what that meant, but they all hoped it would be enough to finally bring victory.
The people bowed in respect as the Archmage walked through the streets because they saw hope shining through dark times: nimble hands weaving symbols, dark robes spinning lore, each step towards the battlefield... The Archmage was ready to unleash themselves on the enemy.

A Beta Pass for the Archmage Splinterlands Bot will get you:
Unrestricted use throughout the Closed Beta:
At a minimum, this will be the entire month of March.
As the exact date for Main Launch has not been determined, the term of the Closed Beta will likely be longer.
As a result, if you buy a Beta Pass today, your use of the bot without further fees will be at least a month.
Discounts after Main Launch:
For Ranked Battle Earnings - you pay 5% less in fees for ranked battle wins while you hold the Beta Pass token.
For Quest Rewards - you pay 20% less in fees for rewards wins while you hold the Beta Pass token.
Note that these discounts are only required after Main Launch. Until then, ownership of the pass will give you unrestricted use. For more information, continue reading.

Closed Beta Details
We have extended the term for the Closed Beta to two months. More high quality development can be completed this way before Main Launch.
ARCHMAGEA and ARCHMAGEB holders both benefit from this delay to the Fee Credits system which will come with the Main Launch.
After receiving valuable information from the Closed Alpha, Archmage now needs to expand its horizons further as we move ahead.
Therefore, the Closed Beta is being lengthened with a view to improving our features and our user experience.
Only approved accounts with applicable passes will have access during the Closed Beta. Accounts will be approved based on availability.
Contact the team through Discord, a link to which is on our site: https://archmage.app
New features will be announced as we progress. Expect release notes and similar informational and promotional materials.
While at the discretion of the Archmage team, upgrades will as usual have maximum consideration for user feedback, subject to factors such as development complexity and resourcing.
Similar to the Closed Alpha before it, participants in the Closed Beta will be issued an ARCHMAGEB token that grants its holder benefits and which is also resellable on the market.
Only 400 ARCHMAGEB total will ever be minted, sold or used for promotions. Like ARCHMAGEA before and ARCHMAGE which will follow, an ARCHMAGEB Beta Pass token will cost USD$10.

From the Whitepaper: https://archmage.app/whitepaper/
Beta Pass Token Holder Benefits:
Access throughout the Closed Beta phase and after Main Launch.
A lifetime 5% discount on fees for Ranked wins after Main Launch (for the Beta Pass token holder at the time of play).
A lifetime 20% discount on fees for Reward wins after Main Launch (for the Beta Pass token holder at the time of play).
Further benefits, including potential airdrops, to be announced as the Beta and Main Launch progress.

Features
Sophisticated Hand Selection Framework: The Archmage Bot offers multiple strategies, safeguards and speed optimizations to ensure the highest chance of winning hands and the fewest possible hands missed.
Internal Database of Winning Strategies: We've created our own unique data acquisition system to build an extensive database of winning strategies that is continuously updated to ensure that our bot utilizes superior play for your collection based on the current meta.
Scheduling Options: To start with, the bot can play automatically for you up to six times per hour. This frequency can be adjusted in order to optimize quest completion.
Direct Configuration: You asked for it. We did it. You can update your play settings directly on our site.
ECR Target Mode: Also based on user feedback and experience, Archmage can now be set to play to a fixed collection rate.
Upcoming/Planned Features
Multi League Support: Support for upcoming Wild and Modern leagues.
Additional Play Schedules: Support for additional play schedules to suit your preference.
Advanced Quest Completion: Advanced strategies to complete quests and automatically switch to optimizing for ranked play after quests are completed.
Automated Brawls: Use the Archmage Bot to automatically submit teams in Guild Brawls.

Payment
Accepted forms of crypto payment are Hive, HBD, DEC & SPS.
Splinterlands card NFTs as payment will be considered on an application-only basis for high volume account purchases. Use the #support channel in Discord to have your offer considered.
If you'd like to bot multiple accounts, you will need to buy a Beta Pass token for each account.

Winners of Spot Prizes
@valjeanlemaire was the first person to purchase an ARCHMAGEA token. They win an additional 50% Fee Credits applied to that token at Main Launch, and in addition an ARCHMAGEB token.
As the first purchaser of an ARCHMAGEB, @leosoph wins an ARCHMAGEA.
The tokens have already been sent. The Fee Credits will be applied at Main Launch.

Winners of the Discord Promotion
The top three purchasers of ARCHMAGEA tokens were @thorlock, @zeeshannaqvi72 and @uwelang - these three lucky winners will collaborate with the marketing team to create custom emojis/emoticons for the Archmage Discord server.
They will be contacted directly in due time.

Unpurchased ARCHMAGEA Tokens
ARCHMAGEA tokens are no longer available for direct purchase, and will now be used gradually over time for promotional purposes.
137 of the 200 mint were sold, equalling 68.5% of supply. 15 of the passes were purchased by the development team. Five passes were used as payment for marketing.
No more than the initial supply will ever be minted. The first promotion which will make use of the unpurchased passes will occur during the Closed Beta, so you can expect details soon.
A reminder that if you already hold ARCHMAGEA Alpha Pass tokens, they are valid for use throughout the Closed Beta.

Final Notes
All the information you need should be found above or on our site.
If you have any additional questions, don't hesitate to contact the team on Discord.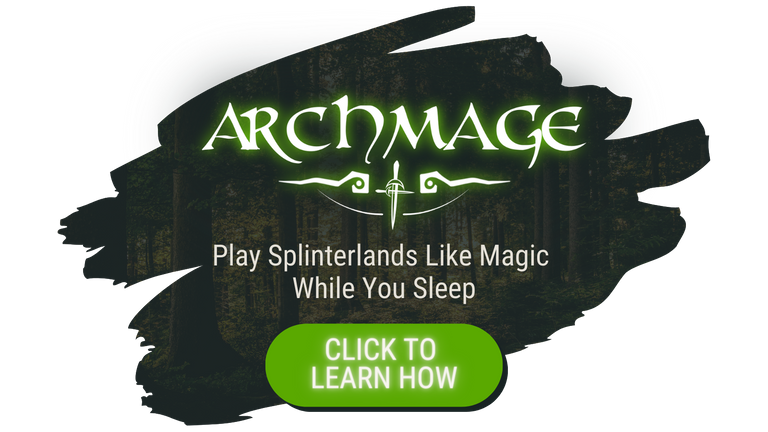 ---
---