Updates to the Archmage Rewards Delegation Billing System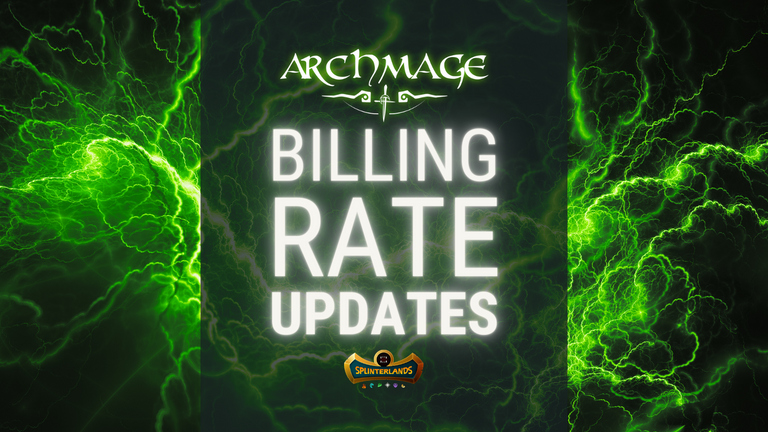 The Archmage with Green Eyes leaned back in their chair, their fingers steepled as they considered the reports from the battlefield. They had known that it would be costly to win this war, but they had to operate on real world facts and figures, not on guesses.
Fortunately, the reports proved just what the Archmage had hoped. Success in this battle would indeed require less financial support than planned for. The Archmage's eyes glowed a bright green as they formulated a new plan.
They would need to act swiftly if they were to succeed, but with the right strategy in place, victory was within reach.
---
Today, we are pleased to announce the long awaited updates to our billing structure for our Archmage Automated Scholar Service for Splinterlands.
Here's a quick history for how we got here:
Initially, we launched Archmage early access with Alpha and Beta tokens for $10 a piece with no further fees required so that we could test the service in the real world for viability. We received a lot of positive feedback from our early adopters and demand soared!
In response to the market demand, we held a prelaunch sale of Standard tokens at $25. This was essentially a way for users to "pre-pay" for our service while our billing system was getting put into place.
Once our billing system was launched, we started with a fee that was the upper bound of what we thought would be needed for a sustainable model. The fee also reflected an adjusted amount based on our expectations from the initial Whitepaper percentages. We wanted to collect as much real-world data as possible and adjust the pricing accordingly, with the goal of lowering rather than having to raise the price.
After gathering two seasons worth of data, we were ready to announce our new plans. Unfortunately, at that same time Splinterlands announced 45% layoffs. This caused us to re-evaluate our plans and wait a while until the market had calmed down before announcing our new pricing structure.
Today, after watching the market for a week or so, we feel confident in our new plan and are excited to announce it.
What we hope to solve with these new fees:
During this discovery phase, the feedback we received fell into three key buckets:
The fees were too high
Our fee structure didn't make sense for Mixed-play users (users that wanted to use Automation some days but not others)
People are worried about sharing jackpots
We heard this feedback loud and clear, and we've made the necessary adjustments to our billing structure in response.
Our goal is to make sure that our fees are reasonable while still enabling us to maintain a sustainable service.
For the first point, our intention was always to lower the fees based on real world numbers, and after reviewing those numbers, we are pleased to be announcing lower fees today.
For the second point, we were also unhappy with how our fee structure didn't make sense for Mixed-play users, so we made sure to take that into account when designing these new fees.
And for the third point, while not perfect, we now have a way that winning jackpots just feels awesome and doesn't have a sting from having to share it. Our plan doesn't fully solve this piece of feedback, but we hope it helps in some way.
We believe our new structure is a better option for all involved, and we are excited to share it with the world.
Updated Billing System
To explain our new billing system, let's first revisit our soon to be replaced billing system.
The Old System
Under the old system, you were required to pay a percentage of your Staked SPS earnings to Archmage from all Automated Ranked Battle Rewards, Daily Focus Chests, and Season chests.
The percentage paid for each type of Access Pass Token was as follows:
Alpha Pass (ARCHMAGEA) holders pay 15%
Beta Pass (ARCHMAGEB) holders pay 25%
Standard Pass (ARCHMAGE) holders pay 35%.
Your other earnings from Cards, Packs, Merits, Potions, and Leaderboard Prizes remained entirely yours. Staked SPS earnings from Brawls, Licenses, and Pack Bonuses were also completely yours.
The New System
We're now excited to reveal our new billing system, where we're eliminating any Season Chest delegation requirements for all Access Pass holders.
From what we've seen, this change effectively reduces the total fees that Archmage Pass holders pay by approximately 15% on average!
Further, by eliminating Season rewards we've drastically improved the fairness of feasibility of using Archmage in a mixed play scenario. Now, if you'd like to only use Archmage for a few days, you can safely do so without fear of crossing the line into needing to share season rewards.
Finally, this change means that for all users, their Season chests, which might make up around 50% of potential jackpots, will now be safe from any delegation fees.
The New System Recap
So here's a quick review of what the billing system now looks like for Archmage users:
All users must still acquire an Archmage Access Pass token (Either ARCHAMGEA, ARCHMAGEB, or ARCHMAGE) for each account they want automated.
Rewards delegations for Staked SPS earnings are required for Ranked Battle Rewards and Daily Focus Chests only.
Season Chest earnings are no longer subject to any delegation requirements.
The percentages paid for each type of Access Pass Token are still the same:
Alpha Pass (ARCHMAGEA) holders pay 15%
Beta Pass (ARCHMAGEB) holders pay 25%
Standard Pass (ARCHMAGE) holders pay 35%.
All other sources of income, including Staked SPS earnings from Brawls, Licenses, and Pack Bonuses remain entirely yours. Your other earnings from Cards, Packs, Merits, Potions, and Leaderboard Prizes also remain yours.
As always, while this system is the current plan going forward, it is not set in stone and we will adjust it as needed depending on what we see with usage, the game, and the market.
But Wait, There's More...
We're excited to make another billing related announcement!
From now on, new tokens will be available at the intended retail rate of $20.
When we first launched our token sales, we had not yet implemented billing; as a result, we priced the tokens at $25. We announced that once billing was up and running, the price would drop to $20 per token.
Many people either forgot about this or never saw the announcement, but we're excited to finally make this change!
Given that the third-party market price of standard ARCHMAGE tokens has recovered even above our old price of $25, showing continued demand for our service, we will likely be minting and releasing some new tokens soon. So stay tuned!
No dates have been decided yet, but we'll make sure to announce it as soon as they are.
We hope you enjoy the new billing system and that it makes using Archmage Automated Scholar Service for Splinterlands even more enjoyable!
We are extremely grateful to everyone who helped us during this discovery phase by turning on billing, giving us feedback, and allowing us to use real world data to make our decisions. Your support was essential in ensuring a long and successful future for this project!
If you have any questions or need help understanding our new billing structure, please don't hesitate to reach out to us in Discord. We would love to talk you through any questions or concerns that you may have.
Thank you again and happy gaming! See you on the battlefields of Praetoria, battle-mages!
The Archmage Team
Some Additional Information Related to this Update
Ideally, we'd still love to see a scenario where Archmage's fees are only paid based on the battle-by-battle earnings, with a proportional share of Focus and/or Season, rather than the day-by-day earnings. We are still investigating this, but the changes we require would mainly need to come from Splinterlands. Overall, we think our users would prefer if we focus on more tangible improvements to the service itself, such as card suggestions, data & analytics, and further improvements to the hand finder.

These changes will be rolled out in time for them to be live for the current season. Therefore, Season 100 of Splinterlands and beyond will not require Archmage delegation for Season Chests.

Updates to delegations require an active key signature, therefore we cannot make this update for you. All accounts that were previously set up and delegated correctly will continue to function without any changes. However, if you want to take advantage of the updated delegation requirements, you'll need to remove any Season delegation from your account. You can do this starting now. We will put out further notices and reminders in our Discord to help remind users to turn off that delegation. However, please note: all overpayment is at the user's expense. The service cannot be interrupted because delgations are set too high. Please ensure your delegation is updated to the new structure in time.
---
---