Archmage bot running on brand new account - Day 1

Project recap!
Like i said on my previous post yesterday, I am experimenting with the archmage bot and wanted to see where I could get with only the 3k credits provided when you create a new account.
Bot has been running for 24h now and I gotta say that I was impressed on how well it was performing considering the cards that I had rented.
What have i rented?

My goal was to rent as little as possible and still be able to climb the ladders.
I spent 132 credits in the first day to rent some cards for a two day period and when I was thinking that I had a good deal, I was renting for a three day period. On a daily basis, according to peakmonsters, it seems that I rented for about 82 DEC.
If you look before tomorrow, you can actually check all the cards that I rented and at what price on peakmonster. Link is to my actual account.
Was I profitable?


Considering that this account was starting from scratch with a rating of 0 and that I didn't start earning any SPS or chests for a while, I think in the end it was really good. The bot managed to push me to about 1500 rating and is now playing in silver 3. I got 14 bronze chests for the day but wasn't lucky from those. I have also accumulated 27 bronze chests for the season, so that makes a total of 41 chests for the day.
Of course, the rewards for said chests are pretty slim compared to higher leagues.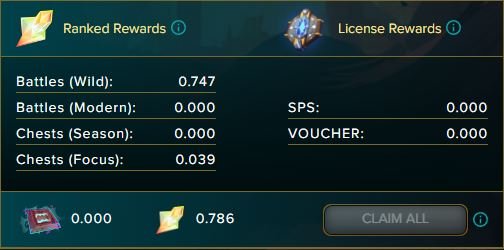 On top of the two common cards that I won, I managed to get 0.786 SPS from the chests and from battles.
If we had to put everything into DEC to see if it was profitable or not, that would make about 32 DEC worth of cards + 90 DEC from the SPS after convertion.
The numbers
DEC spent for today: 82 DEC
DEC from rewards (cards + SPS): 122 DEC
Balance: 40 DEC
Conclusion
Considering that I didn't win anything for a while and that the chests that I opened were bronze chests, I still manage to make a slim profit of 40 DEC. I will eventually have to sell those cards and claim/unstake that SPS to be able to keep renting but so far, so good.
End of season coming soon, I will have a lot more chests to open and should start next season at 500 rating. My plan is to keep playing until the end of season, then wait for 2 days while my ECR regenerates and avoid the crazyness of the new season.

Links
You would like to start playing Splinterlands, here is my referral link
You would like to have a little "brother" playing for you, Archmage website
You would like to get some Splinterlands LICENSE but don't have the budget?
Get your hands on some LICENSETYC tokens. They represent 1/20 of an official one.
Want to tip me to help me on my journey? you can send donations to archmagebot on hive :P

How do you think I did with the bot on Day 1?
Please comment bellow, I really like your input! :D
---
---