My Irrelevant Splinterlands Journey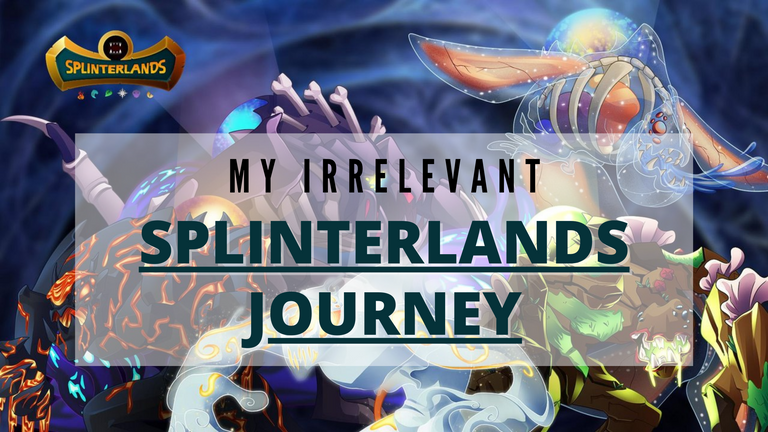 Cover Image Credit: Splinterlands
I was browsing through my old posts looking for other posts for another post (yeah, yeah, posts! posts! posts!) when I stumbled upon my old Splinterlands contents. I took the links, pasted here on my drafts...
So now, I get to bore you with my irrelevant Splinterlands journey...
You still have a chance. You can now click that "X" button. LOL
But hey, if you are new in the game still running like a headless chicken and lost on how to maneuver your own journey, or someone interested to start with the game then you can perhaps stay and find a point or two interesting?
2018
I found the game right when it was launched in mid 2018. I wrote this post sharing how I purchased my first starter and booster packs. I had no idea what the game was about to be -- I just did not want to be left behind (define FOMO).
When running out of creative juices to write a blog, play Splinterlands.
I tried to sit in front of my computer to make a blog post, but I did not get the right inspiration (as always). I ended up playing #steemmonsters for the first time. For some reason I could not get a match on the practice mode, only once so I moved on to the ranked game mode.
So back then, the blockchain was mainly focused on content creation, a.k.a. blogs. There were days when I can spit out content every day but sometimes inspiration just eludes me. Then I got the time to play Splinterlands for the very first time in November 2.
I was honestly clueless about what I was doing. Want to see how a battle log in the early days look like? It looks something like this: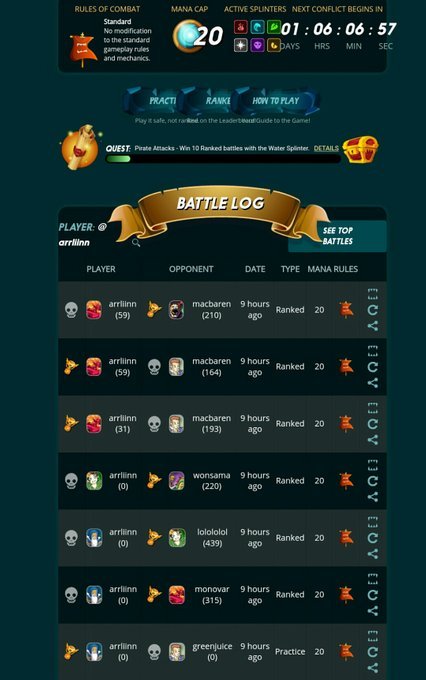 Did you see my pathetic win/loss ratio?
Will I try it again? Of course I will. But only when time permits. 😅 I don't want to get addicted to it.
Whew! How I wish I got a little more inclined to play... but...
I never visited the game again for two years!
Yaiks! I don't want to be sour, but what if I continued to play? What if I took time to at least familiarize myself with it? What if I did let myself to get addicted to it?
Don't be like me, okay? You came to Splinterlands because you knew the great potential in the game. Take time to learn it. Grow your collection. Then hopefully you won't have that "what if moment" like me.
2020
I re-discovered Splinterlands in 2020 after one of our Philippine community meetings a few months after the launch of Hive. One of the topics was actually how to set up a Splinterlands account. So yeah, I got to enter the enchanted world of the Splinterlands again two years after that first and last game in 2018.
Since then, I made sure that I regularly play the game and achieve my best rank for the season and get maximum rewards. It was when I started to grow my collection.
I also started writing Splinterlands content from time to time. Mind you, I did not know I was already earning SPT tokens because of this. I was only trying to boost my depleting creative juices.
You know, some bragging rights here and there... like snagging a Legendary card, perhaps?
Splinterlands Season Rewards: Oh, Legendary!
Share season rewards, or simply join the Splinterlands Weekly Share Your Battle Challenge
At least, I was able to translate my experiences in the game into Hive and SPT rewards too.
Splinterlands Arts and NFTs?
Yeah, I did that too. You see, There is really a lot going on in Splinterlands apart from the game itself. I tried to put myself in most of them. Here's a couple of my Splinterlands drawings -- there are a few more in drafts that I don't know if I will ever get to complete...
Cool down
I know the collection power mechanism is about to get implemented next month, so a little more push is required. Hayyy, I really regret not playing this game since I got my hands on them two years back.
There was a time around the end of 2020 when I stopped playing again for a few months. This was when the collection power-based tier in the ranks was introduced. I felt discouraged that I could no longer reach Gold or even Diamond league just by simply playing my a$s off...
At least, I woke up from my slumber and played again... got to collect more rewards based on my max level, i.e. Silver III at the beginning of 2021.
And boy am I glad to have stuck with the game even when I felt the updates were not to my advantage. Oh, there was another "regret" -- I did not level up my cards earlier on. And I thought an Alpha Alric Stormbringer priced $13 last year was already expensive!
Eagerly waiting for the Chaos Legion
Isn't it December 8 yet? I am dying to open the few packs I have purchased and see the rest of the Chaos Legion cards. Oh, exciting times, indeed!
Chaos Legion Update here...
Which One Are You?
Are you that one who was amongst the early adopters but sold out early? Or are you one of the new ones who feel unhappy with your slow progress? Or did you stick with the game through thick and thin?
Or have you not started playing yet? Knock! Knock! Wakey, wakey! What are you still doing not getting your account? Sign up now -- lots of great things to look forward to: https://splinterlands.com?ref=arrliinn
Did I succeed in boring you to death?
If you reached this far, thank you!
With all that's been said above I guess what I am just trying to say here is that no matter when you join, the game has something to offer which you can capitalize on. #playtoearn, #collect, #trade, and a lot more. Don't look at the big players with envy - they got there for a reason -- they hustled hard or they injected money into it. Instead, get inspired by them, do your own thing, and do not forget to enjoy the game.


---
---