Share Your Battle: Crystal Jaguar | Third Time's A Charm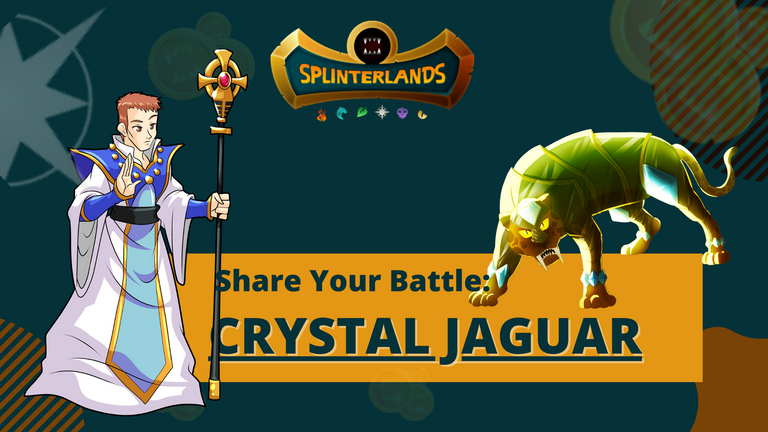 During the historic Obliteration of Light, a family of wild cats was napping deep in one of the caves of the Crystal Forest. They were spared by the wave of destruction, and over time, with no competition for food, the cats grew incredibly large. (Splinterlore)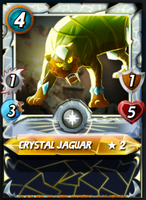 Hello, Splinterlords! We are back with another Share Your Battle Challenge. This time, featuring a common Life Monster, the Crystal Jaguar.
Hmmm, this is going to be quite a challenge. I do not use this monster a lot in battles. Why? Simply because I feel I have more befitting cards in my Life lineup that can help me survive my quests and battles.
So first, let's level up the card. I had a level 1 card with 3 BCX so I basically had to just buy 1 more to bring it up to level 2. Level 2 increases the speed to 3, but it does not have any special abilities until it reaches 4 Level where it will have the thorns ability.
Card Stats:
| Mana | 4 |
| --- | --- |
| Attack | 1 melee |
| Speed | 3 |
| Shield | 1 |
| Health | 5 |
Daily Quest: Life
Now comes my chance to try to use the Crystal Jaguar, as I embark on my Life Quest. Let's see...
Attempt #1: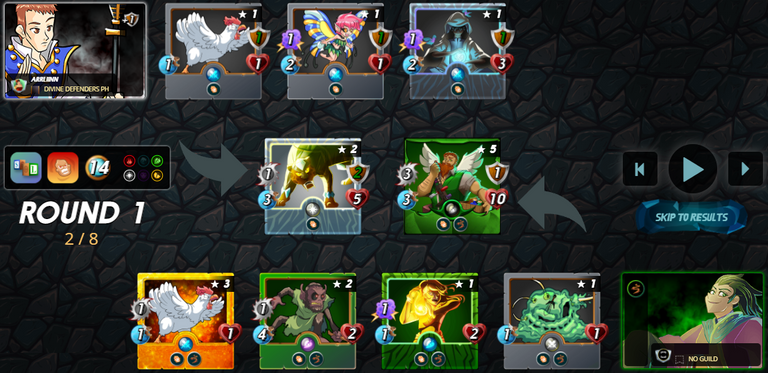 Rule Set:
14 Mana Cap
Enrage
Back to Basics
My Line Up:
Summoner : Tyrus Paladium
First Line : Crystal Jaguar
Second : Furious Chicken
Third : Enchanted Pixie
Fourth : Elven Mystic
Crap! The opponent came to the battle with Mylor Crowling summoning Pelacor Mercenary, Creeping Ooze, Khmer Princess, Brownie, and Furious Chicken.
Obviously, I did not stand the chance. The Crystal Jaguar was obliterated in Round 1 itself. No thanks to the thorns courtesy of Mylor and the enrage ability activated after the hit. Enraged, Pelacor Mercenary had 5 melee damage and 5 speed. That was brutal.
It was not a sight to behold, but still here's the battle link for you.
---
Attempt #2:
I'm a fighter. I'm not going to give up just like that.
Let's do this again, shall we?
Rule Set:
My Line Up:
Summoner : Mother Kala
First Line : Crystal Jaguar
Second : Luminous Eagle
Third : Furious Chicken
Fourth : Venari Crystalsmith
All the monsters start poisoned so Mother Kala giving my monsters one extra health should help. I was also hoping that the healing of Venari Crystalsmith would support them throughout the battle.
The opponent came with Lorna Shine and Silvershield Paladin, Armorsmith, Venary Crystalsmith, Feral Spirit, and Furious Chicken.
It was a close match, with Luminous Eagle actually putting damage on Silvershield Paladin. Crystal Jaguar's single damage does not affect him because of his shield ability.
The other low health monsters of both teams were wiped out due to the poison dropped at each round.
The third round was the nail-biting - I was left with two monsters - Crystal Jaguar and Luminous Eagle. The opponent had Silvershield Paladin (such a toughie!)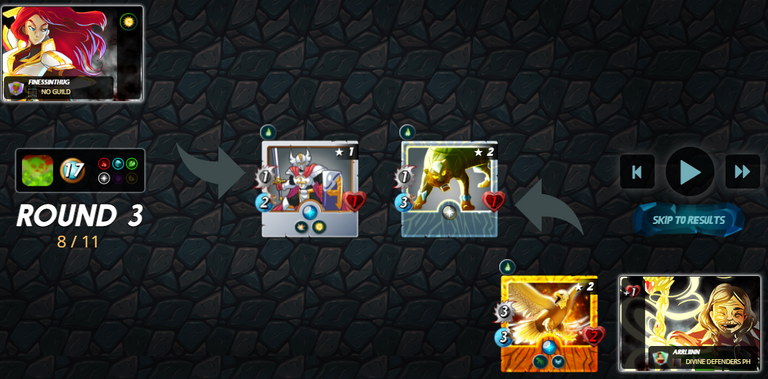 Finally though, Silvershield took down my Crystal Jaguar and he was left one on one with my Luminous Eagle.
Then the poison dropped.
Luminous Eagle was obliterated.
Silvershield Paladin? Well, he did not survive as well.
Watch how the battle ended in draw here.
---
Third Time's a Charm
I told you, I am not going to give up and share my experience with Crystal Jaguar with only lost battles. While I was not lucky last night, today was another day. The quest was over but who says we can't battle?
In the battles I shared above, I used Crystal Jaguar in lower mana cap battles. It did not survive.
So let's try a higher mana cap, shall we?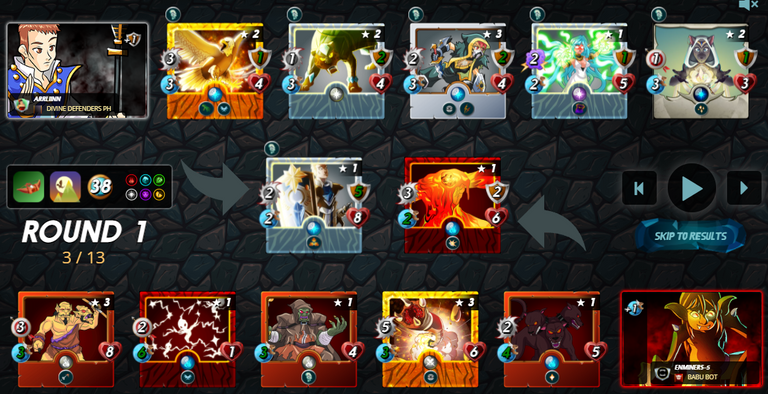 Rule Set:
38 Mana Cap
Close Range
Lost Legendaries
I failed two battles where I tried to make Crystal Jaguar the tank card. So this time, it's his time to stand by and wait for his time to attack. I put him in the third position.
My Line Up:
First Line: Shieldbearer
Second Line: Luminous Eagle
Third Line: Crystal Jaguar
Fourth Line: Silvershield Assasin
Fifth Line: Lunakari Mistress
Sixth Line: Venari Crystalsmith
My team faced a Fire Team with Pyre as the summoner. Now I really think we could pull this through.
Boy, oh boy. Living Lava was a tough monster. I have already lost two monsters when my team was able to put him down.
Crystal Jaguar came forth in the third round. He was now face-to-face with Cerberus. Again at a disadvantage, my Crystal Jaguar needed all the support he can get from his teammates.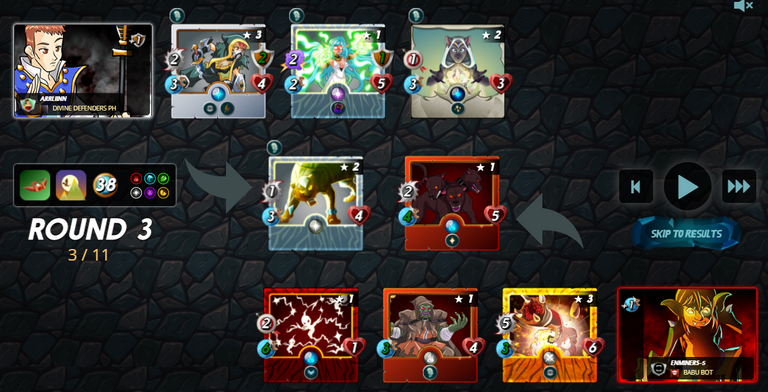 Silvershield Assasin deals a total of 4 damage per turn. That really helped, plus we got one extra health back when Goblin Shaman died.
Crystal Jaguar survived until the beginning of Round 5, facing against Sandworm, the last one standing in the opposing team.
The rest of the battle was finished by Silvershield Assasin.
Finally, a WIN!
Full battle is here.
---
What a challenge, indeed!
Whew! Now, that was really a challenge with Crystal Jaguar. But at least I had one decent battle to share, right?
Lack of skills from my end, perhaps, for putting him in battles with the oddest rulesets -- poison and enrage, seriously? Who would stand a chance?
I tried using him in low mana cap battles without much luck. I may try again sometime soon in a more favorable ruleset though. We'll see. There are many more battles to face.
Let's do this!
---
What are you waiting for? Why don't you share your battle experience with the Crystal Jaguar. More details below: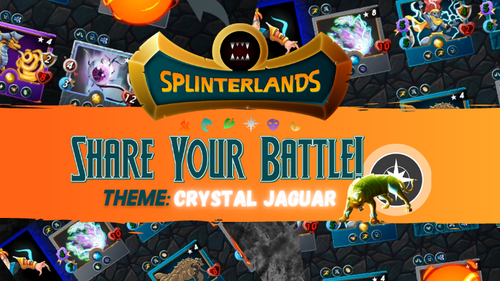 ---
Not playing Splinterlands yet?
Don't miss out on this amazing blockchain game and #play2earn now. Battle, trade, and earn! You can use my referral - https://splinterlands.com?ref=arrliinn to get started.
Cover Image Created via Canva.
Photos are screenshots taken from the game Splinterlands.com


---
---