Splinterlands Share Your Battle Challenge: The Haunted Spider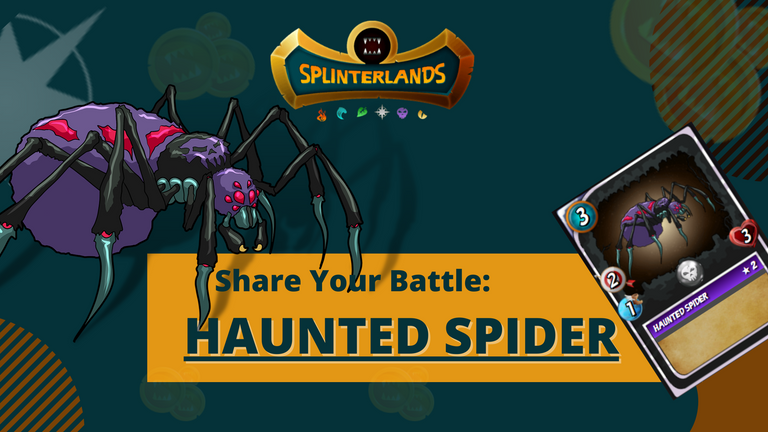 The second form of a Dark Eternal is determined by the state of the soul. Some of the more twisted souls take insect form, and the Haunted Spider is the favorite. The projectile venom and massive, armored thorax make the Haunted Spider a formidable (and intimidating) enemy in any battle. (Splinterlore)
Arachnophobia?
You bet.
And why not?
Eight hairy legs, creepy eyes that light up in the dark, venomous spit, sticky web... you get the picture, right? Creepy, creepy crawlers that can make you jump out of your skin. I don't want to face them. Ever.
Though this week, we got a challenge. We have to get up-close and personal with these notorious elements of the dark. I'm not gonna go scaredy cat mode and say "no". Not this time.
The Haunted Spider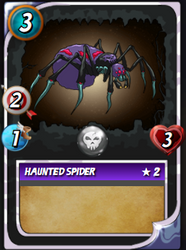 Let's get to know our Monster of the Week, the Haunted Spider. A death monster, I have no plans of finding out which twisted soul took over this crawler. I am but glad to have it on my side this time.
First, The Stats
My ally is an Alpha Edition Level 2 Haunted Spider. It has the poison ability at Level 4 but lower than that, here are its stats:
| Mana | 3 |
| --- | --- |
| Attack | Ranged |
| Damage | 2 |
| Speed | 1 |
| Health | 3 |
I honestly do not do well in Death Battles. I did so during my earlier times in the game, but nope, not anymore. But when I do need to engage in Death Battles, the Haunted Spider almost never misses a spot. It has a very low mana but with two ranged damage, it can be very useful in low mana cap battles. Besides, I do love those extra DEC bonuses for Alpha Cards!
The Haunted Spirit In Action
Here comes the chance to highlight the might of our little crawler. A low mana cap battle!
Ruleset:
13 Mana Cap
Silenced Summoner
Keep Your Distance
My Lineup:
| Position | | Monster |
| --- | --- | --- |
| First Line | : | Gelatinous Cube |
| Second Line | : | Furious Chicken |
| Third Line | : | Creeping Ooze |
| Fourth Line | : | Haunted Spider |
The Battle:
Full Battle Link
It was a short-lived battle that fit in a 27-second GIF!
Fortunately, my opponent did not have any snipers and his monsters got busy taking down my damage absorbers. Haunted Spider was able to focus on his job.
How About In Future Battles?
As I said earlier, anytime I am battling using Death, Haunted Spider almost always makes it to the cut. It does not require a lot of mana and has decent damage and health as well. It is not as fast as the others, but it would do well in Fog ruleset.
---
Splinterlands Share Your Battle Challenge
Hey Splinterlord! Why don't you share your battle experience too? Check out this week's challenge: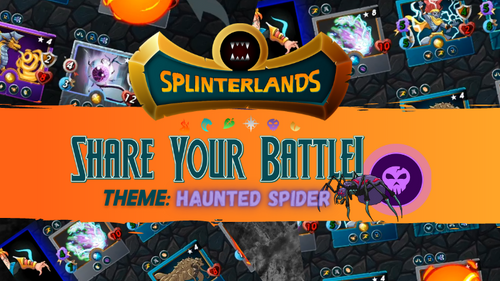 ---
Not playing Splinterlands yet?
Don't miss out on this amazing blockchain game and #play2earn now. Battle, trade, and earn! You can use my referral - https://splinterlands.com?ref=arrliinn to get started.
Cover Image Created via Canva.
Photos are screenshots taken from the game Splinterlands.com


---
---