Upgrading my Earth Element Deck part 1
Hai guys,allow me to introduce myself. My name is Arveno and my IGN name in Splinterlands is same that is Arveno. I am having 2 main account in Splinterland. One is Arveno second is Woofie both still supporting Guild from Indonesia called Electronz maybe you guys meet me in ranked battle or in brawl sometimes.
Besides my main account i am playing scholarship account too
2 accounts in Playdough 1 account in Baltazhar. i am still doing scholarship because additional SPS rewards from the scholarship account can build little by little my main account.
Even it is too late that i making the content of building deck in Splinterland, i still want to share what i am building in my main account to farming in Gold Modern League.
Before that i want to thank you @acidyo for holding giveaway event that i won 1 Chaos Legion pack that contain very beautifull card that the first time i got my Legendary Gold Foil after playing almost 2 years.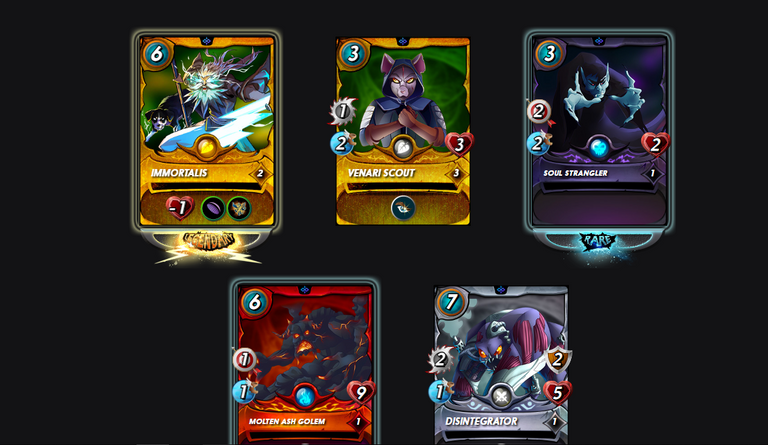 Yeah i am get Gold Foil Legendary Immortalis when first time i get this card i want to keep it and have it. But, after i think many times thats better if i sell this card and building up and upgrade my Earth element Obsidian magic army going to level 5 rare summoner level. And not waiting to long i succeded sold this card in 112$ and start building my Earth element so many card i forgot to save and record the data.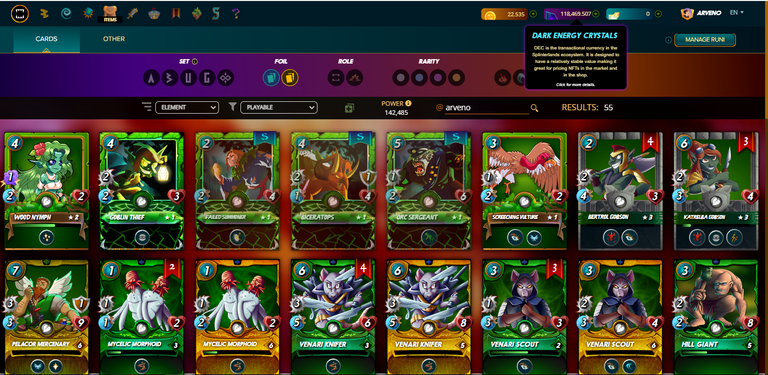 There is the remains of DEC after i buying some Gold Foil card that off the record.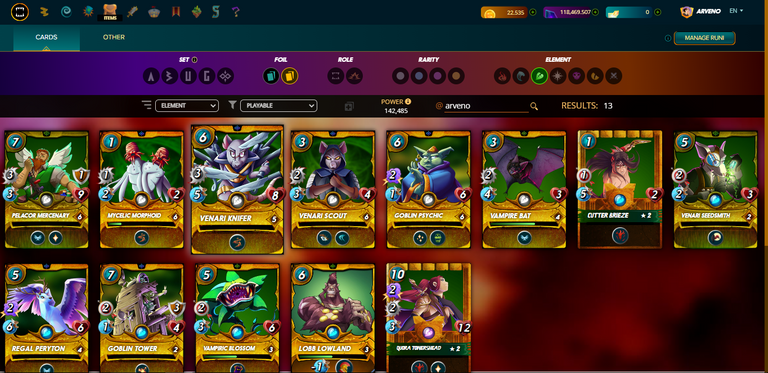 As you can see the picture above i just bought Pelacor mercenary,Mycelic Morpoid,Venari Scout,and Goblin Psychic before i thought that i need to record it. So,basically in the first strategy to upgrade my deck usually i am starting by buying Gold foil reward card first. Why gold foil?? First reward card Gold Foil is not to expensive and second Gold Foil give more rewards than reguler one. But not all my card is gold foil just some card that usually i am pick for the battle.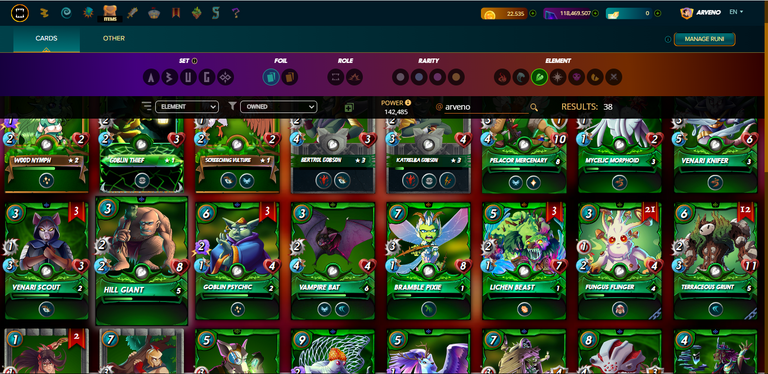 After upgrading the Gold Foil still need to upgrade the reguler one. like in the picture above is Hill Giant or Mycelic Slipspawn like this picture above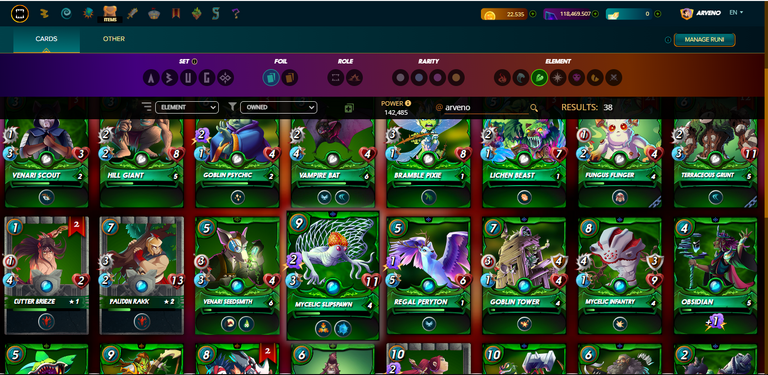 And in Rare rarity there still more that need to upgrade. My monster before is maximum level 4 rare summoner. and this time i want to upgrade 1 level up to level 5 rare summoner to make easier to compete in Gold Modern League.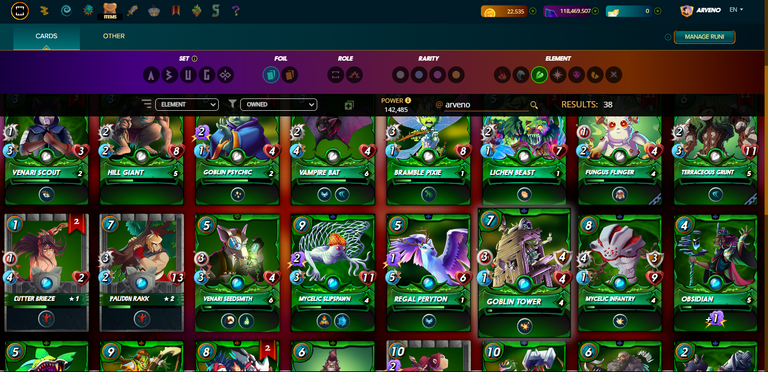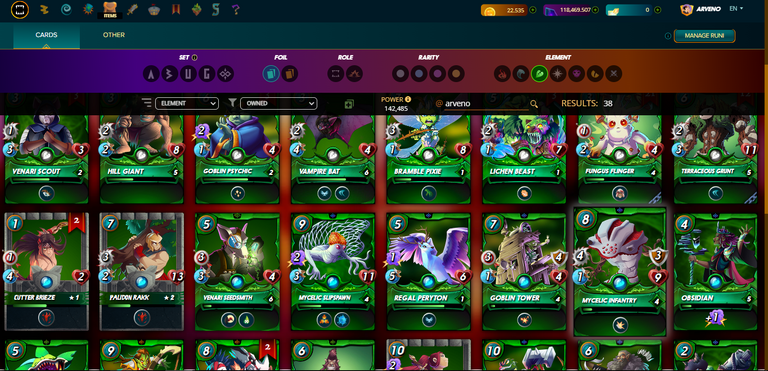 That i am pointing in the picture above is the card that important for me and i am often using it in the battle. There are Goblin Tower, Mycelic Infantry, and Uloth Dhampir. this is the rare rarity that i need to upgrade 1 level up to compete in gold league (even the gold league is need to max in level 6 rare summoners). One step closer to have max in gold league.
Okay lets just buy it then and upgrade it first i need to upgrade the rest of the gold foil that i needed in the battle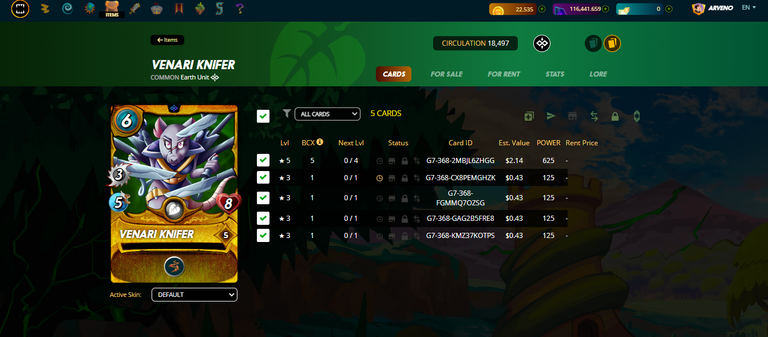 First of all i am buying Venari Gold Foil 4 bcx because to level up this card need additional 4 bcx and i got in 0,43$ each.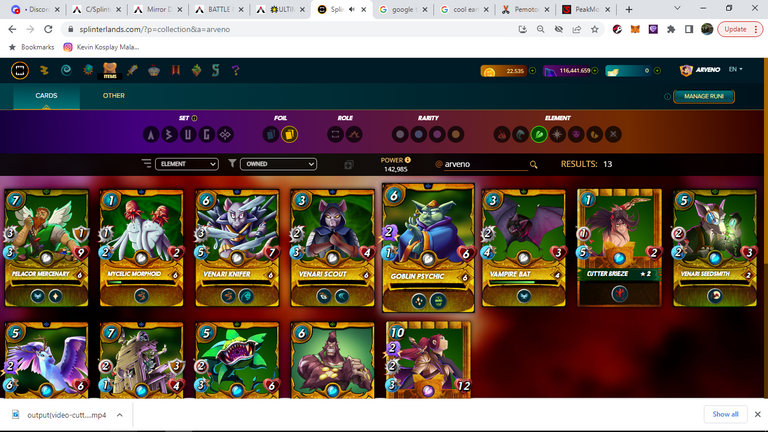 Okay the main monster like Pelacor Mercenary,Mycelic Morphoid,Venari Knifer,Venari Scout,Goblin Psychic is done level up, but i am planning to sell my Gold Foil Regal Peryton and switch it to reguler one because if the summoner going to level 6 or up Regal peryton seems not to be a main monster player out there so there is too much expensive to buy that i not usually using it. Maybe if i am have some luck i upgrade my Venari Seedsmith to max level due the price is cheap. Vampiric Blossoms did not used that much so i dont buy or sell it now. The rest is soulbound card.
After Gold Foil lets upgrade the legendary monster the most expensive in all rarity.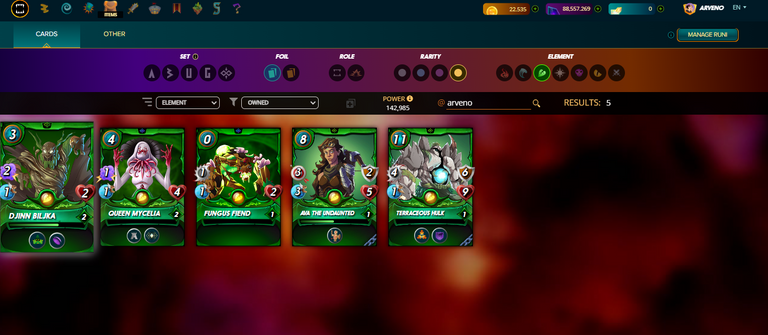 Okay the legendary monster should be level 3 base on the maximum Gold League format. So i need upgrade my legendary monster that is Djinn Biljka and Queen of Mycelia. I am not buying the other legendary such a Izra The fanged thats is very rare i am using that card.without further ado lets buy them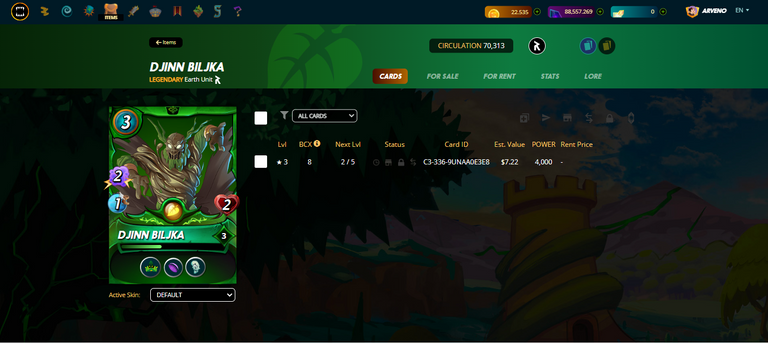 Okay after Djinn Biljka upgrade to level 3 this monster got new ability that is Weakness the function of this ability is -1 HP to all opponent monster. This monster very usefull in low mana battle especially combined with Obsidian as a summoner. Even this monster have very little HP but with Void this monster cannot get damage if the opponent using magic monster that have just 1 magic damage.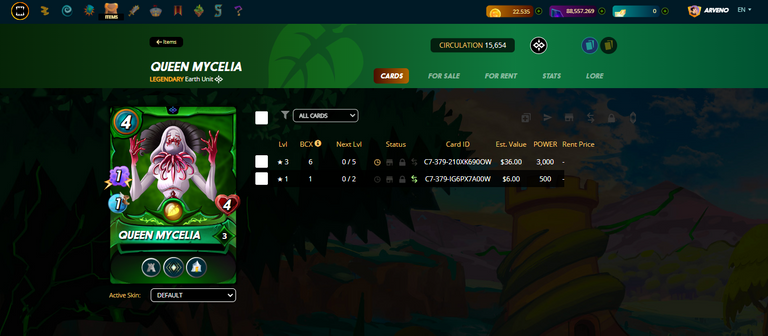 Next is the most expensive on with around 6$ each bcx that is Queen Mycelia. this card is very very usefull in battle with Protect ability that can adding 2 armor to ally monster, Amplify ability that can combined with Venari Knifer and the last is Triage that can heal the taunt monster in the back. Thats why this monster is very usefull.
After finish upgrade Legendary monster lets keep it up to Epic Monster.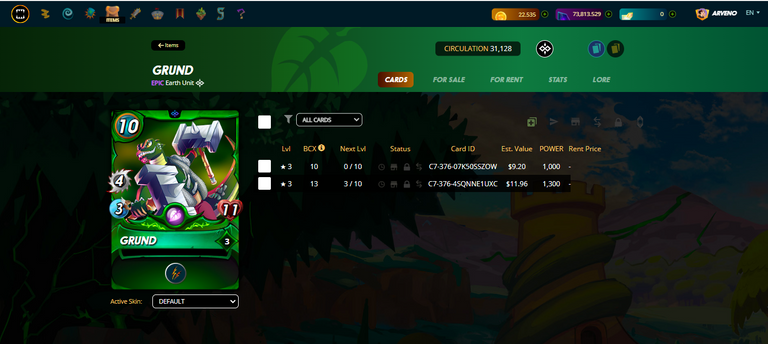 The first Epic monster that i using a lot that is Grund i bought the same level as mine but the bcx is more than mine for almost 12$ that will be great because after level up Grund got unlocked new ability that is Trample.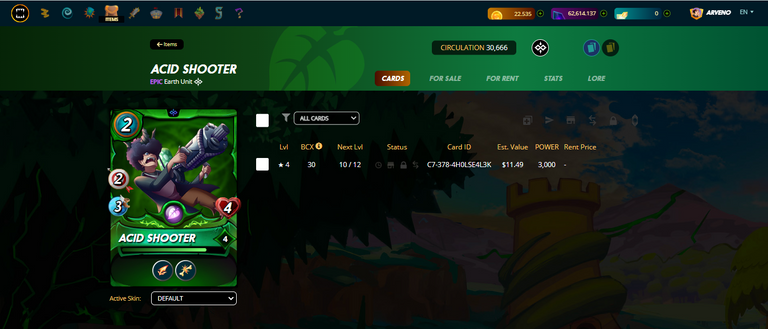 The second monster that i am need in Epic Rarity is Acid Shooter this monster is not very good at gold league just as damager filler that cost 2 manacap. But if in max level this monster is awesome because have the poison ability. Thats why i am buying this monster.
I am not buying Hunter Jarx same reason with the other. I am very rare using Hunter Jarx so that useless if i am buying it right now.
Next for the Rare Reguler as i am telling above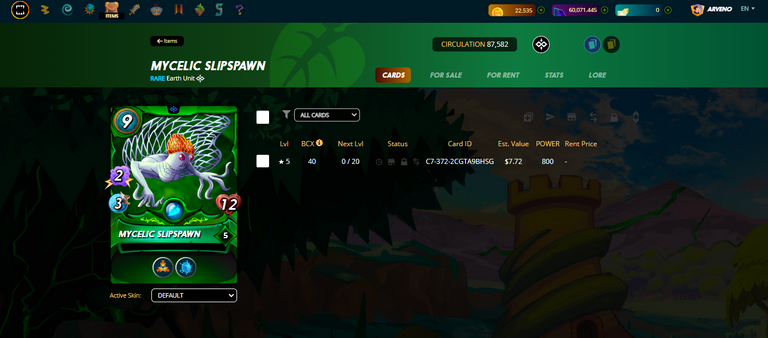 Mycelic Slipspawn that is the main monster that need to upgraded. This monster is very good as a tanker with Force Field ability that can compress the attack becoming 1 if the attack have 5 above.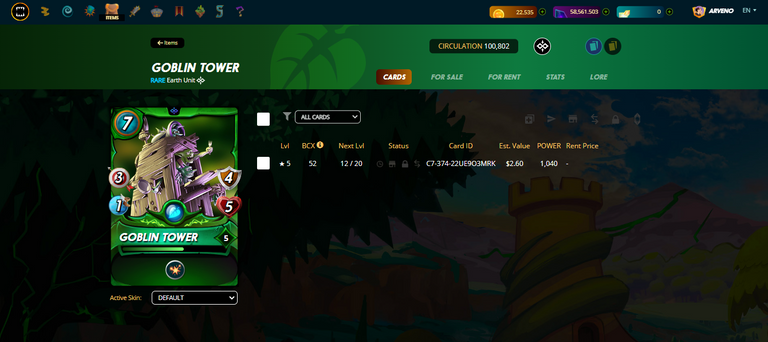 Second that important for me is Goblin Tower. This monster is very strong if the ruleset is Reverse Speed with blast ability and 3 Range attack this is very great at give damage and opening the damage to the opponent.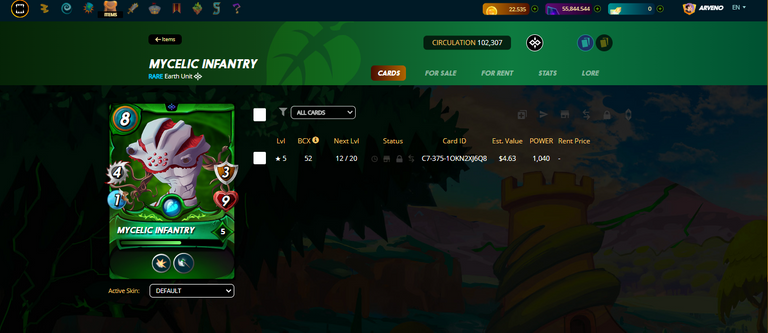 The third is Mycelic Infantry this monster is very strong as a tanker. With Shield ability this monster can handle some damage melee and range monster but very weak to magic monster. And after level up this monster get additional ability called Giant Killer so if the opponent using 10+ manacap monster the damage will x2.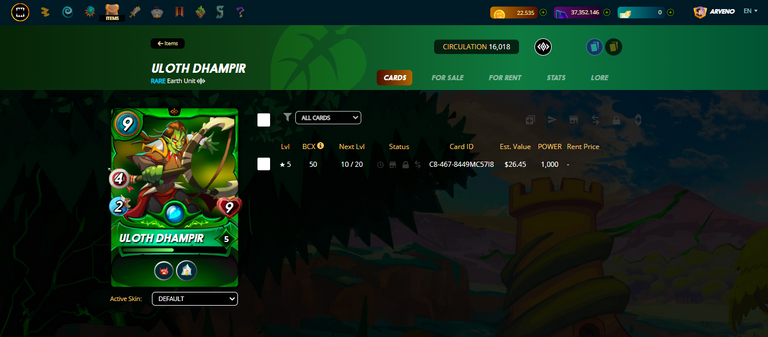 For Riftwatcher edition i am buying Uloth Dhampir and upgrade it this monster is very good especially if carrying the bacliner tanker. With Triage ability this monster can heal the backline and if combined with Queen Mycelia it will be good. Not only that this monster have 4 range attack and have stun ability which is very usefull too. The weakness is the manacap is very very big for attacker.
And the last one for reguler foil in Earth element to upgraded s just Hill Giant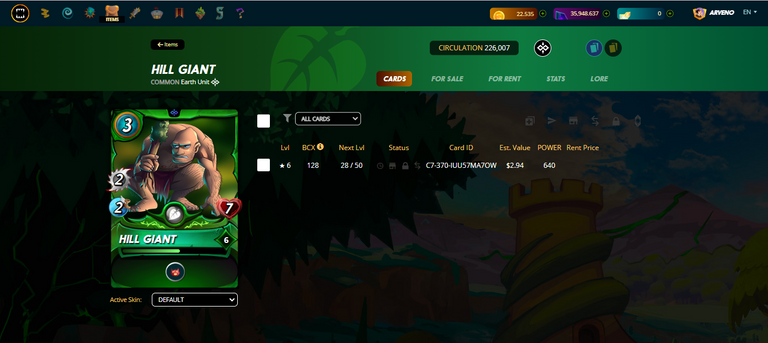 This monster is very good in low mana battle with 3 manacap and have high HP as a tanker. And after level up this monster get one additional ability that is stun.

After looking my Earth element deck how do you think guys?
what card that i should upgrade next in Earth element?
after i am full completed upgrade to level 5 rare summoner in earth element i am going to upgrade water element little by little. Hopefully i can upgrade and share to you guys every week.
In the end I am very thankfull for the reader that read my content hope you all enjoying this content, don't forget to upvote and leave comments. If you are interested in starting this game and don't have an account yet, you can use my referrals:
https://splinterlands.com?ref=arveno
Credits:
The wonderful divider by @kyo-gaming
Thumbnail created using canva
All images taken from Splinterlands website
@splinterlands
---
---