I draw Splinterland's Plado Emberstorm in my own style (ENG/ITA)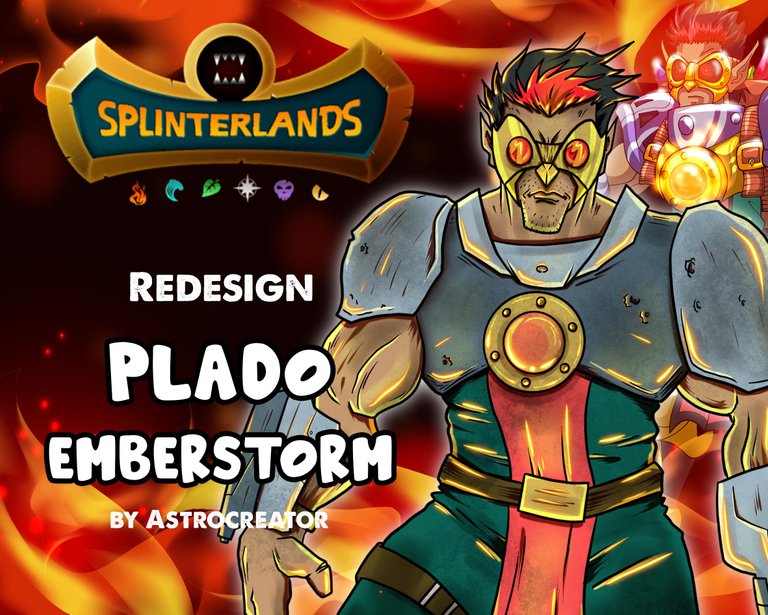 Illustrazione creata da Astrocreator
Welcome back, in this fourth appointment where I redesign the characters of @Splinterlands with my style. Almost once I wanted to redesign Plado Emberstorm in my own way. Before starting the work I tried to imagine something about him, so as to make the creative process easier. This character immediately caught my attention, I imagined him in battle, a master of arms, a soldier chosen with infallible aim, I too wanted to become a kind of cyborg, in fact I added elements of my taste, not deviating too much from the original character.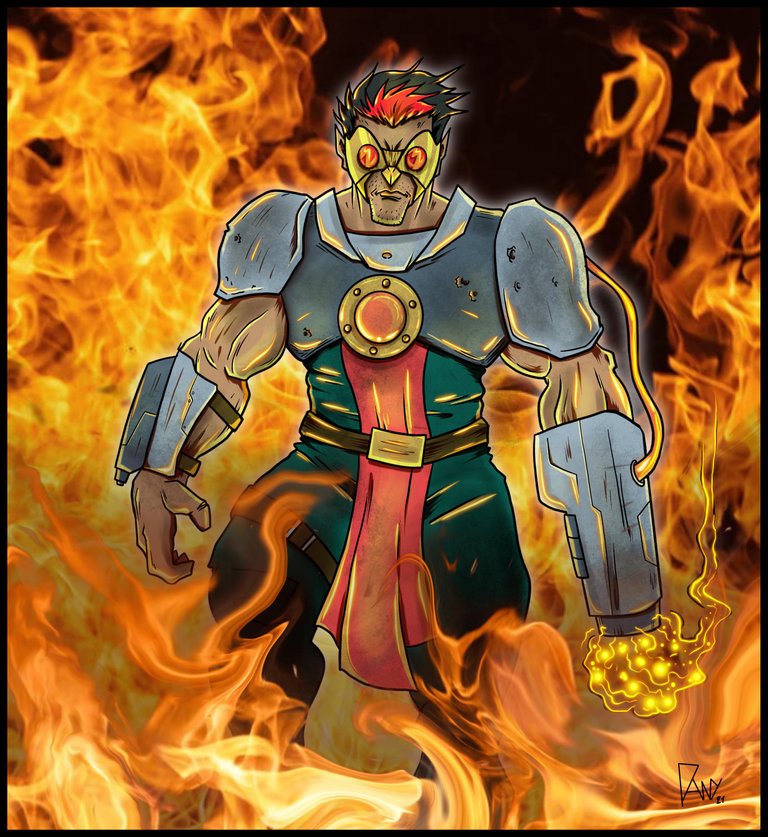 Illustrazione creata da Astrocreator
Making this drawing was really a lot of fun and enjoyable, I gave free rein to my imagination. After a quick search for inspiration for the pose, I decided to place Plado in the midst of the flames of battle, fearless and powerful, a true warrior.
I made a first draft of the drawing, very approximate, but essential to be able to create the composition, I made some changes to the sketch, once satisfied I went to create the actual drawing, the final drawing, adding all the necessary details.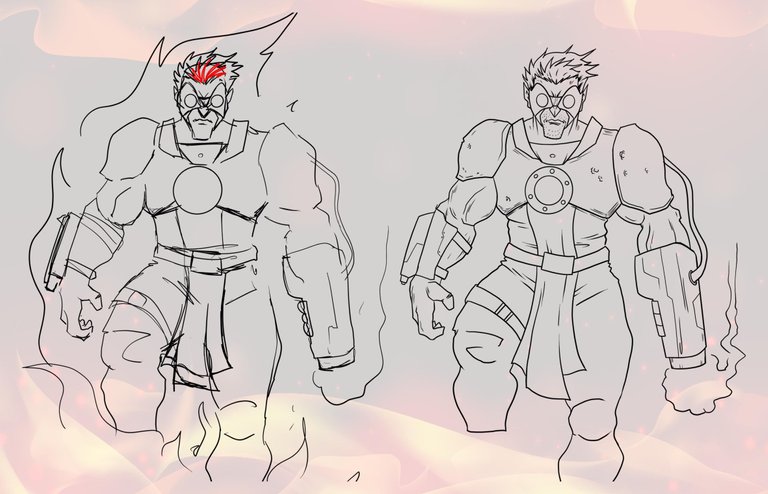 Illustrazione creata da Astrocreator
After the final drawing I moved on to coloring, in this phase the drawing comes to life, it is also a very fun moment because you see the work transform. As always, the first step is to color the design with spot colors. Then I added lights and shadows, these make the difference, in fact the light strokes made possible the shiny metal effect of the Plado mask. In addition to the lights and shadows I also "dirtied" the drawing with very clear points.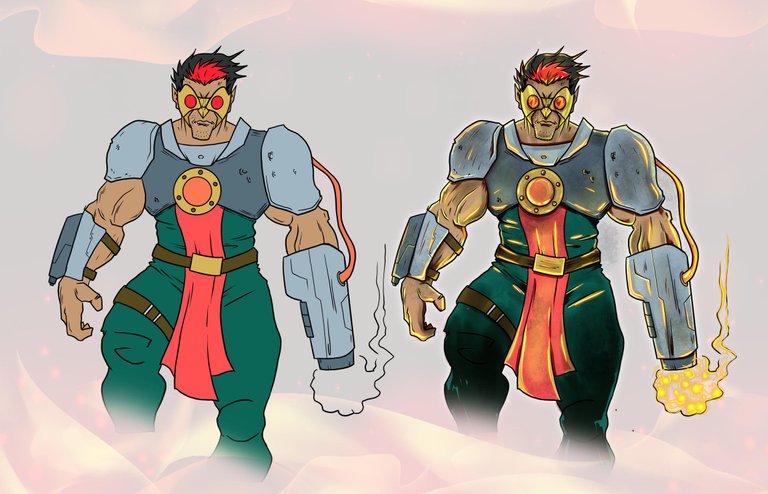 Illustrazione creata da Astrocreator
Finally, as always, I compared the original paper with the one made by me.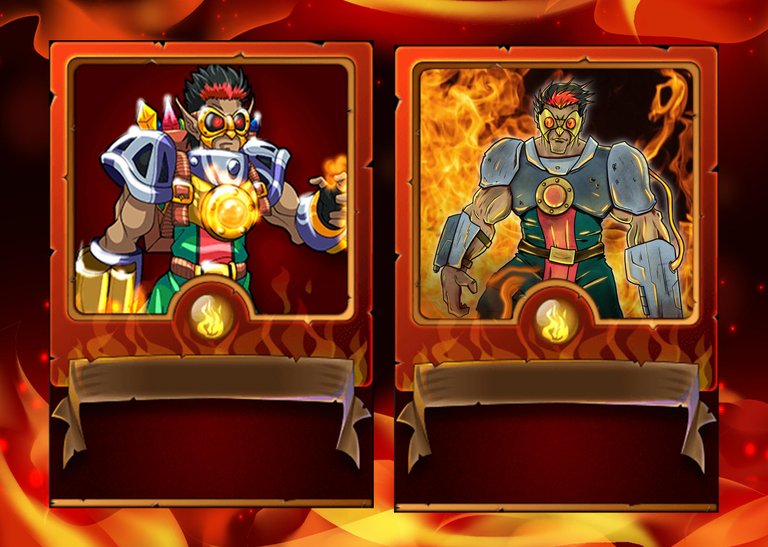 Illustrazione creata da Astrocreator
Here you can see the previous works, where I went to draw Kobold Bruisers, Flesh Golem e Pelacor Bandint.
Which character would you like to see redrawn by me in the future?
VERSIONE ITALIANA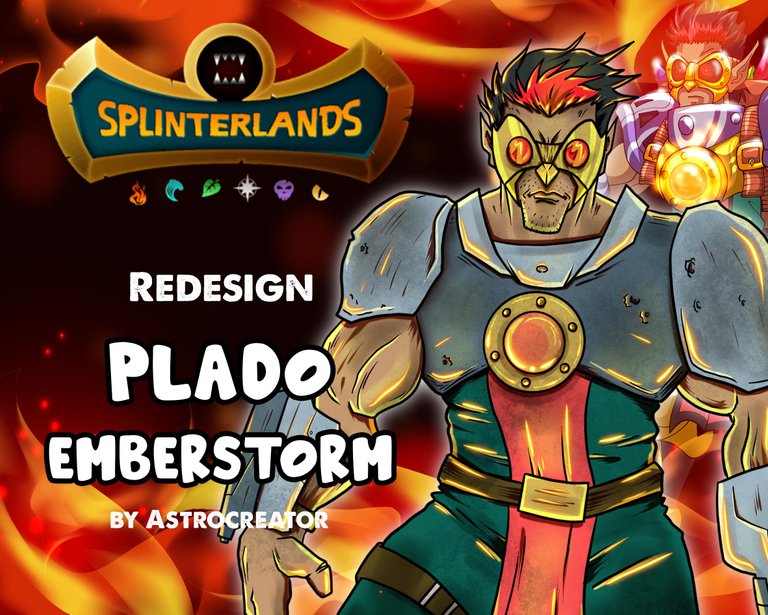 Illustrazione creata da Astrocreator
Bentrovati, in questo quarto appuntamento dove vado a ridisegnare i personaggi di @Splinterlands con il mio stile . Quasta volta ho voluto ridisegnare a modo mio Plado Emberstorm. Prima di iniziare il lavoro ho provato ad immaginare qualche cosa su di lui, così da rendere più semplice il processo creativo. Questo personaggio ha subito attirato la mia attenzione, lo ho immaginato in battaglia, un maestro d'armi, un soldato scelto dalla mira infallibile, ho voluto anche farlo diventare una specie di cyborg, infatti ho aggiunto degli elementi a mio gusto, non discostandomi troppo dal personaggio originale.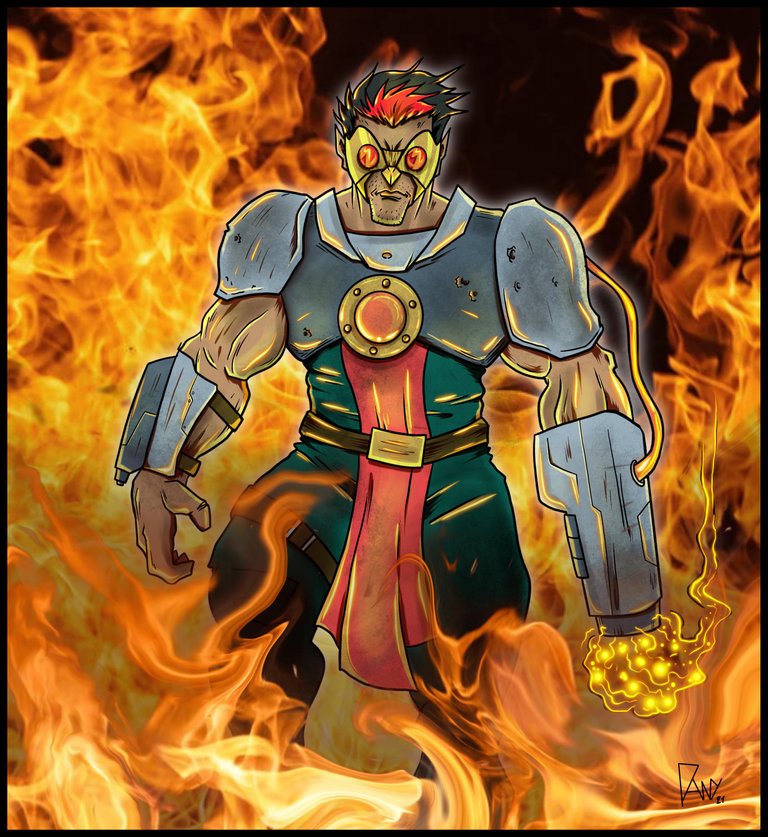 Illustrazione creata da Astrocreator
Realizzare questo disegno è stato veramente molto divertente e piacevole, ho dato libero sfogo alla mia fantasia. Dopo una rapida ricerca per trarre ispirazione per la posa, ho deciso di posizionare Plado in mezzo alle fiamme della battaglia, impavido e possente, un vero guerriero.
Ho fatto una prima bozza del disegno, molto grezza, ma fondamentale per poter realizzare la composizione, ho apportato qualche modifica allo sketch, una volta soddisfatto sono andato a creare il disegno vero e proprio, il disegno definitivo, aggiungendo tutti i particolari necessari.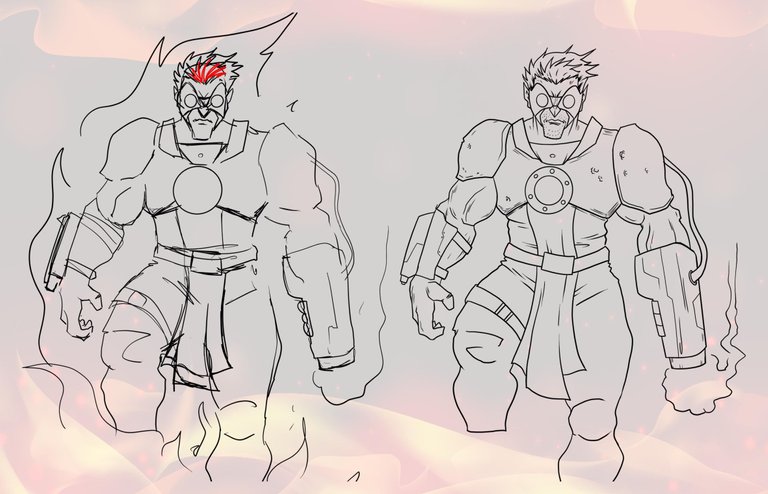 Illustrazione creata da Astrocreator
Finito il disegno definitivo, sono passato alla colorazione, in questa fase il disegno prende vita, è anche un momento molto divertente perchè vedi trasformare il lavoro. Come sempre il primo passaggio è quello di colorare il disegno con tinte piatte. In un secondo momento ho aggiunto luci e ombre, queste fanno la differenza, infatti i colpi di luce hanno reso possibile l'effetto metallo lucido della maschera di Plado. Oltre le luci e le ombre ho anche "sporcato" il disegno con delle macchie molto leggere.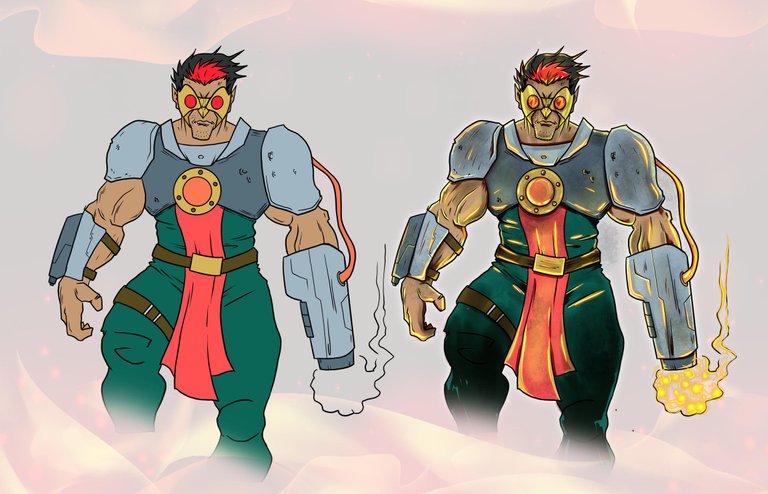 Illustrazione creata da Astrocreator
Infine, come sempre ho messo a confronto la carta originale con quella realizzata da me.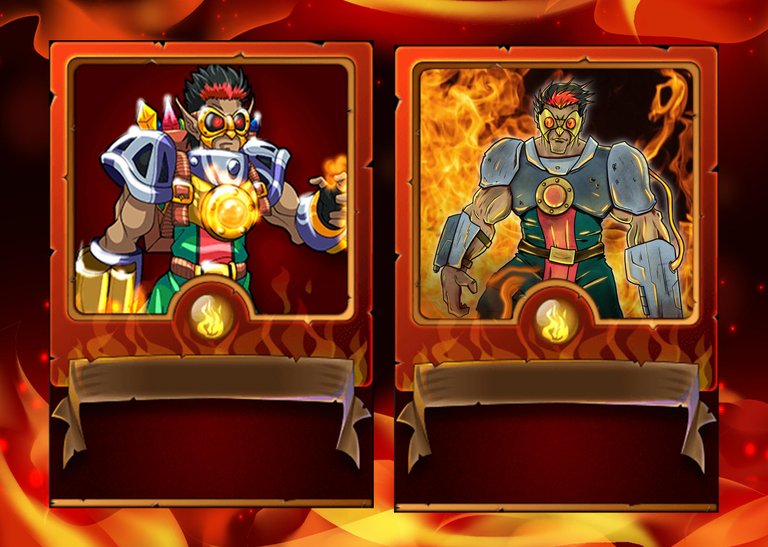 Illustrazione creata da Astrocreator
Se ti è piaciuto il lavoro che ho fatto fammelo sapere nei commenti o votando il mio articolo.
Qui puoi vedere i lavori precedenti, dove sono andato a disegnare Kobold Bruisers, Flesh Golem e Pelacor Bandint.
Quale personaggio vi piacerebbe vedere ridisegnato da me in futuro?
---
---