Opening 88 Loot Chests for EoS Rewards on August 1st & Opening 10 Chaos Legion Packs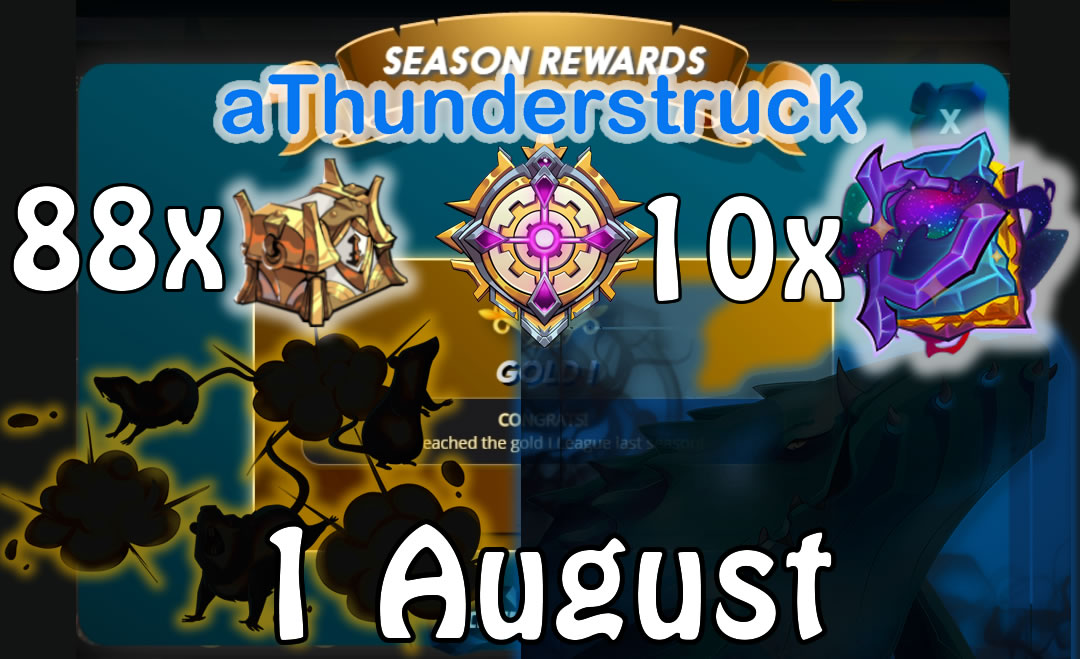 thumbnail image
---
Ahoy! On August 1st the latest season in Splinterlands ended. I recorded the video while claiming my End of Season loot chests yesterday, on August 1s,t and opening some Chaos Legion Packs as well. I made the thumbnail today and uploaded the video as well now.
This season lasted a bit longer than usual, so I spent a bit longer in silver but also some more time in gold league as well.
Most of my battles were played in the wild format, I even made it to like 10th or 11th place on the silver leaderboards at some point. But at that point the season was only half done, and I didn't feel like continuing to grind that until the end of the season. So halfway through the season I moved on to gold and player there.
I've also played a bit in the modern format, but not as much. I stayed in silver there.
With this season being a bit longer, I was able to get more loot chests. Before the season ended I was at 86 or 87 loot chests, and still had some time to play until like an hour before the season ended. In that time I managed to get to 88 loot chests for End of Season rewards! That's quite a bit more than in the previous season!
After refreshing the page to claim my End of Season reward chests, the pop-up disappeared so the number isn't show there. But there are 17 rows of rewards and 3 more at the bottom. In the overview image of the rewards you can see that the number of chests was 88.
From opening those 88 Loot Chests I get the following rewards displayed in a screenshot from splintershare info made by deadzy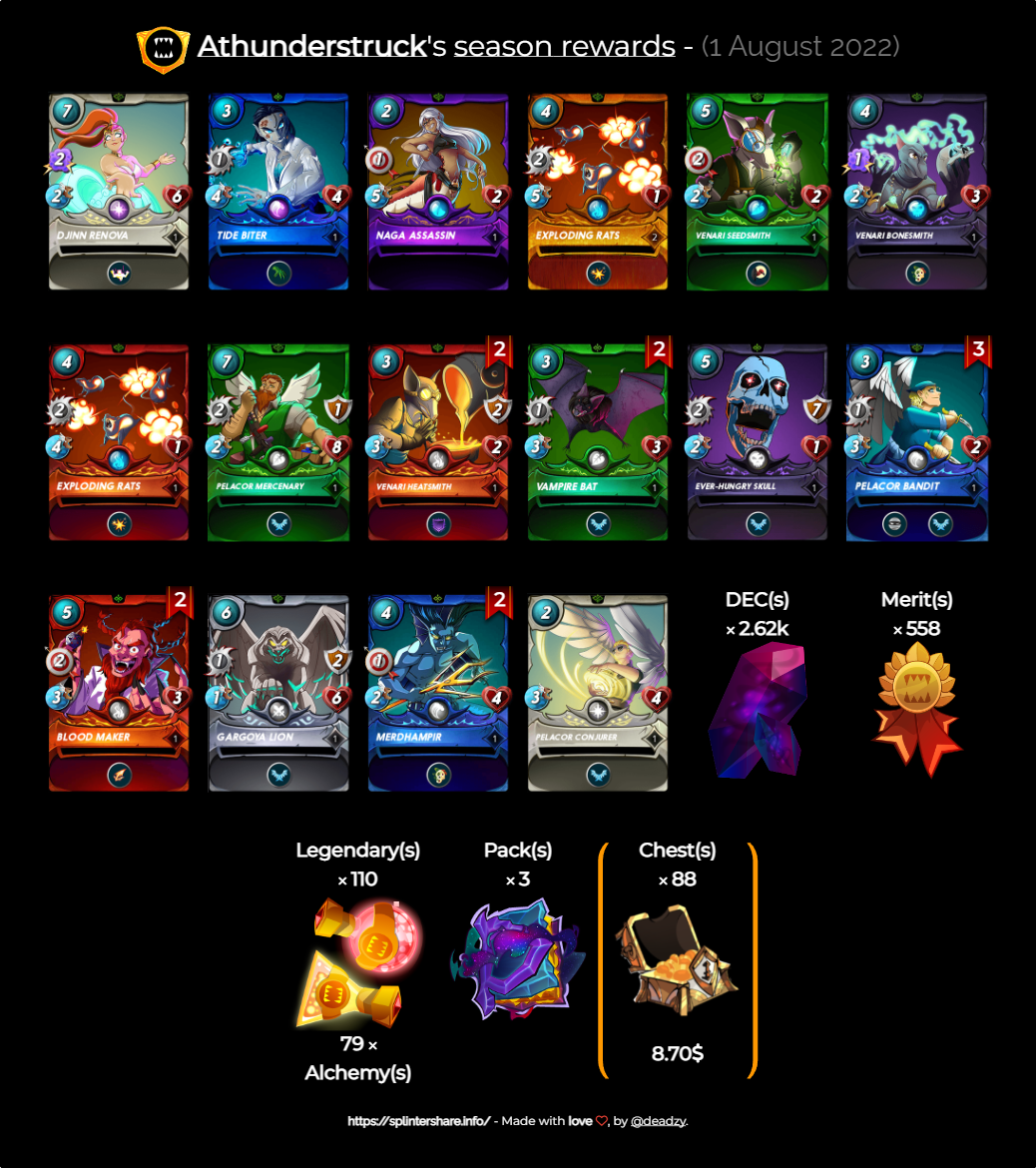 In bullet list form the rewards that I got are:
DEC: 2620
Merits: 558
110x Legendary Potions
79x Alchemy Potions
3x Chaos Legion Pack
Common Cards:
1x Pelacor Conjurer
2x Merdhampir
1x Gargoya Lion
2x Bloodmaker
3x Pelacor Bandit
1x Ever-Hungry Skull
2x Vampire Bat
2x Venari Heatsmith
1x Pelacor Mercenary
Rare Cards:
1x Exploding Rats
1x GOLD FOIL Explording Rats
1x Venari Bonesmith
1x Venari Seedsmith
1x Naga Assassin
Epic Cards:
1x Tide Biter
1x Djinn Renova
So many potions now thanks to those changes of being able to get multiple potions from loot chests in higher tiers! Also a decent amount of Rare and two Epic Reward Cards. With one Rare Card being Gold Foil, awesome!
No Legendary Rewards Cards, but I did just get a Harklaw in my Daily Focus the night before the season ended. And the day before that I had a Venator Kinjo in my Daily Focus rewards! While recording the video I forgot the name for Venator Kinjo 😅 Which you'll hear me just describe him as the neutral Legendary reward card.
I had 3 Chaos Legion Packs from my End of Season Rewards, and saved 4 that I got from Daily Focus throughout the season. To open them up I decided to round it up to 10. The SPS Airdrop has ended, so there is no need to keep the packs for airdrop points. But I don't want to open all of them right now, because if I keep some then they'll also have a chance to contain the future Legendary Airrdop Summoners if I open them after they come out.
Alright, time to open up those 10 Chaos Legion Packs. I'll leave out the Common Cards like last time so the list isn't too big. Well except for one!
Because I did get a Gold Foil Antoid Platoon! So there you I did want to include that Gold Foil Common here.
Rare Cards:
3x Molten Ash Golem
1x Regal Peryton
1x Tenyii Striker
1x Obsidian
2x Venari Spellsmith
1x Goblin Tower
1x Cursed Windeku
1x Merdaali Guardian
Epic Card:
Legendary Card:
I got 11 Rare Cards, 1 Epic and 1 Legendary. That's quite good! And also really awesome with the Baakjira, because that's my first time getting it from opening a Chaos Legion Pack! I've already played against it so often, and it can be annoying to beat at times because it's a good tank. Now I can try using it more myself, as I won't have to rent one to play it anymore! Looking forward to use it more regularly.
That wraps it up for this video.
How many chests did you end up getting for your End of Season rewards and what was one of the best rewards you got from them?
Thanks for watching!
If you haven't signed up for Splinterlands yet and want to check it out, you can do so with my referral link at: https://splinterlands.com?ref=athunderstruck
---
▶️ 3Speak
---
---