Opening 62 Loot Chests for EoS Rewards on January 16th & Opening 10 Chaos Legion Packs
---
Ahoy! It was a busy week so I'm quite late with uploading my video! I did record the video claiming my season end rewards on Monday the 16th of January when the season ended. I just didn't have enough time to cut a few parts of the video, make the thumbnail and writing the post. But here I am now with my post!
This season I went to Gold in the Wild format. I didn't battle much in the Modern format so I was still like Silver 2 there when there were a few days left in the season. At that point in the Modern format I was quite behind on the top 25-30 in the leaderboards and decided that this time I won't try to challenge for a place on them and just moved on to Gold to battle there for the rest of the season.
During this season I managed to score 62 end of season loot chests, they're gold chests as my highest rank in the previous season was Gold.
Let's see what I get from them.
From opening those 62 Loot Chests I get the following rewards displayed in a screenshot from splintershare info made by deadzy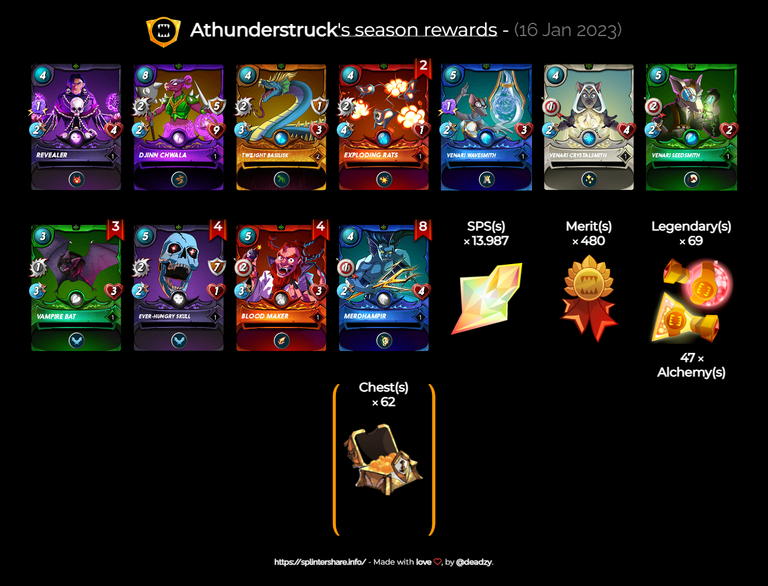 Here are those rewards in bullet list:
SPS: 13.987
Merits: 480
Legendary Potions: 69
Alchemy Potions: 47
Common Cards:
8x Merdhampir
4x Blood Maker
4x Ever-Hungry Skull
3x Vampire Bat
Rare Cards:
1x Venari Seedsmith
1x Venari Crystalsmith
1x Venari Wavesmith
2x Exploding Rats
1x GOLD FOIL Twilight Basilisk
Epic Cards:
1x Djinn Chwala
1x Revealer
Alright awesome a Gold Foil rewards card in there, that's always great to get! Also 2 epic cards so that's pretty nice too. Unfortunately no Legendary cards though, with mention of the current reward cards going out of print soon it would've been really great to get one or more legendaries.
I got less SPS and Merits from these chests than I got in the last season ending's loot chests, but I did get more potions. This time no Chaos Legion Packs in the end of season loot chests.
Just like in the past videos with season endings I'll be opening 10 Chaos Legion Packs.
From those 10 packs I get the following cards, leaving out the Common Cards (except for Gold Foil).
Common Cards:
1x GOLD FOIL Scavo Chemist
1x GOLD FOIL Deeplurker
Rare Cards:
1x Goblin Tower
1x Djinn Apprentice
1x General Sloan
1x Cursed Windeku
1x GOLD FOIL Portal Spinner
2x Portal Spinner
1x Xenith Monk
3x Mycelic Infantry
Epic Cards:
1x Nerissa Tridawn
1x Igor Darkspear
Legendary Cards:
Awesome I got 3 Gold Foil cards in these 10 packs. Always great to get some Gold Foil cards! 2 of them are Common and then one is a Rare card so that's definitely also nice that one of them is Rare. It's quite funny how I revealed the Gold Foil Portal Spinner and then right after that I open up 2 regular foil Portal Spinner.
11 Rare cards and then 2 Epic and a Legendary seems pretty awesome for 10 packs. Always great to find some Epic cards and a Legendary in these pack openings!
Queen Mycelia is a legendary that I do already have at level 2, so the one I got from this one will be my first one that I can use later on to work on upgrading her to level 3.
That wraps it up for this video.
How many chests did you end up getting for your End of Season rewards and what was one of the best rewards you got from them?
Thanks for watching!
If you haven't signed up for Splinterlands yet and want to check it out, you can do so with my referral link at: https://splinterlands.com?ref=athunderstruck
---
▶️ 3Speak
---
---