Opening 60 Loot Chests for EoS Rewards on January 31st & Opening 10 Chaos Legion Packs
---
Ahoy! Yesterday on January 31st the latest season in Splinterlands has ended. I claimed my rewards yesterday within the hour after season ending, but posting the video today.
Until a few days before the season ended I was playing in Silver in the Wild format. When there were a few days left I was about 300 rating below the top 5 and at that point I was like rank 40-50 something. I decided I'll just move on to Gold league in Wild and not attempt to continue challenging for the leaderboards.
That's how I ended the season in Gold 1 in Wild again just like last season. In the Modern format I battled until I was somewhere in Silver 2 but didn't continue battling much there since most of my battles were in the Wild format.
The last day of the season I was trying to get my End of Season loot chests to 60. At one point I was just between 3k-4k focus points away from reaching the 60th loot chest. I decided to try one battle in Modern to get those last focus points, because my focus points gain in Wild would be around 20-27k or so. That felt like a bit of a waste so I just tried to see if I could get to the 60th loot chest with a Modern battle. I played one, won it and got just over 3700 focus points which was enough to get that next end of season loot chest!
Maybe it would've been good to actually do that in Wild though just so I would also gain more progress for another chest from my daily focus, but I wasn't sure if I'd do more battles after the end of season. That's why I chose to do it in Modern.
Let's see what I get from them.
From opening those 60 Loot Chests I get the following rewards displayed in a screenshot from splintershare info made by deadzy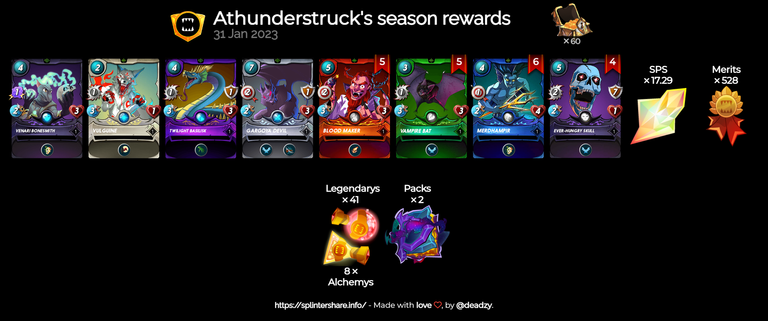 Here are those rewards in bullet list:
SPS: 17.29
Merits: 528
Legendary Potions: 41
Alchemy Potions: 8
Chaos Legion Packs: 2
Common Cards:
4x Ever-Hungry Skull
6x Merdhampir
5x Vampire Bat
5x Blood Maker
Rare Cards:
1x Twilight Basilisk
1x Vulguine
1x Venari Bonesmith
Aww it's really unfortunate that I didn't get an Epic or a Legendary from any of these end of season loot chests. With those reward cards going out of print after this season ending I was really hoping to find some final epic and legendary cards in my End of Season loot chests. Unfortunately it did not happen. At least I got one Jared Scar from my daily chests a few days prior, but was still really hoping for one in these chests.
When it comes to the SPS and Merits I got more than last season. I got less potions this time, especially for Alchemy as I only got 8 of them this time. I did get 2 Chaos Legion Packs from these End of Season loot chests, that is definitely great to receive! 😄
Just like in the past videos with season endings I'll be opening 10 Chaos Legion Packs.
From those 10 packs I get the following cards, leaving out the Common Cards (except for Gold Foil).
Common Cards:
1x GOLD FOIL Lava Spider
1x GOLD FOIL Riftwing
Rare Cards:
1x Merdaali Guardian
1x Scavo Firebolt
1x River Nymph
2x Pelacor Arbalest
1x Time Mage
1x Angelic Mandarin
2x Cursed Windeku
1x Kelya Frendul
1x Tarsa
Epic Cards:
1x Djinn Inferni
1x Wave Brood
1x Forgotten One
1x Temporal Master
1x Weirding Warrior
Well unfortunately no Legendary here either, buuut I have been getting at least 1 Legendary in 10 packs for the past few videos so it was bound to happen that I'd go 10 packs without a Legendary. This was still a pretty awesome pack opening session! I got 2 Gold Foil Common cards in here. On top of that I got 11 Rare Cards and 5 Epic Cards! So yeah no Legendary but still a pretty good pack opening session!
Especially the Forgotten One, now I need one less to level him up. I think with this Tarsa that I got from the packs I can now level her up to level 5. With some of those rares I increased the level of the cards I have. I now had enough Pelacor Arbalest to make it level 3 and enough Cursed Windeku to make it level 4.
That wraps it up for this video.
How many chests did you end up getting for your End of Season rewards and what was one of the best rewards you got from them?
Thanks for watching!
If you haven't signed up for Splinterlands yet and want to check it out, you can do so with my referral link at: https://splinterlands.com?ref=athunderstruck
---
▶️ 3Speak
---
---