Opening 64 Loot Chests for EoS Rewards on September 15th & Opening 10 Chaos Legion Packs
---
Ahoy, the latest season in Splinterlands ended yesterday on September 15th. I'm uploading today because I had class yesterday so I did record the video but didn't get down to making the thumbnail and writing the post yet.
Early in the season I battled in the modern format since the season reset put me back into bronze I decided to play until I reached Silver 3 in there to make sure I could join some Modern and Chaos Legion Tournaments. At least I think it's better if I'm in Silver league to be able to join them. The rest of my ranked battles focus for the season has been in wild. I stayed in Silver for the majority of the season, slightly longer than half of the season. Where I did see myself in the top 20 of the Silver leaderboards at some point. With like 5 days left of the season I moved to Gold and continued playing there where I finished the season in Gold 1.
This time I got 64 Gold Loot Chests for my End of Season rewards, that's 7 more than I got last season.
In the video I talked about possibly buying Riftwatchers later that day. But I was in class and when I checked the first 500k were already sold so fast!!
When I clicked the Claim Rewards, after some loading they didn't show up. I refreshed the site and then clicked details of season chests to go look at my last season's rewards. That way they did show up.
Let's go and open those 57 End of Season Loot Chests! From opening those 64 Loot Chests I get the following rewards displayed in a screenshot from splintershare info made by deadzy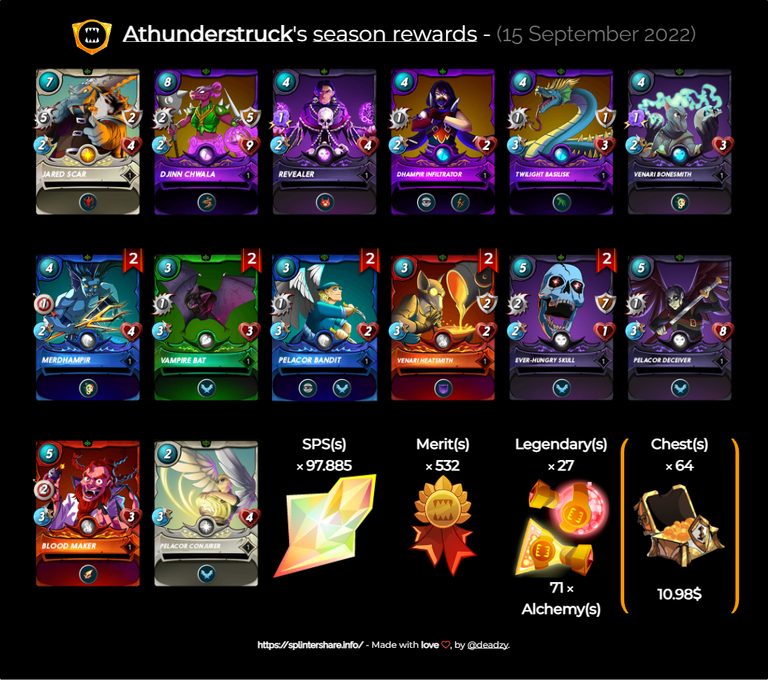 In bullet list form the rewards that I got are:
SPS: 97.885
Merits: 532
Legendary Potions: 27
Alchemy Potions: 71
Common Cards:
1x Pelacor Conjurer
1x Bloodmaker
1x Pelacor Deceiver
2x Ever-Hungry Skull
2x Venari Heatsmith
2x Pelacor Bandit
2x Vampire Bat
2x Merdhampir
Rare Cards:
1x Venari Bonesmith
1x Twilight Basilisk
1x Dhampir Infiltrator
Epic Cards:
1x Revealer
1x Djinn Chwala
Legendary Card:
No gold foil cards unfortunately. But I did get 2 Epic cards and 1 Legendary card from those end of season rewards! A Jared Scar just like in my last end of season loot chests. Since then I got another one of it in one of my daily focus chests so I did get him to level 2 already, now I can use this one to continue leveling it up further.
Just like in the last video I will open 10 Chaos Legion Packs after claiming my End of Season Loot Chests.
From those 10 packs I get the following cards, leaving out the Common Cards.
Rare Cards:
1x Soul Strangler
1x Kelya Frendul
3x Venari Spellsmith
2x Merdaali Guardian
1x Tenyii Striker
1x Mycelic Infantry
1x Celestial Harpy
1x Dhampir Stalker
1x Goblin Tower
2x Xenith Archer
Epic Card:
Unfortunately no gold foil cards here either. But who knows I might be lucky and get a bunch in the next end of season loot chests! Or throughout the season from daily focus chests. So I'll have a positive outlook on those!
Also not a bad pack opening despite the lack of gold foils. I got 14 Rare Cards and an Epic Card as well, so that's overall pretty well!
Perhaps in the next video Conqueror Jacek might have been released so who knows I might get him while opening one of my packs then!
That wraps it up for this video.
How many chests did you end up getting for your End of Season rewards and what was one of the best rewards you got from them?
Thanks for watching!
If you haven't signed up for Splinterlands yet and want to check it out, you can do so with my referral link at: https://splinterlands.com?ref=athunderstruck
---
▶️ 3Speak
---
---