I will play in Main Event - Weekend Stache Classic Gold League, where Top 8 players will fight for grand prizes!

Welcome Guys!
Here are top 8 players, which will play in next month for grand prizes!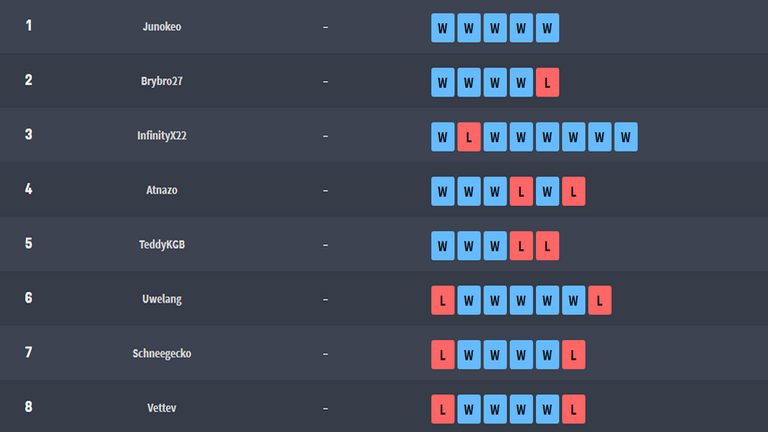 It was really tired day especially for me. I had so many work to do in my house and I barely finished all my things in time, before the tournament start. Good that I menage good my time and I was able to take part in Weekend Stache Classic Tournament with Gold League rules Qualifier. I was not so confident about my performance. I had so hard opponents on my way to qualifier. I played almost without pressure. I got wild card from 33th place to play, so I didn't think a lot about this event, because on blank paper I was really with low chance for qualifier. When it's time - I prove my worth, that I was not here by mistake. I know that compared to many players my collection power level is relativity low. I sold all my cards 2 years ago, when was bear market. I back when I saw on twitter that there is so big hype for Splinterlands. I play with rented cards mainly and I trying to make some useful deck of them.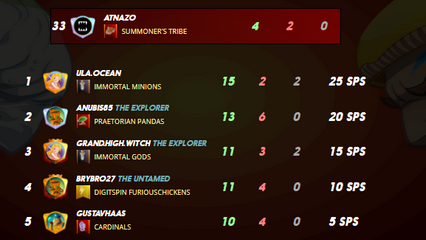 My place after pre eliminations for Weekend Stache Classic Gold League Tournament.
When I finished at the 33th place pre eliminations I thought that I was unlucky one more time. I forgot about this event and I just made my daily quest everyday, until the day, when @jacekw said to me, that is possibility for me to play in this tournament and be in top 32! Organizers of this event searching for me and they can't write to me on discord, because I receive message only from friends. That's why jacekw told me, that they want me to play. He gave me discord link for Zensports and there I got instruction from GM of ESPORTS how to start with their app from Zensports and how to prepare for qualifier in Saturday! I was unprepared for that kind of situation and it surprised me a lot. I was a little bit sceptic about my worth compared to more titled opponents, but something says to me that I should don't care about it and I should play without any pressure.
That was the early beginning of my journey. I took part in this Tournament just for fun, didn't know that will be the most important Tournament for me. I battle since december 2018. I Never won any big Tournament, I never was even close. I thought that I was not able to be there.. until now!
So I am in! Top 32 players faced each other on battleground in Splinterlands Game to show the world on the Zensports live stream, who is good enough to take part in main event!
You can watch replay from this qualifier here:
https://www.twitch.tv/videos/1145617540
Weekend Stache Classic live stream replay
You can see the bracket here:
https://challonge.com/pl/gwgkcrca
It took over 3h to get the names of top 8 players, which will be able to take part in main event - Weekend Stache Classic Tournament - Gold League cards level cap.
I had so hard way to be in top 8!
I lost in winner bracket versus winner of this qualifier and then I climb a little bit to finally lose versus player, who was 3th.
I finished at 4th place and that's my qualifier ticket for upcoming main event!
I am really happy that my natural analytic skill was good enough.
I really want thank everyone, who believed in me.
There was people, who believed that I can be even first!
Big thanks for whole support in predictions!
https://challonge.com/pl/gwgkcrca/predictions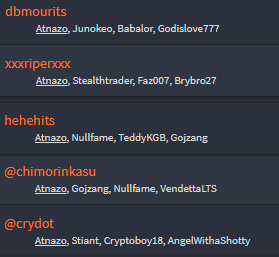 I saw that my friends didn't lose faith in me too, they put my name in top 4 in their predictions.
@tabs1250 and @bokica80 You Guys predicted well my 4th place!
Thanks for support!


---
---