MillionOnMars WAX Chain Game $0.59 Buy-in

Looks pretty stable to me 😏



Assuming you already have a wax account, Create Wax Wallet if you don't - costs $1.71 at time of post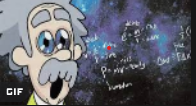 Head over to Atomic Hub / Collection name: OnMars / Subcategory "access"
An access badge is: $0.57 roughly. It'll get you into the game and earning.
Buying your food and water and doing jobs you can earn 6 [email protected]($.03ea) per day. That pays for your access in 3 days!
What they're counting on is the fact that this game is ADDICTING
A premium access badge ($15) gives you land with 50 building space and some basic buildings to get you started.
How much you make here is up to you, if you re-invest or just take profits I wouldn't expect more than a month to get ROI.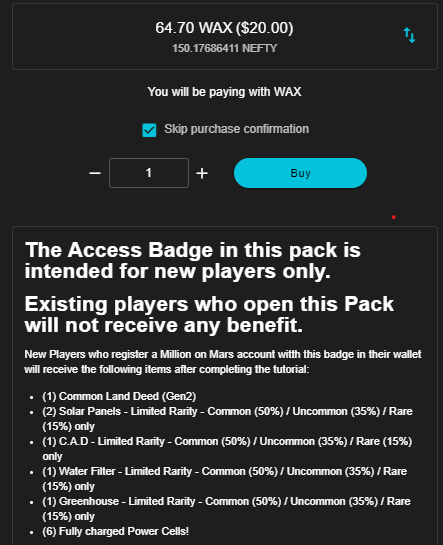 The initial game you will make your own food/water. Break even on that.
2 Solar Panels Charge empty empty power cells for a profit of 3 Dusk($.03) ea
This is your main source of income in the beginning, there is huge power consumption in crafting.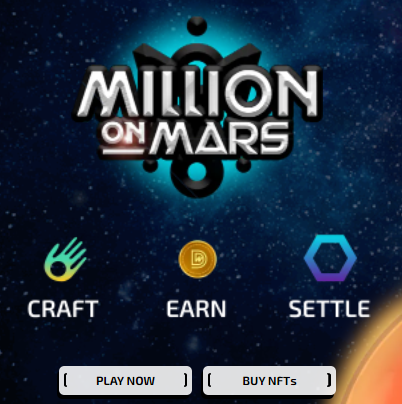 This is a great strategy game. There are many avenues to explore!
Youtube - Twitter - - MillionOnMars
I bought the premium pass, one more land and 6 extra solar panels.
Excited to take my profits and develop a crafting niche!
I'll be driving around on mars in no time 🥴🤑
Pro-Tips - If you intend to invest more
Gen 1 structures take less space on your land (look for .22 in address tag)
Save your daily rations you will get a free land after 30 days !!!
Buy the scavenger tools for 50 dusk every day and scavenge, pays more than jobs
Invest, there are great people here watching the economy closely and alot of new things are coming
Please use my referral code as well it would be amazing!
https://milliononmars.io/register?recruiter=tgvho.wam
---
---