SHARE YOUR BATTLE Weekly Challenge! DRAGONS! (ROBO-DRAGON KNIGHT) #2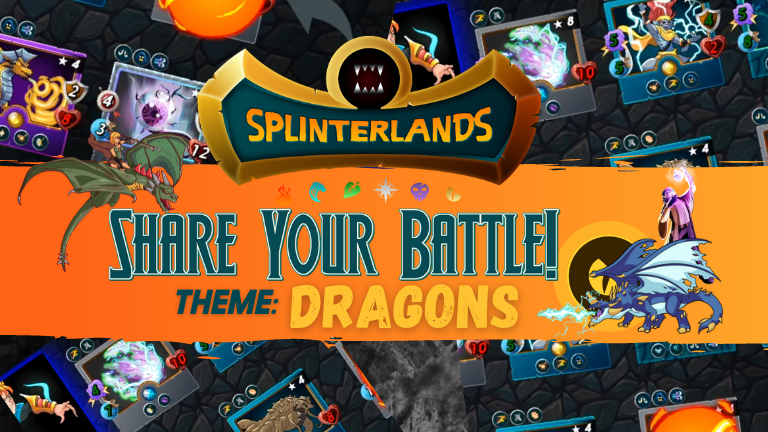 RULESET OF THE BATTLE :

Mana : 27
Silenced Summoners : Summoners do not give any stat buffs or debuffs or grant/use any abilities
Broken Arrows : Ranged attack monsters may not be used in battles
Why did I use ROBO-DRAGON KNIGHT in this battle?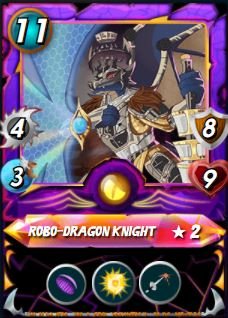 In this battle, the 2 factors in the ruleset which lead me to use ROBO-DRAGON KNIGHT are Broken Arrows and the 50 mana cap. Since there will be no range monsters, there will be a high chance of magic damage monsters and ROBO-DRAGON KNIGHT have the void ability to lessen the magic damage. It is also a balance tank with good defensive and offensive ability. One of the most underrated skill is piercing, you will see that at the right set up, it is a very useful skill which lead me into a very convincing victory in this battle.
COMMENCE BATTLE
ROUND 1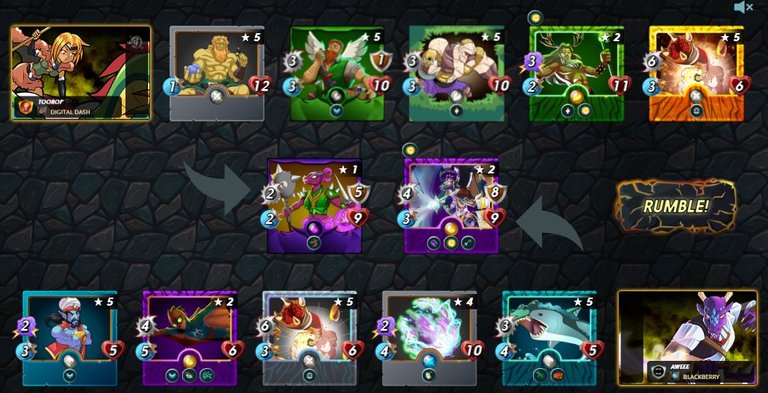 ~Click image above to watch Replay~
I've used the ROBO-DRAGON KNIGHT as the main tank in this battle because of the ruleset of no range monsters and its void skill. My opponent must have mostly range monsters together with its Selena sky, and only magic damage monster he got is Kron. The enemy Strat is to let the 4 tanks to soak up damage and just let Kron deal damage to front of my team while the Sand Worm deal damage to back of my team kind of like a Pincer attack formation. It could be a viable strategy but it one of the worst tank for that.
ROUND 2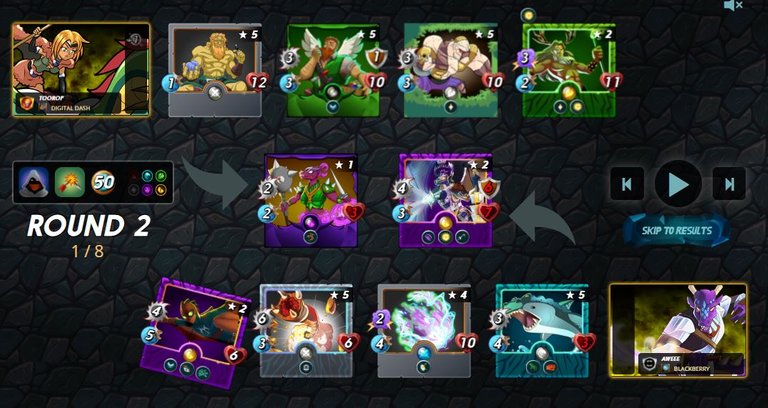 In the first round, my Sea Gennie just did an attack and died after lol 😂 Luckily so is the enemy Sand Worm and there will be no threat to my backline. The usefulness of the piercing ability was demonstrated by the ROBO-DRAGON KNIGHT when it attack the enemy tank with only 1 armor left, if without the help of piercing ability, 3 of its damage would just be wasted.
ROUND 3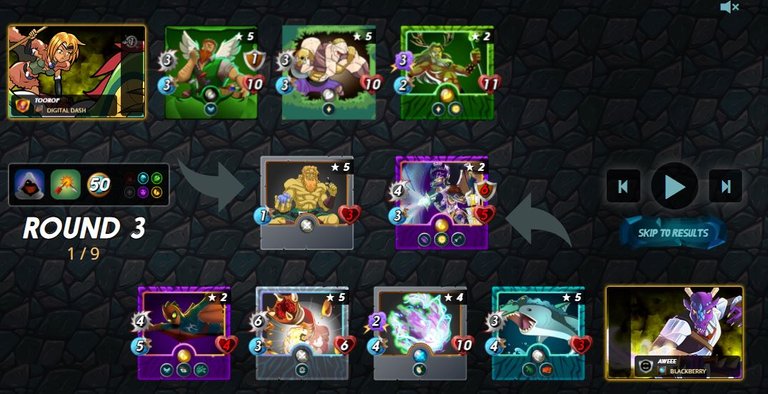 ROBO-DRAGON KNIGHT is soaking up all the damage at the frontline and also dealing great amount damage to them. Dragon Jumper is also helping to clean up those low hp enemy monsters.
ROUND 4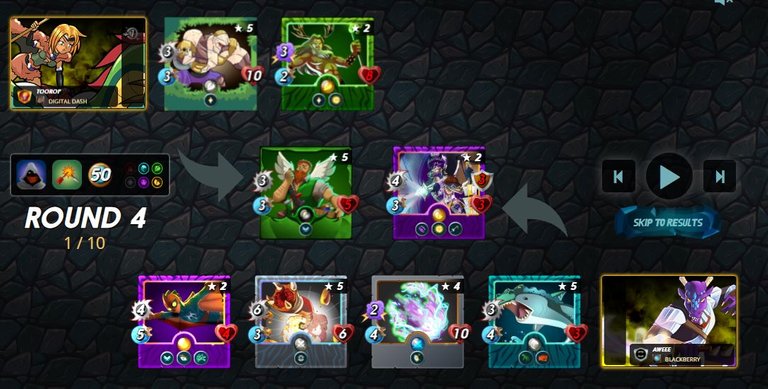 My team is busy mowing down the enemy tanks, there are 4 of them so it took us a lot of rounds to make it through. My Sand Worm is also busy making progress on damaging that pesky Kron.
ROUND 5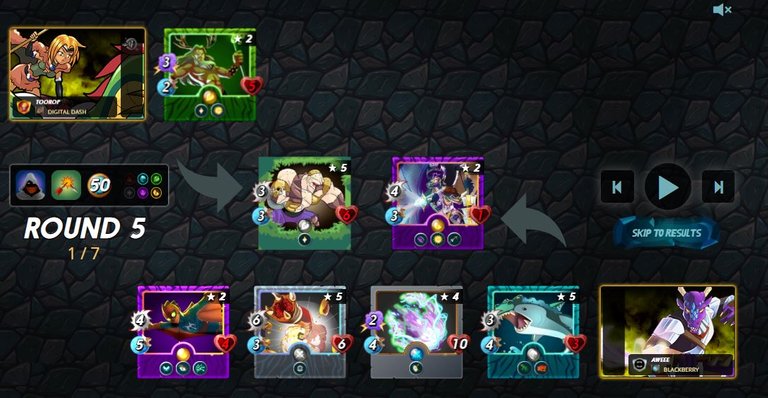 Finally in the final round and my ROBO-DRAGON KNIGHT is still standing to watch how the enemy team fall completely. It survive frontline bombardment until round 5.
RESULT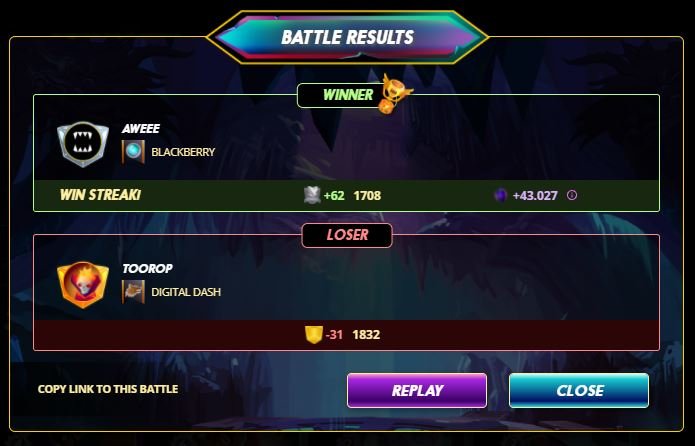 If there is a high chance that enemy will use a magic damage monster, I will always consider using ROBO-DRAGON KNIGHT.
ROBO-KNIGHT is one of those tanks that have a well rounded stats. It can deal a good amount of damage and also have the piercing ability to not waste the excess damage on low armored enemies. It also have a divine shield which negates first incoming damage and the skill void to not let it get killed easily by magic damage monsters.
~
~
***Interested in playing and earning? Click my referral link below and after you have purchase your summoner's spellbook, I'll give you back $0.50 in DEC.
https://splinterlands.com?ref=aweee
---
---