Custom Splinterlands Weekly Challenge [ENG/ESP]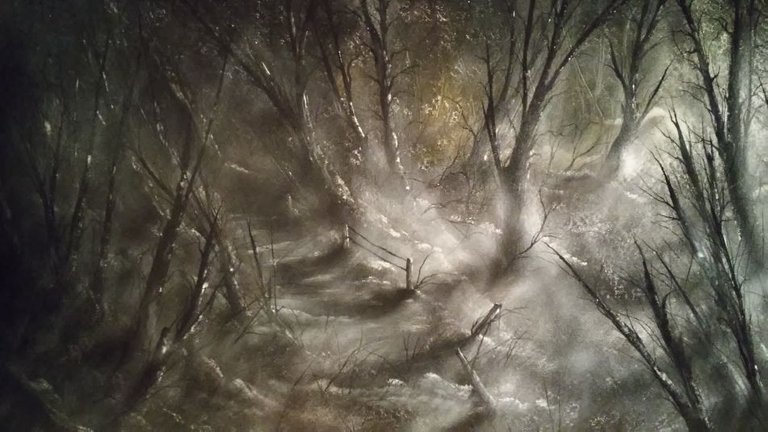 Welcome!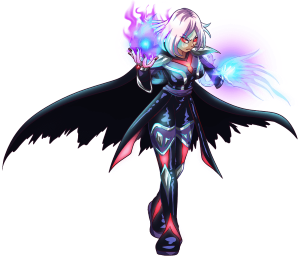 Unfortunately I missed the last Weekly Challenge, but here I am for this one. This Challenge was done at the top of my game, which is Gold I League. Also, as usual I ended my season early and the Lava Spider had no part in it, so I'm using for this Challenge the Spirit Hoarder, the newest airdrop card for the Chaos Legion Edition.
To keep up with Gold League players I rented Summoners that allowed me to summon Commons at level 8, Rares at level 6, Epics at level 5 and Legendaries at level 3.
About the Spirit Hoarder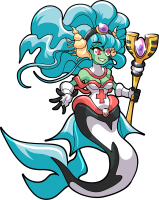 As soon as I saw it I considered renting it. It is, with the exception of the Mermaid Healer, the only Monster that can heal your back line at level 1; and the best part is that it is a Neutral card, so you can use it in all your lineups, as long as the rules allow it.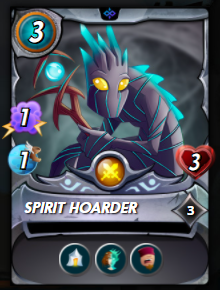 For Gold League I rented the Monster at level 3; at level 3 it gets Dispel, which is an effect I haven't been able to fully exploit yet, and Blind, which is great to increase your evasion. Certainly a very useful card for every League.

Battle #1
Ruleset

Spreading Fury: All Monsters have the Enrage ability. Keep Your Distance: Monsters with Melee attack may not be used in battles. Life Splinter not allowed. Mana cap: 28.
Lineup & Analysis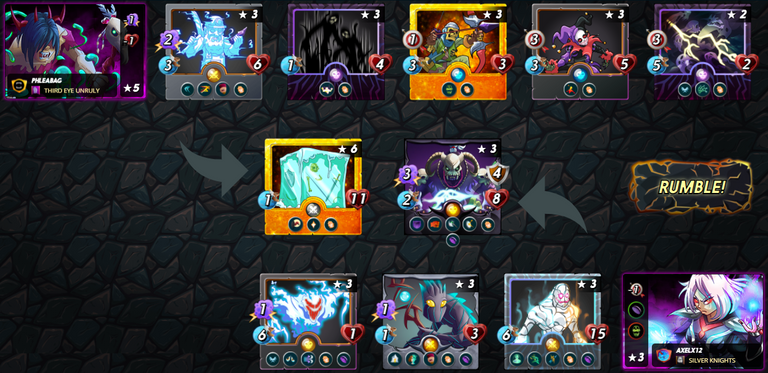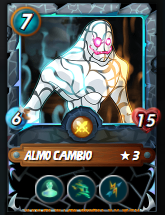 Well, this lineup is funny, cause it's so unlike me. What I mean is, I rather use a solid lineup with Common and Rares, than using mana expensive Legendaries; but here, all the cards I used, including the Summoner are Legendaries. Here, Melee attackers are not allowed, so with Mimosa's protection against Magic and her Ranged debuffing, I'm quite covered. Her affliction nullified the Cube's healing ability, otherwise I could,ve lost by fatigue.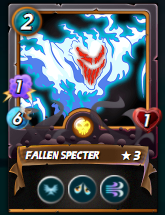 When assembling a team I like to defend all angles, and mana is hardly ever enough, but here, considering the rules, I think we are ok. A strong tank deflecting Magic. Almo Cambio is at second position, just in case of Snipe, practically inmortal. And the Spirit Hoarder and the Fallen Specter, healing, debuffing and attacking. This lineup is weak against ranged sneak attackers, but those cards are quite rare.

Battle #2
Ruleset

Holy Protection: All Monsters have the Divine Shield ability. Melee Mayhem: Melee attack Monsters can attack from any position. Life and Dragon Splinters not allowed. Mana cap: 23.
Lineup & Analysis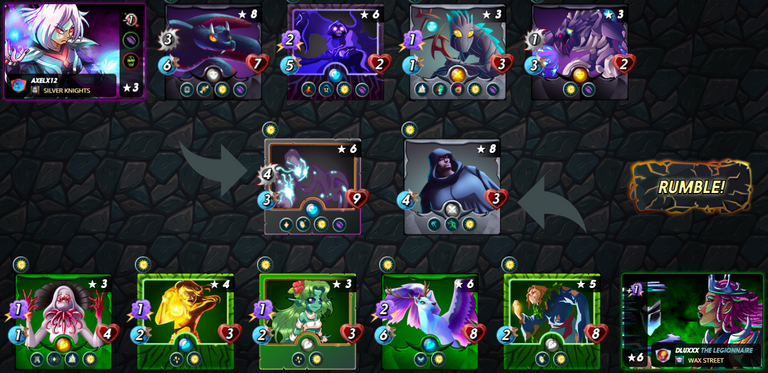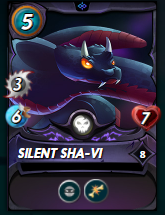 I expected a Magic lineup, from my opponent, and I guessed right. Although Mimosa already buffs me against Magic, I used the Death Elemental to debuff the enemy Monsters even more, just in case they take down my tank before it can heal. I also put the Silent Sha-Vi to Sneak attack, just in case my opponent had a resistant tank. That way I can take down the back line supporting the front line. Flawless victory!

Thanks for stopping by!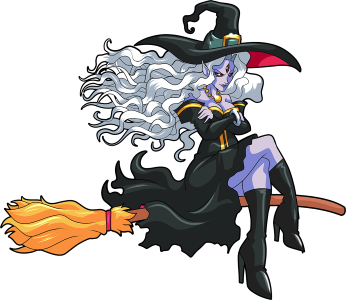 ESPAÑOL

¡Bienvenidos!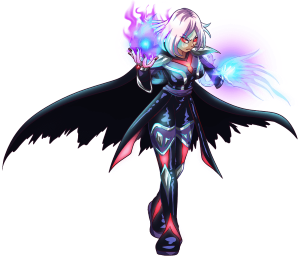 Desafortunadamente, me perdí el último desafío semanal, pero aquí estoy para este. Este Desafío se hizo en la cima de mi juego, que es la Liga Oro I. Además, como de costumbre, terminé mi temporada antes de tiempo y el Lava Spider no participó en ella, así que estoy usando para este Challenge el Spirit Hoarder, la carta de airdrop más nueva para Edición de la Legión del Caos.
Para mantenerme al día con los jugadores de la Liga Dorada, alquilé Invocadores que me permitían invocar Comunes en el nivel 8, Raros en el nivel 6, Épicos en el nivel 5 y Legendarios en el nivel 3.
Sobre el Spirit Hoarder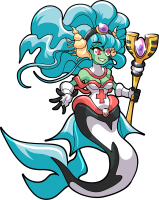 Tan pronto como lo vi, pensé en alquilarlo. Es, con la excepción de Mermaid Healer, el único Monstruo que puede curar tu línea trasera en el nivel 1; y lo mejor es que es una carta Neutral, por lo que puedes usarla en todas tus alineaciones, siempre que las reglas lo permitan.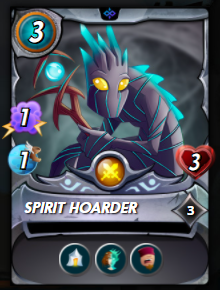 Para la Liga Dorada alquilé el Monstruo en el nivel 3; en el nivel 3 obtiene Dispel, que es un efecto que aún no he podido explotar por completo, y Blind, que es genial para aumentar tu evasión. Sin duda una carta muy útil para todas las Ligas.

Batalla #1
Reglas

Furia Propagadora: Todos los Monstruos tienen la habilidad Enfurecer. Mantén tu distancia: los monstruos con ataque cuerpo a cuerpo no se pueden usar en las batallas. Splinter de Vida no permitido. Límite de maná: 28.
Alineación & Análisis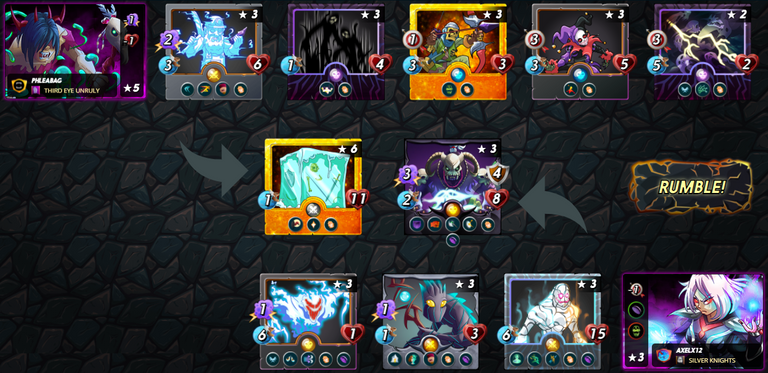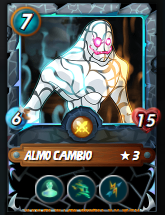 Bueno, esta alineación es graciosa, porque es muy diferente a mi forma de jugar. Lo que quiero decir es que prefiero usar una alineación sólida con Comunes y Raros, que usar Legendarios costosos en maná; pero aquí, todas las cartas que usé, incluida la de Invocador, son Legendarias. Aquí, los atacantes cuerpo a cuerpo no están permitidos, así que con la protección de Mimosa contra la magia y su debilitamiento de ataques a distancia, estoy bastante cubierto. Su efecto de aflicción anuló la capacidad de curación del Cubo, de lo contrario podría haber perdido por fatiga.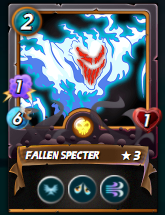 Cuando armo un equipo, me gusta defender todos los ángulos, y el maná casi nunca es suficiente, pero aquí, considerando las reglas, creo que estamos bien. Un tanque fuerte que desvía magia. Almo Cambio ocupa la segunda posición, en caso de Snipe, prácticamente inmortal. Y el Spirit Hoarder y el Fallen Spectre, curando, debilitando y atacando. Esta alineación es débil contra los atacantes con Sneak a distancia, pero esas cartas son bastante raras.

Batalla #2
Reglas

Protección Sagrada: Todos los Monstruos tienen la habilidad Escudo Divino. Melee Mayhem: Los Monstruos con ataque cuerpo a cuerpo pueden atacar desde cualquier posición. Splinters de Vida y Dragón no permitidos. Límite de maná: 23.
Alineación & Análisis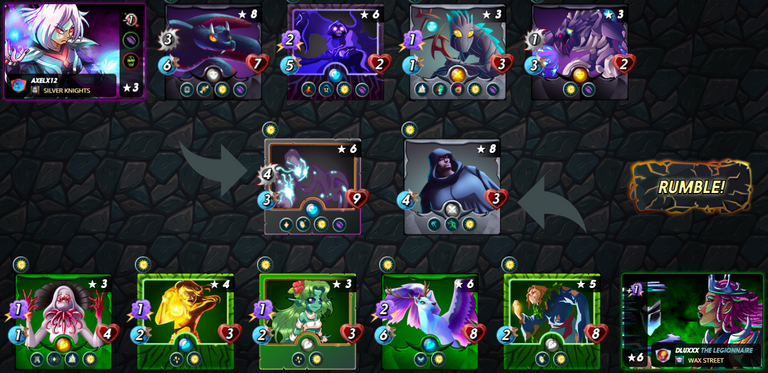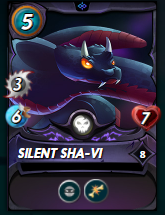 Esperaba una alineación Magica, de mi oponente, y acerté. Aunque Mimosa ya me protege contra la Magia, usé el Death Elemental para debilitar aún más a los Monstruos enemigos, en caso de que acaben con mi tanque antes de que pueda curarse. También puse el Silent Sha-Vi para atacar la línea de fondo, en caso de que mi oponente tuviera un tanque resistente. De esa manera puedo derribar la línea de atrás apoyando a la línea del frente. Flawless victory!

¡Gracias por pasar!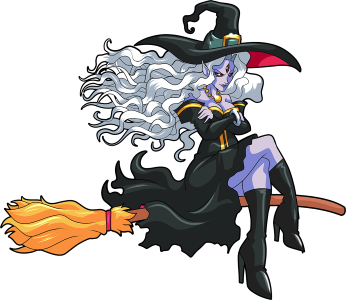 ---
---