Splinterlands - Gold League Battles [ENG/ESP]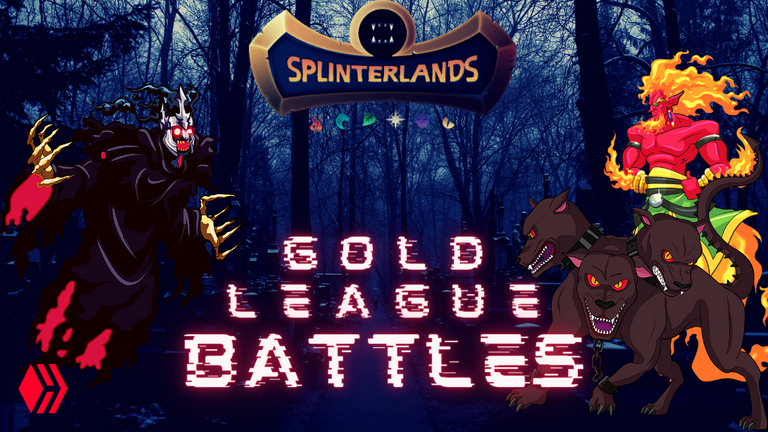 Hey guys!
Welcome to this short post, where I'll be sharing with you a couple of battles. In my last post I wrote about renting cards for the Silver League and reaching Gold League rather quick, but getting stuck in Gold III, because of my lack of high level Monsters.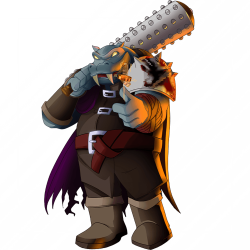 Well, today (September 11th), I rented Life & Death Splinters and some Neutral Monsters, to fight in the Gold League and maybe, if I'm lucky, in the Diamond League. So far, I had fought 20 battles with these cards (in the moment I'm writing this), winning 16, one of them by surrender, and losing four.
Many of those battles were fought in equal conditions (Summoner/Monster level), and from those battles I picked two to share and analyze with you. By the way, these are my rented Summoners, just so you know beforehand and I don't have to over-explain.



These kind of battles are always a Challenge, at least in my head, because I'm always thinking how to cause damage without being harmed with Thorns or Retaliate or whatever; I can't always get everything, but I try.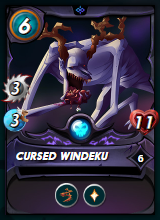 I chose Mimosa as my Summoner over the others, despite her high Mana and her useless Ranged debuff and Void effect, to deprive my opponent from healing. Luckily it worked with the Haunted Spirit.

You can't assemble a "Melee only" team without Thorns or Healing. The Cursed Windeku has both.
From the second position is where I had my doubts; shall I use my Mana in Sneak and Opportunity Monsters? It could've worked, but with a Blast rule, I rather try to control the damage received, than the one dealt.

For that matter I put Venator Kinjo. His Reflection Shield prevents Blast damage, his Camouflage prevents attacks from enemies with Opportunity, and he can also slow down my opponent's cards, which was useful for the following Monsters.

Both the Chicken and the Ram are there to prevent more Blast damage to useful Monsters.

The Silent Sha-Vi, an amazing Sneak Monster. He is a little bit Mana expensive, but with his Speed, you make sure you attack first, which is very useful in a Blast rule. Actually, it took down the Undead Badger, before it could attack.

It is a tough choice to position a Monster with no chance of attack, so I had my doubts with the Pelacor, but the strategy worked quite well. His Backfire ability took down the enemy Sha-Vi and damaged the Skeleton.
All the Monsters that mattered in that team survived, so it was quite an impecable win.


Now, a battle with the Life Splinter. In this case it was one of those very short Mana cap battles that sometimes make you arm and disarm your team, over and over again. 12 Mana cap, Earth and Death Splinters not allowed.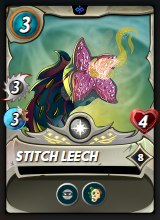 My chosen Summoner was Kiara Lightbringer. She has no abilities, but she only requires two points of Mana to be used, which in this case is invaluable.
As always, my predilect tank for short Mana battles is the Pelacor Conjurer. Cheap to summon, high evasion and, at this level, Magic Reflect.
I positioned the Dax Paragon in the second position, to prevent healing and to inflict more damage to possible Magic attackers. It was all useless though. It would've been better to use the Harpy.
The Divine Healer is a great card for the Pelacor; is very cheap to Summon, heals the tank and slow the enemy Monsters, benefiting the Pelacor's evasion.
Here I was between the Leech's Leech effect and Uraeus's Poison, but I went with the Leech because of that extra point of attack. Poison is useful, but is not a certainty and I rather be certain in such a short battle.
And of course the free Mana Monsters covering the back.
I won with a solid strategy, but is also true that my opponent messed up his lineup, at least in my opinion. I would've exchanged positions between the Fiend and the Venari. That simple change would've protected his healer a little bit more, giving him a better chance.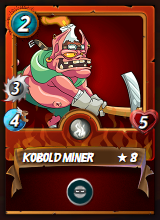 Extra battle: This is another short Mana battle, but in this case with the Death Splinter. You are not going to learn much from my lineup, I hesitated a lot here, but my oponent however, assembled a very good lineup, in my opinion. The Cerberus is definitely one of the best tanks in the game, for low Mana battles, starting with his healing ability. He is also cheap to summon and gets the Retaliate ability later on. The other card that stands out is the Kobold Miner that costs two points of Mana to summon and deals a nice amount of damage.

The Thumbnail was done in Canva.

This is it for this post people, thanks for reading!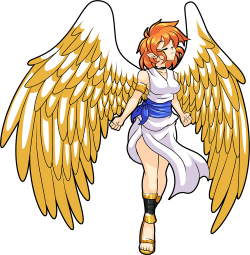 ESPAÑOL
¡Hola gente!
Bienvenidos a este breve post, donde estaré compartiendo con ustedes un par de batallas. En mi última publicación escribí sobre el alquiler de cartas para la Liga Plata y sobre llegar a la Liga Dorada bastante rápido, pero quedarme estancado en la Gold III, debido a mi falta de Monstruos de alto nivel.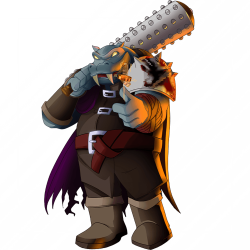 Bueno, hoy (11 de septiembre), alquilé Splinters de Vida & Muerte y algunos Neutral Monsters, para pelear en la Liga Dorada y quizás, si tengo suerte, en la Liga Diamante. Hasta ahora, libré 20 batallas con estas cartas (en el momento en que escribo esto), ganando 16, una de ellas por rendición, y perdiendo cuatro.
Muchas de esas batallas se libraron en igualdad de condiciones (nivel Invocador/Monstruo), y de esas batallas elegí dos para compartir y analizar con ustedes. Por cierto, estos son mis Summoners alquilados, solo para que lo sepas de antemano y no tenga que explicar demasiado.



Este tipo de batallas siempre son un Reto, al menos en mi cabeza, porque siempre estoy pensando en cómo causar daño sin ser dañado con Thorns o Retaliate o lo que sea; No siempre consigo todo, pero lo intento.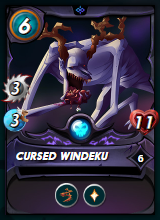 Elegí a Mimosa como mi Summoner sobre los demás, a pesar de su alto maná y su inútil debilitamiento a distancia y efecto de Void, para privar a mi oponente de la Sanación. Por suerte funcionó con el Haunted Spirit.
No puedes armar un equipo de "Only Melee" sin Thorns o Healing. El Cursed Windeku tiene ambos.
A partir de la segunda posición es donde tenía mis dudas; ¿Usaré mi maná en Sneak y Opportunity Monsters? Podría haber funcionado, pero con una regla de Explosión, prefiero controlar el daño recibido que el infligido.
Por lo demás puse a Venator Kinjo. Su Reflection Shield previene el daño de Blast, su Camouflage previene los ataques de enemigos con Opportunity, y también puede ralentizar a las cartas de mi oponente, lo cual fue útil para los siguientes Monstruos.
Tanto el Pollo como el Carnero están ahí para evitar más daño de explosión a los monstruos útiles.
El Silent Sha-Vi, un asombroso Monstruo con Sneak. Es un poco caro en maná, pero con su velocidad, te aseguras de atacar primero, lo cual es muy útil en una regla de explosión. De hecho, derribó al Undead Badger antes de que pudiera atacar.
Es una elección difícil posicionar un Monstruo sin posibilidad de ataque, así que tenía mis dudas con el Pelacor, pero la estrategia funcionó bastante bien. Su habilidad Backfire derribó al Sha-Vi enemigo y dañó al Esqueleto.
Todos los Monstruos que importaban en ese equipo sobrevivieron, por lo que fue una victoria bastante impecable.


Ahora, una batalla con Life Splinter. En este caso fue una de esas batallas de límite de maná muy cortas que a veces te hacen armar y desarmar a tu equipo, una y otra vez. Límite de 12 maná, Earth y Death Splinters no permitidos.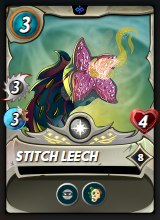 Mi invocador elegido fue Kiara Lightbringer. No tiene habilidades, pero solo requiere dos puntos de Maná para ser utilizada, lo que en este caso es invaluable.
Como siempre, mi tanque predilecto para batallas cortas de Maná es el Pelacor Conjurer. Barato de invocar, alta evasión y, en este nivel, Magic Reflect.
Coloqué al Dax Paragon en la segunda posición, para evitar la sanación y para infligir más daño a los posibles atacantes mágicos. Aunque todo fue inútil. Habría sido mejor usar la Arpía.
El Sanador Divino es una gran carta para el Pelacor; es muy barato de Invocar, cura el tanque y ralentiza a los Monstruos enemigos, beneficiando la evasión de Pelacor.
Aquí estaba entre el efecto Sanguijuela del Leech y el Veneno de Uraeus, pero elegí al Leech por ese punto extra de ataque. El veneno es útil, pero no es una certeza y prefiero estar seguro en una batalla tan corta.
Y, por supuesto, los Monstruos de Maná gratuitos que cubren la espalda.
Gané con una estrategia sólida, pero también es cierto que mi oponente arruinó un poco su alineación, al menos en mi opinión. Habría intercambiado posiciones entre Fiend y Venari. Ese simple cambio habría protegido a su sanador un poco más, dándole una mejor oportunidad.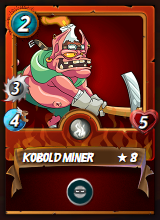 Batalla extra: Esta es otra batalla corta de Maná, pero en este caso con el Death Splinter. No vas a aprender mucho de mi alineación, dudé mucho aquí, pero mi oponente, sin embargo, armó una muy buena alineación, en mi opinión. El Cerberus es definitivamente uno de los mejores tanques del juego, para batallas con poco Maná, comenzando por su capacidad de sanación. También es barato de invocar y obtiene la habilidad Retaliate más adelante. La otra carta que se destaca es el Kobold Miner que cuesta dos puntos de Maná para invocar y causa una buena cantidad de daño.

La Miniatura se hizo en Canva.

Esto es todo por este post gente, ¡gracias por leer!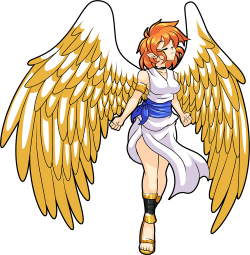 ---
---