D' RULER OF THE SEAS when it rules..
Hellooooo Ka-Splinterlands
In this battle i would like to share how ruler of the seas help in winning the battles for me.
RULER OF THE SEAS
Ruler of the seas is a water magic monster with blast ability.
When i started playing splinterland and when somebody use it, i almost lost most of the time. I then decided to rent and use it. Using ruler of the seas now helps me win some battles specially at novice or bronze league with the help of its blast ability that provide a game changer.
In this battle - my water team is up against the green team. It is a 28 mana - broken arrows where ranged attack mosnters may not be used in battles. Since broken arrows is not allowed, i introduce Merdaali guardian as my healer. Others are composed of :
Torrent fiend - a 0 mana cost that you can place when there is still an extra slot,
Djinn Ohannus - my favorite amongst monster for its magic attack, speed and void ability against magic,
Dwarven wizard - a neutral card with snipe ability - that helps in illuminating those supporting monster,
Venari wavesmith - its plus armor ability helps a lot against sneak and ranged attack monster and last is the king the
Ruler of the seas, its blast ability is so important in winning the battle .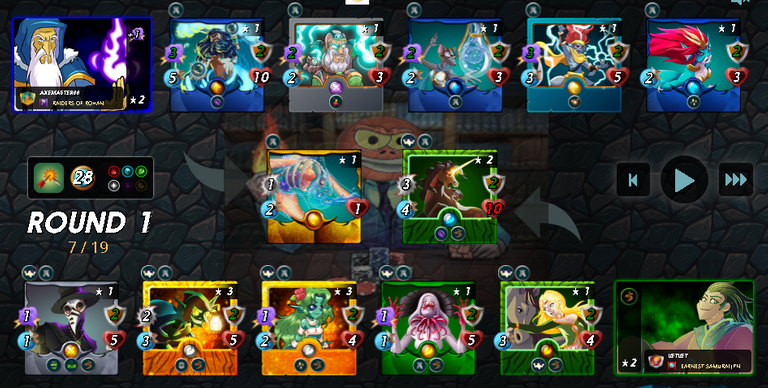 Watch the battle in here:
https://splinterlands.com?p=battle&id=sm_HLxCgUiGFtnWAHsskm6K&ref=axemaster88
Here are some battles : Using Ruler of the Seas in gold league
https://splinterlands.com?p=battle&id=sl_02f0bca8e48ef98460065e48432f134f&ref=axemaster88
https://splinterlands.com?p=battle&id=sl_6fd600ab5a0bb28708d4d6e4f41252b9&ref=axemaster88
Have a nice day everyone......
---
---