SHARE YOUR BATTLE Weekly Challenge! LEGIONNAIRE ALVAR
Hey hey hey, que onda amigos de Splinterlands? Habían visto alguna vez un guerrero con armadura de hierro con características legendarias? El reto de esta semana en el mejor juego de cartas es sobre Legionnaire Alvar, que con un fabuloso combo que descubrí puede ser hasta inmortal, todo lo que se necesita para ganar todas las batallas.
Hey hey hey, what's up friends from Splinterlands? Have you ever seen an iron armored warrior with legendary features? This week's challenge in the best card game is about Legionnaire Alvar, who with a fabulous combo I discovered can even be immortal, all it takes to win all the battles.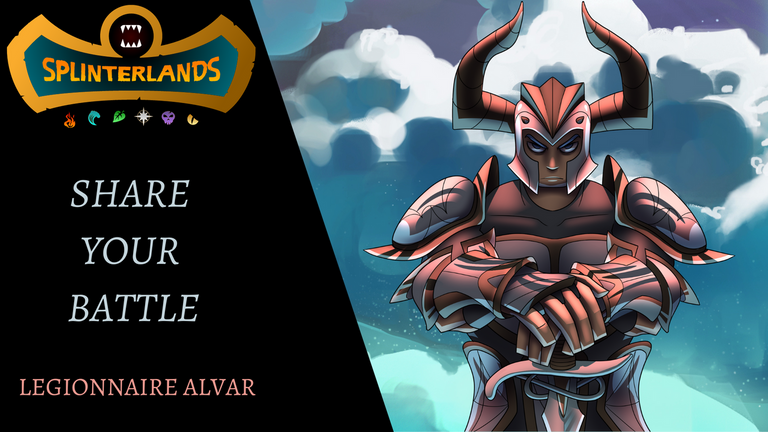 Legionnaire Alvar
Es una carta neutral legendaria con el aspecto de un guerrero medieval malvado, con la armadura de hierro donde su casco se hace notar a primera impresión por sus enormes cuernos con características de la región del caos, sus estadísticas están muy elevadas en la parte defensiva, tiene los puntos de salud y escudo de los mejores de todo el juego y eso tan solo en primer nivel, que es mejorado con su habilidad de "Armadura del vacio" lo que lo hace realmente impenetrable, primero se debe destruir todo su escudo para luego si poder afectar su vida.
It is a legendary neutral card with the appearance of an evil medieval warrior, with iron armor where his helmet stands out at first glance for its huge horns with characteristics of the region of chaos, its statistics are very high in the defensive part, He has the health and shield points of the best in the entire game and that's only on the first level, which is improved with his "Void Armor" ability, which makes him really impenetrable, first all his shield must be destroyed and then If you can affect your life.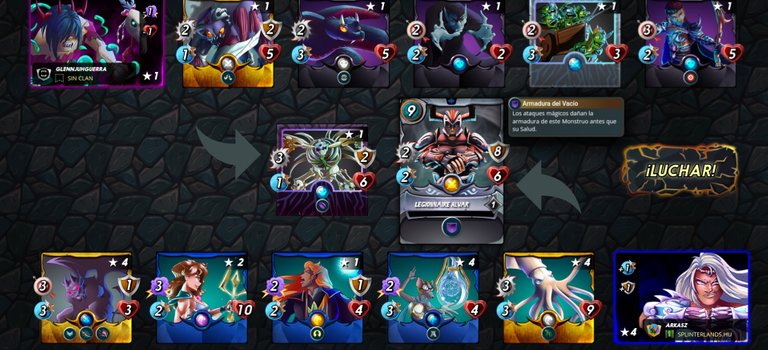 River Hellondale
Es la carta perfecta para utilizar en compañía de Legionnaire Alvar, con la habilidad que posee de "revivir" puede revivir a un aliado con un punto de salud y todo su escudo, que en este caso es ideal porque Legionnaire Alvar puede ser revivido con ocho puntos de escudo y uno de salud, y con la habilidad de este "Armadura del vacio" es como si fuera revivido con nuevo puntos de salud, haciendo un combo que es muy difícil de ser derrotado.
It is the perfect card to use in the company of Legionnaire Alvar, with his ability to "revive" he can revive an ally with one point of health and his entire shield, which in this case is ideal because Legionnaire Alvar can be revived with eight shield points and one health, and with the ability of this "Void Armor" it is as if he were revived with new health points, making a combo that is very difficult to defeat.
Nerissa Tridawn
Es una maga que pertenece a la región del agua, una carta épica con un alto daño de magia, que para este equipo es indispensable porque ocasiona tres de daño ayudando a Legionnaire Alvar que nos es tan bueno atacando pero con la ayuda de Nerissa Tridawn pueden destruir a los demás monstruos rápidamente.
She is a magician that belongs to the water region, an epic card with high magic damage, which is essential for this team because it deals three damage helping Legionnaire Alvar who is not so good at attacking but with the help of Nerissa Tridawn they can destroy the other monsters quickly.

De esta forma estaban distribuidas todas las cartas en el campo de juego, en la parte de abajo se encuentra Legionnaire Alvar con un equipo de la región del agua diseñado para potenciar sus habilidades y hacerlo inmortal. En la parte superior se encuentra un equipo clásico de la de la región de la muerte con algunas cartas doradas que pienso que se verá muy afectado por el equipo de agua porque no tienen como defenderse de los ataques de magia.
In this way all the cards were distributed on the playing field, at the bottom is Legionnaire Alvar with a team from the water region designed to enhance his abilities and make him immortal. At the top is a classic team from the death region with some gold cards that I think will be greatly affected by the water team because they have no way to defend against magic attacks.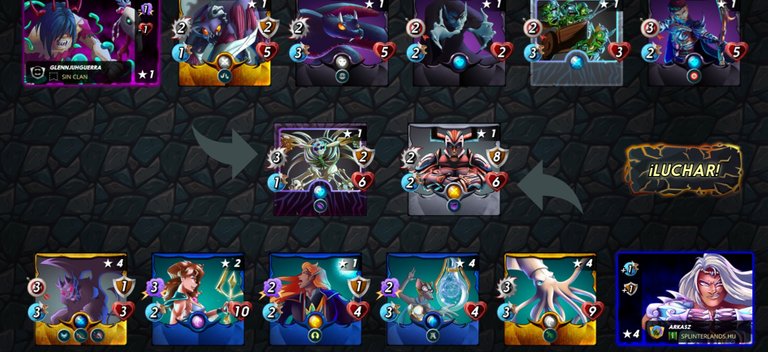 Esta batalla comienza con movimientos muy peligrosos por parte de los equipos en batalla, se ve más lastimado el equipo de la región de la muerte porque la carta que tiene en primera posición queda a tan solo dos puntos de vida, con solo un pequeño golpe puede ser derrotada, a Legionnaire Alvar aún no han logrado afectar su vida solo disminuyeron los puntos de su escudo.
This battle begins with very dangerous movements by the teams in battle, the team in the region of death is hurt more because the card it has in first position is only two life points away, with just a small hit it can Being defeated, Legionnaire Alvar has not yet managed to affect his life, only the points of his shield decreased.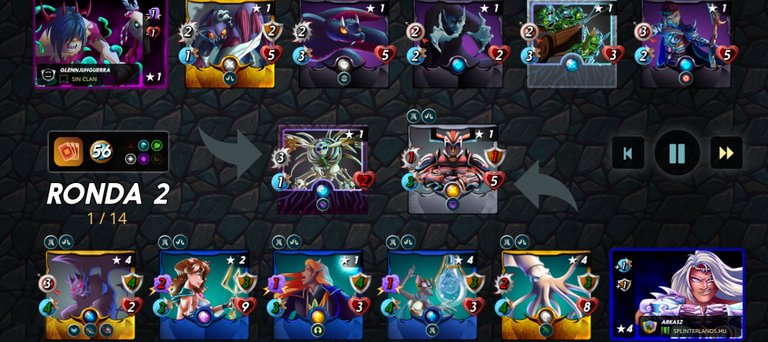 La batalla continua con golpes muy fuerte de los dos equipos, ahora es derrotada la segunda carta del equipo de la región de la muerte y aquí pasa un acontecimiento muy importante, Legionnaire Alvar fue derrotado pero con la habilidad de revivir de River Hellondale Es revivido y ahora tiene diez puntos de escudo que será bastante difícil de volver a derrotar con dos cartas menos.
The battle continues with very strong blows from both teams, now the second card of the team from the region of death is defeated and a very important event happens here, Legionnaire Alvar was defeated but with the ability to revive River Hellondale He is revived and he now has ten shield points that will be quite difficult to defeat again with two fewer cards.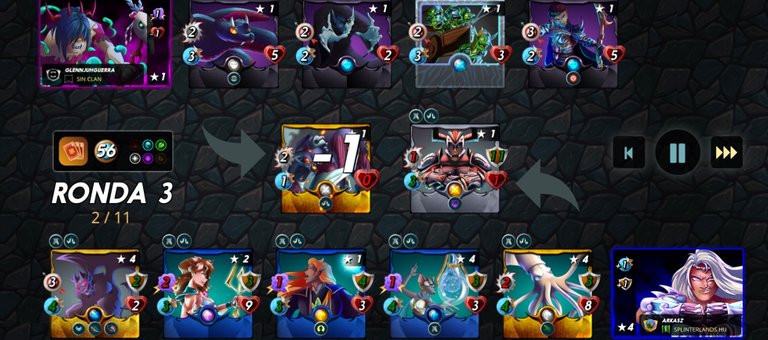 En esta instancia de la partida el equipo de la región del agua ya tenía la victoria en sus manos, el equipo rival solo logró derrotar a una carta y fue revivida con la habilidad de River Hellondale.
In this instance of the game, the team from the water region already had victory in their hands, the rival team only managed to defeat one card and it was revived with River Hellondale's ability.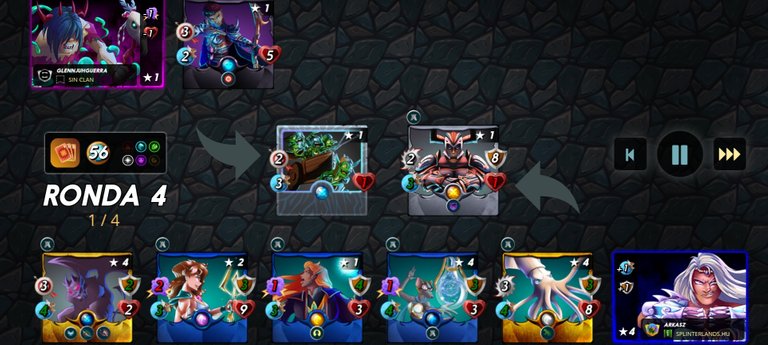 Batallas tan épicas como estas las estaré publicando frecuentemente, sígueme para que no te pierdas el contenido, hasta la próxima. Enlace de batalla
Battles so epic as these will be published frequently, follow me so that you do not miss the content, until next time. Battle link
---
---