SHARE YOUR BATTLE Weekly Challenge! NERISSA TRIDAWN
Hey hey hey, que onda amigos de Splinterlands? Como se encuentra en esta jornada? Esta semana debemos utilizar la hechicera suprema de la región del agua, con características de un tanque mágico y aspecto muy parecido a poseídon con su tridente solo que femenina. Es hora de derribar y apagar cualquier rival que se cruce por el camino.
Hey hey hey, what's up friends from Splinterlands? How are you in this journey? This week we must use the supreme sorceress of the water region, with characteristics of a magical tank and appearance very similar to possessed with her trident only feminine. It's time to take down and shut down any rival that comes your way.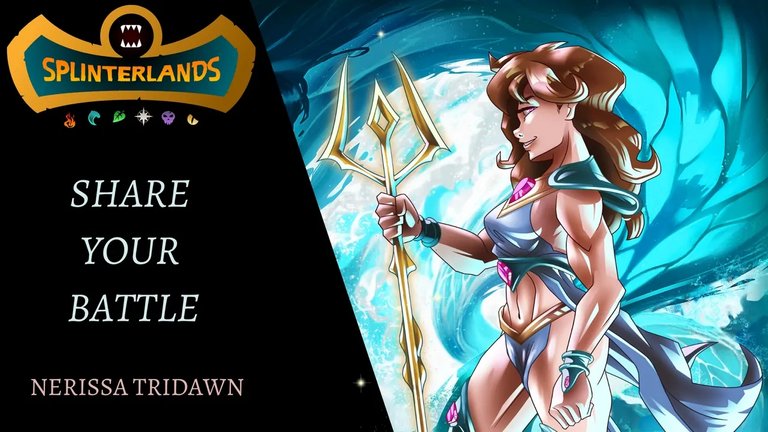 Nerissa Tridawn:
Es una maga con estilo de una Princesa del mar, quien posee un tridente con que golpea a todos sus enemigos, ella tiene una gran daño de tipo magia de tres puntos, su vida es nueve puntos con la velocidad de dos puntos, lo que hace una carta épica de la región del agua. Nerissa si tuviera una habilidad pro seria de forma muy fácil una carta legendaria.
She is a magician with the style of a Sea Princess, who possesses a trident with which she hits all her enemies, she has a great magic type damage of three points, her life is nine points with the speed of two points, which makes an epic letter from the region of water. Nerissa if she had a pro skill would be very easily a legendary card.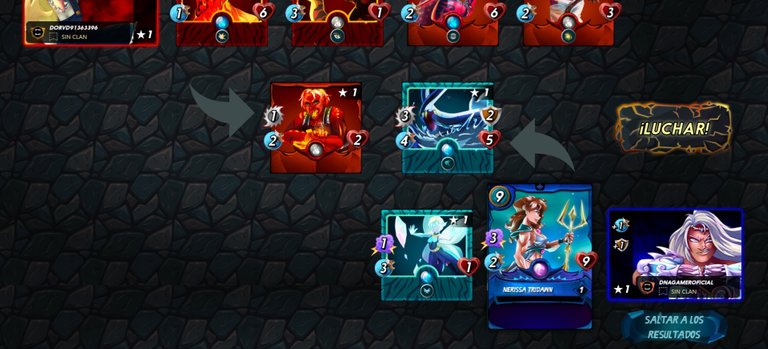 Serpent of eld
Así como su nombre lo dice es una serpiente que tiene unas estadísticas brutales para ser solo una carta rara, lo que la hace resaltar entre las demás cartas es la destreza que tiene para evadir ataques, esto se da por su velocidad de cuatro puntos en su forma base en conjunto a su habilidad dogde que le da el poder de aumentar la probabilidades de evadir ataques rivales.
Just as its name says, it is a snake that has brutal statistics for just a rare card, what makes it stand out among the other cards is the ability it has to evade attacks, this is due to its speed of four points in its base form together with his ability dogde that gives him the power to increase the probability of evading rival attacks.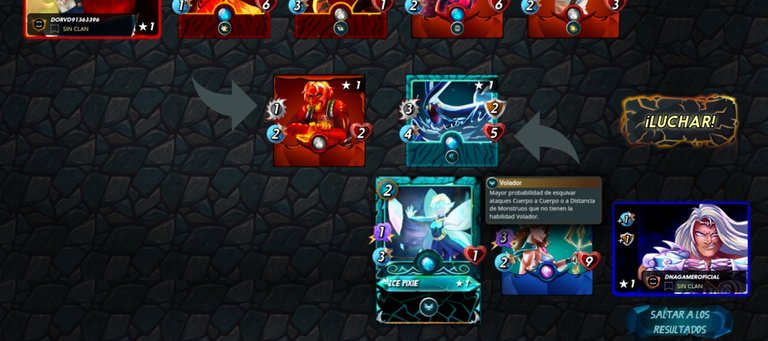 Ice Pixie
Una magas más de la región del agua que con la ayuda de Nerissa Tridawn llegan a golpear directo al corazón del enemigo cuatro puntos de daño, porque Ice Pixie inflige uno de daño, también tiene la habilidad de volador lo que la hace inalcanzable para algunos rivales. Sin embargo tiene muy poca vida, con solo un golpe la derrotan.
One more magician from the water region that with the help of Nerissa Tridawn manages to hit the enemy's heart directly with four points of damage, because Ice Pixie deals one damage, she also has the flying ability which makes her unreachable for some rivals. However, she has very little life, with just one blow they defeat her.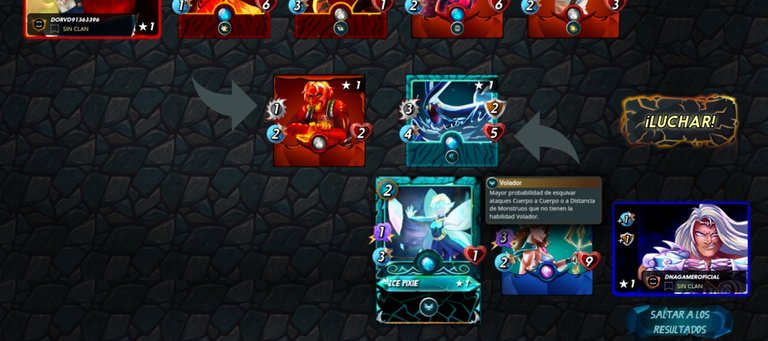 El equipo de fuego tenía una gran variedad de cartas, con más de 4 cartas invocadas en el campo de juego por lo que superaban en número a las de la región del agua, cartas fuertes como Living Lava pertenecen a este equipo
The fire team had a wide variety of cards, with more than 4 summoned cards on the playing field so they outnumbered those from the water region, strong cards like Living Lava belong to this team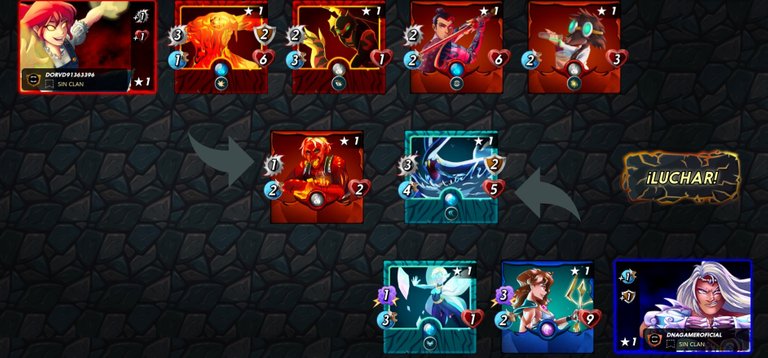 Iniciando esta partida Serpent of eld con su primer golpe mata a la primera carta de fuego, posteriormente Nerissa Tridawn con todo su poder mágico junto a Ice Pixie, infringen un total de cuatro puntos a Living Lava del cual no se puede defender con su habilidad ni escudo.
Starting this game Serpent of eld with his first hit kills the first fire card, later Nerissa Tridawn with all her magical power together with Ice Pixie, they infringe a total of four points to Living Lava from which it cannot be defended with its ability or shield.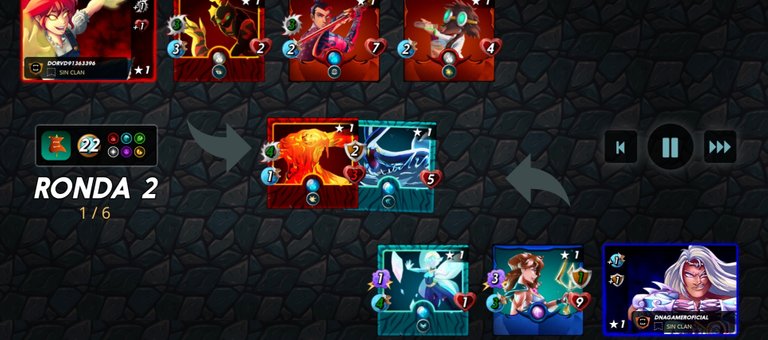 Para la segunda ronda es derrotado Living Lava con todo el poder de Nerissa Tridawn que con su ataque era suficiente para matarlo.
For the second round, Living Lava is defeated with all the power of Nerissa Tridawn, which with her attack was enough to kill him.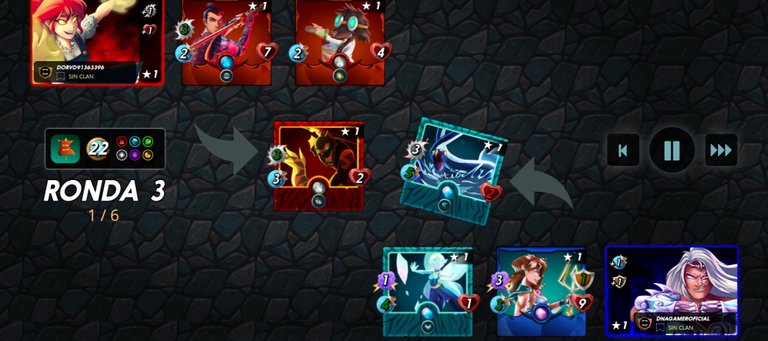 Finalizando esta batalla quedan dos cartas del lado del equipo de fuego pero lamentablemente tienen que derrotar a Nerissa Tridawn que esta con toda su vida, sin dudarlo ella terminar de acabar con todas esas cartas.
At the end of this battle there are two cards left on the side of the fire team but unfortunately they have to defeat Nerissa Tridawn who is with all her life, without hesitation she will finish off all those cards.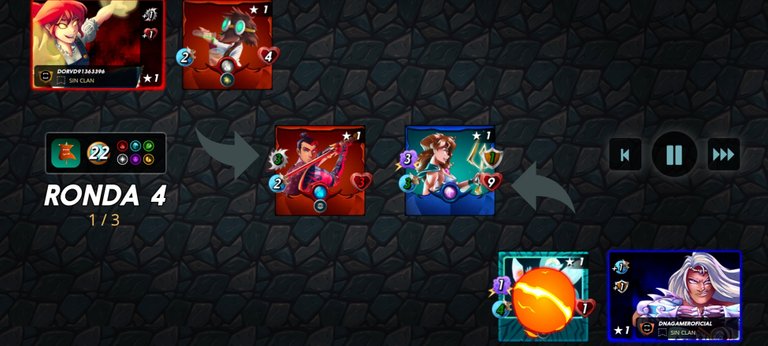 Batallas tan épicas como estas las estaré publicando frecuentemente, sígueme para que no te pierdas el contenido, hasta la próxima. Enlace de batalla
Battles as epic as these I will be posting frequently, follow me so you don't miss the content, until next time. Battle Link
---
---