Testing Grum, In Silver
The Genesis, of this article, was another article I saw on PeakD "Grum is Overrated"
So, I thought I would test that idea. Was Grum Overrated? I'd seen him do same pretty nutty things but OTOH: he was hard to get started. Looking at cards I decided that I would pair a L2 Grum (Void, Void Armor, Bloodlust) with a L2 Kitty (+2S, True Aim, Tank Heal) as well as a L4 Tarsa (+1Melee Attack, +1H). In addition to the True Aim/Tank Heal/Void benefits of this setup- Silver League allowed me to used the L5 Flame Monkey. At L5 this 1 mana card gains 'Repair', which is FANTASTIC- especially for Grum.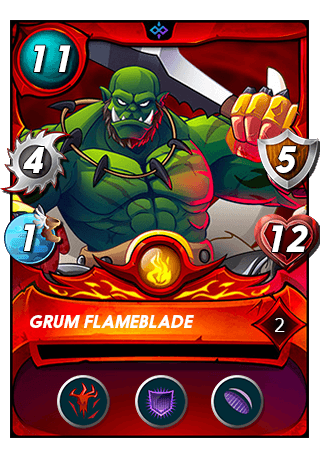 How did I do? How did Grum do?


As you can see, when compared to my record after Novice/Bronze, I only fought 28 Battles in Silver before my rating got >1900
I won 25 of those Battles in Silver for a Silver League record of 25-3, including a streak of 24 wins in a row from Silver III all the way up to 1900 rating. Since I was, virtually, unbeaten- well Grum was 100% unbeatable. Kitty/no Kitty, 20 mana/99 mana- it didn't matter Grum ate every team he went up against.
First Battle with Grum, in Silver: (vs Earth Magic)
https://splinterlands.com/?p=battle&id=sl_b1fb8a3320416fe7cdd6e41e43cac38c&ref=rhosho1
Wow! that Void/Void Armor/Repair/Tank Heal setup is.... deadly.
Second Battle with Grum in Silver: (vs Death)
https://splinterlands.com?p=battle&id=sl_711c630c46635069eff18672cfbdaf5e&ref=rhosho1
Again, they try to use Magic against Grum.... that, doesn't work out too well for them.
Third Battle: (vs Fire)
https://splinterlands.com?p=battle&id=sl_6094267d4aadc69ae7e3affed0773ac7&ref=rhosho1
(Huh, 6 Battles in and I'm in Silver II)
(I'm also 6-0)
Battle, the Fourth: (vs Water, with BLAST!)
https://splinterlands.com?p=battle&id=sl_5d59be80593db0d51bcaeb88027b9bb8&ref=rhosho1
Having BLAST! in the ruleset meant that Grum's Bloodlust got triggered off the monsters he killed, behind the monster he hit.....
Took a while to get him going- no Kitty, lots of misses:
https://splinterlands.com?p=battle&id=sl_6c71d244f6eec1cbcfb29e499adf392d&ref=rhosho1
but yeah, in the end he got his first kill and..... he killed the rest of the team.
Overview
Although Grum, and the rest of my decks, performed flawlessly in Silver- the truth is:
Silver is EASY mode, right now. There's NOTHING there but 'sleazy, low-effort bots' it wasn't until I hit 1500 rating that I saw a 'Bronze Level' deck. That means that there's NOTHING but Novice bots from Novice to Silver I- any, actual, Silver build will cut through that like a hot knife through butter.
I've decided to take a day off- let my ECR recover, let my quests stack up and start fresh in about.... 23hrs.
Then, I'll try the L2 Kitty/Grum build in Gold- along with a few other builds I've been thinking about/hearing about in Gold. Then, we'll see if Grum & Co. can abuse Gold as badly as he thrashed all of Silver.
Oh and the other deck I relied on to walk through Silver?
Sloan- it's super easy and stupid cheap to rent:
L4 Sloan- 6.5/day
L4 Shieldbearer- 9
L5 Lone Boatman- 4.5
L4 Crystalsmith- 1
L4 Arbalest- 1
22 DEC/day- UNBEATABLE in Silver- that's 6.5 cents for a ticket to GOLD! you could/should rent a few other cards to support it:
Herbalist (L3- Cleanse), Xenith Archer, Pelacor Conjuror, Prismologist (L3- 4(5) Attack and BLAST!), Time Mage, Armorsmith, and Divine Healer but none of those are vital- just More. Cheap. Big- for different mana caps and rulesets.
---
---