Like a (hot) knife through butter

Like a (hot) knife through butter
This post is not about me. This post is about @schnapoon. I thought twice before writing this post. Am I doing the right thing? Am I building an air of expection and burden on his shoulder. Then I thought, one of the critical thing about star players is their ability to take mental pressure. That is critical and commonly seen on any champions.
Recently I have given an account to schnapoon to play in the Champions League. I gave him the account the day before the end of the season. The event was well received and is described here on this post. I didn't expect him to play the previous season at all and start at the current season. I wrote the following in my previous post
Watch him slice through the lower league next season as a hot knife through butter (I am thinking a win streak of 60 could be possible! eh?)
I was predicting a win streak of 60; this is what the Wonderboy of Kochi delivered on the last day!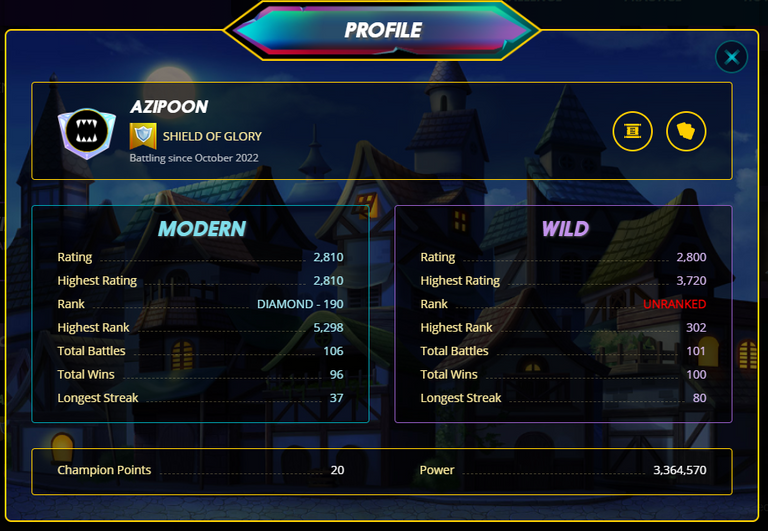 | | |
| --- | --- |
| Wild Ratings Plot | Modern Ratings Plot |
Yes, you are reading that right in the Wild, he had 100 wins out of 101 games, and a single loss!
Enough said!
I have asked around, and a few players said that they have done a single push from zero to champions in a single go before. They were the days before the new ECR mechanism, not sure if this is done recently. If it is, I am not aware of it, so I am recording this!

I have mentioned this to a couple of people. The comments from Dave Mccoy is the one I like the best!
Dave said: 100 out of 101, if I was a bot I'd be scared!
We will see if Schnapoon can live up to his reputation or not, however, I have high hopes for him!
Also notice, Schnapoon have now joined Shield of Glory guild and will represent SoG, from the next brawl cycle onwards. I am happy to say that our guild is getting stronger by the season!

splinterlands/the-splinterlands?si=c5533244312f483ca0e23fc0b6bdaf13&utm_source=clipboard&utm_medium=text&utm_campaign=social_sharing soundcloud ~~~
The Splinterlands

---
---