Look Maa! I can beat them!!
The New Generation of Battle
I am slowly getting the hang of the Chaos Legion cards. There are 91 cards in total, so that is a lot to handle and remember! The critical thing is to find the use of these cards at the right time. But slowly I am getting the hang of it.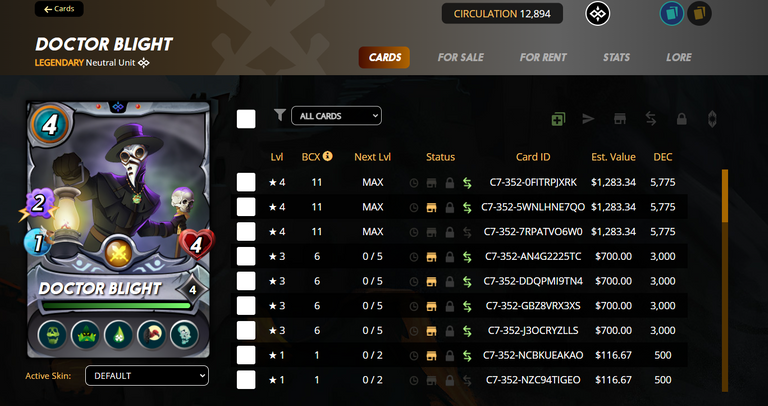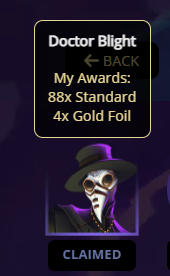 First, stating sort of the obvious: Get Dr. Blight .... really there is no choice if you want to competative at Diamond and Champion League. You need to get it and you need to max it (otherwise you need to rent it maxed). Otherwise you will lose a lot of games, period. Price of this thing is $110 right now. There will be no more prints. I see 12,894 cards in circulation, it will only go down as people will combine more and more cards. You can see, I have already combined some. I started with 88 in the airdrop, and now I have 33 total. That's the story guys. This card will be worth much more than $100/BCX, and may I repeat, there will NEVER me any more of them (as far as I know!).
Ok, the reason I started with Blight, because it is making a difference in the battle. It is making the difference between winning and losing. Let me give you a few examples.
"Modern" Battles
Low Mana Death!
Meaning, earlier it was not possible to pull a win like this. With just Beta-Untamed-Dice cards, it is not possible to pull a win like this.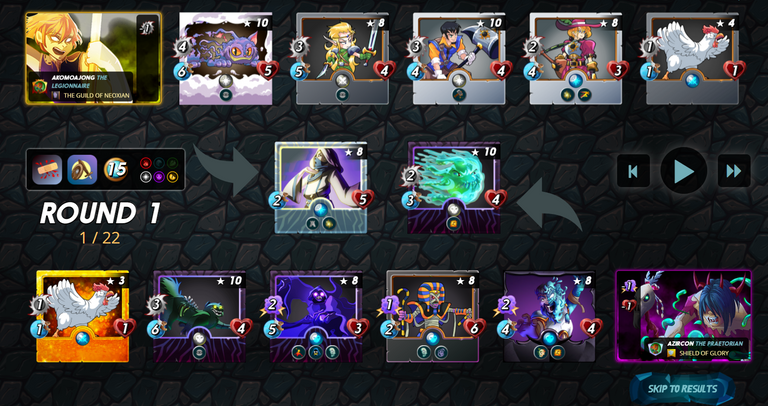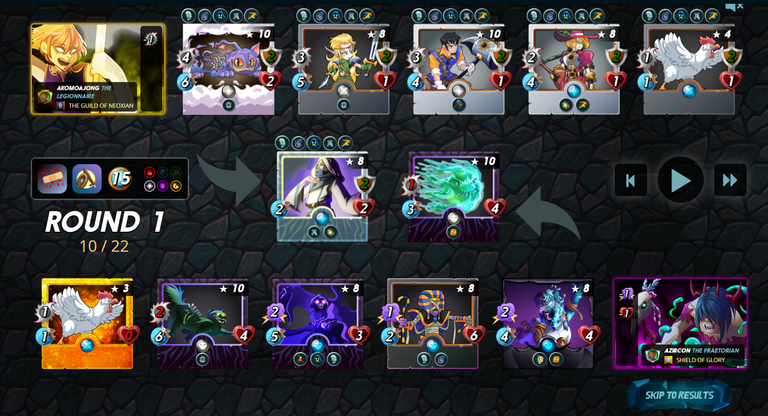 https://splinterlands.com/?p=battle&id=sl_ccfa7a7ec77b6c407dcf027ced98fbe4
The new CL Death Summoner Thaddius Brood! -1 Magic and -1 Health. In Low Mana Battles like above, using Camila is a perfectly good option to have access to dragon splinter. Life-Dragon option is rather good in no heal with extra shields from Truthspeaker. But watch what happens to their health before and after!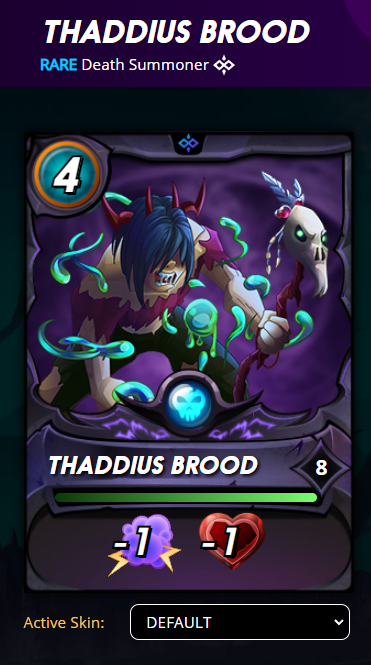 It is very difficult to pull away from that drastic health drop, and I could have still used rust! I didn't feel like it, because I was mostly using magic and shield doesn't matter that much. This kind of win was not possible to pull before!
Earth is 'suddenly' magically strong!
Magic doesn't have to be water any more! Relatively lacklustre Earth got a major facelift with Obsidian!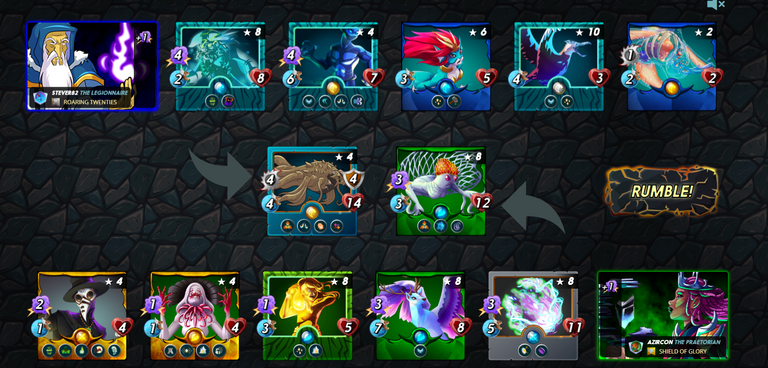 https://splinterlands.com/?p=battle&id=sl_ccfa7a7ec77b6c407dcf027ced98fbe4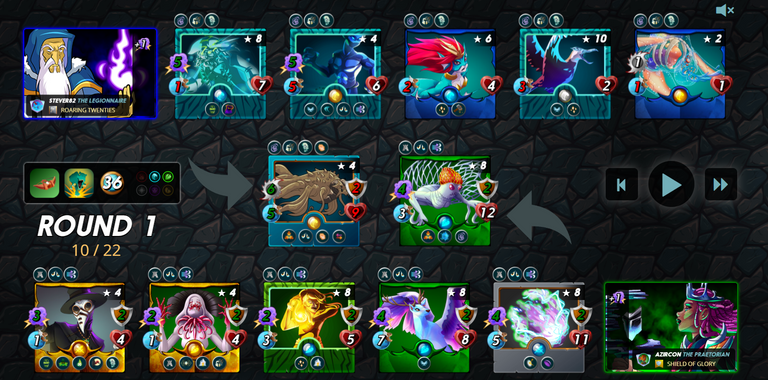 Yeah! The typical heavy magic with Kraken up-front! Well enter Forcefield and Amplify....and not to mention our friend Blight at the back. Now that +5 Magic will do 1 damage to Slipspawn. If/When it is taken out, magic reflect now has amplify :)
So bottomline, there is whole new world out there! Chaos is here!
Its Tough out there!
It does not mean it is easy. I have never played a season so carefully! With 5 days to go, I am almost to C-3! But important thing is, I have played a lot fewer games. Just to play carefully and efficiently.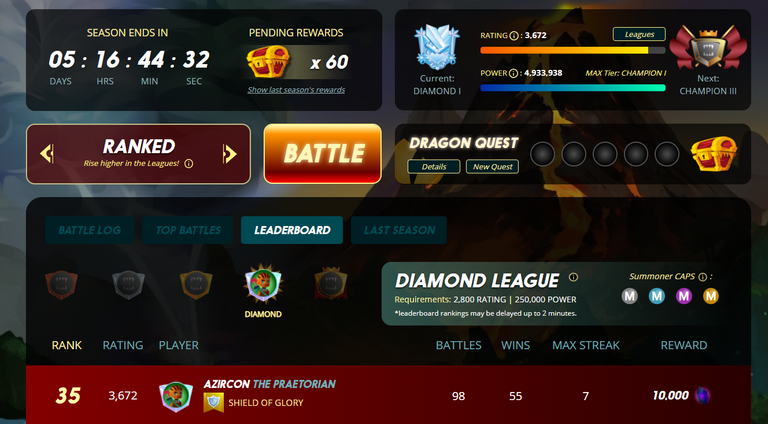 Obviously, its about half losses. Some are very close and heartbreaking, People normally do not like to feature losses. I do not mind. Here is a close game that I lost. Low Mana with Noxious Fume is tough, but I thought I had it... NOT!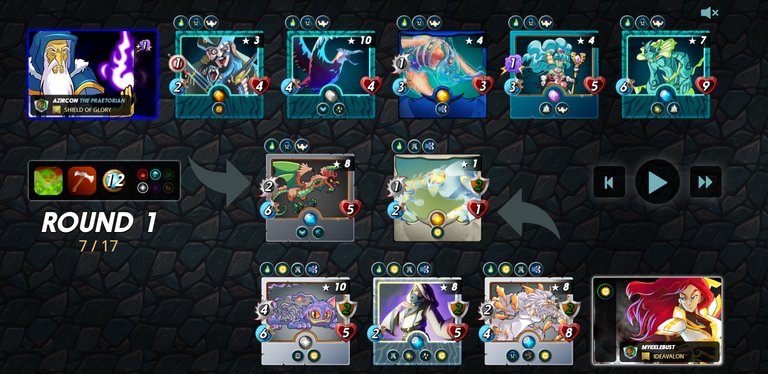 https://splinterlands.com/?p=battle&id=sl_b31d0c1d00bc421617579e2366ec9b9c
I will keep at it and see what happens in the next 5 days!

---
---