Proposal #25

Proposal #25
Currently, @spl.council is asking the community to vote for the following proposal which expires in 2 days time. This is proposal number 25, and the current version of the proposal is as follows:
https://peakd.com/spsproposal/@spl.council/sps-proposal-allocate-up-to-30-million-sps-to-pursue-exchange-listings
There was a previous version of the proposal, which is below:
https://peakd.com/spsproposal/@blockchainff/sps-governance-proposal-allocate-20m-sps-from-dao-treasury-for-exchange-listings
This version didn't pass the pre-proposal phase. This was before sps.council was formed. Actually the dramatic failure of this pre-proposal was perhaps one of the triggering event for the quick formation of the council, although the discussion was happening for a while. I have voted NO for the proposal #25. The picture below shows how the top stake holders voted for the proposal. Within the top 15, 4 stakeholders have voted NO. I must also point out the the SPL team with their personal stake have voted generally in favor of the proposal #25. The largest voting stakeholder @vugtis voted NO to this proposal.
These are all facts. We should all agree on the above facts.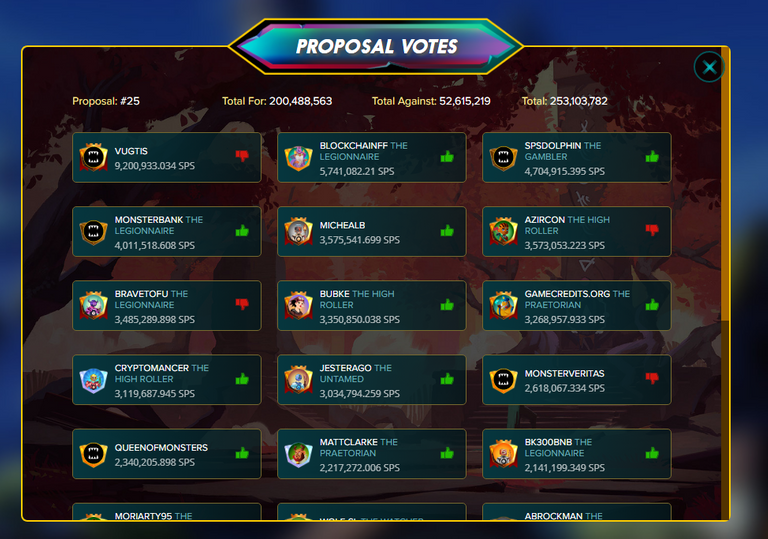 Why Write This Post
My goal is NOT to convince others to switch their vote. It personally won't impact me much whether this proposal to pass or fail. I am writing this post to record at my blog my current thoughts for my personal benefit because I just simply want to remember.
Since I am a trader for the longest time I care to remember let me share a few financial elements that is perhaps relevant to SPS list on any major exchanges. In the beginning of the launch of SPS it traded north of $1 and since then it is on a long and steady decline. When that happens most people who bought and hold SPS are at a net loss. There is a relatively modern visualization tool call Volume Profile Visible Range VPVR that helps quantify the price level where most people are average price of holding are.
https://joezabbs.medium.com/volume-profile-visible-range-e099f22cd2d7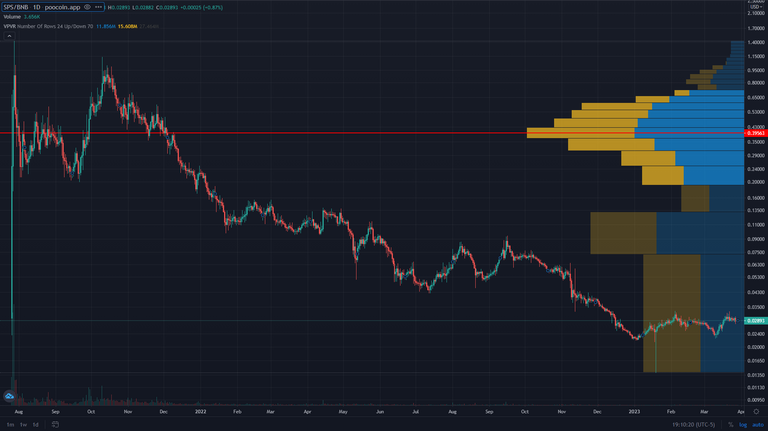 This is simply a volume-weighted price, but instead of a plot as a curve (like VWAP, Volume weighted average price), this is ploted on the side along the vertical axis, as a histogram. The mode of the buy-sell volume, in this case they are the same (Buy histogram at orange, sell histogram as blue), is a price level, called POC (point of control). That is the red horizontal line, which corresponds to the price at highest traded volume. So for the history of this chart of SPS, 0.39 cents is where people average out.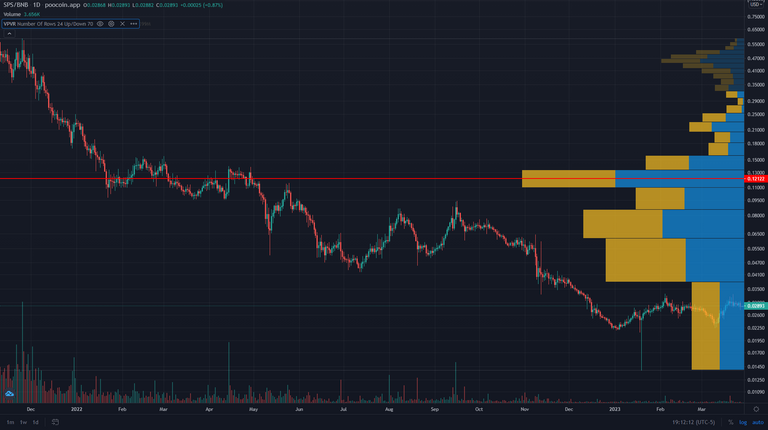 You can argue, that most people averaged down, at least the current holders, and this is correct. So if I reduce the visible range, from Dec 2021 to Present, which is far more reasonable. The POC drops to 0.12 cents.
Why is this important
The moment SPS is listed on any major exchange, there could potentially be a rally (I hate to use to word 'pump', mostly juvenile crypto people use that word, no disrespect!). Most current holders, who are holding SPS at a net loss, will try and sell at least some of their SPS into this rally. Current price of SPS is below 3 cents. It will need to rally 4X to get to 12 cents, where most people average out. This is possible. At that time people will sell. I suspect the net selling pressure will be higher than net buying and therefore prices will fall. It can potentially come down to below 3 cents, if the net exit is higher. This is a simplistic scenario, the reality will likely be more more complex.
This is the way of a classic "pump-and-dump". See, I used the word 'pump' again! Damn it!
I am not saying majority of the community and the council is evil. It is the opposite. They are normal nice people. I like them all. I am saying people are potentially not seeing this. Or worse, they are seeing this, and ignoring the danger.
I think SPS is already listed on many exchanges. Listing them on another or two, won't really benefit us. It can potentially do us more harm than good. Well that is my speculation anyway. So I have voted NO to this proposal.
PS. I didn't even mention the 30M SPS cost! I also didn't mention in the current form of the proposal it didn't really give too much additional information.
Well, now I did :)
splinterlands/the-splinterlands?si=c5533244312f483ca0e23fc0b6bdaf13&utm_source=clipboard&utm_medium=text&utm_campaign=social_sharing soundcloud ~~~
The Splinterlands

---
---