Riftwatchers 2400
Riftwatchers 2400
Splinterlands is going though some challenges which is related to the current market conditions. There have been talks of good capital stewardship, and the team have already acted on reducing some organizational capacities, and looking to improve their efficiency some more. As team was discussing this during the Monday townhall, I have decided the best way to support the team and the sps.dao to purchase 2400 Riftwatches packs.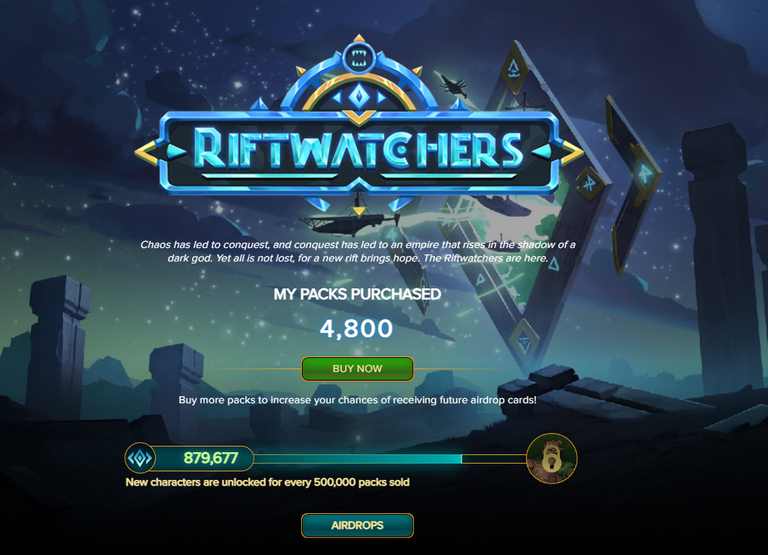 I only purchased 2400 RW before, and me and my scholars requires 3 max decks and a gold level decks, plus they prefer at least one of max decks to be gold!! Talk about high expectations! Sigh.
I wanted to support the team by spending $10,000 right here and right now
I not only wanted to buy the deck but also open them and use them
I wanted to show at least some of the opening live during the townhall
I have found opening the packs boosts morals
Damn it! I look up and I see a lot of 'I', which I hate!
Monstermarket has a pack analyze tool which anyone can use. I like this tool a lot. I have opened 2000 of those 2400 bought with the 20% discount for bulk purchases using vouchers. Here is the result: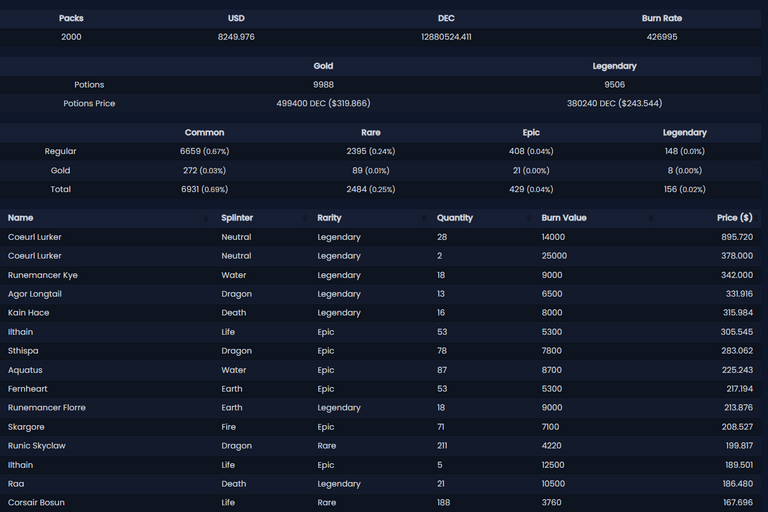 It lists all the cards, as per their current prices. I have only taken a screenshot at the top. Splex.gg also does an analysis based on the expected value: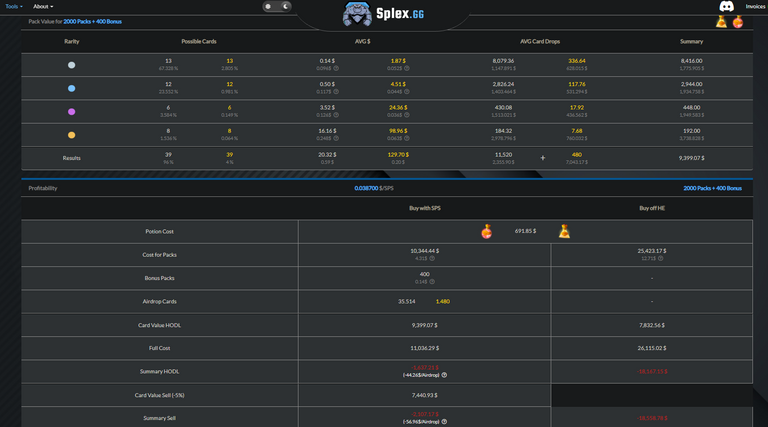 This shows if I buy and open it, currenly I will run a small loss. I do not doubt it. However, since I have a lot of SPS staked, and I also have a few nodes, so I have a lot of vouchers and not much use for it. I consider vouchers to be free for me.
I mostly bought all the SPS from market, so it is about $10,000 worth of SPS (although I probably took something that have been accumulating in my account). Counting about $550 or so in potions, and you can see I ran out in the end, I'd say the buying cost of the packs is probably just north of $10K. So there is a slim chance that I am about break even or slightly lower.
However, that was not the main reason for the buy. If I trying and max two decks of RW cards, I think I will have to push the card market quite a bit higher. There is simply not enough supply for these cards. The amoung of Coeurl Lurker I pulled was simply astonishing. Thankfully it is probably the most useful and used RW card currently. So complains here!

splinterlands/the-splinterlands?si=c5533244312f483ca0e23fc0b6bdaf13&utm_source=clipboard&utm_medium=text&utm_campaign=social_sharing soundcloud ~~~
The Splinterlands

---
---