Splinterlands Rentals and Passive Income
Rentals
I hold a decent position in Splinterlands cards. It is by no means massive, but as of right now my active cards are worth nearly $700K. I have a nearly max deck in additional to this position delegated and being played by a profrossional. However, that still leaves me with about 10865 cards, as per Peakmonsters. I play the remaining broken deck myself and usually rank between 70-80 in the Champions league with just doing daily quests. That still leaves me with extra cards which I have been trying to rent. The reason I used 'trying to' is because I am not doing very efficient job at this. I follow the rental market closely.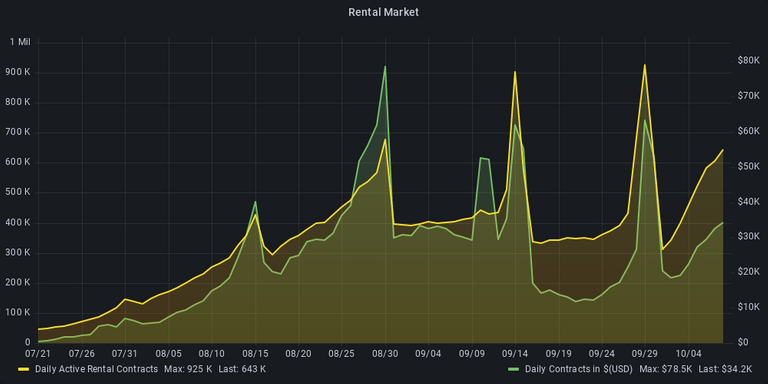 $rental command at Splinterlands discord server #sm-voters_hut
I like to check the overall rental market from time to time, and I often use the discord tool above. You can see very clearly how the rental market shaped up after the recent growth, implimentation of new rules and modifications. Above is the history of the last 3 months. It is easy to see the demand and rental price spike towards the end of the season. A season is 15 days. If we consider the Aug15 the first real spike on rental, the pattern seems to repeat at every season. I have we have now achieved a stability at 900K card rented at about $80K peak. There is recent modification of the cooldown to 24 hours and growth have been steady this season throughout the season.
Passive Income

Currently at the middle of the season, I am earning about 10,000 DEC/day. At current prices that is nearly $74/day. While this is excellent return for just the spare cards that I have, but this is no way near optimized. I currently only have about 1100 cards out for rent (out of 10,000). So I have renting only about 11-12% of my cards. I am renting all my legendaries and Epics mostly both regular and gold foil. But those 1000s of commons and rare need careful combination to get them to Bronze - Silve - Gold levels to extract the most value, and I don't have the time to do it. I have been slowly combining, but it is a long process.
Task at Hand
So this weekend after I finish writing this post, I figured I should spend about 1 hour time each day to combine some of my common and rare cards to have it ready for Bronze - Silver - Gold levels. This will generate some additional passive income for me, and also will help stock the rental market for the end of season supply crisis.

---
---