SPS First Time Buyers Guide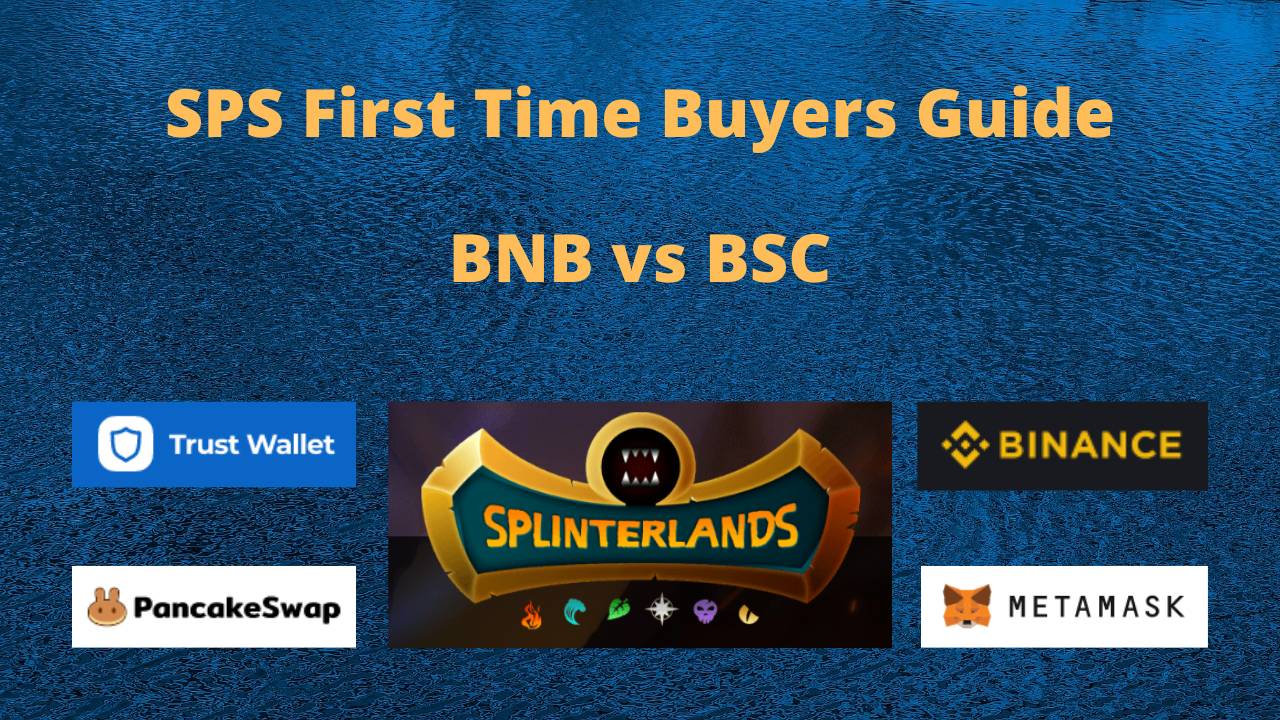 If you haven't aquired any splintershards (SPS) and you are fairly new to cryptocurrency, this guide is for you.
Introduction
After reading several blogs, documents and tutorials to make my way thru this the first time, I wanted to provide something more complete and updated than anything I was able to find. The process may seem a bit daunting at first, but once you get everything setup it is fairly straightforward. You will also be able to exchange Smart Chain BNB (BSC) for other tokens like CAKE.
BNB vs BSC
Its important to understand there are 2 BNB tokens that are very similar. The icons seem to be used somewhat interchangeably depending on where you look. The main thing to note is that one is a BEP2 token on Binance Chain, which can be purchased with fiat money. The other is a BEP20 token on Binance Smart Chain that you can swap for SPS.
A quote from the Splinterlands docs explains this as:
Binance Smart Chain (BSC) is an independent blockchain that runs parallel to the original Binance Chain. Unlike Binance Chain, BSC offers smart contract functionality and compatibility with the Ethereum Virtual Machine (EVM).
https://docs.splinterlands.com/platform/other-blockchains/binance-smart-chain-bsc
Setup Metamask and Trust Wallet
To complete the process discussed here you will need Metamask and Trust Wallet. Both are free to install and use. Metamask will run as a browser extension and Trust Wallet is an app for your mobile device.
Link to Metamask download: https://metamask.io/index.html
Link to Trust Wallet details: https://trustwallet.com/
By default the Metamask wallet is configured to work with Ethereum Mainnet. You will need to change it to work with Binance Smart Chain. Step by step directions can be found here.
https://docs.splinterlands.com/platform/other-blockchains/binance-smart-chain-bsc/setting-up-bsc-on-metamask
Add Custom Tokens
The SPS token is not visible in the Metamask wallet or Trust Wallet by default. In order to see the SPS tokens in your wallets you will need to add it as a custom token. You can do this at any time but I suggest doing it before you move any SPS to the wallet.
Directions to add a custom token in Trust Wallet.
https://community.trustwallet.com/t/how-to-add-a-custom-token/213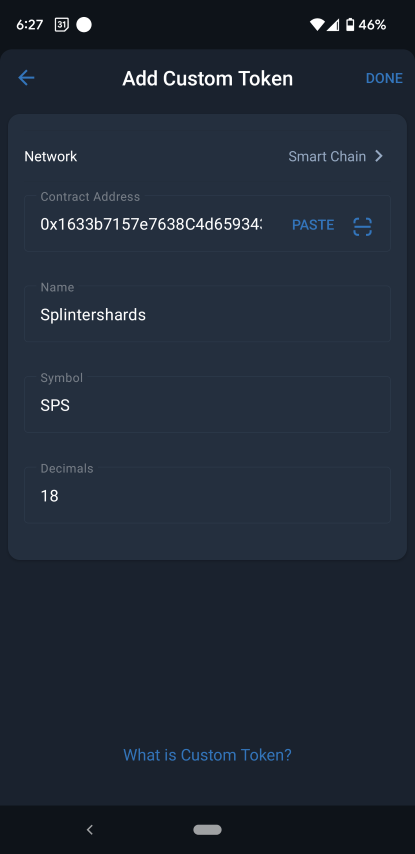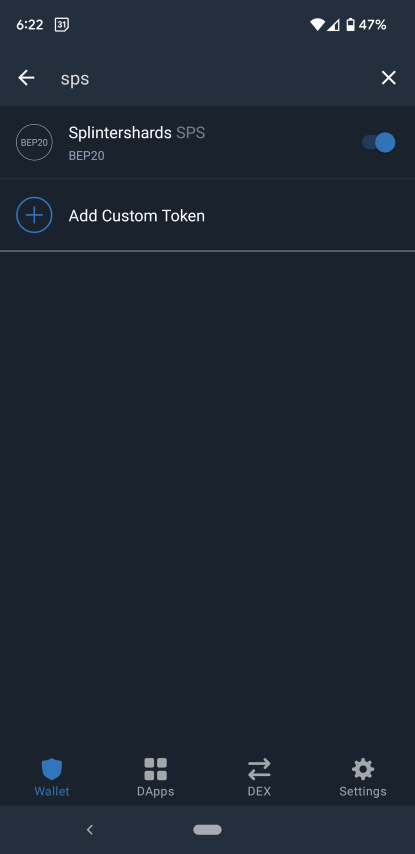 Metamask is bit more straightforward. Just select 'Import tokens' at the bottom of the assets tab and use the SPS contract address.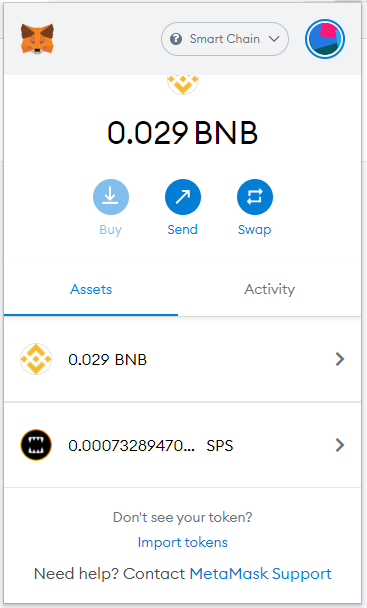 The SPS contract address is shown here.
https://bscscan.com/address/0x1633b7157e7638c4d6593436111bf125ee74703f
You can copy it or display the QR code on this site. Once you have the contract address entered correctly the Name, Symbol, and Decimals fields should auto-populate with the correct values.
Process Overview
Buy BNB
Convert BNB to Smart Chain BNB (BSC)
Swap from Smart Chain BNB (BSC) to SPS
Move SPS into Metamask
Transfer SPS into Splinterlands
1. Buy BNB
You are not currently able to buy SPS directly with fiat (government-issued currency) money. In order to obtain SPS you will need to get some other type of crypto first and then convert it into SPS. For this example we will get BNB, convert it to Smart Chain BNB (BSC), then swap BSC for SPS.
Binance
If you are able to use Binance.com or Binance.us, you can purchase BNB (BEP2) and transfer it out of the exchange as Smart Chain BNB (BEP20). You will need to wait for your transaction to clear before you can move the tokens to your wallet. THIS MAY TAKE 10 DAYS.
Link to Binance: https://accounts.binance.us/en/register?ref=55488143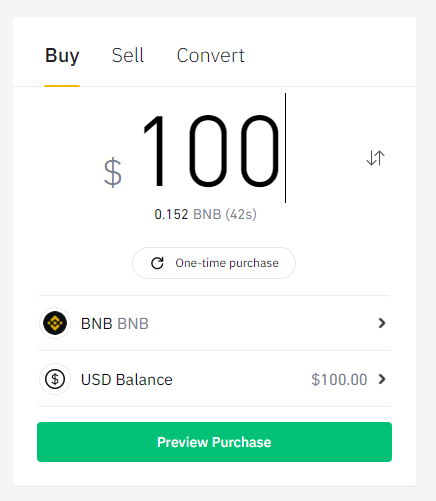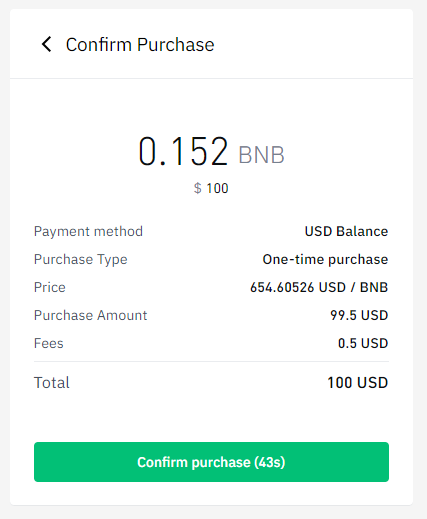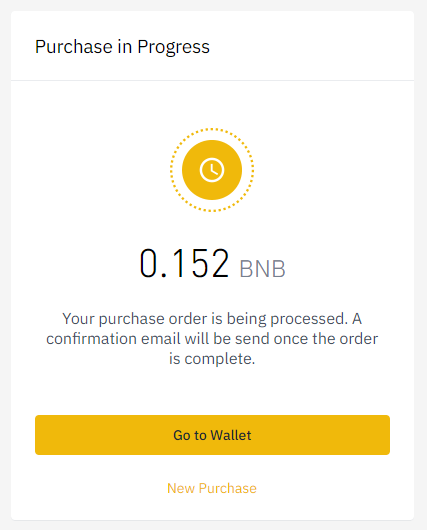 Crypto.com
Crypto.com also has BNB available for purchase but you can not convert the token here. When this was written, Crypto.com was offering 30 days of free credit card transactions. If you buy BNB on Crypto.com with your credit card you can immediately transfer it out to another wallet. If you do a bank transfer you will need to wait several days or more for the transaction to clear before you can transfer your tokens.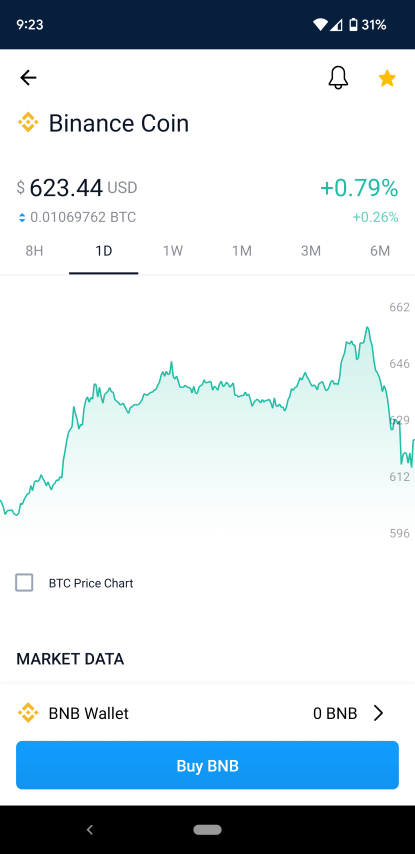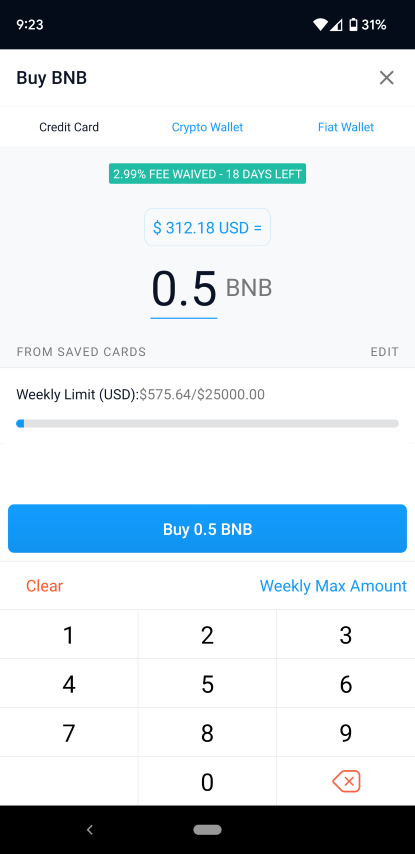 Trust Wallet
Trust Wallet also has some integrated purchasing options using credit cards and 3rd party transaction providers. You will need to complete the KYC process for the provider and the fees will likely be higher.
2. Convert BNB to Smart Chain BNB (BSC)
Once you complete the KYC (Know Your Customer) process and have purchased some BNB on an exchange, you will need to send it to a wallet where you can convert the tokens to SPS. Trust Wallet allows you to convert from BNB (BEP2) to Smart Chain BNB (BEP20) if you haven't already done so. You can send both the BEP2 and the BEP20 token types to Trust Wallet. Both types will show as BNB, however the names will be different. The BEP2 BNB token will have the name BNB. The BEP20 (aka BSC) token will be named Smart Chain.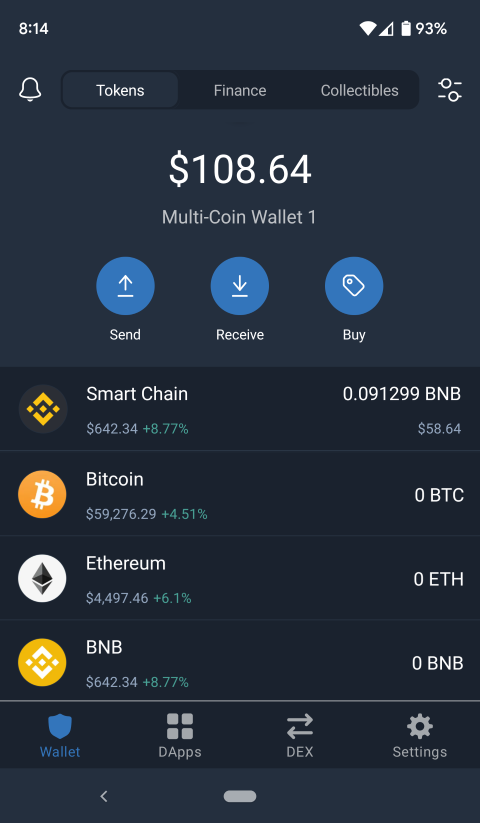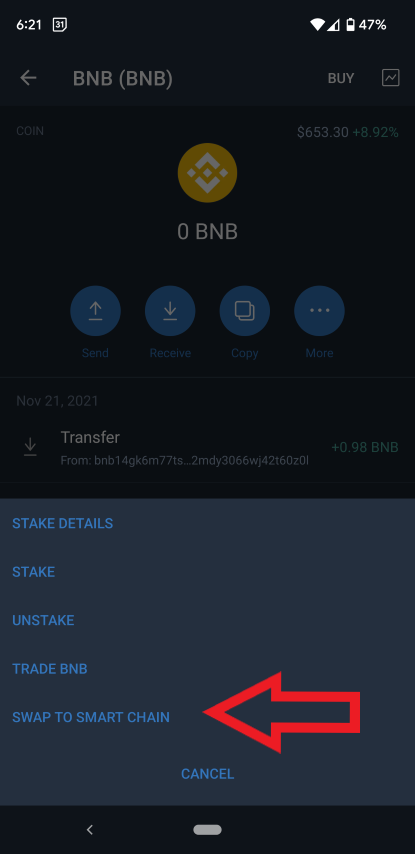 Whenever you move or convert tokens there will be a small fee. Typically this is referred to as gas and can also be priced in GWEI. If you are interested in learning more about GWEI you can read more here.
https://www.investopedia.com/terms/g/gwei-ethereum.asp
To find your wallet address in Trust Wallet select the token you will be sending and select Receive. You will see the address and the QR code. You can either scan the code or copy the address. DO NOT ATTEMP TO MANUALLY ENTER THE ADDRESS. It is important that this address is exactly correct. Here is a detailed example on sending BNB from Binance to Metamask. The process would essentially be the same for Trust Wallet.
https://crypto-explained.com/services/send-bnb-coin-to-binance-smart-chain-on-metamask/
3. Swap from Smart Chain BNB (BSC) to SPS
One of the neat things about Trust Wallet are the integrated Dapps (decentralized applications). Among these is PancakeSwap. Open Trust Wallet, select DApps, scroll down to the DeFi section, and select PancakeSwap. Once again you will need to import the SPS token. See the steps here: https://docs.splinterlands.com/splintershards-sps/exchanges
Once that is complete connect your wallet. You should now see your available BSC token balance in the PancakeSwap application. It will show as BNB.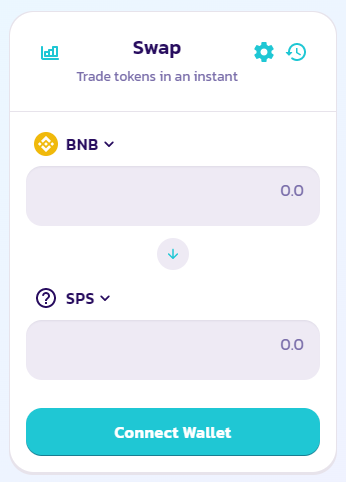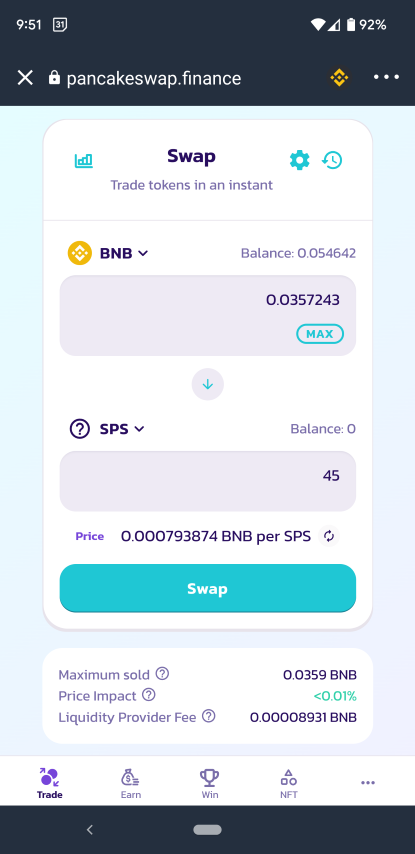 Convert your Smart Chain BNB into SPS leaving some Smart Chain BNB in your wallet for the transaction fees. You will need a little Smart Chain BNB in your Trust Wallet to be able to send the SPS tokens to Metamask. You will also need to send some Smart Chain BNB to your Metamask wallet to be able to transfer your SPS tokens into Splinterlands. This fee can vary but the last time I did this it was 5 cents per transaction.
If you don't have any Smart Chain BNB in your wallet, you will not be able to move your tokens!
4. Move SPS into Metamask
Now you should have SPS tokens in your Trust Wallet. Find your Metamask Smart Chain address and send your SPS to it.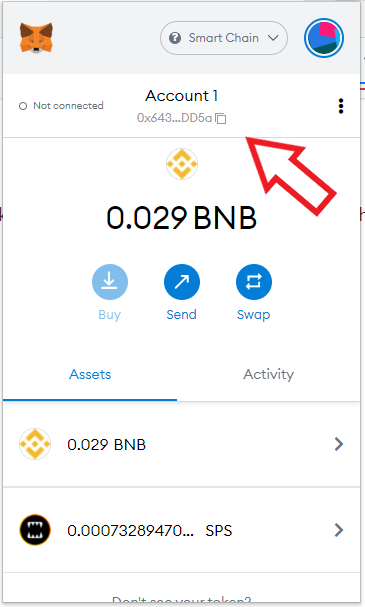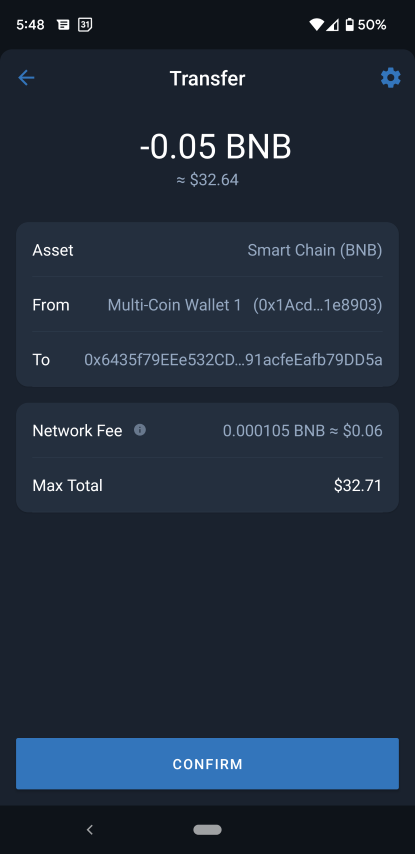 OPTIONAL - If you used Binance you could send your Smart Chain BNB directly to Metamask. You would then connect it to PancakeSwap and exchange your tokens.
Link to PancakeSwap: https://pancakeswap.finance/
5. Transfer SPS into Splinterlands
In order to transfer SPS into and out of the game, you need to have a Binance Smart Chain Wallet. Metamask is the wallet recommended by Splinterlands.
Details on moving tokens into and out of the game can be found here.
https://docs.splinterlands.com/splintershards-sps/moving-splintershards
Using the Brave browser I had to go shields down in order to transfer tokens into the game. With the default shields up when I submitted a transfer, I would get the screen saying I was waiting for the block chain to validate the transfer but it would never complete. I also did not get prompted to allow the transaction in Metamask. If you have this issue, check your browser security settings.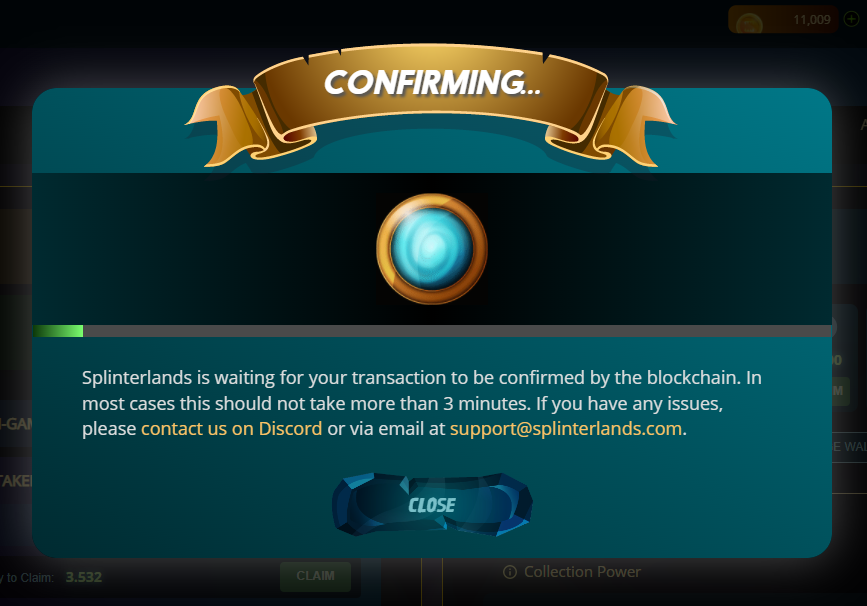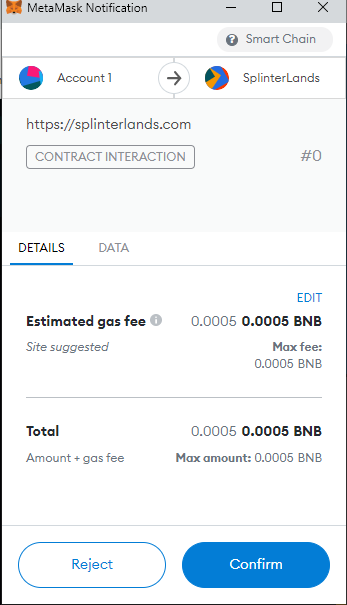 Summary
Whew! I hope this has been helpful. Please understand that you are ultimately responsible for your transactions and tokens. These applications can change and the process may be different over time.
---
---