A data-driven analysis of when Chaos Legion will sell out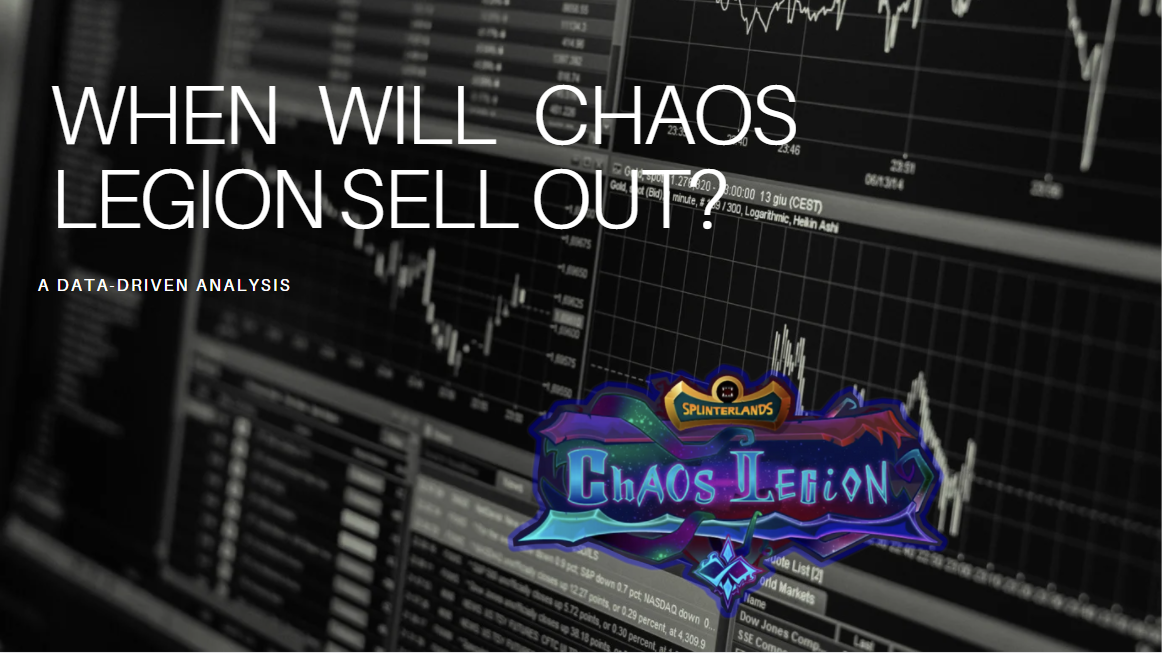 Now that the general sale is well underway, I want to take some time and think about when it will end? Premature? Possibly. But even though it feels like a bit of a slog right now, we have time to position ourselves for the future and make sure we take advantage of things when we can. In this post, I'm going to 1) present my analysis so far of when chaos legion will sell out, and about when we hit each aridrop, 2) talk a bit about why that analysis might have some issues and not to trust it 100%, and 3) despite the shortcomings, what can we learn and use from the results?
The rate of chaos legion pack sales
To undergo the analysis was pretty straightforward. Each day since 28 Jan (the day after we hit 7M sold), around 1:30 PM ET, I have written down the number of packs sold thus far. I then fit a simple linear regression to that sequence of sales numbers to identify the best guess at how many packs are being sold each day: 24,000 (note, this includes packs earned in daily chests).
The below graph shows the data points I've gathered (clustered in the lower-left), the regression line plotted out for the next year, and vertical lines indicating the estimated time for each airdrop. With the slope at 24,000 packs/per, each airdrop is estimated to occur every 40 days.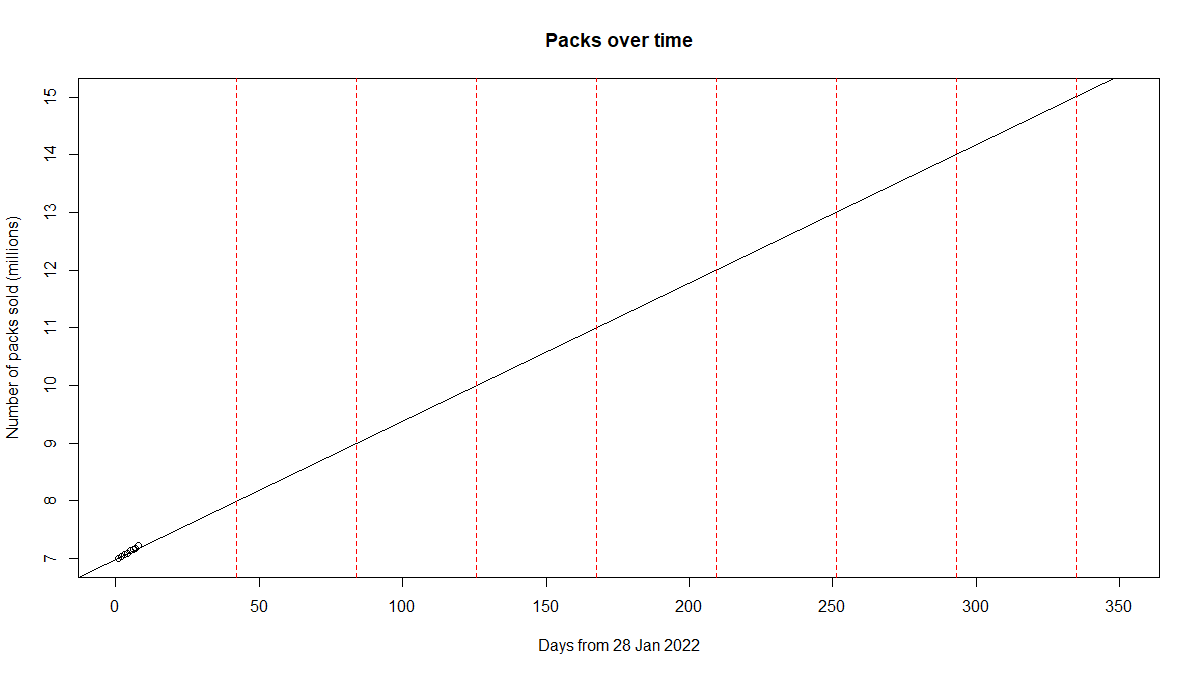 Limitations
The above analysis, though data-driven, is not without fault. Using a sample of 11 days data, I am projecting out 350+ days from now. Even if the data were perfect, small fluctuations in the data thus far could have big effects on the overall result. E.g. yesterday I forgot to check the number until around 3PM, leading to extra time for pack sales, leading to a potential overestimate of sale rates. I've fiddled with some of the numbers, and the final date doesn't change by more than 5-10%.
The other big concern is that these data are all immediately after hitting an airdrop milestone, which is presumably the slowest sales time. So these numbers are likely as overestimate, as sales will pick up each time we get close to an airdrop milestone. I'll be continuing this and will post an update maybe right after the 8th airdrop to see how the prediction has changed.
What am I doing with this information?
I'm primarily using this information in two ways.
The first is that holding onto CL packs for the next 10-ish months (maybe less, see above), is not likely to make returns. As long as packs are available from the store, the P2P price can't be more than $4. It will increase a little after each airdrop (reflecting the reduced value of future airdrops), but won't go above $4 until after all the packs are sold out. So I am fine selling some CL packs now for an investment I think will appreciate a lot in a shorter time frame. I posted last week about how vouchers hit this bill for me right now (I sold ~50 packs yesteserday to buy ~150 vouchers). Once vouchers (hopefully) spike, I can sell them off (or use them), and rebuy into many more CL packs.
The flipside of Chaos Legion packs not appreciating a lot in the next 10 months is that neither will they depreciate. Every pack being bought cost $4 (excepting voucher bonus packs), and so there is a floor at what people will sell them at (barring a total collapse of splinterlands). Chaos legion pack prices will therefore be relatively unvolatile for the next 10 months, meaning they will be a solid store of value. One thing I've been unsure of in the past is where to park money in Hive/Splinterlands to avoid exposure to Crypto winter. HBD is the closest in the ecosystem, but volume is SO LOW, you lose a large % to slippage. For the next 10 months, CL packs will serve this purpose for me: extra money goes into P2P packs, which will appreciate a little bit, but won't have wild volatility swings.
Conclusions
Hopefully from this simple analysis, you can see how a projection can lead to useful information and inform my decisions and behavior. Let me know if there are additional analyses you'd like to see, reasons why you think I'm right or wront, etc.
Referral
Like what you see? Want to get in on the action and try Splinterlands and see a fun ecosystem where you can look at markets and statistics and (gasp!) also play a fun game? Then use my referral link below. I'll send you 1000 DEC (~$3) and delegate you some cards to get you started for your first season. Shoot me a DM if you use my link and I'll hook you up!
---
---