Tracking my Chaos Legion ROI (Episode 2: Airdrops 4-6)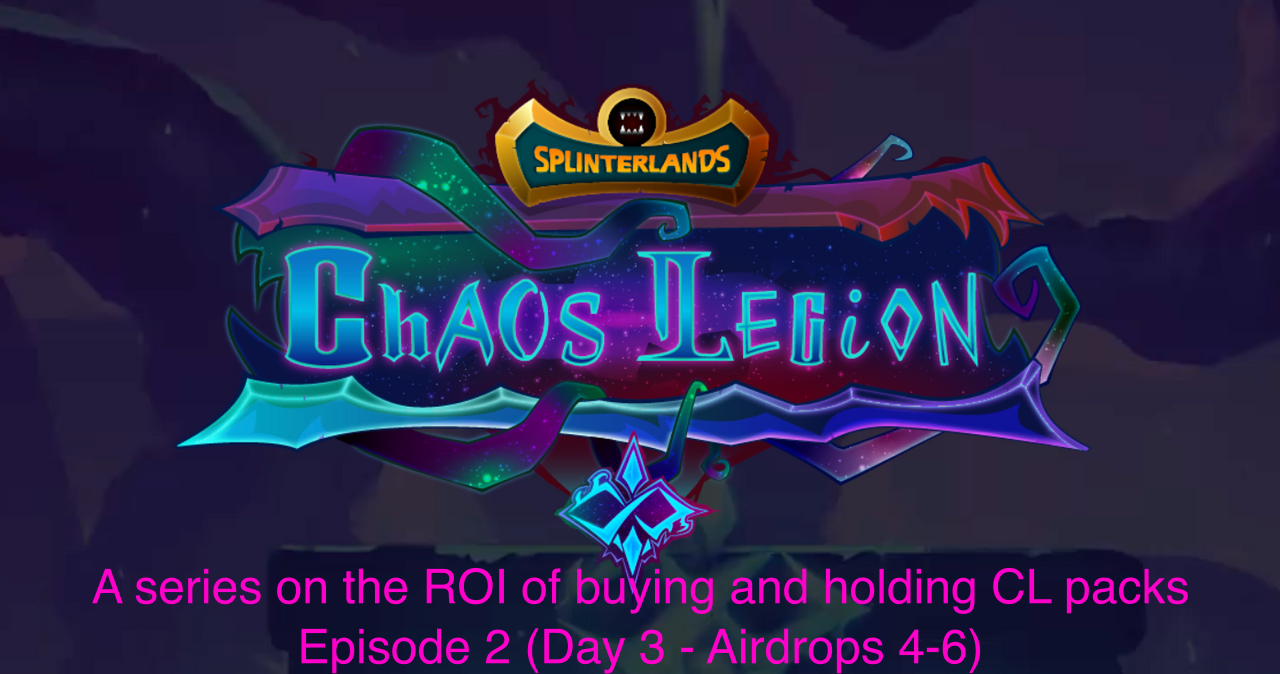 Well, I probably should have waited a day to start this series, as the next set of 3 airdrops all came today. Today, I'll show 1) what the airdrops were and my quick thoughts (I am by no means an expert on the power of a given card), 2) how I fared in receiving them (with a comparison to the expectation), 3) how this has affected my ROI, and 4) some general conclusions/observations. My plan is for this to be the general structure of the posts in this series, with some variation if there's something particularly noteworthy.
Previous posts in the series
Airdrops 4-6
This set of 3 airdrops fleshed out the cycle of legendary airdrops for the fire, death, and earth splinters (I don't know, and don't have a good guess as to whether the next airdrop will truly finish it off with a dragon legendary given how many there were in the base set).
Earth: Iza the Fanged: I generally dislike the Earth splinter, as it has a lot of the strongest cards and commands the highest price for those cards as a result. But cards that aren't spectacular are relatively cheap. Iza, as a fast, sneaky scavenger, would probably be gangbusters in a splinter like Water, but in Earth, it's just okay. Maybe good with Wildwood Wizard.
Death: Lira the Dark: Death is my favorite splinter, so I have a bit of a bias in liking this card. It feels like a budget dragon jumper, with high speed and opportunity. It has lower damage at most levels, and the range instead of melee means it's useless if it makes it to the front unlike Dragon Jumper (especially with the latter's flight). Snare is nice against some nice opponents, but is something I don't value too highly. I think in mid-high mana cap matches, this will very often now be my last card in the lineup.
Fire: Grum Flamebalde: The talk of the town. An escaped gladiator with bloodlust. There seems to be a lot of consternation about it not being gladiator exclusive, but it doesn't seem too bad to me. A card going 5->6 damage and 1->2 speed is not a big difference in my mind. But time will tell. I also don't use fire very often, so this won't get a lot of use from me.
How lucky was I?
From my 1750 packs, I was guaranteed 5 of each. The expected total number across all 3 was 16.5. I did slightly better than this: 5 Lira, 5 Grum, and 10 Iza(!). I immediately leveled up Lira to level 2, but left all the other copies at level 1, perhaps to rent (not sure what I'll do with the airdrops while I wait for them to appreciate. If you have any ideas, let me know!).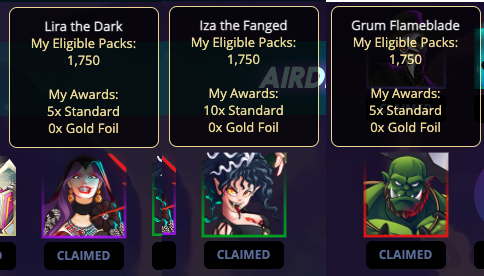 So far I'm pretty happy with my plan to not really count on a GF. I had a 44% of getting no GF with this many airdrops, which if I had been counting on at least one, I'd be pretty disappointed.
One area where I did misjudge is the value of the airdrops. In a previous post, I guessed they'd be worth the same as the most expensive legendaries, and this is certainly not categorically true. Iza is pretty cheap, and Lira is relatively cheap. Only Grum is reasonably valuable relative to other legendaries. If this continues, this will certainly put a damper on my expectations.
ROI on day 3
Strategy 1: Packs from the store
Packs are still less expensive in the marketplace than in the store. If I sold the 972 packs at market price today, I'd get $3,162. My 20 airdrop cards are worth a total of $201.65 In addition, those 972 packs give 291,200 airdrop points, which in the past three day have given SPS worth $11.87. This gives a total ROI of -21%.
Strategy 2: Packs from the marketplace
The marketplace price for packs has gone up from $3, so if we sold our 1,433 packs, we'd get $4,671. In addition, those 1,433 packs give 429,900 airdrop points, which would have given SPS worth $17.47. This gives a total ROI of 9%.
Comparison
Strategy 2 retains a solid lead, but already it has decreased. Between a lower pack price and the first airdrops, the difference is now 30%. This gap will certainly decrease over time, and will hopefully disappear altogether with a high enough timegrame.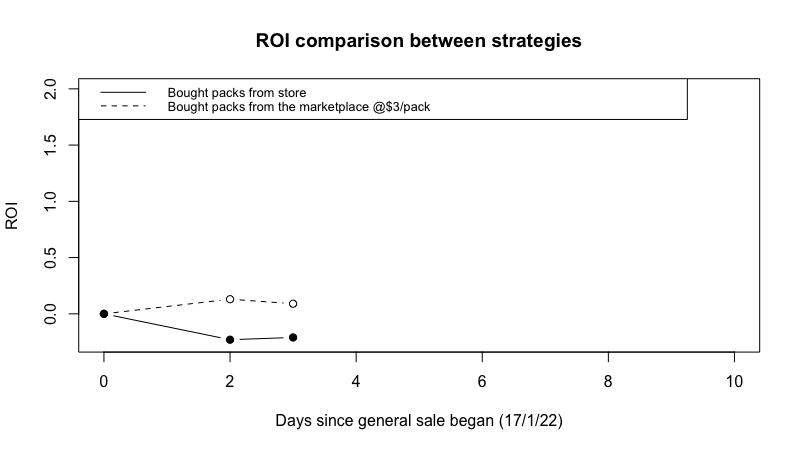 Conclusions
It sucks to see a negative ROI, but that was very much expected. One key factor to success in investing is seeing a plan through and not panicking when you see some red. I think my resolve will be tested throughout this, particularly in comparison to seeing the quick easy returns of the alternate strategy. But time will tell which is superior.
I do think I've been a bit optimistic in some of my valuations (e.g. the most recent airdrops are selling for less than expected), and so I think the buying from the store strategy might be slightly better than I expected, but I still think the airdrops are worth it. If packs hit $3.5 again on the market, I might sell some of mine for more airdrop chances.
Referral
Like this content? Want to join in the fun? Use my referral link below to join the game, and I'll send you 1000 DEC (worth ~$4), and a series of cards to use for the first two weeks in the game to get you started!
---
---