Tracking my Chaos Legion ROI (Episode 3: Airdrop 7)

Welcome to the exciting third installment of my series where I dive into my Chaos Legion investment, and how I'm faring! Today, we hit the milestone of 7 MILLION Chaos Legion Packs sold! It's been fun the past week or so watching the number tick closer and closer to 7M, and we finally hit it today!
In today's post, I'll show 1) some alterations to my strategy based on new airdrop info 2) what the airdrop is and my quick thoughts (I am by no means an expert on the power of a given card), 3) how I fared in receiving it (with a comparison to the expectation), 4) how this has affected my ROI, and 5) some general conclusions/observations.
Previous posts in the series
Episode 1 (Day 2)
Episode 2 (Day 3)
Alterations to my strategy
The big news this week was that with Airdrop 7 and moving forward, the drop rate of airdrops was going down. The previous 3 airdrops were guaranteed per 350 packs, so I was expecting Airdrop 7 to require 425. Instead, it required 500. Because I want at least 3 of each legendary summoner (to guarantee being able to play each splinter at max power in Silver), projecting this out meant I need 2025 packs purchased (which will give me 4 guaranteed airdrop 7). So as the numbers were ticking towards 7M, I sold and rebought packs from the store until I had 2025 purchased. I now own only 920 actual packs, losing ~60 to seepage. Unless further changes are made to the formula for airdrop chances, I won't be buying any more packs fom the store (!remindme in 6 months when everything has changed).
Below is the table I used to figure out how many packs I needed with the most up to date information (assuming each additional airdrop requires an additional 25 packs for the guarantee). Rows are airdrops 4-14 and columns are how many guaranteed airdrops. Cells indicate the number of packs needed. As you can see, 2025 gets me 3x copies guaranteed of all legendary summoners and is just enough for a nice bonus 4th copy of airdrop 7 as well.
| | 1 | 2 | 3 | 4 | 5 | 6 | 7 |
| --- | --- | --- | --- | --- | --- | --- | --- |
| 4-6 | 350 | 700 | 1050 | 1400 | 1750 | 2100 | 2450 |
| 7 | 500 | 1000 | 1500 | 2000 | 2500 | 3000 | 3500 |
| 8 | 525 | 1050 | 1575 | 2100 | 2625 | 3150 | 3675 |
| 9 | 550 | 1100 | 1650 | 2200 | 2750 | 3300 | 3850 |
| 10 | 575 | 1150 | 1725 | 2300 | 2875 | 3450 | 4025 |
| 11 | 600 | 1200 | 1800 | 2400 | 3000 | 3600 | 4200 |
| 12 | 625 | 1250 | 1875 | 2500 | 3125 | 3750 | 4375 |
| 13 | 650 | 1300 | 1950 | 2600 | 3250 | 3900 | 4550 |
| 14 | 675 | 1350 | 2025 | 2700 | 3375 | 4050 | 4725 |
Airdrop 7
Contrary to my earlier expectations, there are only going to be Legendary airdrops for the whole of Chaos Legion. I forgot about finishing out the current cycle with Neutral and Dragon cards. So our 7th airdrop card is a legendary neutral card: the spirit hoarder.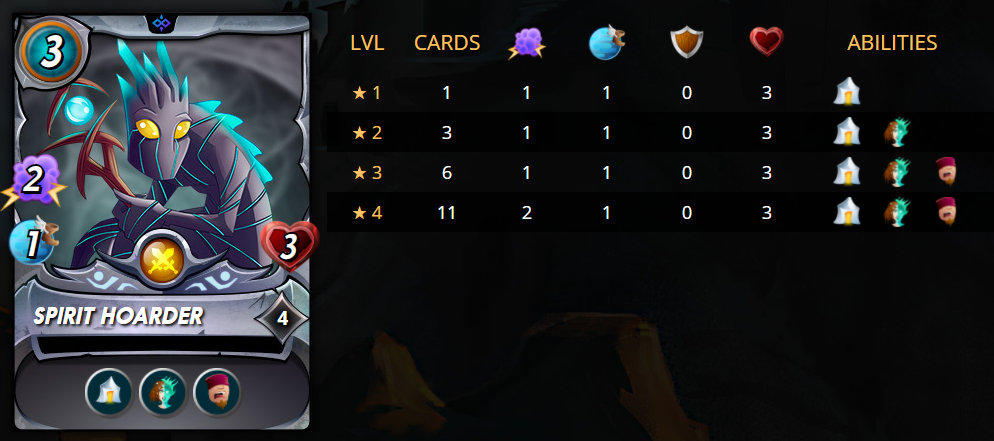 My thoughts on this are pretty simple: it's good in general, and amazing in the right decks or the right rulesets. Splinters with non-melee taunt cards (mostly Water and Earth right now), can easily drop a taunt in the back and use this card to triage it. It's especially nice with Obsidian, as its magic attack will also be buffed. Obsidian is looking even stronger, enough so that even I'm thinking of picking it up. BUT, I don't see much advantage to leveling this card, especially in Silver. Dispel has generally seemed like a not-great ability, and that's all you get for 3x the cost. So I think this is a great card that will see use, but demand won't be super high because 1 is sufficient through Silver league.
I will also say, I'm curious how good this would be with Chanseus + Shieldbearer. Getting 2x triage on a taunting creature could be nasty. I do really like the life splinter, and might get some Chanseus depending on how good the Life legendary summoner is for CL.
How lucky was I?
From my 2025 packs, I was guaranteed 4. The expected total number was 4.77. Instead, I got 11(!) RF, and no GF.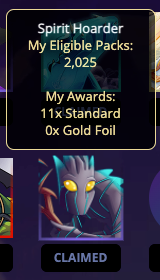 So far I'm pretty happy with my plan to not really count on a GF. I had a 64% of getting no GF with this many airdrops, which is still well over 50%. Although in re-doing some calculation (more on this at the end), it's looking like I'll need at least one GF summoner airdrop to beat the alternative strategy.
One area where I did misjudge is the value of the airdrops. In a previous post, I guessed they'd be worth the same as the most expensive legendaries, and this is certainly not categorically true. Part of this for the previous airdrops was the large supply: there are about twice as many Liras, Izas, and Grumms as there are regular legendaries. Now with the spirit hoarder, it's back in line, which will help keep prices a little higher. Currently, the hoarder is worth a cool $15, meaning I got $165 in airdrops from it.
ROI on day 11
As a minor change to my calculations, I have been renting out my excess copies of past airdrops, and am counting that as income as well as the airdrop points stemming from the airdrop cards (hat tip to @white-walker-13 for pointing this out).
Strategy 1: Packs from the store
Packs are still less expensive in the marketplace than in the store. If I sold the 972 packs at market price today, I'd get $2,732. My 11 new airdrop cards are worth a total of $165. In addition, those 972 packs give 291,200 airdrop points, which in the past week has given SPS worth $23.21. This gives a total ROI of -27%, a reduction in 6% from a week ago, mostly because packs went further down in price.
Strategy 2: Packs from the marketplace
The marketplace price for packs has gone down from $3, so if we sold our 1,433 packs, we'd get $4,256. In addition, those 1,433 packs give 429,900 airdrop points, which would have given SPS worth $32.61 in the last week. This gives a total ROI of -1%. This is the first time this strategy has gone negative, and that's because packs are below $3.
Comparison
Strategy 2 retains a solid lead, but already it has decreased. Between a lower pack price and the second set of airdrops, the difference is now down to 26%; the strategy of getting airdrops has closed the gap 4% in a week. This gap will certainly decrease over time, and will hopefully disappear altogether with a high enough timeframe.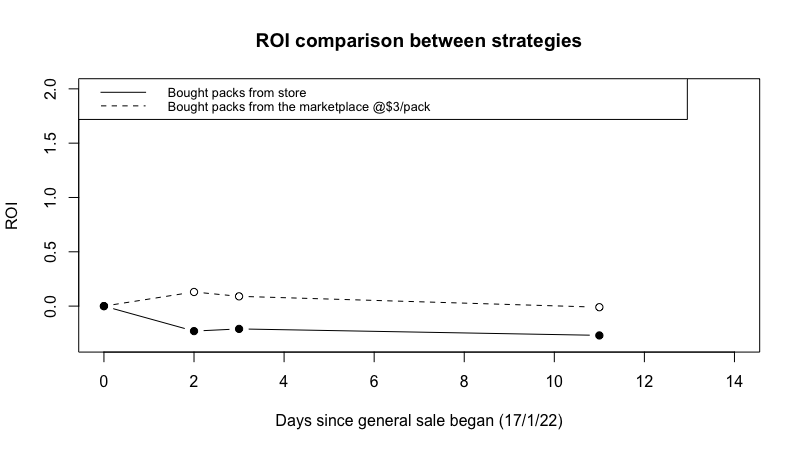 Conclusions
It sucks to see a negative ROI, but that was very much expected. One key factor to success in investing is seeing a plan through and not panicking when you see some red. I think my resolve will be tested throughout this, particularly in comparison to seeing the quick easy returns of the alternate strategy. But time will tell which is superior.
I do think I've been a bit optimistic in some of my valuations (e.g. the most recent airdrops are selling for less than expected), and so I think the buying from the store strategy might be slightly better than I expected, but I still think the airdrops are worth it. I re-ran the numbers, and using lower estimates for future airdrops, and the actual values for current airdrops, the value of an airdrop without accounting for GF is ~$0.50 per pack, less than the ~$1 I estimated previously.
It's looking like to beat the buy from marketplace strategy, I'll need to get at least a little lucky and get at least one GF legendary summoner airdrop (~50% to do so if I only get 3 of each). So we'll see! Even if the other strategy wins, I don't think it will be by a huge margin in the long run. But that's the purpose of this series! To find out!
Referral
Like this content? Want to join in the fun? Use my referral link below to join the game, and I'll send you 1000 DEC (worth ~$3), and a series of cards to use for the first two weeks in the game to get you started!
---
---