OP CARD IN BRONZE! IS IT REALLY OP?
ARMORED RAT IN YOUR AREA! BEST CARD IN BRONZE?
---
---
Most of my battles in bronze tier(because I don't have enough power to reach higher league lol) are starting to get swarmed by this water mvp card which is
VENARI WAVESMITH: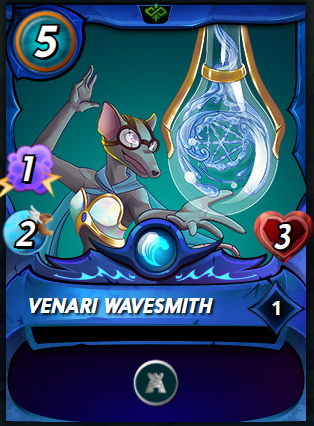 Well, for 5 MANA you can get the PROTECT ability which gives +2 ARMOR to every friendly monsters in the field that gives all melee and ranged enemy monsters a really really hard time to take out one of your monsters.
Get Alric Stormbinger as your summoner, pair it with cheap but useful tanks like:
KELP INITIATE AND ALBATROSS (for low mana cap)
SPINEBACK TURTLE, SERPENT OF ELD, PEACEFUL GIANT AND SEA DRAGON(for high mana cap)
and "MOST IMPORTANTLY" the fast and FURIOUS CHICKEN (imagine getting 1HP and 2 armor for 0 mana XD)
Next, get up to 4 magic monsters(depends on mana cap) like:
ICE PIXIE
WINGED PIXIE
MEDUSA
ELVEN MYSTIC
I know there are more magic monsters to choose but these 4 are the main magic monsters in bronze because these are starter cards.
And you are all set to grind!
But wait!..
Be careful! Because even the best fall down sometimes.
Even if that line up is as powerful as you think. There are still counters for it like:
Wizard of Eastwood the Earth Summoner which is in contrast of Venari's ability that gives minus two armor. Tank it with Unicorn Mustang that has *VOID ability which reduces magic damage.

Owster Crowling the Death Summoner which gives REFLECT ability to all friendly monsters that returns magic damage to the magic enemy monsters.

The anti magic life monster duo Clay Golem and Crystal Werewolf which gives zero magic damage to the enemies with only 2 magic damage. (that's common in bronze)
Anyways, these are all just my knowledge that I can share with you guys especially for beginners like me. I know there are still lineups that are better than mine so you better share it in comment section below :D
Shout out to all #nosleepgang members out there! And to @sgt-dan our guild leader. Watch his stream in twitch guys he's giving giveaways :D
---
---