From $80 to $2,500: Why My First Splinterlands Purchase Was Malric Inferno!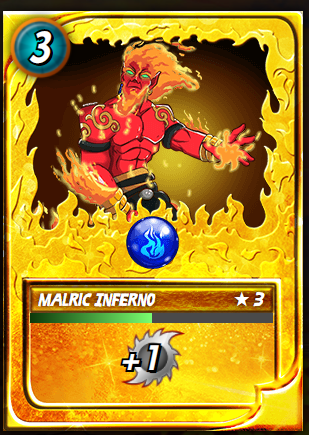 Hello Spliterlands fam! BasedCrypto here! I run this PeakMonsters Card Rental Shop Here! In today's post I will be telling you about my very FIRST Splinterlands investment! What was this special card? The one and only Malric Inferno Alpha card – gold foil.
Malric Inferno is one of my best investments. Ever. I know, I say that all of the time when it comes to Splinterlands cards... But seriously, if I'd never purchased this extremely rare and gold card, I don't believe I would have fallen for Splinterlands investing as hard as I have! In this post I will elaborate on why my first Splinterlands card purchase was this gold foil fire summoner that I love so much!
It was sometime early 2021 when I learned about Garbage Pail Kids launching near my birthday on the Wax Blockchain & Atomic Hub. I had never truly experienced the blockchain nor cryptocurrency before that purchase. These where my novice 2020 investments in cryptos such as MANA, XRP, BTC, ETH... These were minuscule but definite gains that I am grateful for. What was going through my mind at the time was, 'How can I multiply these crypto gains as much as possible?' Enter Play2Earn games and Splinterlands.
I learned how to take my "booming" crypto gains off of centralized exchanges and decided to buy some WAX via Bittrex and do the crypto currency shuffle to have enough WAX to make purchases (After opening my GPK card packs and getting my first NFTs!).
There I was, sometime in the beginning of Spring '21, with WAX burning away and itching the palms of my hands, ready to be spent on fresh NFTs. I couldn't only spend it on worthless projects – NO. I HAD to spend it on the right thing... But what? Which Play 2 Earn game would it be?
As I searched the then thin options of games on the WAX scroll bar of games I stumbled across Splinterlands. As an avid collector of many things in my modern life I started to hone my skills and focus on the task at hand... Finding the best purchase I could possibly make, then winging it like a true 'degenerate ape'. I sorted the Splinterlands collection via rarity. I checked out the Alpha and Beta cards because in the history of collectables the first series is always the rare and ends up the most lucrative due to its scarcity.
Next, since I am a Pokemon lover and used to give away and collect Pokemon cards on my YouTube channel, I decided to try to find the equivalent of a Full-Art Charizard in Splinterlands. I then learned a little more about the game itself and decided I should invest in a summoner because of their rarity and importance in the game.
Then the big moment happened.
I came across a $80 Gold Foil Alpha Summoner card that just so happen to be fire (like Charizard). He looked awesome with his ripped abs and arms, flame hair and red skin. I didn't know anything about his +1 melee and what it meant, but I just felt this card was a very good card.
Also, fire is the best element. Charmander all the way!
Since I do not jump into investments and purchased the same day, I sat on the option of buying this card or not for some days. I wondered, was $80 too much to spend on a digital card? Was I trippin'? Was it irresponsible for me to consider this as an investment?
The answer is I bought the gold foil Malric Inferno card for eighty bones on wax. Now the lowest for sale is $2,500 and there is only ONE forsale. Only one for sale... And I am not planning on selling mine anytime soon!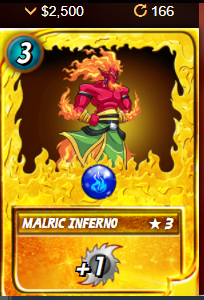 There is only 166 is circulation as well. I did not know that at the time of purchase! I feel blessed by God to be able to have obtained it and now be the owner! I feel when land comes out Malric Inferno will be one of the most relevant cards in the game... And the one I own is a gold foil alpha version.
I just ship Malric Inferno and I so hard with my wallet... Some of you may not understand... But some will!
So, the gold foil Malric Inferno card was actually my first Splinterlands card that I bought. After that, I decided to spend my money on other summoners and gold cards, as well as other Splinterlands assets. I remember when I bought that card and moved it over to my Splinterlands account from wax and saw what it was actually worth. I think $100 at the time? I was like 'Wow, I already made a profit!' and acknowledged how valuable this entire game is.

Now-a-days you can find my GF Malric Inferno for rent on my peakmonsters! Thank you for reading! If you enjoy this post please let me know with a comment! When my page reaches 25 followers I will begin the Splinterlands Cards Giveaways! I have a lot of cards I would love to give away to the Splinterlands community! Please check out my PeakMonsters Card Rental Account! This will help me keep these posts and blogs going! Have a great day! NOTHING WRITTEN HERE SHOULD BE TAKEN AS FINANCIAL ADVICE. PLEASE DO YOUR OWN RESEARCH BEFORE INVESTING!
---
---