Progress Report - January 2022
February 1st, 2022
Monthly Progress Report - January
New year and a new batch of numbers. The year has started out pretty nice for me in some aspects I increased my Hive Power holdings by almost two hundred Hive. For me that makes for a great start for the year.
---
Monthly Charts and Tables
The Monthly Progress Report Table: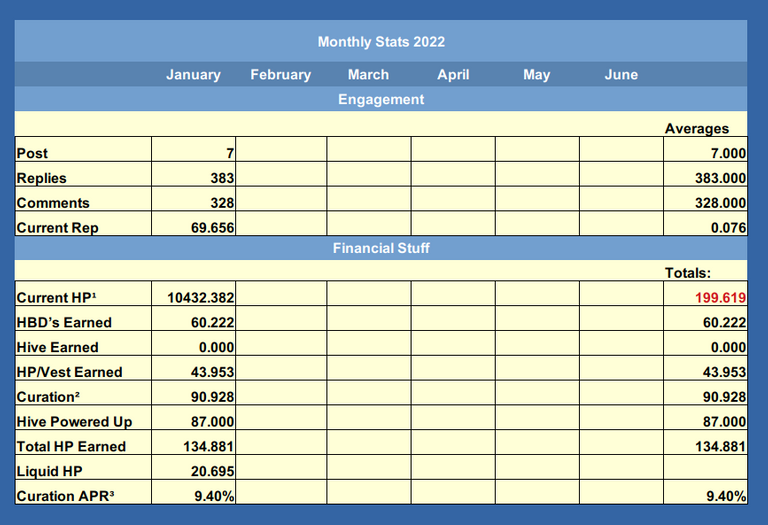 As mentioned above almost 200 Hive Power increase. This year I am going to try and power up 1 Hive a day. I missed 5 days in January, and I hope to do better in the coming months.
I have started to track my HBD savings and Interest earnings, I just have not figured out how to display it in a usable manner. On the 16th I received 1.029 HBD interest on 100.79 HBD I had in my savings account. The next day I added 3.181 to bring my total in savings to 105 HBD. On the 19th I added another 5 HBD for a total savings of 110 HBD.
With the advent of HBD being more than a one to one ratio for buying HIVE I took 10 HBD out on the 22ndto buy some Hive spaced out over the course of several days. Leaving me with my current HBD savings of 100 HBD. I would still like to get my HBD savings up close to the 500 mark.
---
Earnings Pie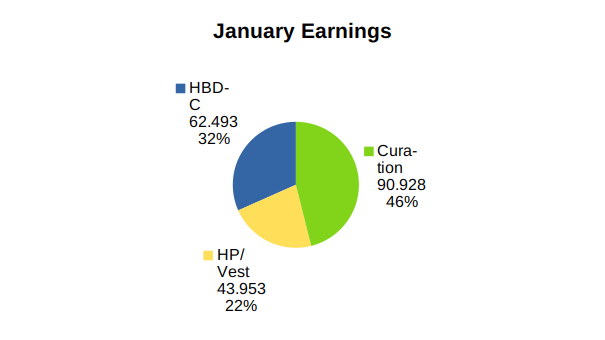 Just a reminder HBD-C is not a super accurate number, it is based on converting HBD earned to Hive on the day of posting. With HBD become more stable it is a good approximation of what the daily value would have been.
Curation rewards are doing pretty good. Even with the recent price drop in Hive I am still getting almost 3 Hive a day. The power of Hive Power, and voting for stuff you like, or people you like.
Monthly Account Growth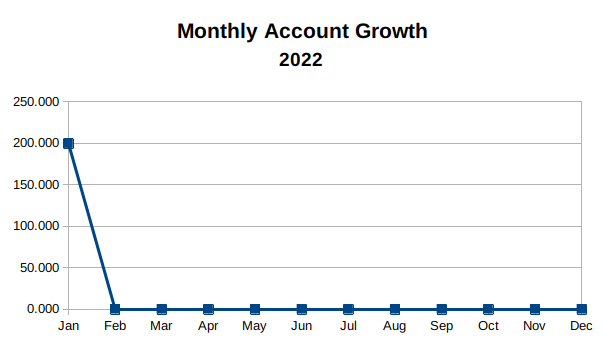 This will be my fun chart to watch over the course of the year. I am hoping it will stay up in the 200 range for each month, only time will tell. 200 is a good start though.
---
Engagement Charts and Tables:
Being the first month some pretty empty tables and charts. It is difficult to present just one month of data, but over the course of the year the charts will fill in.
Engagement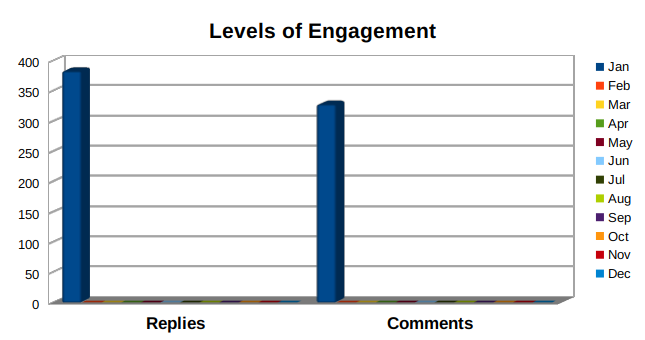 A much better start than Jan of last year. I would like to try and keep the number of comments in the mid 300 range, but there are days that I just can not comment due to health, such as the last 3 or 4 days of Jan where I dropped down in the low single digit comments. health plays a strong role in commenting, if I can not understand what I read I can not comment on it, brain fog takes hold every now and then.
Post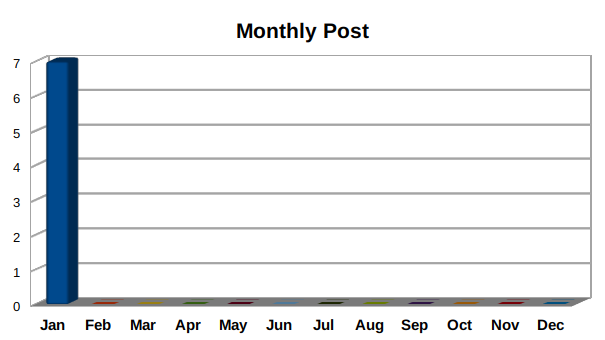 A pretty good start for me post wise. I would still like to try and get that to at least 10 post a month but I tried that last year also and was not very successful. maybe this year will be a little bit different.
Engagement League
Weekly Comments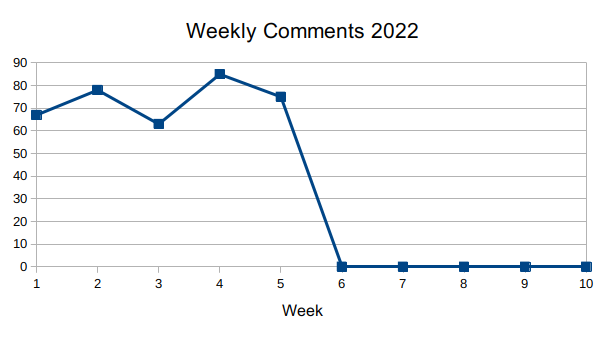 Not to bad of a start for the year. I like trying to get at least 10 comments a day out, but some weeks it is just hard as I mentioned above. I expect that com the first Monday in Feb my count will be down unless I can find some energy somewhere.
Weekly Standing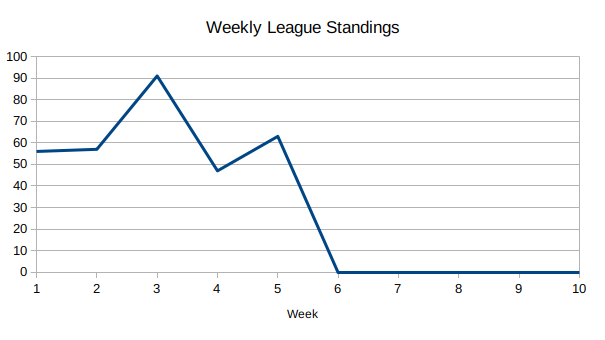 Not a very stellar start to the year, I hope to be able to get back into the 30's for standings, and I am hoping I make the list next Monday. I did miss the list once last year about this time frame, and hope to not have a repeat performance.
---
Conclusions and side notes
The last week of January has been a struggle for me. We had another driveway saga event on the 27th and 28th. I have the pictures, I just have not had the energy or brain power to make the post.
Today we have this: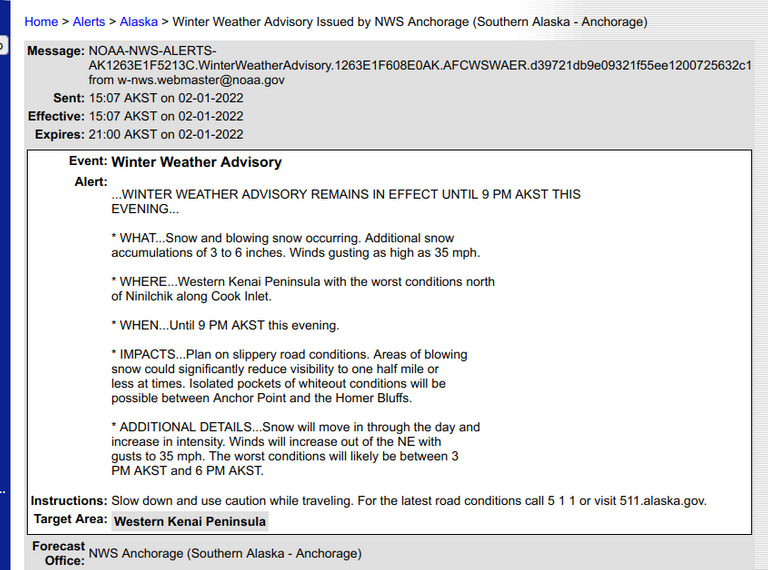 Source Alerts.weather.gov Winter Weather Advisory
Not a fun thing when you are already feeling under the weather, but to actually have to deal with the snow removal when you have no energy is doubly no fun.
---
About The Hive Engagement League
The Hive Engagement League the link is to Mondays post. Asher started the league over on steem block chain, when he moved to Hive he brought the league with him and has been posting results since April 5, 2020.
I have been tracking myself and building a spreadsheet for all the thing he tracks for us, thus it was pretty easy to come up with the number of votes, number of comments and post and other information. He provides a pretty handy tool of information all in one place.
It is very easy to join and make yourself available to his tool, of course you would have to try and keep yourself in the top 100 to make use of his table, I did miss one week of not making the cut in 2021, I hope not to miss a week this year. To join simply leave abh12345 a comment on the post asking and he will add you in for the next week tracker.
---
Related Progress Report Links:
---
Tiny Picture links back to my blog:

---
---