Brawl Battle Blueprint
This weeks social media challenge article will tackle different ways and techniques to win your guild brawls.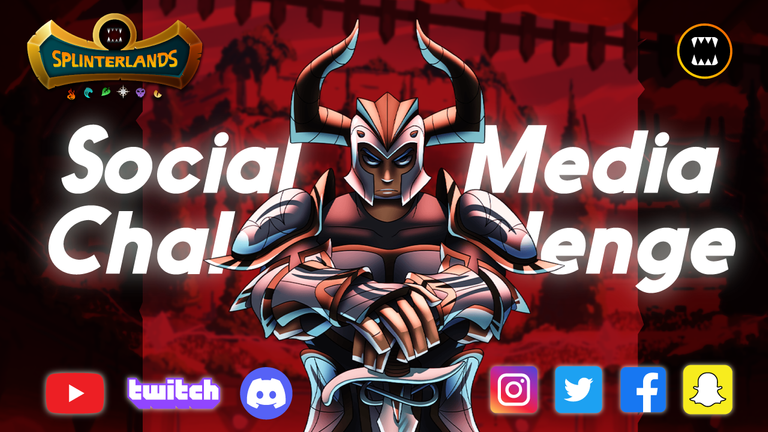 Brawl Battle 1 Water VS Earth
This is a re-post from my previous entry. The problem with that one is that it didn't have any pictures due to uploading errors. This is a very interesting match that i wanted to reshare.
Watch the entire match here: https://splinterlands.com?p=battle&id=sm_DtB5B2ZIJRl6Zoh8ax3Z&ref=beerbod
It's a Mylor vs Kelya matchup for the summoners. The battle ruleset is noxious fumes. And is a 29 mana cap match.
I decided to go with Djinn Oshannus for my main Tank. River Nymph to remove the poison effect of my first position card Venari Wavesmith to add armor and protect against physical attacks. And Edith emberstar for my gladiator.
The opponent starts his lineup with creeping ooze to reduce my speed. Unicorn Mustang for his main tank, Xenith Monk for secondary tank, Hill Giant for his third melee for its high hp. He has goblin thief to deal backline damage and Gelatinous Cube which is good in poison battles due to its scavenger ability.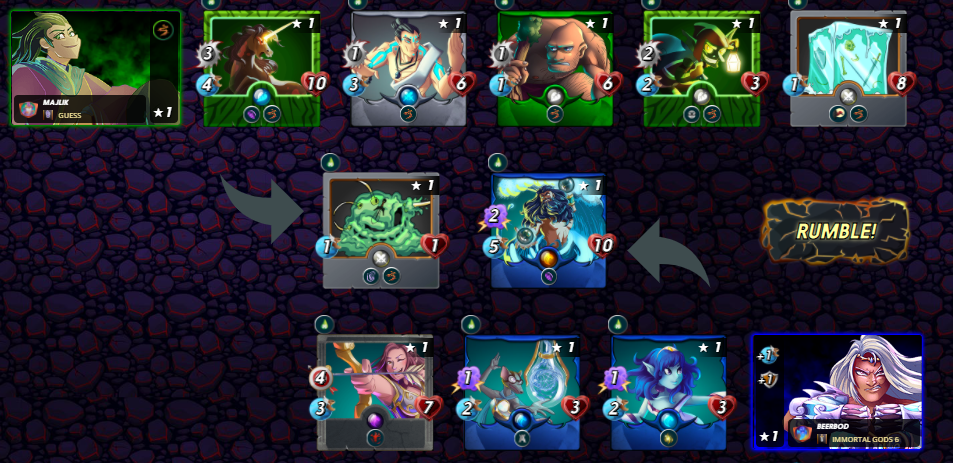 Brawl Battle 1 Round 1
I was able to take out the creeping ooze first. And the high damage of my edith emberstar significantly reduced the unicorn mustangs hp. The gelatinous cube gained one life due to its ability. And my Djinn oshannus did not take any damage due to its high starting armor.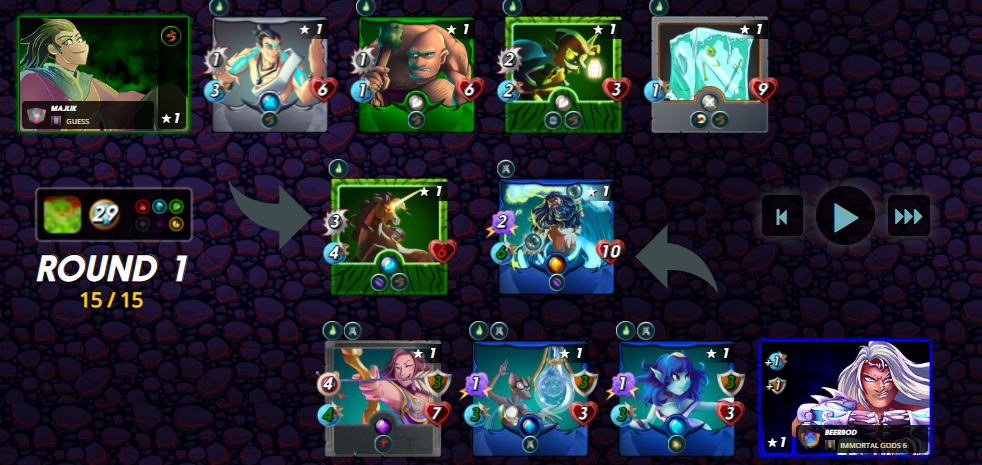 Brawl Battle 1 Round 2
The second round starts with dealing poison damage. My Djinn Oshannus was unnafected as it was cleansed by the River Nymph. My tank still did not take any damage this round. My edith emberstar gladiator was able to take out the unicorn mustang and has gained bloodlust buff. The venari wavesmith, river nymph, and opponents goblin thief and xenith monk has all their hp reduced to less than 2 and will most likely be eliminated in the next rounds poison damage.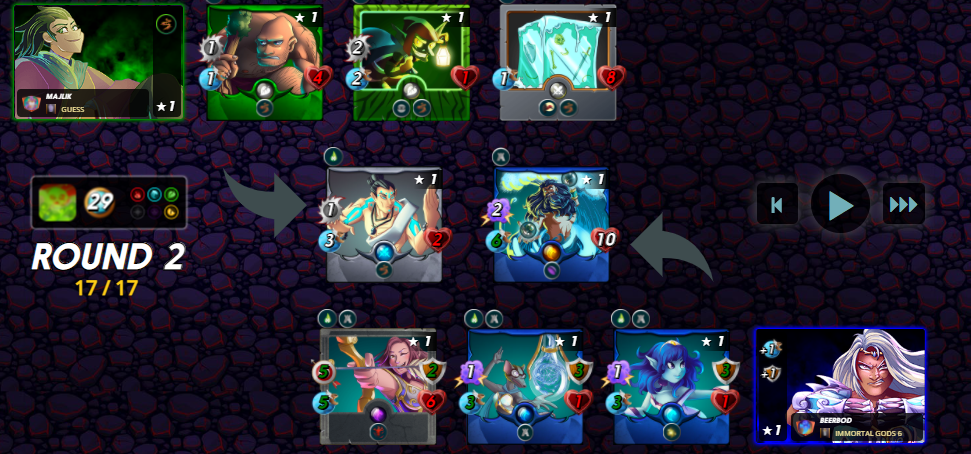 Brawl Battle 1 Round 3
My Venari wavesmith and river nymph as well as enemy goblin thief and Xenith Monk, have all been eliminated in the early round due to poison damage. The hill giant would die from an attack from djinn oshannus. And at this stage only the opponent gelatinous cube remains. With no means to attack, and my djinn being protected from poison damage, not to mention my high damage dealing edith emberstar. It is a clear victory for me for this matchup.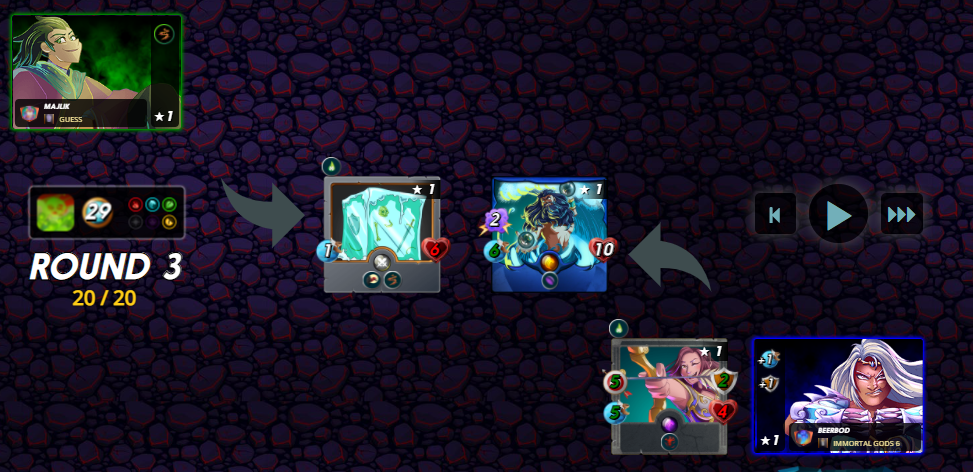 Brawl Battle 2 Earth vs Earth
The full match can be viewed here: https://splinterlands.com?p=battle&id=sm_8XC9Gdh9PYa5gaOduzYF&ref=beerbod
This ones a great match with a high mana cap at 34. Explosive Weaponry annd Keep your distance are the rulesets. I decided it is best to go with a magic lineup rather than ranged.
My choice of summoner is the obsidian. I am using the mycelic slipspawn as my first position tank, Centauri mage will then act as my secondary tank. I have goblin psychic as my support for its tank heal. Regal Peryton and Khmer Princess have also been selected to deal magic damage. My choice of gladiator is Cutter Brieze with a 1 mana cost summon but high speed range attack monster.
The opponent was likely anticipating for me to go life deck. He selected the wizard summoner to reduce armor. He has goblin tower on the first position, Gargoya devil for his second card. Mycelic slipspawn will attract damage from the third position. Regal Peryton will be dealing damage at the back and he has Scavo Hireling as support.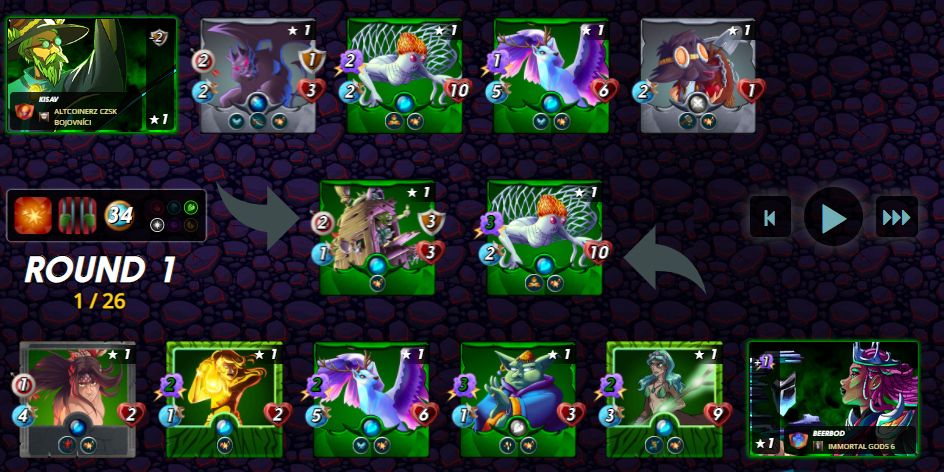 Brawl Battle 2 Round 1
This is where proper positioning comes into play and understanding of the rulesets comes into play. bBcause he had mycelic slipspawn in the third position. All attacks that gets directed to it also hits the adjacent monsters gargoya devil and regal peryton. While compared to my mycelic slipspawns first position. Only the centauri magi gets damaged with the splash damage. And because my attacks are based heavily on magic. All of it was connecting. It is total domination and just at the end of the first round. Only the scavo hireling was left. While i still have my complete lineup healthy.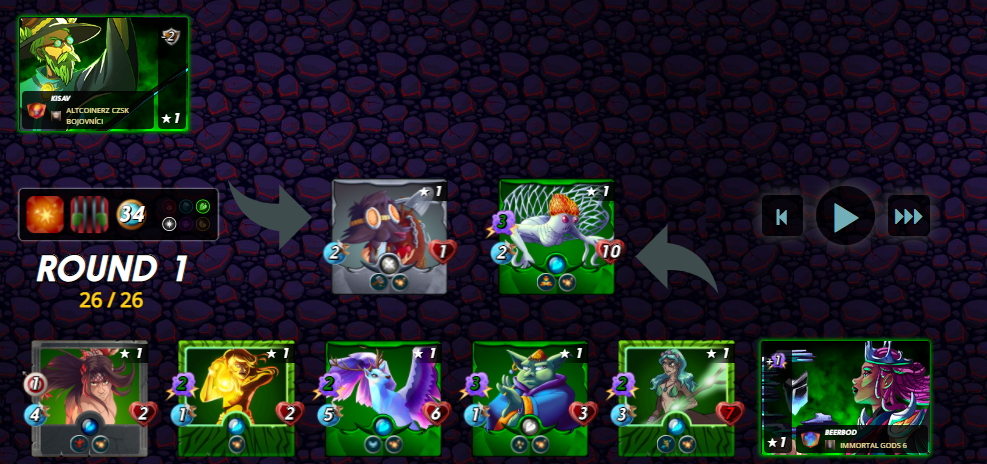 Brawl Battle 2 Round 2
It just took one attack from the regal peryton to end this round. Strong card selection, proper positioning and using rulesets to my advantage allowed for this dominant win.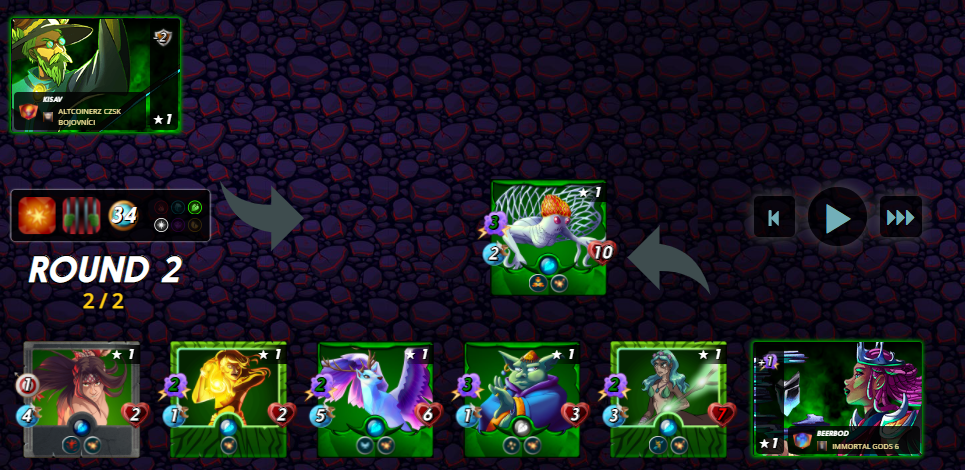 Brawl Battle 3 Life vs Water
Watch it here: https://splinterlands.com?p=battle&id=sm_lunVh3YP5j2pdYJ60WnU&ref=beerbod
It's white vs blue. It's heavy hitters with broken arrows ruleset on a 40 mana cap battle.
I decided to go with an physical and magical defensive mixed lineup. Kelya is my choice of summoner. With diemonshark on my front as my main tank. The secondary off tank is Djinn Oshannus with its void ability that is effective vs magic lineups. Deeplurker is added to focus on low hp monsters. Isgald Vorst and feasting seaweed complements my deeplurker if ever there is armor protection. Venari Wavesmith provide my full lineup with additional armor.
The opponent went with Shieldbreaker which negates my opporunity heavy lineup. He has soul fiend in the second position, magi of chaos and adelade brightwing provides magical damage, sandworm gives his lineup strong sneak physical attack and scavo hireling provides armor repair together with adelade brightwing.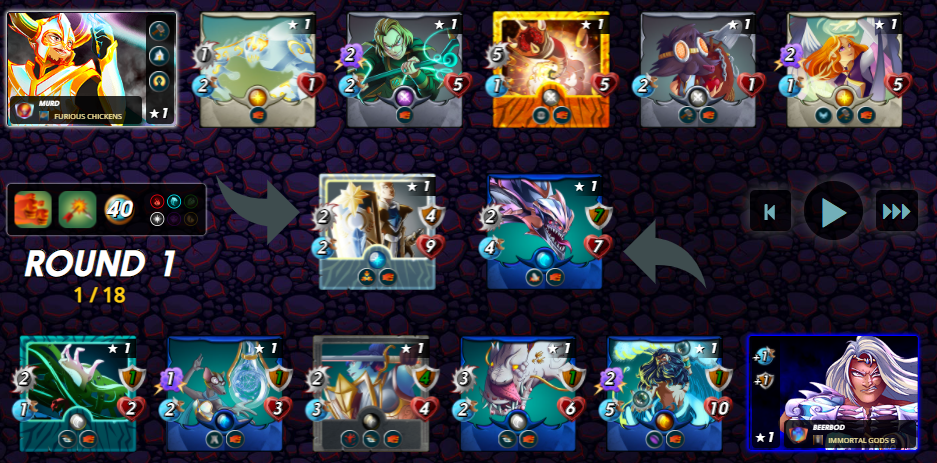 Brawl Battle 3 Round 1
No monster was lost in this round. His shieldbreaker is down to 1hp but had its armor repaired back to 4. My Deimonshark is down to 3 hp but still has a lot of armor left. The sandworm has attacked my backlines and my feasting seeweed is now vulnerable without any armor.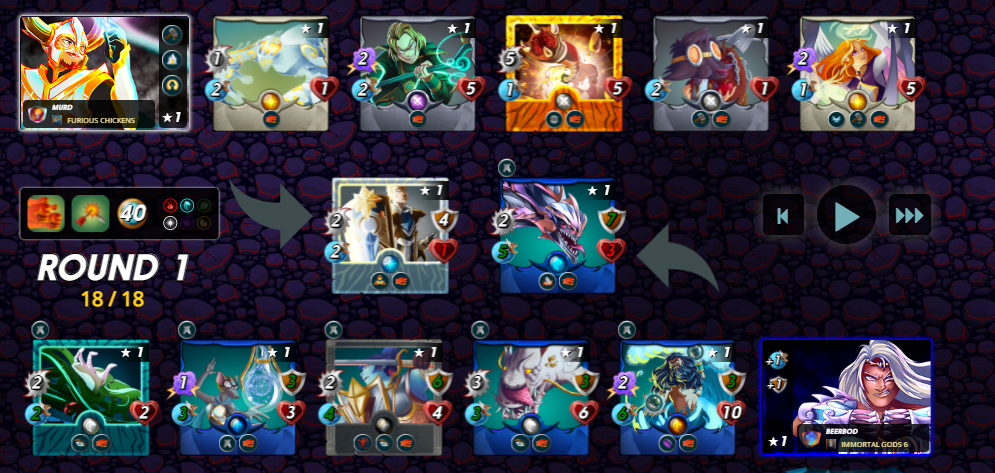 Brawl Battle 3 Round 2
Compared to the previous round the second one saw a lot of casualties. The shielbreaker was killed early from an attack by djinn oshannus but his summoner revived it. My venari wavesmith dealt the killing blow to the first position tank. My deimonshark also received strong magic damage from magi of chaos and adelade brightwing and was also removed from play. With the shieldbreaker gone, my gladiator Isgald vorst managed to take down the scavo hireling, enemy soul fiend also ended in the first position and was taken out by the deeplurker.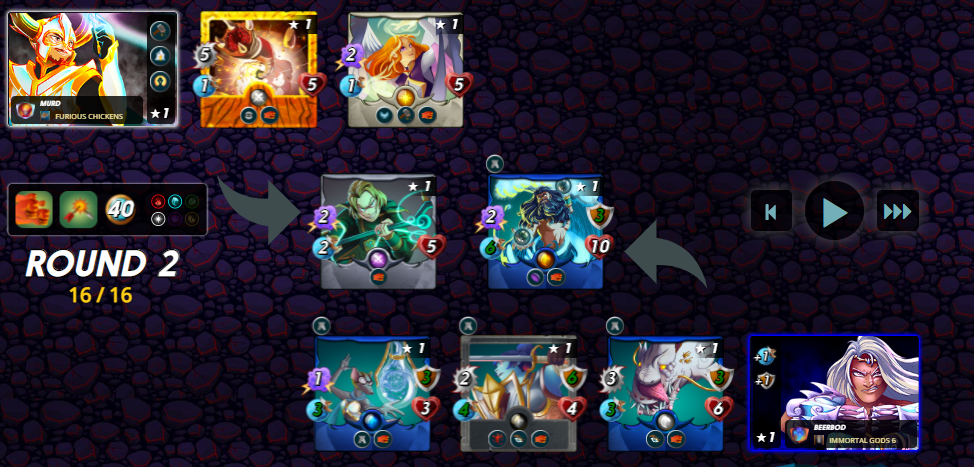 Brawl Battle 3 Round 3
With Djinn Oshannus in the first position, it took minimal damage from enemies magical hits. The magi of chaos does not have any protection at all. And it went down quite easily with my high damage output. The sandworms attack was evaded. And i am entering the fourth round with a strong advantage. given that my first position djinn still has high hp and armor left.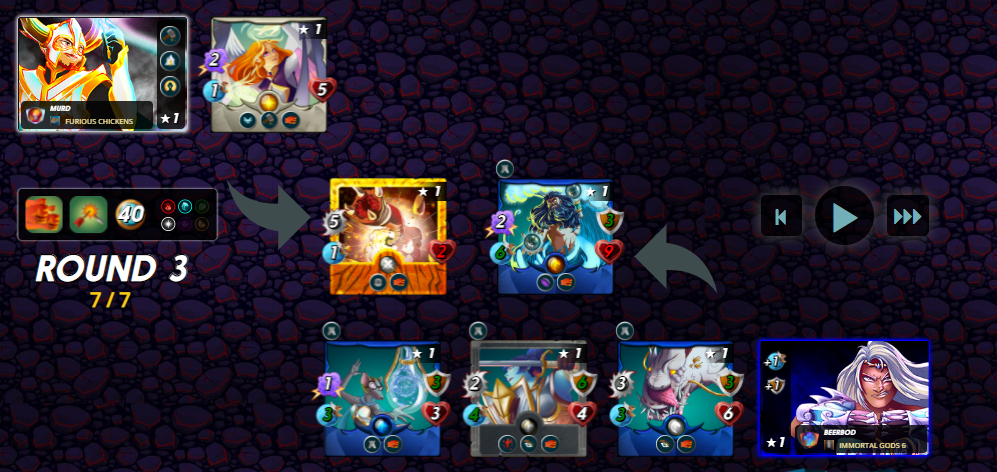 Brawl Battle 3 Round 4
With high speed, my lineup took care of the sandworm easily. The remaining attacks was also taken in by Adelade Brightwing it would have already been the winning round if the deeplurkers attack did not miss. But with the way things are going. This match will end in the fifth round with me not losing any more summons.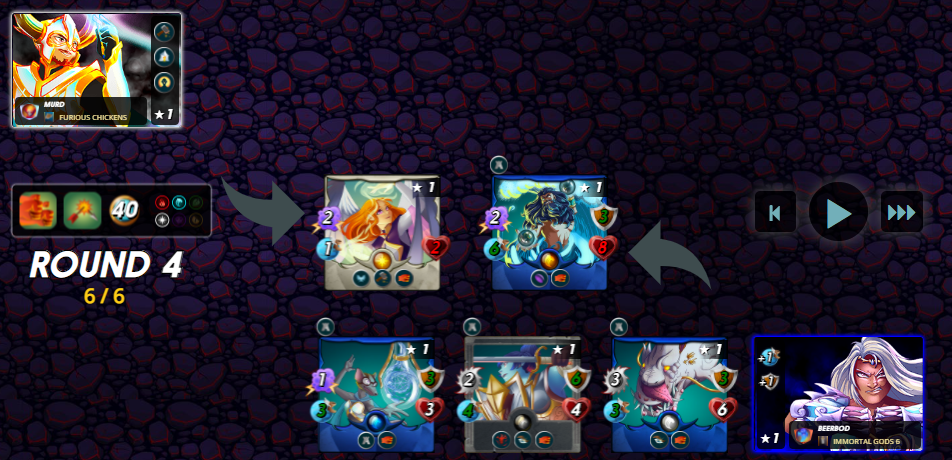 There you have it for this weeks guild battle brawl guide. Thanks for making it up to the end.
Follow me for more splinterlands guides and topics and as well as artwork.
If you have any questions asplinterlands in general then leave a comment below. I will be sure to get back to you.
If you find this guide helpful, help me back by giving this post a thumbs up.
---
---