Dominate your Brawl Matches
Today we will take a look at the various ways to play the guild brawls. We will go over a few battle analysis as well as share my thoughts and strategies on how we could get those wins on guild battles.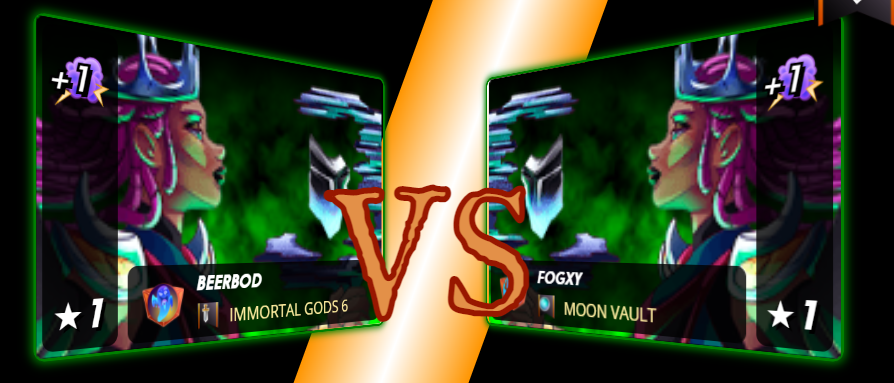 this is also my entry for this weeks social media challenge

Battle 1 Earth vs Earth
The full battle can be viewed here: https://splinterlands.com?p=battle&id=sm_zxl0ExutGzgOJDQw7v3h&ref=beerbod This is a 42 mana cap battle with rise of the commons as ruleset.
I selected unicorn mustang as my magical tank, centauri mage as my secondary tank, katriela gobson as my sneak double attack gladiator. Goblin Psychic will provide me with tank heal in the first position, Khmer Princess to provide additional magic damage and Mycelic Slipspawn to divert damage away from my tank.
Similarly my opponent went with a magic heavy lineup with dual tank heal. His lineup is composed of Unicorn mustang, Mycelic Slipspawn as secondary tank, Regal perryton mushroom seer for magical damage output and again his double healers goblin psychic and wood nymph.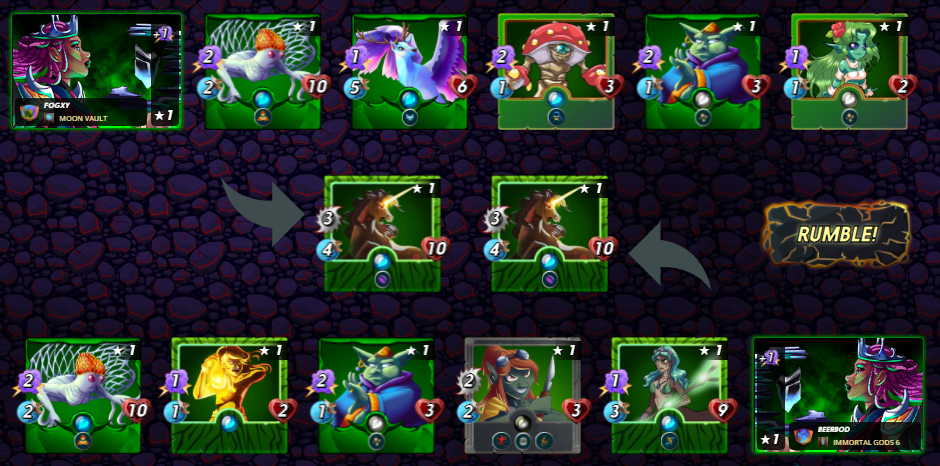 Battle 1 Round 1
The first round ended with both our mycelic slipspawn going down. It is pretty even at this point however my unicorn mustang has less health because i only have one healer but the enemy has 2. He also has magical advantage given that mushroom seer debuffs my magical attacks.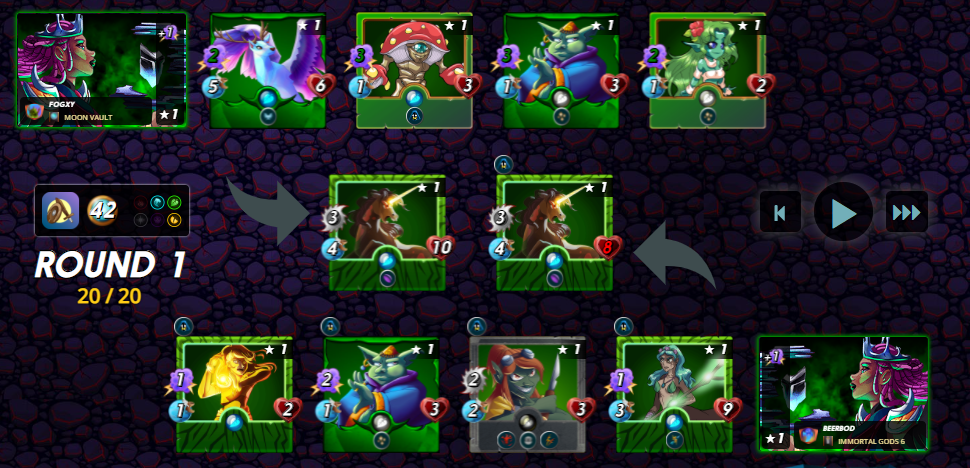 Battle 1 Round 2
I was able to take a huge lead in this round. Without the mycelic slipspawn, my Katrelba Gobson is free to attack the back lines, it first started by attacking the wood nymph, it went down with one hit and my gladiator gained one bloodlust buff, it has double strike ability allowing it to attack twice per round, and with gained attack damage it also took out the goblin psychic in one go. The match ended with my Gladius card having 4 attack (from 2)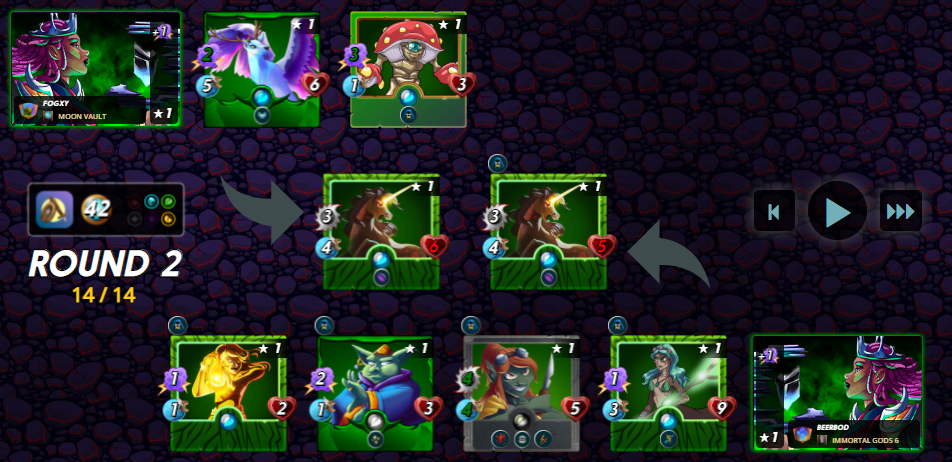 Battle 1 Round 3
My katrelba Gobson attacked first because of it's high speed, it eliminated the mushroom seer in one go. It's second attack connected to the regal perryton reducing it to just 1HP. With the mushroom seer going down, this removed the debuff and i got my increased magic damage output. Due to this i was able to take out his unicorn mustang. The battle will end in the next round. It was a relatively easy match given that my Katrelba Gobson single handedly took out numerous back line monsters.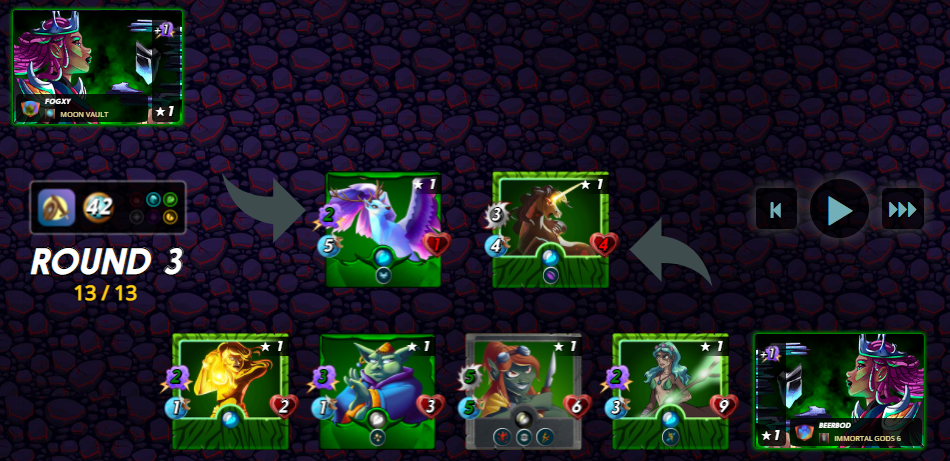 Battle 2 Water vs Earth
Watch the entire match here: https://splinterlands.com?p=battle&id=sm_DtB5B2ZIJRl6Zoh8ax3Z&ref=beerbod
It's a Mylor vs Kelya matchup for the summoners. The battle ruleset is noxious fumes. And is a 29 mana cap match.
I decided to go with Djinn Oshannus for my main Tank. River Nymph to remove the poison effect of my first position card Venari Wavesmith to add armor and protect against physical attacks. And Edith emberstar for my gladiator.
The opponent starts his lineup with creeping ooze to reduce my speed. Unicorn Mustang for his main tank, Xenith Monk for secondary tank, Hill Giant for his third melee for its high hp. He has goblin thief to deal backline damage and Gelatinous Cube which is good in poison battles due to its scavenger ability.
![image.png](UPLOAD FAILED)
Battle 2 Round 1
I was able to take out the creeping ooze first. And the high damage of my edith emberstar significantly reduced the unicorn mustangs hp. The gelatinous cube gained one life due to its ability. And my Djinn oshannus did not take any damage due to its high starting armor.
![image.png](UPLOAD FAILED)
Battle 2 Round 2
The second round starts with dealing poison damage. My Djinn Oshannus was unnafected as it was cleansed by the River Nymph. My tank still did not take any damage this round. My edith emberstar gladiator was able to take out the unicorn mustang and has gained bloodlust buff. The venari wavesmith, river nymph, and opponents goblin thief and xenith monk has all their hp reduced to less than 2 and will most likely be eliminated in the next rounds poison damage.
![image.png](UPLOAD FAILED)
Battle 2 Round 3
My Venari wavesmith and river nymph as well as enemy goblin thief and Xenith Monk, have all been eliminated in the early round due to poison damage. The hill giant would die from an attack from djinn oshannus. And at this stage only the opponent gelatinous cube remains. With no means to attack, and my djinn being protected from poison damage, not to mention my high damage dealing edith emberstar. It is a clear victory for me for this matchup.
![image.png](UPLOAD FAILED)
![image.png](UPLOAD FAILED)
And there you have it. Thanks for making it up to this point. Follow me for more splinterlands guides and topics and as well as artwork.
If you have any questions about the gladius decks or splinterlands in general then leave a comment below. I will be sure to get back to you.
If you find this guide helpful, help me back by giving this post a thumbs up.
---
---