How to Cash Out Splintershards (SPS)
For today's blog, i will be showing you how to cash out splintershards also known as SPS.
I will be providing a step by step guide on how you can convert this governance token from an in game asset into cash (via gcash)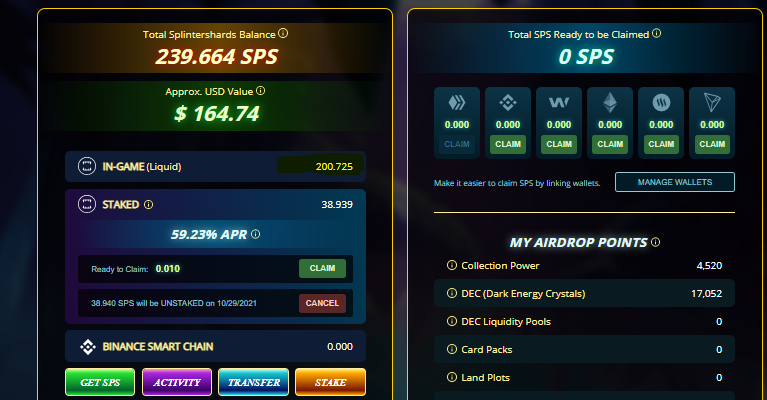 Disclaimer - I am not a financial advisor and all thoughts, commentaries and opinions I've shared here should not be considered as professional advice. This is merely for information sharing and educational purposes.


Coingecko
Ok so before we start, my best practice is to check the conversion rate first so that I could get a picture of how much I've lost from transaction/transfer/gas fees.
Below I plan to trade 200 SPS and straight up conversion it gives me 7,100 Philippine Pesos (PHP)
You can see the current exchange rates using this link: https://www.coingecko.com/en/coins/splinterlands
First we Transfer
The first thing that we need to do is to transfer in game SPS to the hive engine. Just follow the illustration below and tokens should go directly to your hive engine wallet.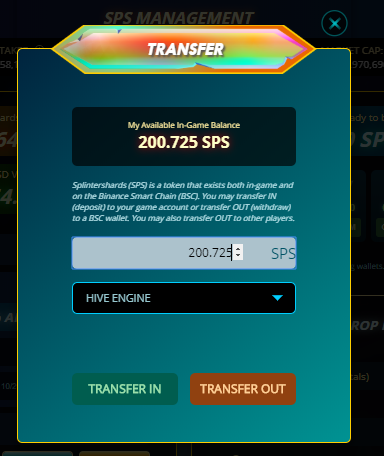 Once done you should see your in game balance deducted with the amount you transferred out. In my case I'm transferring all in-game liquid splintershards to my hive engine wallet. My balance in game is now zero.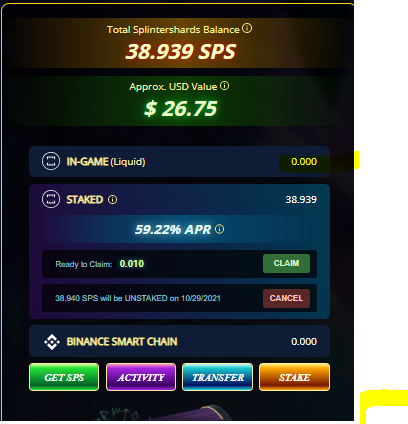 Moving on to Hive Engine
After transferring out, your tokens should appear in your hive engine wallet. Below illustration shows my 200 SPS is now under my token wallet.
Next is to click on the token market. The idea here is to trade you shards into hive tokens.


Once on the exchange page I'm going to make a sell transaction. Plainly speaking trade SPS for Hive. I've placed all my SPS balance = 200.725. And decided to sell at the current highest bid = .9055 hive/sps. In return i should get 181.75 total Hive Tokens.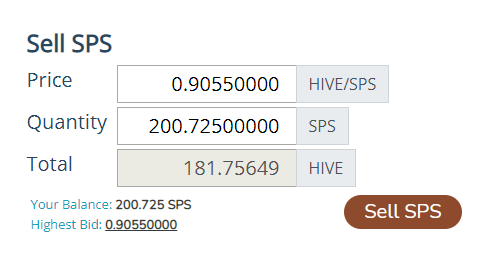 Remember that you could sell at a higher price. Main reason i went with the highest bid is to complete the order as quickly as possible. There is already an existing buy Order at this rate as shown in the picture below. Selecting this rate results in an almost instant transaction.


Once the order is complete; you will be credited with a token called Swap Hive. This is a token inside the hive engine, which is pegged to the value of the actual hive token. Click on withdraw and once done, this should convert swap.hive into the actual hive token and will be reflected on your hive wallet, which sits in the hive blog platform.


Keep in mind That there is a 1% fee for either deposit or withdrawal.
You can see below that i was not able to get the ful 181.75 Swap Hive. This is a screenshot taken from my actual hive wallet after withdrawal.


Cashing out with Binance
First thing to do here is to transfer from Hive Wallet to binance - check your binance wallet for the correct address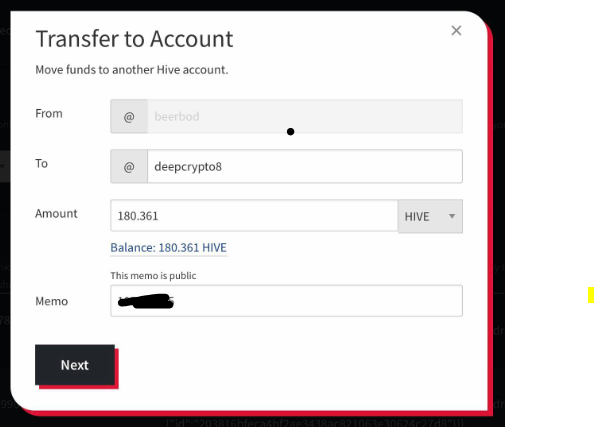 Done correctly, it should go straight to your spot wallet in binance. Now this could take longer than usual to happen; from experience maybe around five minutes, this long wait could cause anxiety, so i would suggest you transfer small amounts first. Anyway, there is no fee to transfer from hive to binance so you could test with just one hive token first.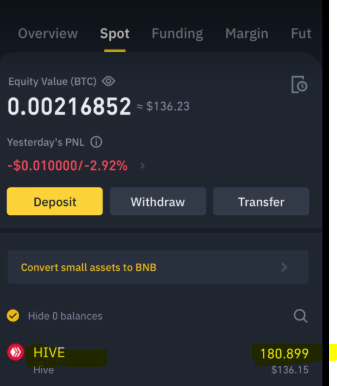 Up next is to trade your Hive to USDT. Here i could only trade whole amounts. So i can only exchange 180 hive for USDT. I am again selling at the highest bid order which is .7522.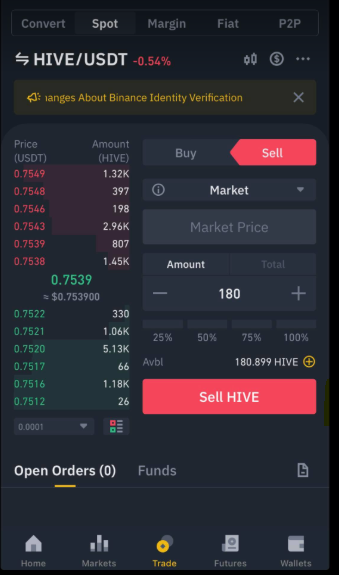 After selling your HIVE and getting paid USDT. In my case i got 135 USDT. Next, transfer your USDT from your spot wallet to your funding wallet. This allows p2p trading which will be the final part of this guide.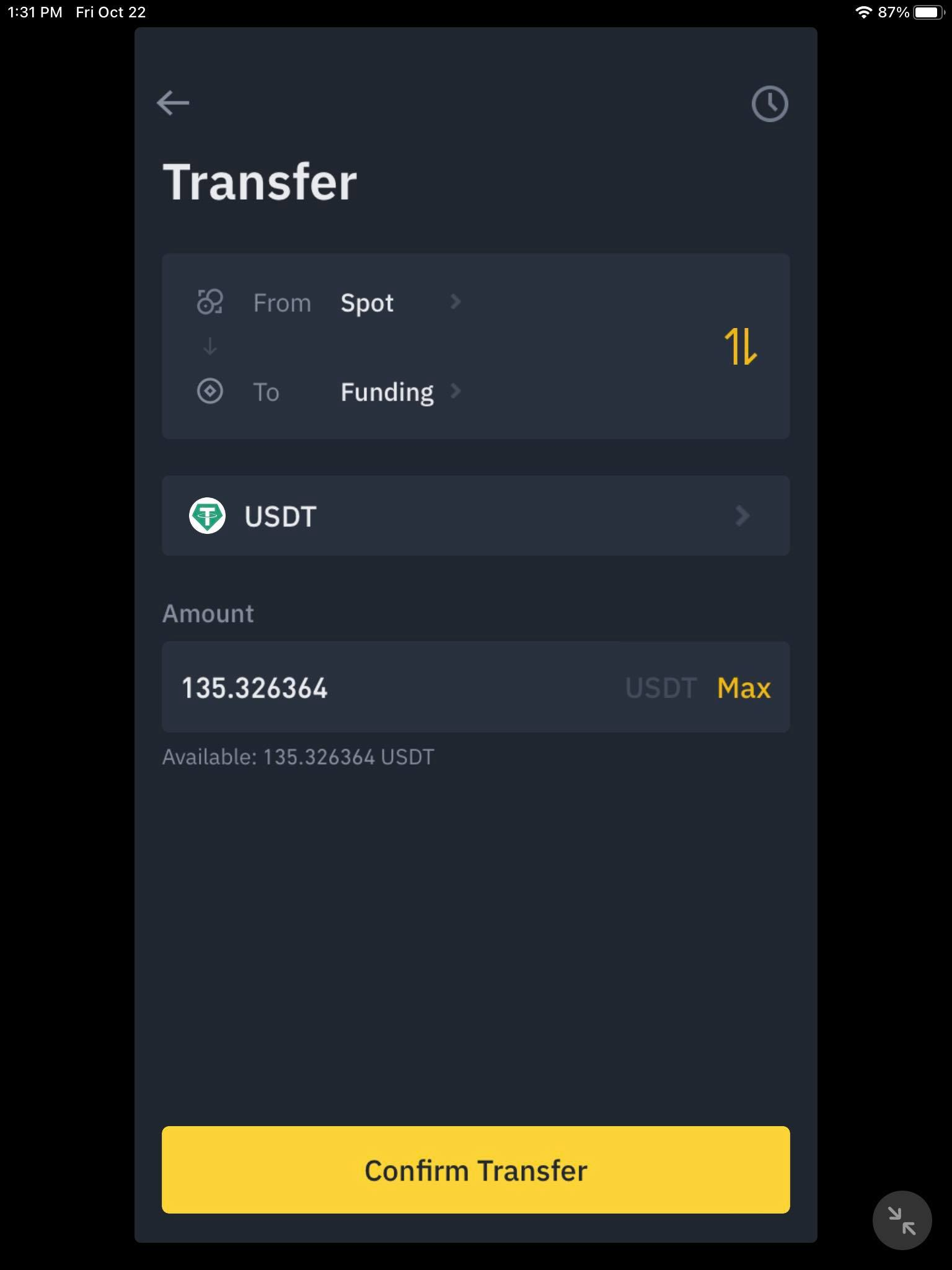 Next select P2P trade. There's no shortage of traders. Just go with the one who is verified, has the highest amount of completed trades, meets your minimum trade limit, and also has your selected method of payment.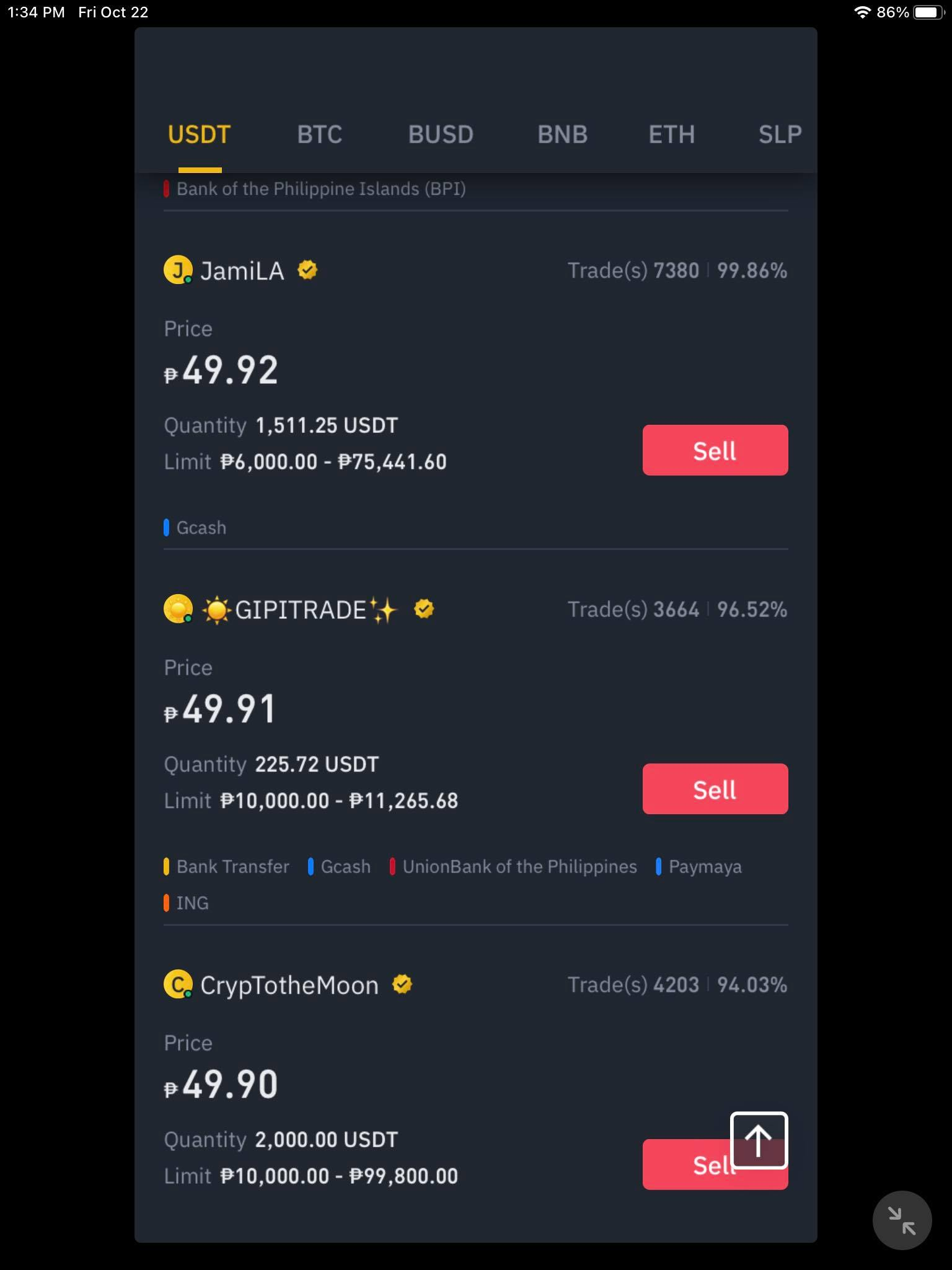 For my trade, I selected the one below as the number of completed trades is so high. Has complete identity verification, trades in globe g cash. Not to mention a 100% positive feedback. And minimum trade value to transact with this peer is 6000php. Which is just the right within the value i would go for.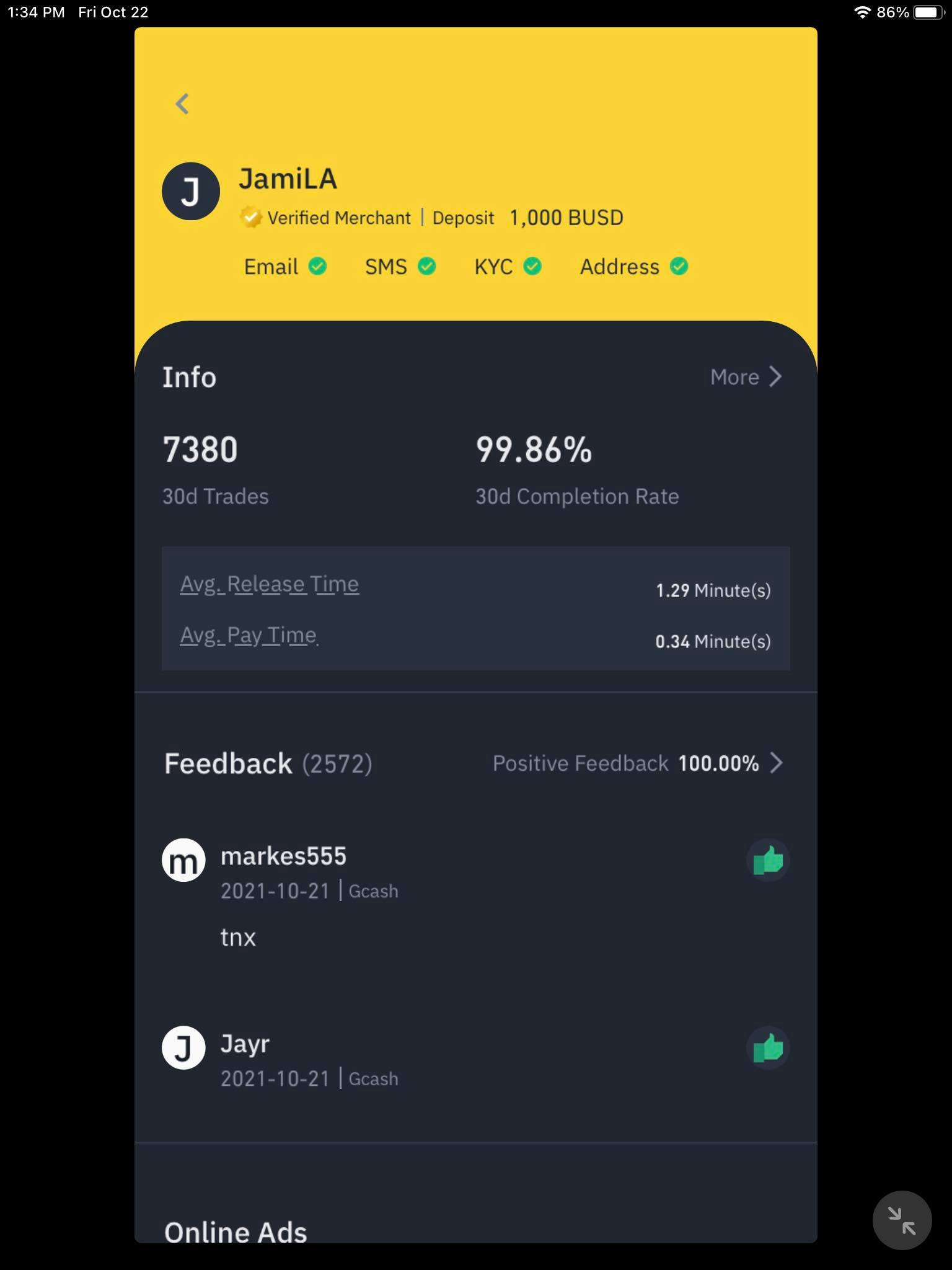 Once complete, you should get payment confirmation. Check and verify the amounts. And if all is correct. Do not forget to acknowledge the transaction from your end.

And there you have it folks. Hope this one helps and if you have any questions leave a comment below. I will try to respond as fast as i can. Follow me as well, as I will be uploading content on Art, Crypto, Splinterlands and even NFTs.

If you need more information on how to trade cryptocurrency: My other step by step guide might help you out. https://hive.blog/hive-167922/@beerbod/step-by-step-guide-on-how-to-cash-out-hive-dollars-hive
---
---