Countering Public Enemies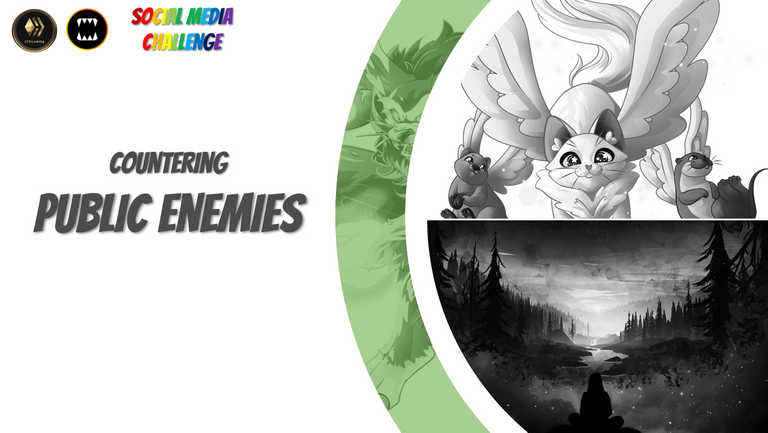 One of my best Twitter accounts is Splinterlands. It keeps me informed about all the important news in the ecosystem and #Hive posting events like a media challenge. In my opinion, those challenges are an incredible way of increasing the pride of being part of this community, as every player shares his/her game experience with others, allowing others to learn about everyone's successes and mistakes. For this one, I bring you a couple of mini tutorials to face every player like me who came to splinterlands after Untamed: Kitty and Yodin. You will see that although they are super strong, they are not immortals! Hope you like it!
Countering Kitty
Every time I take a look at Kitty summoner I think that she is perfect. It has everything that I would like for a summoner. She boosts your army speed for a huge +2, so creatures under her control will usually attack first and evade more, she heals up her tank and she never misses giving a True strike to her army. This is a nightmare for every one of us. And what's even more important than that trio of Phobies, she is a Dragon, so can surprise her enemies with multiple choices. Being beaten by Kitties, again and again, has given me some experiences that I would like to share in the picture that follows: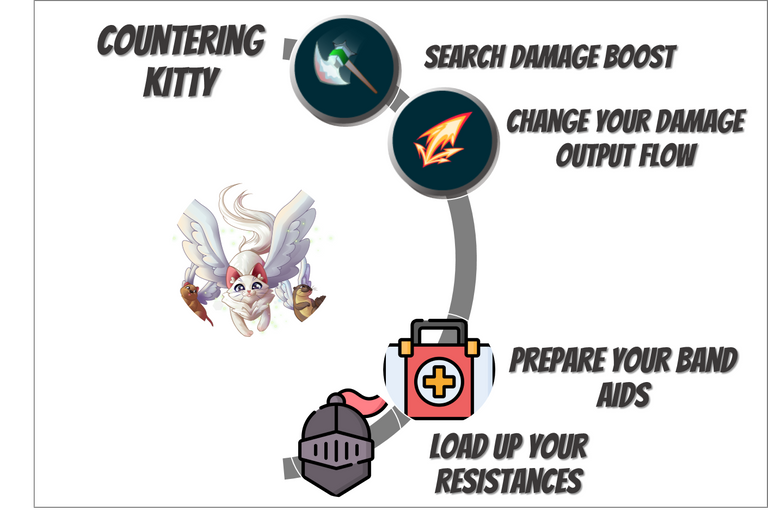 If you play Kitty you want a big boy in the front to heal up. You don't want to waste one of your three abilities for nothing. The new meta is full of those bad boyz who are more than ten Mana: Grum, Grund, Arkemis,... second heal for Uriel and Agor... It's a huge temptation not to take this chance. What about taking a Giant Killer and doubling the damage input?

Try to surprise her in battle by doing things differently than planned. I mean, change the normal 'flow' of your damage hitting this huge bad boy that will be healed up again and again. Snipe / Sneak / Opportunity can be great. But all above this, what surprises is Scatter Shot (ignoring taunt). You'll hit second but give your army a chance to hit her where it hurts.

Bring band-aids to the battlefield because she has a great chance of hitting first and she will not miss thanks to her true strike. Every little help can make the difference between hell and glory. This creature that takes one more hit before falling, this extra attack that brings an extra casualty for your side,... Repair, Heal, Triage,... everything will help.

Prepare your tanks because they will have a hard time and probably will be slaughtered. Offtanks being able to absorb tons of damage will be also welcome. Magic resistance and Shield will be great to halve Kitty's damage. And let's hope that your support will be behind giving a helping hand.
So in summary, we've got four main points to follow if we want to beat her. Boost up your damage as much as you can, surprise her by changing your damage output flow, and think about how you will absorb never missing attacks and how you will heal your units.


Show me the battles! - Top Diamond battle - Kitty countered!
For my Kitty duel, I bring 58 Mana, magic armor, Earthquake, and Snipping for rulesets. First of all, I may say that Kitty was predictable, as she was used in my opponent's previous battles. Referring to counter Kitty, I knew I had to plan the previous 4 steps: boost my damage, change the damage flow, bring tanks with resistances, and support my team. Related to rulesets, I may say that in the Target Practice, it's important the first non-melee is placed from second to sixth position, as she will take ranged and magic attacks. The board looked as follows: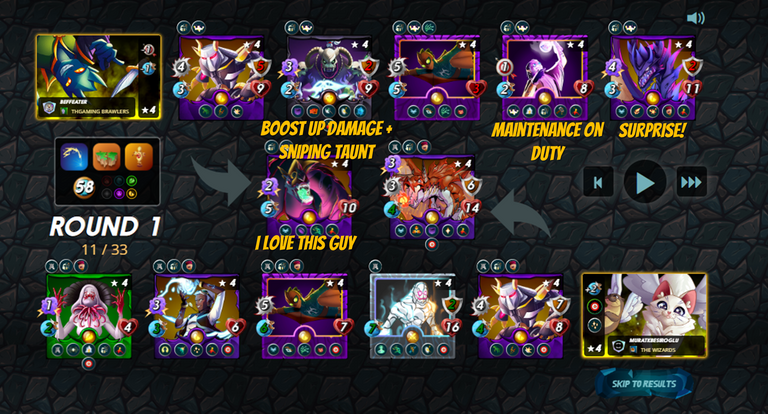 My combo for the frontline was for Void Dragon and Carnage Titan. They both perform such great work. Although Void Dragon is an outstanding tank that has brought me tons of success, he was slaughtered quickly (dat Kitty hurts!!). Carnage Titan has everything to increase your damage output from the second position, and become a superb tank when your main falls.
Placed Djinn Muirat 3rd to taunt Snippers. Reflected some damage to Queen that resulted in critical and as I knew that my opponent would bring a strong tank (Agor it is), this Giant Killer doubling this damage would be a key factor to the victory.
Doctor Scale is my top 3 support in Splinterlands. Triage helps a lot in Earthquakes, +1 Health is always welcome and repair has great synergy with Djinn Muirat transforming him into a beast absorbing magic damage and reflecting it.
Finally, take a look at an outstanding performance by the Chaos Dragon. Especially the second shot. Won't say more.
I leave you the entire battle here. I took the 2 first casualties and thought everything was lost...
Countering Yodin
Yodin holds a golden place in my Phobies' box. He does not as perfect and brilliant as his mate of post but he can melt your team faster than her if not predicted. Both of them got something in common. To beat them, you have to understand that your opponent will be continuously tempted to take maximum profit from his abilities. This means that certain creatures are always placed in the same positions. It's a matter of balance, Yodin has such strong points that the normal flow of the game, makes him predictable in his movements. And that's a slight advantage that you have to take to beat him. You have to understand Yodin's temptations and trace a counterplan. These are the three main points to counter him: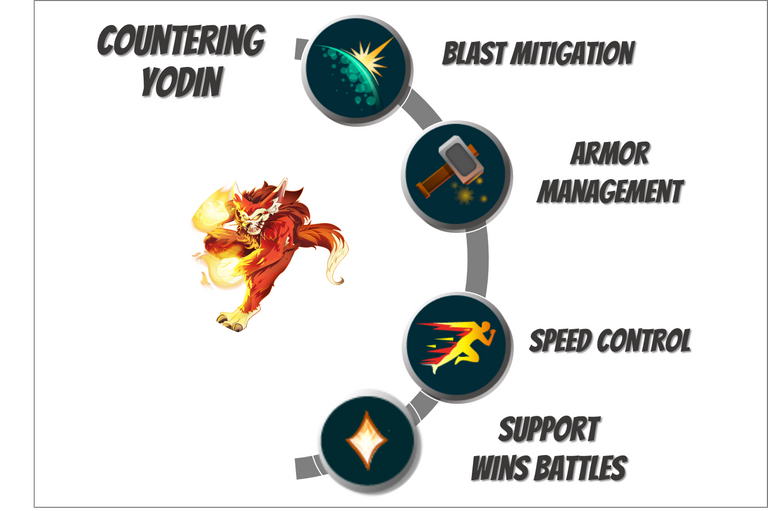 First things first. Be prepared for the blast. Any kind of blast. Normal Yodins are tempted for +1 Ranged. Magic Yodins if not predicted will melt you fast. You've got some interesting tools in the past rewards cards (Revealer, Tide Bitter, and Venator). Cut the blast chain close to your focus and the first step to beat him will be done.

If there's an attribute that annoys Yodin is Armor. Armor holds the line in your army and prevents casualties. So try to boost your army whether with Kelya's / Lux / Rathe, protect them, and above all, bring repair. On the field, repair wins battles.

Try to control all the speed scenarios, try to boost your army speed more than him. Also, try the predict all in-game modifiers (enrages...). If Yodin consistently hits you first, you've got a serious problem.

Can't imagine beating this beast without support. And he must be the right one. Repair should be in the equation so Merdaali or Scavo hireling are great CL chances.
So in summary, we've got four main points to follow if we want to beat him. Mitigate blast, manage your armor, try to hit first, and support your units. But above all, understand how Yodin's players love to play.


Show me the battles! - Top Diamond battle - Yodin countered!
For my Yodin duel, I bring 28 Mana, Enrage, and thorns for the rulesets. First of all, I may say that Yodin was predictable, as he was used in my opponent's previous battles. The board looked as follows: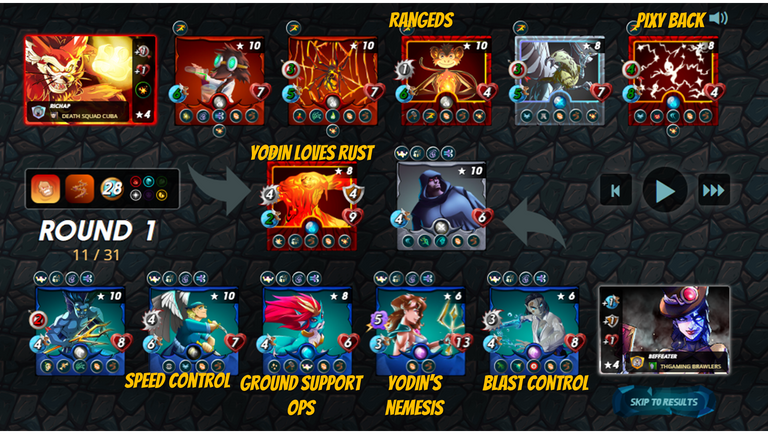 The most important point of Yodin's setup is that some aspects are common in all mid-ranged mana Yodin's battles. He loves rusting enemies, so he places Lava as a tank, goes plenty of ranged to increase firepower, and finally, Pixy is his way to go in the back (high speed + flying and dodge). These Yodin preferences took the most important part of my setup.
Placed Agent in first to buy some time (with little luck), and Tide Bitter as off-tank to absorb the blast.
Nerissa was my Carry MVP as she melted lava in two rounds. Her high health also allowed her to take lots of blast damage.
Merdaali is great for yodin, healing, and repairing relentlessly to keep my chances to win high.
Finally, Pelacor Bandit made a great job hunting Pixy. The first attack got enraged by thorns, second attack Pixy was over. This was my first step to glory.
I leave you the entire battle here. I took the 2 first casualties and thought everything was lost...
THANKS FOR REACHING OUT HERE!
Hive - Splinterlands is a great ecosystem to grow in the Crypto world, we are in the best community and we play a game with a solid project and a great future. The only thing we've got to do is believe in the project and fight hard in the arena! Thanks for reading and feel free to share your thoughts. Happy weekend splinters!
In case you are new to this wonderful game here, I leave you my referral
---
Linktree Official - All Social Media links

---
---