Epic Battles in Diamond Tournaments + EOS Rewards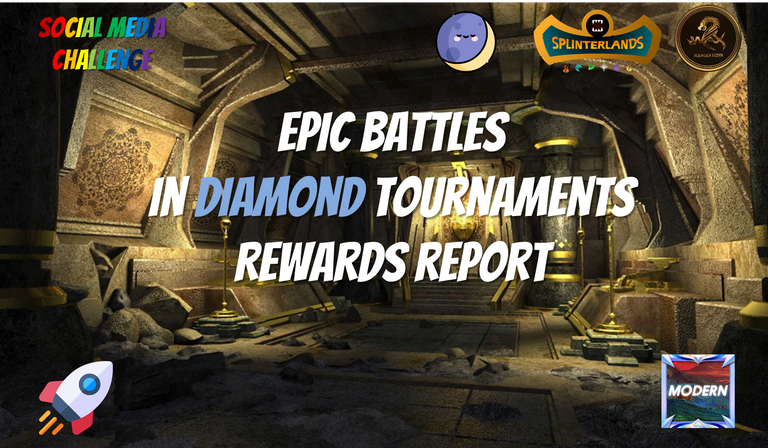 One of my best Twitter accounts is Splinterlands. It keeps me informed about all the important news in the ecosystem and #Hive posting events like a weekly challenge. In my opinion, those challenges are an incredible way of increasing the pride of being part of this community, as every player shares his/her game experience with others, allowing others to learn about everyone's successes and mistakes. For this one, I will share a couple of Epic battles in the Golath Zulmar Diamond Tournament & I will also share a report of my rewards achieved at the end of the season. Hope you like it!
Tournaments - a great way to boost your rewards
I love how #Splinterlands is encouraging every one of us to explore how to maximize profits. As I rent my whole deck to play Champion, I have to find ways of maximizing returns with my rented cards. I have to deploy a strategy, choose summoners and specific cards and bring them to the Arena in multiple ways. Getting ranked is the first way of earning, but there are also tournaments and brawls. As a Diamond / Champion player I can say that battles get tougher and are decided most of the time by smooth details. The tougher I face my opponents in ranked, the better I perform in tournaments. Following @queen-silvia content has inspired me to improve in this aspect of the game and boosted my earnings. I will share what I call my first acceptable success. Finishing 20th in a Diamond tournament with 50SPS of rewards is a great boost as I see it and additional income from my rented cards while I learn from the best players.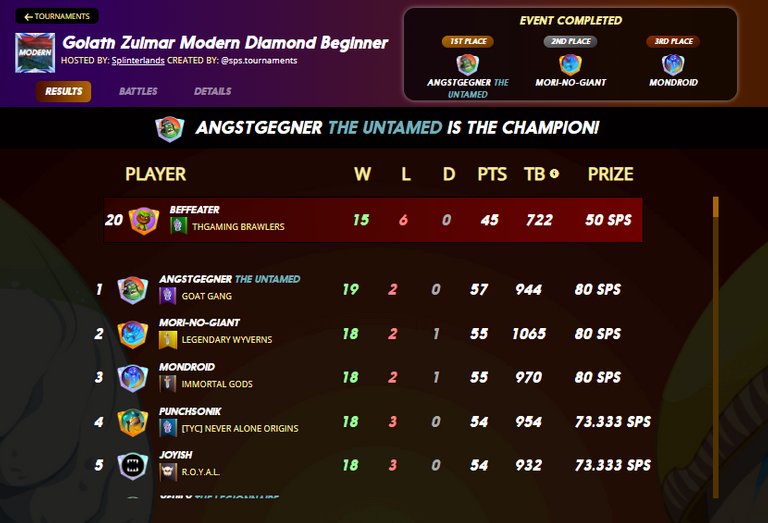 I will share with you a couple of great battles that I faced. Both battles were tough and close, and each of us could have taken the victory.
First battle 14 Mana - Thorns no neutrals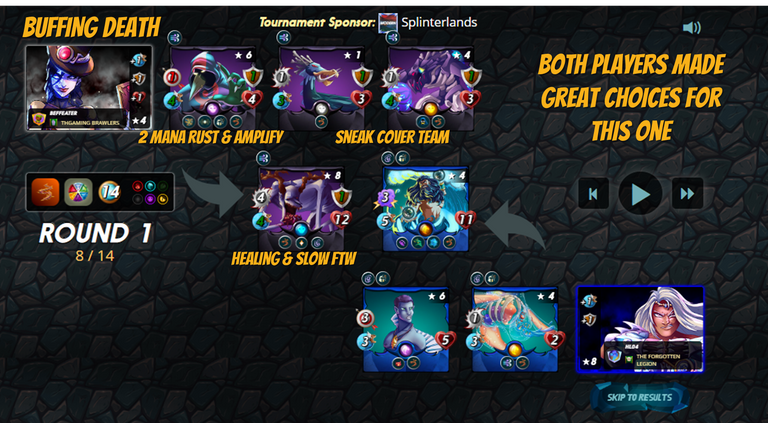 There are some battles where at first look, both players have taken great decisions and their plans seem to be great. This is one of these battles. Both players faced a low mana cap battle with no neutrals and thorns. My strategy was an all-in to Windeku vs my opponent who decided to support Oshannus. I decided to amplify Windeku's effect with Weirding warrior and my opponent brought Igor Darkspear to stun. These were the keys to victory:
Windeku's Healing & Slow: At first glance, I prefer Oshannus front tanking. He has a 100% hit and is not vulnerable to thorns vs Windeku. On the other hand Windeku's max Level debuffs enemies with 1 speed which turned the speed balance one point in my favor. Also would be able to heal if no stun was laid to him.
Weirding Warrior: this creature is wonderful. I can't imagine much better ways of spending 2 mana. Rust is one of the best abilities in the current meta (this +1 Armor often is a headache to opponents), and amplify has great synergy with new damage reflecting battle conditions.
Fiend and Carrion - sneak coverers - although was not the best option I wanted to be covered by sneaking attack. Also, Fiend brought -1 Magic which is always welcome. I find myself using Corpse Fiend more with Lux than with Thaddius. This Silence helps a lot.
Finally but not less importantly - Lux herself. Lux brings whole new dynamics to death. If Lux was not leading this army, Windeku would not have evaded Igor (+1 Speed to Windeku). +1 Health allows him to heal 4 points per turn... Buffering an army that has a full toolset of debuffs in their creatures is often useful and leads her armies to victory.
I leave you the entire battle here
Second battle 26 Mana - Knockout & Cripple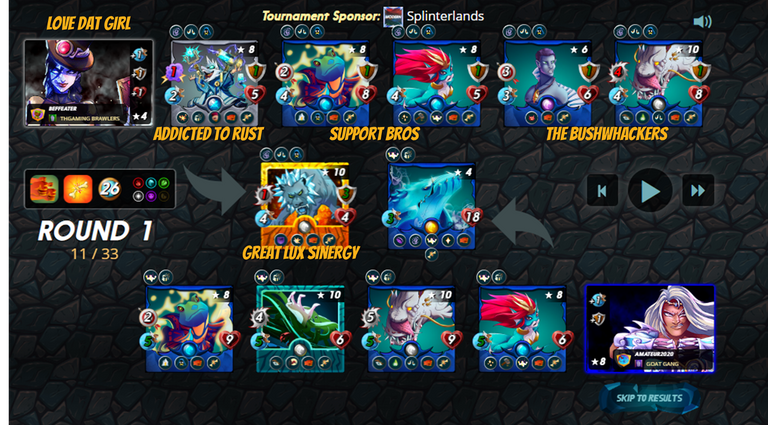 For this one, I bring you a mid-range mana (26) with Knockout and Cripple on every creature. While I chose a specific formation trying to take profit from every single aspect of the battle, my opponent chose a more standard composition (his army would have worked perfectly against a magic team) with a double opportunity. These were the main keys that lead my team to victory:
I love Frost Lion and more Lux. They build a perfect team for just 2 mana (not as epic as Chaos Legion for just one mana but also works great). Frost Lion has a shield and brings him a lot of survivability. Also, his magic armor turns him into a headache before being slain (he absorbed damage of a whole round). His low health also attracts opportunities to him wasting their time granting survivability to other team members.
Scavo Technomancer: I love every single unit that brings rust to my army, and if she brings blind as a second one more. This is Scavo. Maybe a bit expensive, but Scavo allowed my Deeplurker to take down Merdaali in 2 turns, not 3. Also granted some interesting evading on frost. Good work.
Angelic and Merdaali - da support bros. These 2 guyz work perfectly. Once Frost and Scavo were slain, they build up a healing loop of triage & repair, and healing that was a headache to my opponent. Great paper in mid / end combat.
Igor and Deeplurker - Heavy DPS on Knockout rules: when I say that reading and trying to take profit from every single rule is the key to victory, this means bringing stunning units to knockout battle condition. I did and my opponent didn't. This meant melting Baakjira, Deeplurker, Feasting, and Angelic in 4 rounds.
Lux and Always Lux: Lux fits perfectly in Water rosters as she has the same dynamics as him with +1 health. Everything that works with Kelya fits her (except Little League), and can be adapted with low creatures like Chaos Agent or Frost Lion.
I leave you the entire battle here
4 days Final Season Rush
I am so happy with my final season rush as I managed to earn a ton of SPS with the distribution as follows: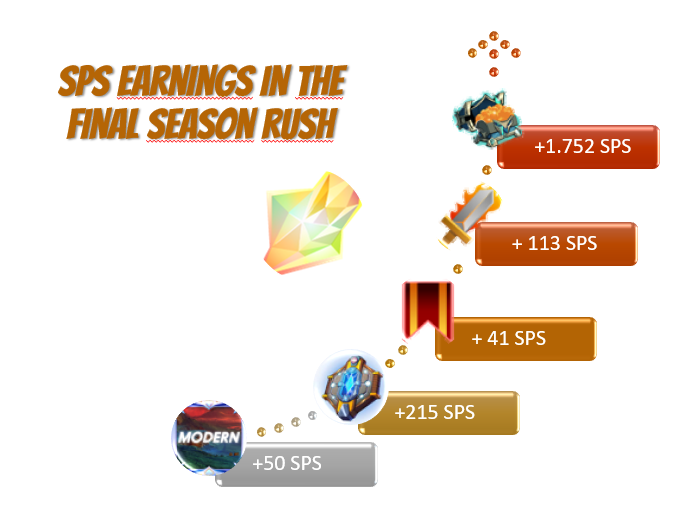 My first step was my +50 SPS on tournaments, Nodes made their offset work adding 215 more, THGaming Brawlers guild Brawl brought me an additional 41, ranked battles 113, and finally had my epic pulls of Champion Chests, with a Hello of one of my best content creators ins Splinterlands Ecosystem: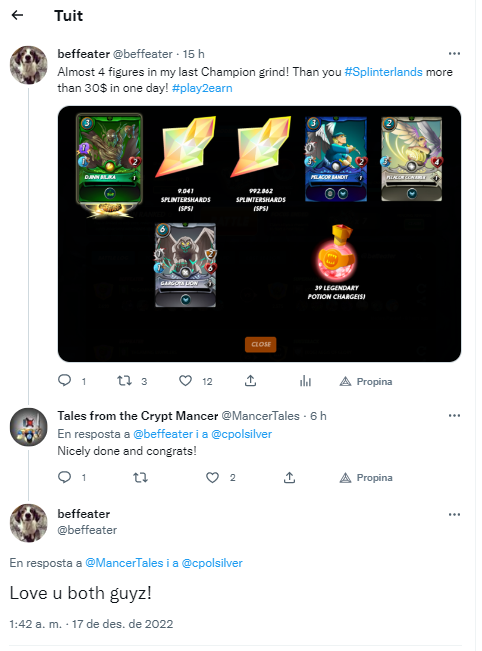 Those earnings represent 16,5% of my total amount of SPS earned in one year. This only means that if we do a good job we get rewarded: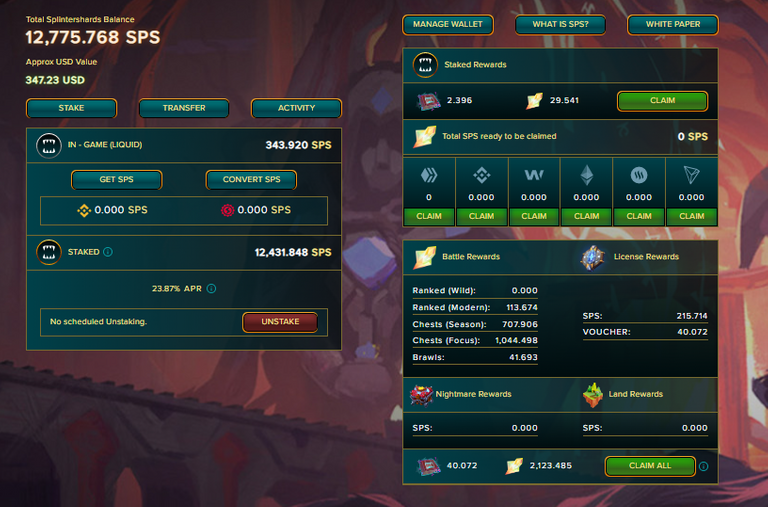 Hive - Splinterlands is a great ecosystem to grow in the Crypto world, we are in the best community and we play a game with a solid project and a great future. The only thing we've got to do is believe in the project and fight hard in the arena! Thanks for reading and feel free to share your thoughts. Happy weekend splinters!
In case you are new to this wonderful game here, I leave you my referral
THE END
---
If you would like to join @THGaming and explore the #metaverse with us our Social Media links are here:
Official THGaming Social Media Links:
🔸 Twitter
🔹 Discord
🔸 Linktree - All Social Media Links

---
Threshold.Guardian.Gaming (@Threshold_GG)
We are a #PlayToEarn Gaming Guild 🏆🎮
#Crypto #NFT #Gaming #AxieInfinity #Splinterlands
---
---