My Runi Chronicles - Chapter 1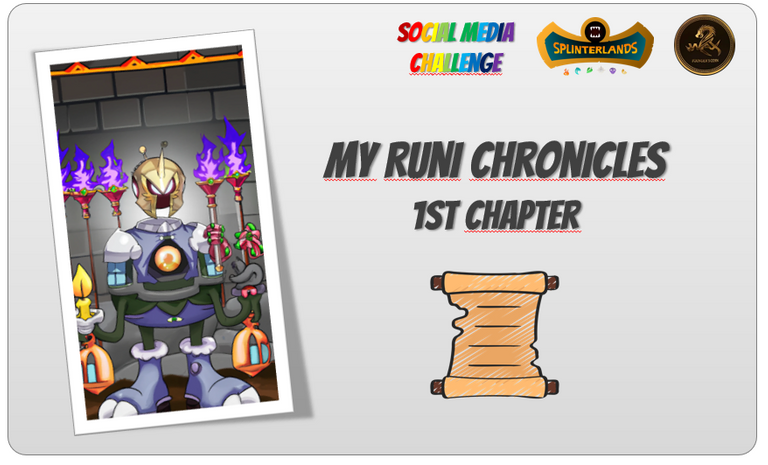 One of my best Twitter accounts is Splinterlands. It keeps me informed about all the important news in the ecosystem and #Hive posting events like a media challenge. In my opinion, those challenges are an incredible way of increasing the pride of being part of this community, as every player shares his/her game experience with others, allowing others to learn about everyone's successes and mistakes. For this one, I will begin my Runi Chronicles. Hope you like it!
Runi #560 minted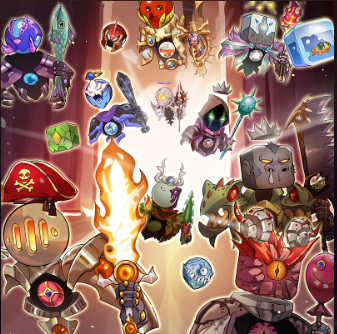 It has passed quite a long time since I minted my Runi in OpenSea. The project worked for me from the first moment as it offered me multiple ways to develop it. First of all, Runi is a great card with a set of abilities. Not a bread-and-butter card but can make a difference if played properly. And, being a neutral card allows him to fit everywhere. I minted the 560th Runi of a total number of 3500. I can remember perfectly how nervous I was. The previous moments received it into my wallet... and then I was slightly disappointed. My Runi was not as cool as all the Runis I saw in the promo. And not being able to bring him to the Arena didn't help at all. Although I was offered almost double (0.4ETH) to sell it I did not consider it. I told myself. This Runi has come to me in my first year and will wall across my journey of Splinterlands for a long. The more I play him, the far those disappointment goes. Today I am sure that my Runi will be very valuable one day, and not only for the gameplay (which I hope to show in this post how well he performs in certain rulesets). No more Runis will be minted again, and the Executive team has got interesting plans for him in the following months. And no matter if I liked him at first glance, he is unique & bound to my account. Our path to glory has begun and these chronicles will be part of the testimony of it.
Runi Strengths
Referred to the game concept Runi's main strengths could be grouped as follows: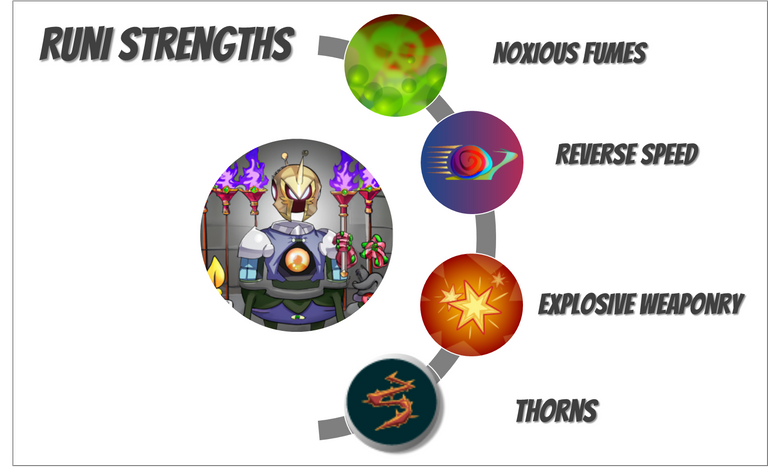 Runi shines in this battle condition. His rebirth ability allows him to resurrect once per battle. And every resurrected unit is not affected by noxious fumes anymore. He resurrects with 1 life and 1 armor, allowing him to buy an enormous amount of time and lead your team to victory.

He is the master of this battle condition. His 1 speed allows him to hit first. Like every other opportunity creature, he loves unprotected enemies, so bring always rust in your team to guarantee casualties fast. And what's more. His true strike ability allows Runi to never miss a single hit. All these attributes turn Runi into a reliable assassin.

One of his defensive roles appears when speaking about blast damage (either coming from the battle condition or an enemy creature). His reflecting shield turns him immune to this source of damage. He is then placed as an off-tank in these battle conditions, absorbing all the blast damage incoming from our tank. He can also be placed %th close to Wavebrood or Mycellic covering the blast damage of a back taunter.
Finally but not less important, we've got thorns (either from Mylor, creature ability, or all creatures on the battlefield affected by the battle condition). Similar to the previous point, Runi is immune to this source of damage thanks to his reflecting shield
As you can see, there are many battle scenarios where Runi can perform great. In addition to this, we should not forget that being a neutral card allows him to be played with every summoner and he is a promo card (+10% on RP like Lux or Doctor Blight!!). Also, there are other scenarios where Runi can perform great like Melee only or unprotected.
I will share with you a couple of great battles that I faced. Both battles were tough and close, and each of us could have taken the victory.



First battle 14 Mana - Reverse Speed & Melee only vs Mylor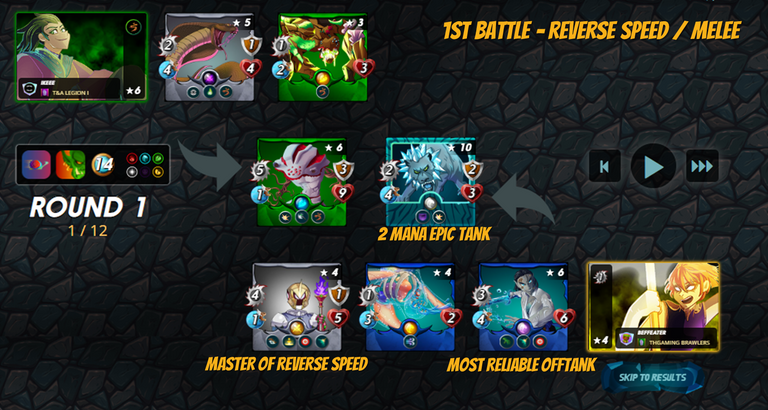 There are some battles where at first look, both players have taken great decisions and their plans seem to be great. My opponent chose for this set of battle conditions what has been considered during months and months in Splinterlands as the best composition; Mylor leading a shielded tank and a backline like Uraeus. But Splinterlands is a game that evolves and evolves, and the king of these battle conditions has to leave the place to new generations. These were my keys to victory
Frost Lion - 2 Mana Reliable tank: This monster never gets melted easily. Having a shield and magic armor allows him to absorb tons of damage. This kind of low mana battle is a great solution to save mana budget for other options
Tide is bitter - best offtank right now?: what can I say of this guy? He is used again and again. There are several battle conditions that work fantastically. Reflecting shield made Mylor thorns useless and True Strike turns him into a reliable damage dealer and suitable for reverse speed battles.
Runi - the Master of Reverse Speed: As I've written previously, Runi fits perfectly for this battle condition. Everything was up, the battle was close. Hope you like it! full battle
Second battle 38 Mana - Noxious Fumes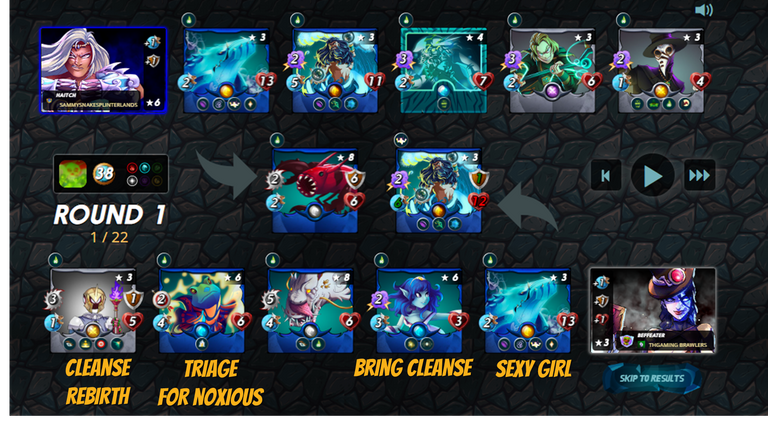 For the last battle, I bring you mid-range mana (38) with Noxious Fumes. These battles turn out to be very close and decided by details as the variety of options views are affected by the incoming damage of the poison every turn. These were my steps to victory:
If there is a creature that deserves a cleanse on Noxious Fumes, this is Djinn Oshannus. His void armor, phase, and block turn him into a very reliable choice. Once cleansed he hard counters one of the monsters of this battle condition: Forgotten one, because his magic damage is not suitable to trigger retaliation and his block turns his 6 into 1 damage per turn.
Sexy Girl: What if I bring a huge amount of HP with auto-healing, allowing it to sustain until the fatigue rounds when nobody remains? This is Baakjira.
Triage a great overall sustain - triage works fantastic in this ruleset as allows you to bring your army values sustainability during the combat.
Runi: he has an inner cleanse when rebirthing like a phoenix
I leave you the entire battle here
Digital Art Project for my Runi
Following such a great guy like @goldmatters on Twitter and owning a Runi has allowed me to develop a personal project for my little one. This time I wanted Artificial Intelligence to develop the digital art concept for my Runi.

Using the AI of DALL·E 2 I managed to get some interesting results:

And what is my best one, my Runi king ot the castle: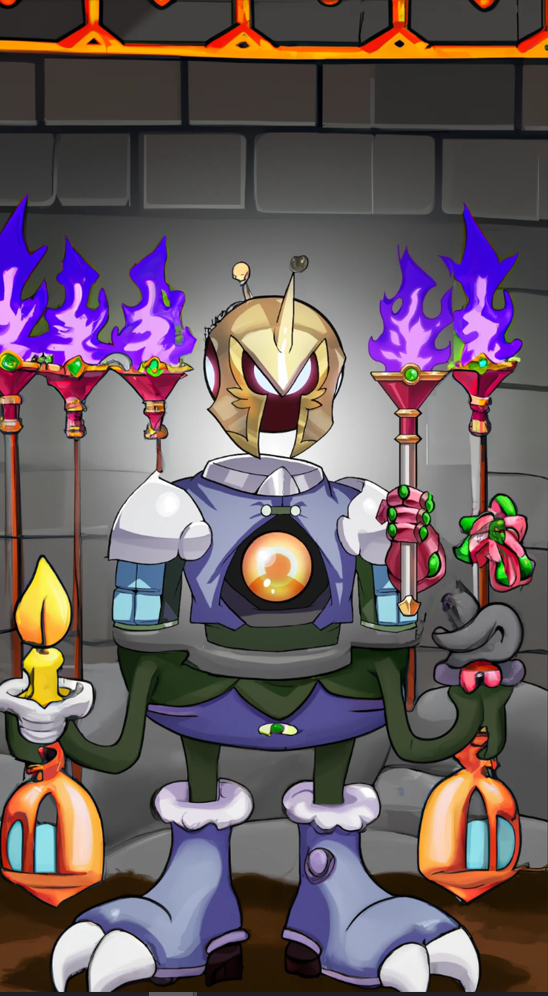 THANKS FOR REACHING HERE!
Hive - Splinterlands is a great ecosystem to grow in the Crypto world, we are in the best community and we play a game with a solid project and a great future. The only thing we've got to do is believe in the project and fight hard in the arena! Thanks for reading and feel free to share your thoughts. Happy weekend splinters!
In case you are new to this wonderful game here, I leave you my referral
THE END
---
If you would like to join @THGaming and explore the #metaverse with us our Social Media links are here:
Official THGaming Social Media Links:
🔸 Twitter
🔹 Discord
🔸 Linktree - All Social Media Links

---
Threshold.Guardian.Gaming (@Threshold_GG)
We are a #PlayToEarn Gaming Guild 🏆🎮
#Crypto #NFT #Gaming #AxieInfinity #Splinterlands
---
---