Splinterlands: Challenge Accepted!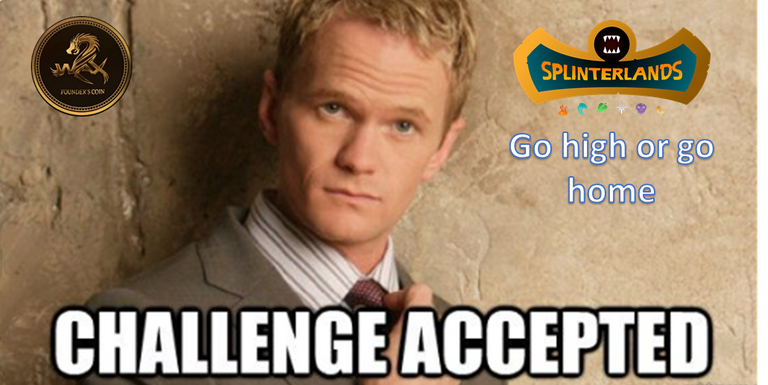 In this post I will share my latest moves to achieve the goals that I marked as I knew how would the new reward system be. I will explain how I have increased my CP, how I've decided to complete my collection of modern assets, and the final results. So #Splinterlands here I come!
Impact of the new reward System
It has been told again and again in the lasts Town Halls that Splinterlands wants all of its players to acquire assets and go high in ranked. They wanted to change this kinda of 'lazy' day when you did your quest, opened your chests, and waited for the next quest to come. With all of the players with that mindset, it was a dead game. From the next season, #Splinterlands will be a more competitive game, where every single asset (and summoner), has its importance. This lazy daily quest will turn into a focus day for one certain summoner. The better that you perform on that day with the chosen summoner the better your end-season rewards will be. This factor added to the decrease in the amount of won DEC when played with shadow cards (the ones that come from spellbook), has forced me to move from this lazy mindset and improve my collection in different ways. I have almost completed an original card of every summoner for the Chaos Legion collection, and I have increased my CP of modern format. I do recommend everyone to take a look at the most revealing and inspiring Town Hall of much time in this wonderful game.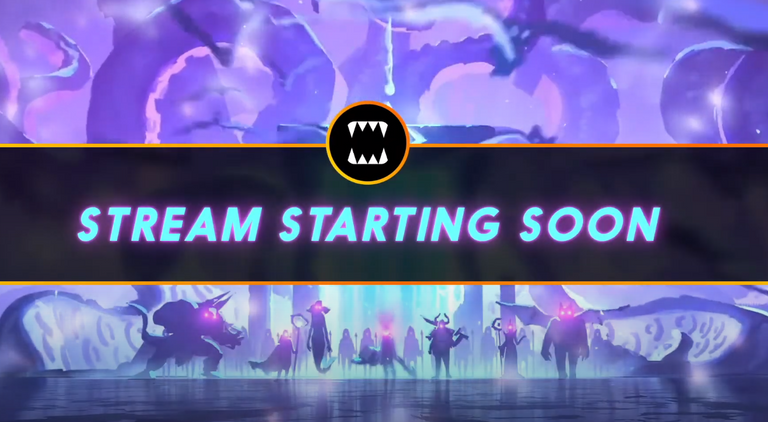 Completing my collection
This is one of the first points that I wanted to solve from the first moment I knew everything was changing. As prices in Chaos Legion will appreciate for sure I decided to jump in in the Monster Market and take benefit of the 2% discount in DEC. These were my main assets per summoner:
Tarsa: I took profit that Tharsa is quite cheap right now and I bought Scorch Fiend (got every single 0 mana from every summoner now as they are game-changers in low mana battles) Ifrit Rising, Forgotten One (da Noxious Fumes boss), Tusk the Wide (Magic here we go), and Djinn Inferni. Everything for less than 13$
Kelya: Kelya is my favorite one. Love the flexibility and adaptability that he has. I feel that I can manage every situation with his creatures. Added finally my desired taunt (Wave brood), some resurrection from River Hellondale, Nerissa for high mana battles, DiemonShark, River Nymph, and Merdaali guardian. All for less than 15$.
Obsidian - is my less favorite summoner and the most expensive. Went in with everything: Queen Mycelia, Fungus Fiend, Grund, Mycelic Slipspawn, Regal Peryton, Goblin Psyching, and Mycelin Infantry. All for less than 24$.
General Sloan: General Sloan got less budget, waiting for a possible increase, Got Soul Fiend for low mana battles, Pelacor Arbaelist, Portal Spinner, Time Mage, Celestial Harpy, and Chaos Knight. everything for less than 6$
-Thaddius: I Love playing Thaddius (there I've got the jewel of the crown Lira Gold Foil airdropped) and I completed his creatures with Djinn Muirat, Corpse Fiend, Cursed Windeku, Life Sapper, Souls Stranger, and Dhampir Stalker. Everything for less than 13$.
Dragon: too expensive for me right now.
Neutral: got my savings for a Gold Foil Chaos Agent and Xenith Monk. But I didn't buy them yet.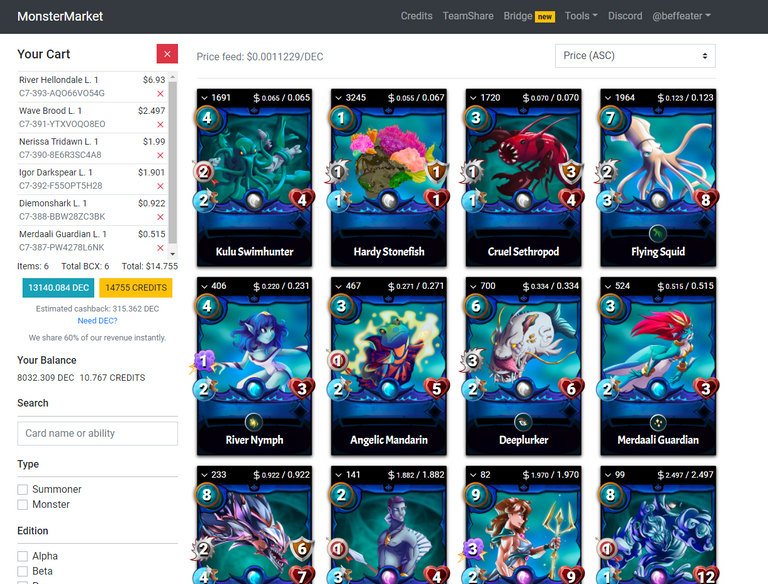 This investment of almost 64000 DEC and thanks to #MonsterMarket, represented a cashback of 1260 DEC. I had the same feeling that I had in the 90s in the school's playground with Magic Cards. So happy with my bought today!


Time to increase CP
Today my feeling about receiving potions has fully changed. Once upon a time when I never opened packs, I complained every time a potion was given to me. Today I don't complain about having accumulated 80 potions each since I began playing. I've bought and opened 16 packs with the average value, some rubbish and some acceptable, but when I only had 5 of each I had this opening: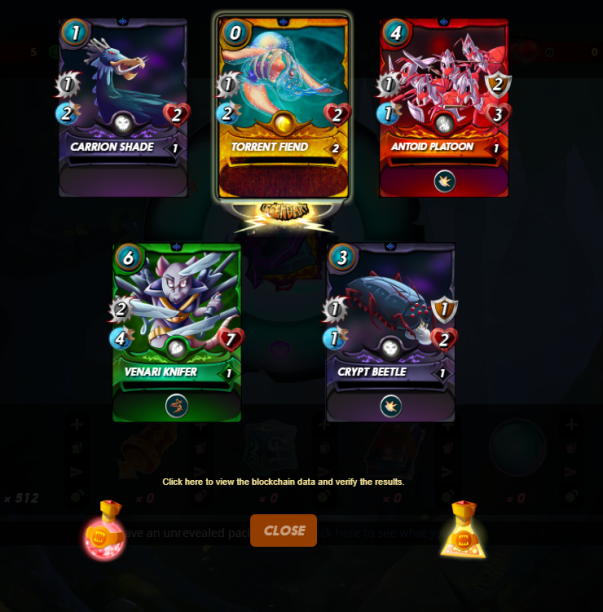 Maybe I've been very lucky, maybe it has been the devs that wanted me to thank you for putting some money in today but this drop is a game-changer for me. With this 12,5 KCP, I reach a total amount of 50.000 CP in the modern league that will allow me to compete at the gold level!!! So happy today!


Ready for tournaments
Finally, I am eligible for tournaments. I have chosen ones hosted by @sps.tournaments I am sure that a new dimension of the game begins today, where the competitive part of the game will be present every day I play it. There's something that I don't understand and is that why Chaos Legion Rewards are not eligible for tournaments. But here I am with my 3k SPS and my 28k CP to learn from the best players!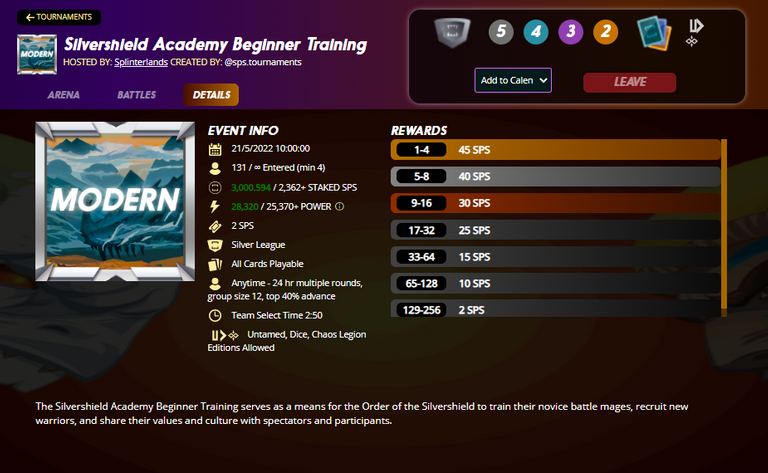 I would like to thank all the time and patience of my guildmate @amaillo who has guided me in all this process. He is a great content creator and I recommend everyone to follow him and read his last post about tournaments
In case you are interested in playing #Splinterlands for first time, I leave you my referral link
THANKS FOR READING & THANKS FOR SUPPORTING!
Our #Splinterlands Guilds still have places available. Join our discord and let us find you a position in our ever-growing Splinterlands legion! Social media links at the bottom.
THE END
---
If you would like to join @THGaming and explore the #metaverse with us our Social Media links are here:
Official THGaming Social Media Links:
🔸 Twitter
🔹 Discord
🔸 Linktree - All Social Media Links

---
Threshold.Guardian.Gaming (@Threshold_GG)
We are a #PlayToEarn Gaming Guild 🏆🎮
#Crypto #NFT #Gaming #AxieInfinity #Splinterlands #
---
---