THGaming top 3 Brawl Report 02-03-2023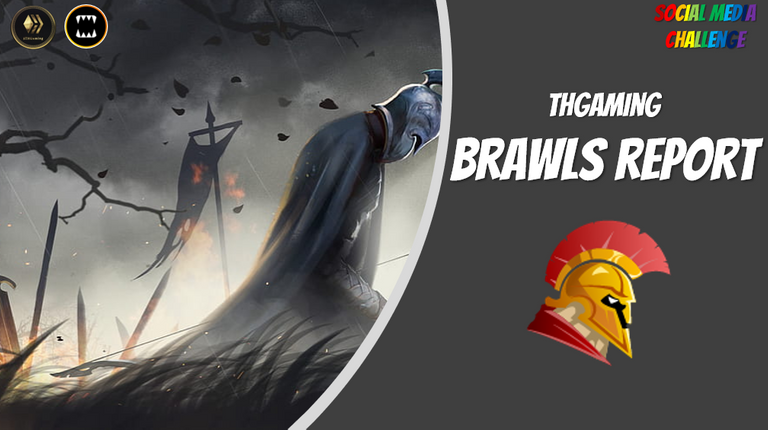 One of my best Twitter accounts is Splinterlands. It keeps me informed about all the important news in the ecosystem and #Hive posting events like a media challenge. In my opinion, those challenges are an incredible way of increasing the pride of being part of this community, as every player shares his/her game experience with others, allowing others to learn about everyone's successes and mistakes. For this one, I bring the last brawl report from my guild, THGaming Brawlers and I also share the result of our other 2 most competitive guilds, THgaming 1 and 2 with some interesting battles. Hope you like it!
THGaming brawl reports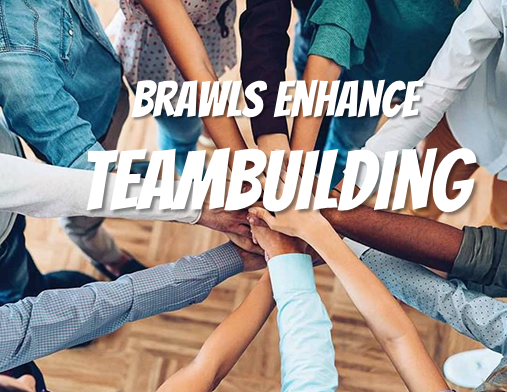 I can remember when I began brawling. For me was only a complementary step that distracted me from my main journey in individuals rankeds. One year has passed and although Guilds and Brawls are only taking a small part of profit of what they potentially be, I am addicted to brawls. My rentals must perfectly fill the Tier I take place. But what's more important, every point I win is a point for my team, Every mistake I make, another 15 persons regret. Brawls obviously enhance teambuilding, and they are on their initial stage. Referred to our guilds, we got the following outstanding results: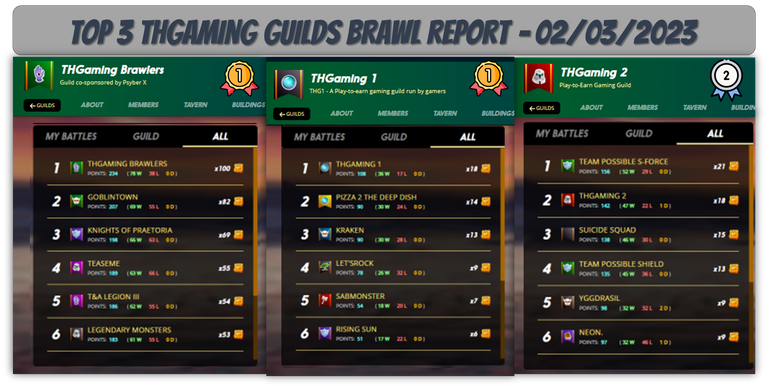 THGaming Brawlers (Tier 3) 1st place - The guild has won spoils of 100 Crowns in the latest brawl! Also, each fully participating member was awarded 5,000 Merits and 53.576 staked SPS..
THGaming 1 (Tier 1) - First place. The guild has won spoils of 18 Crowns in the latest brawl! Also, each fully participating member was awarded 969 Merits and 14.527 staked SPS.
THGaming 2 (Tier 1)- Third place - The guild has won spoils of 18 Crowns in the latest brawl! Also, each fully participating member was awarded 831 Merits and 11.708 staked SPS.
So here we are! 2 first places and a second! Almost a trio of victories. I am so happy with these results, we are everyday playing better our brawls and taking higher challenges. Keep up this hard work Brawlers of the THGaming community! The best is to come!
Related to the profits I took, +50 SPS is an interesting amount and 5k Merits are just yummy!
Guessing the cards that will dominate the game

Since new soul-bounded cards went live, Gladius cards have won much more interest from all of us. In this section, I would like to share the detail of a specific card that will be very important in top-ranked leagues as it levels up. In my previous posts I've written about common / rare cards with decent ammount of supply that will reach top ranked battles maybe in a couple of months as long as players upgrade conscript summoners and use their gladius packs to pull their cards. This time I would like to completely change the sense of this post and I would like to talk about the Legendary card that I fear most in all Gladius set. A card that is barely printed 50 times in its Gold foil version. I am speaking about Fina Voxom. The perfect snowballer.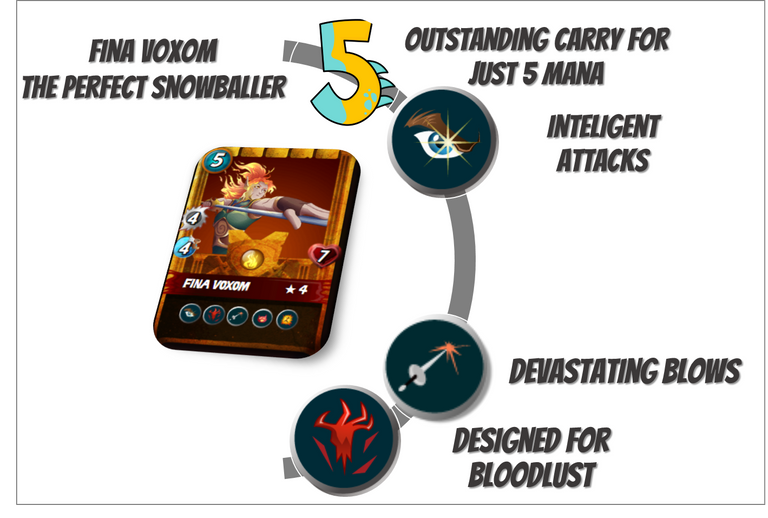 We can consider Fina a mid range creature. She does not fit for little league (I would prefer her with 3 attack and 6 health for 4 mana to make her eligible for this ruleset). This is one of the only buts of this card. She has a complete set of abilities that can become an authenthic nightmare to your opponents and the next three points explain it much better

Opportunity creatures are the smartest students of the classroom. They take little casualties first and slowly take bigger objectives, once first steps are conquered. Although your opponent has an specific plan for taunting opportunity attacks (this means using taunt, chaos agents or flying skulls), you will see how Fina takes profits of every single attack in the battleground. And even your opponent is expecting opportunity creatures is always difficult to counter the plan.

If one thing annoys to Opportunity monsters is armor (unless they are not magical). Fina directly ignores it, transforming her attacks into devastating blows. You may say Jacek also has this ability, but there are lots of circumstances where you won't play Jacek (reverse speed, dragon...). And although Eternan brune has -2 Armor (red conscript summoner), it's always welcome in life to be self sufficient. I love piercing on her.

In my previous posts I have not mentioned bloodlust on gladius cards. But Fina is made for Bloodlust. If I designed a monster with Opportunty and Piercing and I could choose a third ability, I would choose a Bloodlust. One of my best modern creatures is Jared and I am used to prepare everything for him to snowball. Fina is a 2 mana cheaper creature, faster, that although she has 3 attack less, she can potentially snowball before Jared can. Additionaly she has stun (stun is a life saver), and Redemption (I would not be happy triggering redemption on Fina under any circumstance)
We've been told that guilds would represent an important part of the game. Brawls generate SPS rewards (remember that SPS is the governance token of the game that today has the utility of voting proposals, staked on the game offers a 24% APR, and it's planned to replace CP for ranked and rewards), and now the Brawl rewards will be played on ranked. I really hope one day I can pull Fina and enjoy her on the battlefield!


Show me the battles! - Quix takes advantage from Water
For the first one, I bring you a personal battle form my beloved Quix. Now that all CL summoners are revealed, I believe that Quix is the best of all the edition (maybe Lux beats him in many circumstances, but his access to Dragon creatures and Little League rulesets in oposition to her makes me prefer Quix). I faced a 46-mana, no Legendaries, Odds and Stampede battle. The board looked as like this: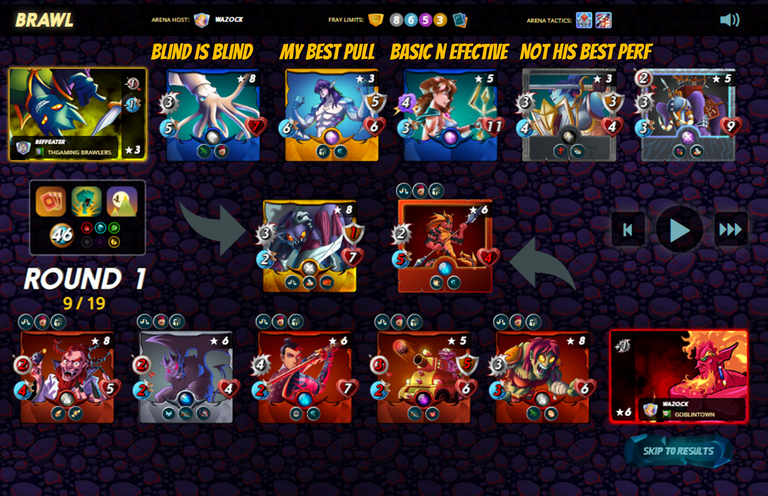 For my frontline I went into a classical Disintegrator and Flying Quid. they form a great team, debuffing enemy team in -1 attack and Blind. Blind is an OP ability and I play it every time I can.
Gold foil Noa the Just has been my best pull by far since new rewards came live. On of his best attributes is Speed (even in level 1 has incredible amount of 6). I played him level 3 and he gets dodge. His base rust ability converts him in a kind of tank / debuffer with high evade rate. Can't w8 to upgrade him till last level tu unlock martyr!
Can't remember how many battles has Nerissa carried me to victory. How can be a card with 0 abilities be so useful. Her Strength relies that she has a ton of Magical damage in addition to her enormous amount of health. You can always trust that her job will be done.
Finally Oswald did not perform his best show but also became useful. You can watch the battle first, point to Brawlers!
Show me the battles! - Gold foil specialist by @jim-crypto
For the second one, I would like to share how important are Gold frays in brawls. The higher the brawl rank is, the more important the gold foils battles are. All guilds have their own gold foils brawlers and Jim is one of ours. He faced a 50-mana, armorless, return fire & stampede battle and the board looked like this: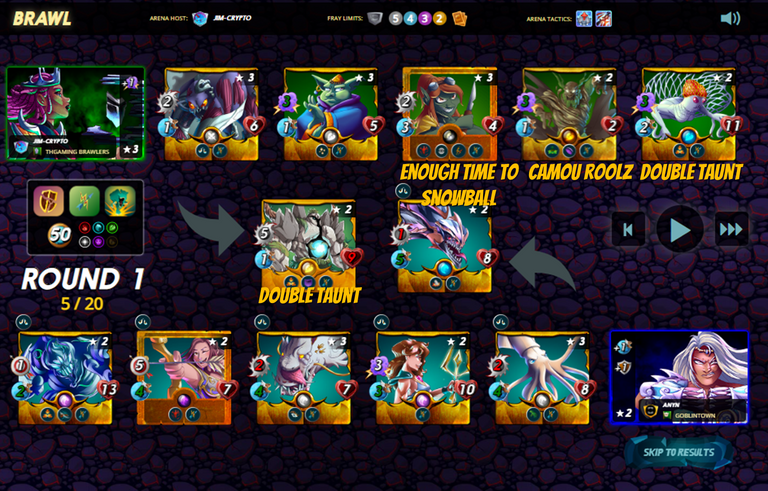 Although Terraceous Hulk lost 6 Armor points because of the ruleset, Terraceous turned my friend battle plan into double taun with Mycellic. This was the main part of the plan because the battle was about buying time for Katrelba
By the end of round 2, both tanks were dead. And I thought to myself everything was lost. But this 2 rounds added to Disintegrator's hits n debuff brought some time for Katrelba to perform her show.
I would also like to remark how important was Djinn's Bjilka role, added a sustain damage to the whole combat
I leave you the entire battle here. The second point for THGaming Brawlers!
So I hope you have enjoyed our brawl report. Really have enjoyed this one with such great results to share with all of you!! Good game THGamming Brawlers!


THANKS FOR REACHING OUT HERE!
Hive - Splinterlands is a great ecosystem to grow in the Crypto world, we are in the best community and we play a game with a solid project and a great future. The only thing we've got to do is believe in the project and fight hard in the arena! Thanks for reading and feel free to share your thoughts.
In case you are new to this wonderful game here, I leave you my referral
---
Linktree Official - All Social Media links

---
---