THGaming top 3 guilds Brawl Report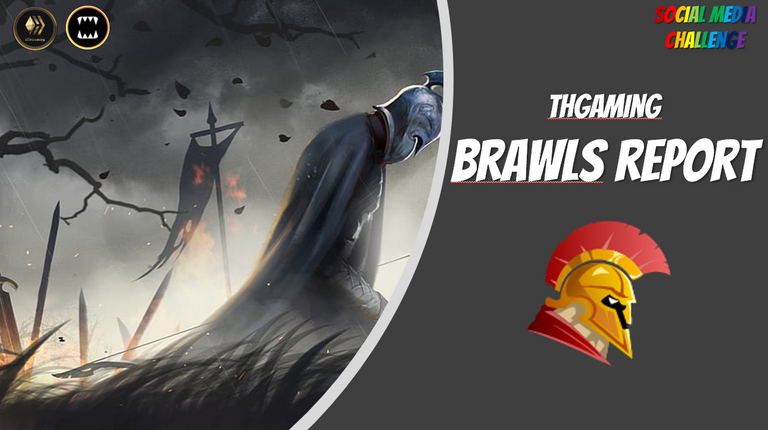 One of my best Twitter accounts is Splinterlands. It keeps me informed about all the important news in the ecosystem and #Hive posting events like a media challenge. In my opinion, those challenges are an incredible way of increasing the pride of being part of this community, as every player shares his/her game experience with others, allowing others to learn about everyone's successes and mistakes. For this one, I bring the last brawl report from my guild, THGaming Brawlers. Hope you like it!
THGaming brawl reports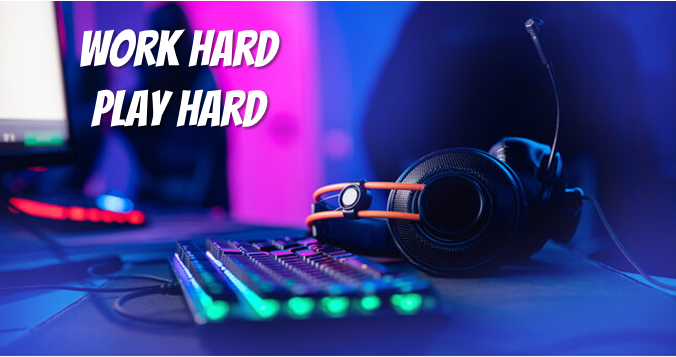 We've been told again and again in the last Town Halls that guilds would take a serious place in the game. New soul-bounded rewards cards have come to life, with their corresponding summoners with the ability to bring Gladius cards to ranked battles. I can imagine that everyone values their gladius packs and gladius cards much more than before. Who will bring a top-level Quora to Champion matches before? 2023 will bring tons of new content related to guilds (thanks Splinterlands for focusing on game aspects like them). Alliances, new buildings... So it's time for every one of us to begin stacking those gladius cards hard that will help to rank up and get better rewards.
Referred to our guilds, we got those results: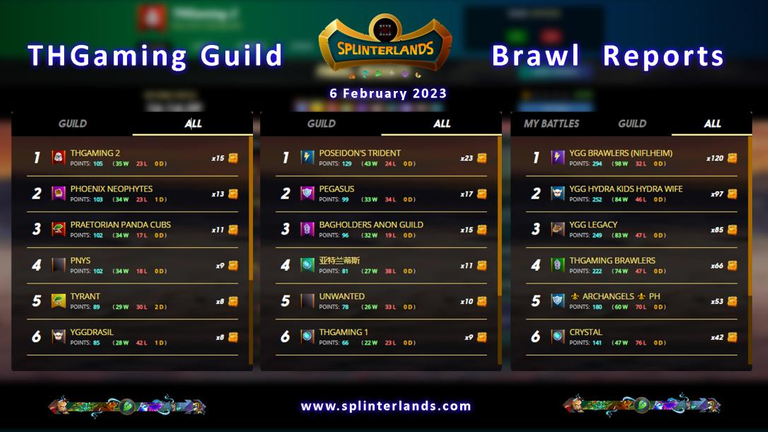 THGaming Brawlers (Tier 3) - The guild has won spoils of 66 Crowns in the latest brawl! Also, each fully participating member was awarded 3,300 Merits and 51.154 staked SPS.
THGaming 1 (Tier 1) - The guild has won spoils of 9 Crowns in the latest brawl! Also, each fully participating member was awarded 485 Merits and 7.977 staked SPS.
THGaming 2 (Tier 1)- The guild has won spoils of 15 Crowns in the latest brawl! Also, each fully participating member was awarded 692 Merits and 10.918 staked SPS.
Profits jump higher for a 4th place in a tier-3 guild than a 1st in a tier 1. We would also like to congratulate all members of THGaming 2 for winning their brawl! Keep up this hard work!
Guessing the cards that will dominate the game

Since new soul-bounded cards went live, Gladius cards have won much more interest from all of us. In this section, I would like to share the detail of a specific card that will be very important in top-ranked leagues as it levels up. First of all, I call himself Chaos Agent 4.0 as its a 4 mana version of my beloved chaos agent: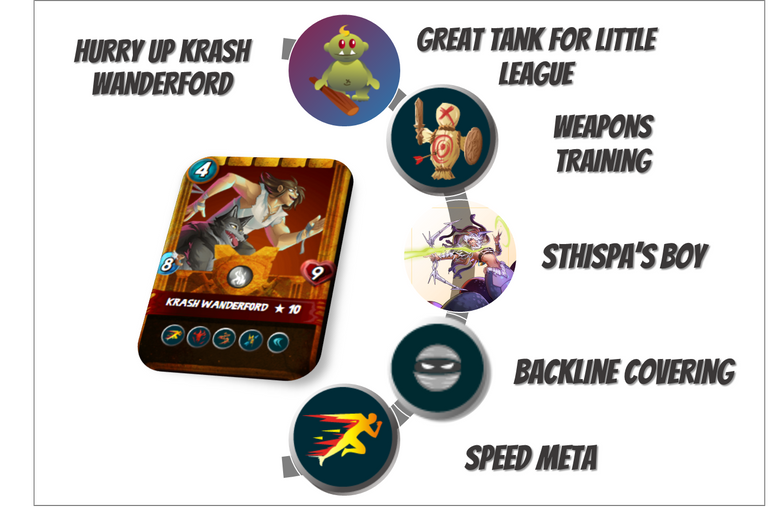 I've got Krash as a level 3 creature, nothing crazy. But taking him a look at his max version makes me desire to play brawls and brawls to level up as soon as possible. The first aspect that I would remark from him is that he is only 4 mana! For just 4 mana you've got a 9 health creature, with 8 speed, being able to return melee and ranged damage, and with bloodlust (remember that returning fire can kill). I've had tons of success playing chaos agent and I imagine him as a great chance for Fire summoner in low mana battles (and not so low).

Krash has no attack as a weakness? Ferexian Hero (new legend soul-bounded Fire can fix it). Place Krash first, place ferexian off-tank and he will boost up with 2 attacks thanks to the new ability. I love this game and I love all the tools that we are receiving to surprise our opponents.

If one thing is clear is that Krash's whole toolkit can be melted by Magic Damage. But even in this situation can shine if played with the right boss on HQ. If you play him with Sthispa he will become a Nightmare for magical creatures.

Are you afraid of Sneak attacks? Place him last and he will frustrate your enemies' plans. Are you expecting Snippers, play him second and he will be the target, evading and evading them...

Unless the devs find another situation than reverse speed, we are in the speed meta. Many battles are decided by the simplest law in the world: who strikes first, strikes twice. Krash boosts your army with +1 speed that will be useful in so many kinds of combat situations (for hitting first, missing less, and evading more). Also, imagine an Enrage scenario making him 13+ speed.
We've been told that guilds would represent an important part of the game. Brawls generate SPS rewards (remember that SPS is the governance token of the game that today has the utility of voting proposals, staked on the game offers a 24% APR, and it's planned to replace CP for ranked and rewards), and now the Brawl rewards will be played on ranked. Can't w8 to play this boss on the ranked battlefield!


Show me the battles! - Max level Fire duel
For the first one, I bring you a battle from my guildmate @investor777, a 29, Earthquake, back to basics, scattershot. Mana. In these kinds of battles, you have to decide if you summon low-health attackers that can hit your enemy, or maybe tough melee creatures that can absorb all the earthquake damage. The board looked as follows:
My mate Investor, chose a Tarsa Lineup with 11 attacks on the back that would scatter into his enemy. Djinn, Xenith, and Spider would resist up to 3 rounds. That would mean a ton of damage. He chose Antoid and Tusk for the front.
While my mate was with 11 scatter damage, our opponent went with only 3, changing his damage for a backline Legionaire Alvar that would resist much more Earthquake rounds.
You can watch the blood bath by yourselves... first point to Brawlers!
Show me the battles! - Fire Scorcher da Tactical ops
For the second one, I bring you a master class from my friend @jim-crypto. He faced one of the toughest tiers: silver level cards gold foils. It was a 23-mana reverse speed, divine shield sneaking attack. He performed in his head a great plan while the board looked as follows: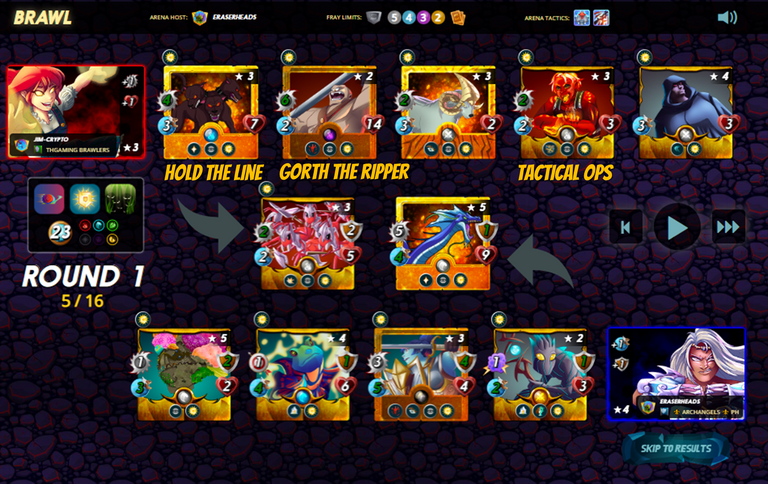 Placed Antoid and Cerberus at front vs Sea Serpent. In situations where Divine Shield is active, is a more successful well balanced army than choosing tough monsters. This is an example.
Gorth performed his bloodbath. With his 14 health, 2 speed and 6 attacks became a nightmare for our opponent. Take note of the bloodlust nerf, as now speed is increased in reverse speed.
What I loved most about his strategy is his backline. First putting Fire Scorcher. This guy outperformed my friend's one mana investment, shattering every single armor and preparing the terrain for gorth. Also, the Chaos agent bought such precious time.
I leave you the entire battle here. Not as clean job as my mate, but also a point for THGaming Brawlers!
I love this game, I love 3 rulesets and how makes every one of us takes the maximum profit for the creatures we own, and I love how all of us we are getting slowly rewarded with new creatures that will help to reach our objectives!


THANKS FOR REACHING HERE!
Hive - Splinterlands is a great ecosystem to grow in the Crypto world, we are in the best community and we play a game with a solid project and a great future. The only thing we've got to do is believe in the project and fight hard in the arena! Thanks for reading and feel free to share your thoughts.
In case you are new to this wonderful game here, I leave you my referral
---
Linktree Official - All Social Media links

---
---