Vruz incorporation & Cleanse for Champion!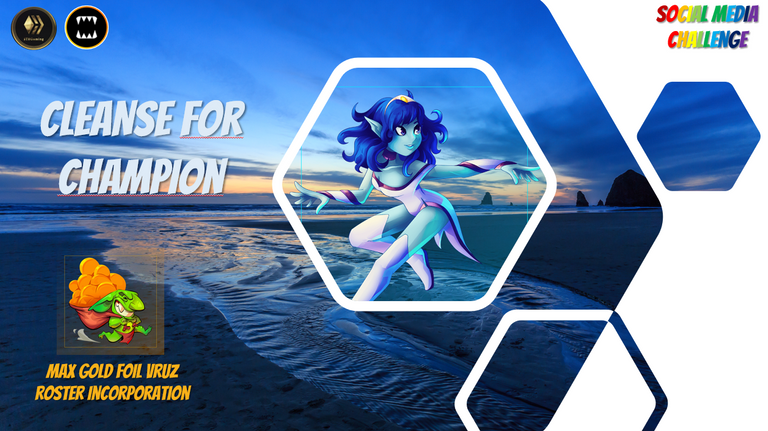 One of my best Twitter accounts is Splinterlands. It keeps me informed about all the important news in the ecosystem and #Hive posting events like a media challenge. In my opinion, those challenges are an incredible way of increasing the pride of being part of this community, as every player shares his/her game experience with others, allowing others to learn about everyone's successes and mistakes. For this one, I bring a couple of great in-game hits: managed to get Champion and now I hope to farm those juicy chests and I added a max Gold Foil copy of Vruz to my roster. Hope you like it!
5th season day hitting Champion!
So happy about my new record! Champion in 5 days and before the Maintenance update. I must admit that being reset with +300 points from last season has helped a lot. Lots of tough battles, a couple of up&downs and then came the battle I could hit Champion. I bring this battle to my tactical board to remark on the importance of a couple of abilities: Cleanse and Affliction. I faced a 45-Mana, Fog of War, and no Rangeds, and the board was an I show you in the figure: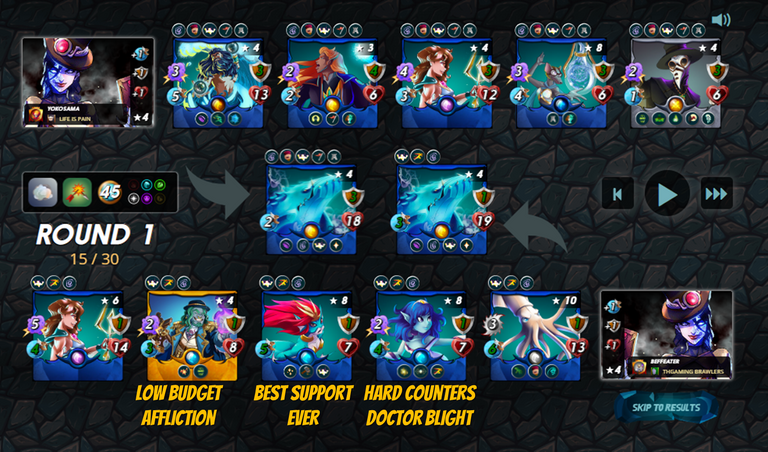 As you can see, both players chose the same summoner with Baakjira as the main tank. These were the only equal points. Both we chose bringing affliction to prevent Baakjira healing, my opponent with a 500$ card Doctor Blight, a soul bounded Riverboat Captain from mine. This new version of captain ghost contributes to savings as I don't rent Captain Ghost and do a similar role to him. Thank you #Splinterlands!
At first glance, I thought I had more chances to win because I brought Cleanse on my side and my opponent didn't! Cleanse is a hard counter on Doctor Blight and enabled my Baakjira auto-healing. River Nimph is a must on Water formations because she's got a toolkit useful in very different circumstances, amplifying damage reflected on rulesets, +1 speed, and cleansing shit on your tank. I love this girl.
Finally, and complementing River Nymph's role, merdaali guardian is always a must in water summoners. Although my opponent chose higher mana supports with River Hellondale and Venari Wavesmith, my support selection was far much better for this battle
Gold foil Vruz incorporation
Things are going crazy when playing this game. I always tell myself this is the last time I invest in a promo creature. I bought Lux for 750$, she has helped me a ton getting into Champion and today is worth 1.300$. Bought a Runi and the Executive team has revealed that Runi will be the only creature able to rule the land and play battles: Wow!, missed Arkemis (I was an idiot), and decided to go in with Vruz as I think is a must-have. Decided to go for a max gold foil as it was sold for 270$ while 200$ for regular foil. I will explain some reasons why I bought him: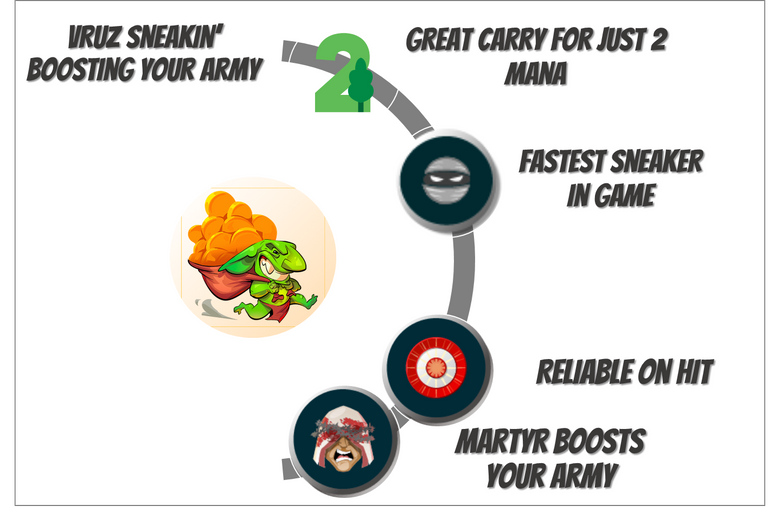 Being such a low mana creature, allows Vruz to fit in tons of compositions. I love low mana cards because they can complement your strategy and fit almost everywhere. Also being a Dragon Summoner allows him to boost the sneaking water team (worldly famous with Pelacor Bandit and Uraeus).

He is the fastest sneaker in the game. With seven-speed in max level, this means hitting first. And the army that hits first, hits for double value. Also, bring a Spirit hoarder to your side blinding enemy creatures and he will evade tons of attacks. Enrage ruleset? Try to hit him!

Why such a fast creature would need True Strike. True strike means Reliability, and this means victories. A pelacor bandit blinded hitting 1-speed creature has an absolute 15% to miss. And when you miss these attacks maybe this is not your combat. Vruz never misses. Also, true strike enables him to be played in reverse speed (he will probably hit the last but will never miss).

Finally but not less important: Martyr. This ability has opened the variety of battle plans every summoner has. Vruz can get the focus of Opportunity creatures triggering martyr ability to his neighbors when being destroyed. We are in the early beginning of this ability and things can only surprise every one of us.
Thanks to my friend @hewitt I bring you the first Master Class about Vruz. He faced a 25 Mana, Silenced Summoners, No neutral, and Even Stevens battle and the board looked as follows: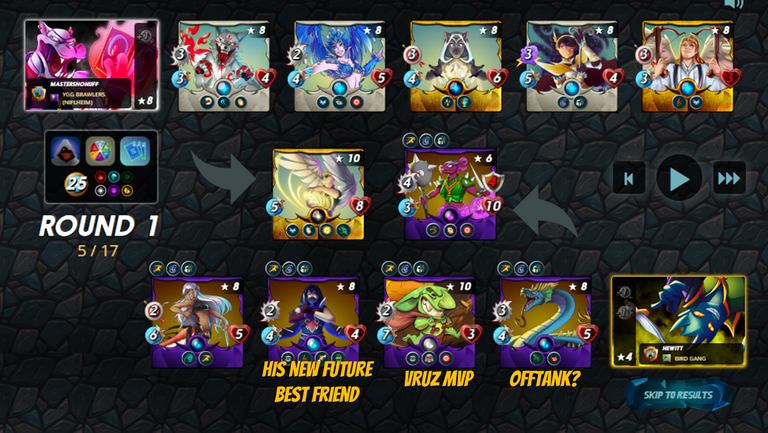 My friend chose in my opinion, the #1 Cl Summoner, Quix. Fits everywhere. And now Quix brings Vruz to the arena. What I love more about his composition is that we can see a pure dragon army. With Vruz in between Basilisk and Dhampir. Just taking a look into the battlefield, I knew that Vruz would only have 2 attacks before being destroyed by Harpy, but in these two attacks, he had the time of destroying Pelacor Arbaelest. Once Destroyed Turned Dhampir into a serial Killer and Basilisk into a great tank ready to fight an enraged Vulguine. This battle only shows the beginning of a new Vruz-era.!
So thank you for reading this post. I hope I encourage everyone to climb higher on the ladder and fight with the best players of the game. It's hard but it's where one learns faster!

THANKS FOR REACHING OUT HERE!
Hive - Splinterlands is a great ecosystem to grow in the Crypto world, we are in the best community and we play a game with a solid project and a great future. The only thing we've got to do is believe in the project and fight hard in the arena! Thanks for reading and feel free to share your thoughts.
In case you are new to this wonderful game here, I leave you my referral
---
Linktree Official - All Social Media links

---
---