Splinterlands - Short and long term strategies on Chaos Legion packs
Splinterlands is conquering the world with the Chaos Legion packs and armies are hungrier than ever for them. Winning it all is everything that every warrior thinks of and how they can their hands on more and more packs. Starting from that we are trying to evaluate what short-term and long-term strategies there can be made around the Chaos Legion packs sale(s). We have many options to choose from and once settled that will dictate our next actions. Good or bad, we'll leave by them and forge our destiny in the Splinterlands!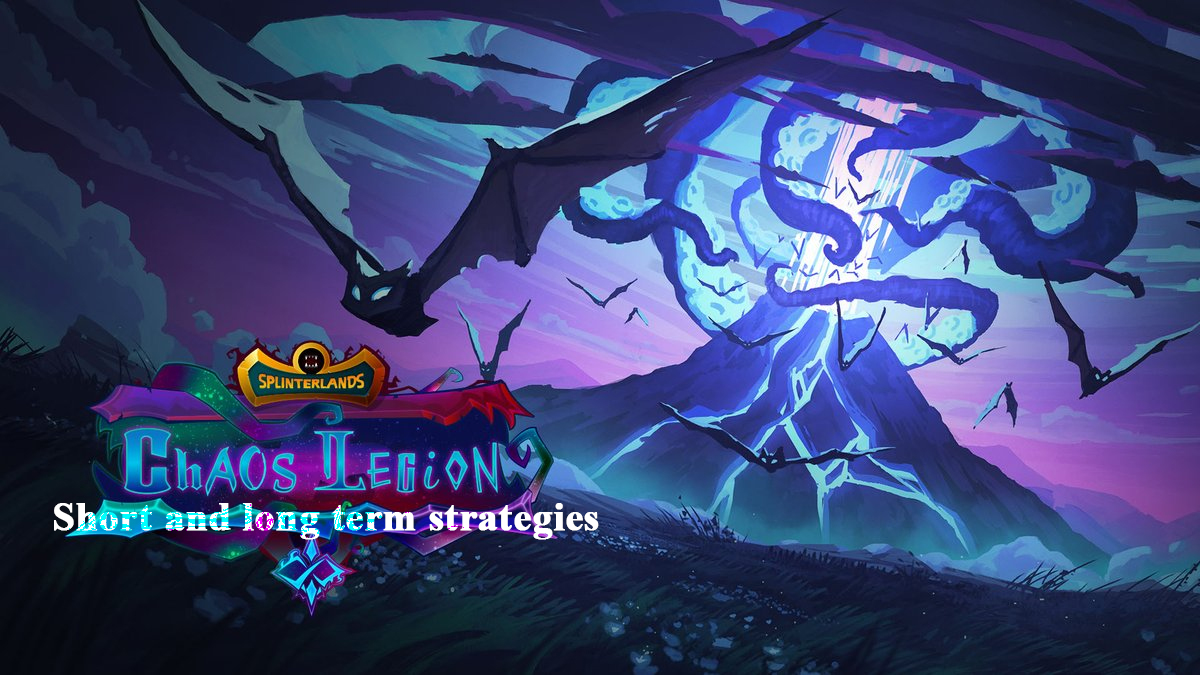 The first strategy is to acquire Chaos Legion packs and open them in order to make a strong army. Combine duplicates and even buy some more where you need to level up in order to have better formations to battle and access higher levels. All this will happen while you will still be entitled to airdrops.

The second strategy is to acquire Chaos Legion packs and open them and level them up to the maximum. Once done that you can put them for renting and get DEC cryptocurrency for that. Using DEC you can reinvest either in other Chaos Legion packs or buy cards to help level up and repeat this process over and over again. As well you will be getting airdrops for the packs bought from the official Splinterlands market, but not also from secondary markets.

A third strategy is to simply acquire and hold onto the Chaos Legion packs as long as possible and receive also SPS airdropped for them. Not only that you are in the game for getting the airdrops as the sale goes on, but as history has proven over time it is expected after the sell-out their price to increase. If the price increase will be significantly like in the past or rather more mild considering the big number of packs sold, that will need to see but for sure it will be an investment worthwhile.
This last strategy is the one that I am getting into as it is very passive and I just need to HODL for long. Here are the steps that I've done so far and what I've achieved:
Presale Phase allowed me to buy 150 Chaos Legion packs and get another 15 packs as a bonus. I've bought them with SPS in order to make use of the 10% discount, while all the SPS was obtained from the Splinterlands airdrop. The participation in the presale also got me 5x Doctor Blight cards.
Second Phase is still running and so far I bought 100 Chaos Legion packs and got 10 packs as a bonus. I intend with the remaining Vouchers that will be airdropped to buy around 175 Chaos Legion packs more.
Third Phase or the General Sale will allow me simply to buy as much as I need to reach my goal of 500 Chaos Legion packs. That's my target and I will see if I stop there or push it a little bit more.
And here are some numbers extracts from that, but simply putting down the data based on the current transactions. Once I will move with the above plans I will update the info on that.



Everything is considered profit as I have bought the packs with earnings from the game. The total profit is obtained the reference $4 price point, but I will be holding for long targeting a much higher price of up to $50.
Hopefully, I have captured most strategies that can be applied when buying Chaos Legion packs. If there are better ones or any that can be optimized, please feel free to share your thoughts and contribute to making some better plans.
Posted Using LeoFinance Beta
---
---